RadRover 5 By Rad Power Bikes (Review)


Electric bicycles are the fastest advancing trend among the whole cycling industry.
Rad Power's RadRover 5 is the great value SUV of the electric bike world. This fat-tire e-bike is built for the path less pedaled, able to take you on an adventure over rugged terrain with comfort.
RadRover 5 is an oversized electric machine with knobby 4″ tires and tons of character. It's an affordable e-bike that costs only $1,699, so it doesn't introduce new technologies or a revolutionary design.
It's a big fat e-bike with tons of power that will give you more freedom than ever before to explore and challenge yourself. RadRover is available with a step-over and a step-through frame which makes it accessible for different types of riders.
Important notice: RadRover 5 has been replaced by the newer and improved version. Read our full review of RadRover 6 Plus on this link!
---
Key features that speak about the great value
The 750W geared hub motor delivers 80 Nm of torque through pedal-assist and throttle modes.
RadRover's 4″ wide fat tires feature a knobby tread, puncture protection, and reflective sidewalls.
RadRover 5 has a 1×7-speed Shimano drivetrain that will help you conquer steep hills.
Accessories such as fenders, lights, and a kickstand are standard equipment on RadRover.
The front suspension fork makes the ride more comfortable with 80mm of travel, preload adjustment, and lockout.
RadRover 5 stops on a dime with Tektro mechanical disc brakes paired up with 180mm rotors.
---
RadRover 5 PROS and CONS
This is one of the best-equipped electric fat bikes money can buy. Few other brands will give you the same amount of style, practicality, accessories, and power for the same amount of money. All Rad Power Bikes use a 750W rear hub motor.
That said, RadRover 5 has both pros and cons, though the former greatly outweigh the latter.
Reasons to Buy:
RadRover 5, like all other Rad Power bikes, is equipped with a few handy accessories that you get out of the box. These include front and rear fenders, front and rear lights, and a kickstand.
Additionally, you can equip your fat electric Rad bike with racks, bags, a child seat, and a few other bits and pieces as an extra.
One size frame fits a wide height range of riders
The bike is available with a step-over and a step-through frame design.
The rear hub geared motor can be operated using the throttle or the pedal-assist function. Its 80 Nm of torque on the rear wheel proved to be more than enough for navigating dirt roads, rocky terrain, or soft surfaces.
All Rad Power bikes, including RadRover 5, use the same 672 Wh battery pack. That means you can use them interchangeably if you have more than one Rad bike.
Rad Power offers free shipping with the bike 85% assembled if you choose the "Standard Shipping" option.
This bike rolls on 4-inch wide co-branded Kenda tires with puncture protection. The wheels they're mounted on are ridiculously wide as well.
The 7-speed freewheel offers an 11-34T range which is sufficiently wide for hilly rides.
The integrated brake light activates every time you squeeze the brakes to make you more visible and alert the riders and drivers approaching from behind.
Reasons to Avoid:
Both RadRover step-over and step-through models are heavier than ideal at 70 lbs. If you are a petite lady, you might struggle to lift the bike. Luckily the walk-assist mode makes it easy to push the bike anywhere.
RadRover 5 is available in one frame size only (18″), so it might not be suitable for very short or very tall riders.
The Tektro mechanical disc brakes get the job done easily, but the performance they offer is nowhere near to hydraulic disc brakes.
The 2 amp charger is on the weaker side, so charging the RadRover from 0% to 100% takes around 5–6h, which can be faster.
What Is the Rad Power RadRover 5 Electric Bike?
Simply speaking, RadRover 5 is a fat electric bike. It's an oversized bicycle with massive wheels, a burly aluminum frame, front suspension, and disc brakes.
Due to its substantial weight and wide tires, RadRover is not an ordinary e-bike that you might see every day in the city on your work commute. Sure, you can ride it around on paved roads, but its unique design comes to shine when things get muddy, wet, and slippery.
RadRover does not have too many accessories, but it does come with front and rear fenders, which are absolutely crucial if you plan to ride in wet conditions. With a rear rack installed, RadRover becomes compatible with a rear child seat, which means it can serve as a car replacement for the entire family as well.
As you can see from its name, this is the 5th generation of the RadRover, which means that most of the kinks have been eliminated by now. Still, don't be surprised by some entry-level and mid-tier components and solutions that had to be introduced to keep the price down and make the bike more affordable.
Is RadRover Off-Road Ready?
Does the sun rise from the east? Of course, RadRover is off-road ready. It's built to be ridden on dirt roads with rocks protruding from the ground. It feels at home if you take it on a muddy forest adventure right after the pesky rain stops. It will show you its true nature once you deflate the tires and ride on a soft sandy road.
The 4″ wide tires are quite knobby and have a wide surface once sufficiently deflated. The handlebar is 700mm wide which makes it easy to handle and steer the bike even on very rough terrain.
RadRover has a front suspension, but it's good to keep in mind that the RST fork is entry-level and has its limitations. It's there to make your rides more comfortable and eliminate some of the vibrations, but it's not designed for heavy trail use. The overall weight and the 7-speed drivetrain will also prove to be a hindrance to proper singletrack rides.
That said, RadRover 5 is more than capable to offer excellent performance on dirt roads, fire roads, and gravel rides. You can feel free to explore your surroundings with pedal assistance ramped to the max.
Frame Design
RadRover has a pretty unique frame design that makes it stand out on the road—oversized tubing, curvy lines, and a sleek paint job. The frame itself is made from 6061 aluminum, which is a safe option that Rad Power Bikes uses for all of its models.
As mentioned above, RadRover is available in only one frame size. The 18″ frame, according to the company, is perfect for riders with 31″–34″ inseam lengths. However, riders with 26.5″–30″ inseams can also ride this bike, but they might touch the top tube with their body when they stand over the frame. Recommended rider heights range from 5'4″ to 6'2″.
Though this is only an issue with the step-over frame, the step-through frame is the same size, so its reach might be too long for shorter riders.
The frame has handy mounting points for a front and a rear rack, which can be bought as additional accessories on Rad's website. Unfortunately, the bottle cage can only be mounted under the down tube, which is not the most practical position.
At the moment, the step-through frame ships in black or white, whereas the step-over frame ships in black and forest green. However, the forest green color is a limited edition option, so it's probably not here to stay.
To cut down on costs, the frame and the fork don't have thru-axles but use quick-release bolts.
Fat Tires and Heavy-Duty Wheels
The wheels and tires are RadRover's main centerpieces. These are the first things that you will notice on the bike as they are huge.
The bike rolls on the aptly called Kenda Juggernaut tires that are 26″ in diameter and 4″ in width. They come with a K-Shield puncture-resistant liner and reflective sidewalls. These greatly help with the overall visibility, especially if you get the matte black model of the bike.
The tires are knobby, but not too aggressive. Their low tread profile makes them ideal for hardpacked gravel and dirt roads where they will definitely shine. However, if you keep the air pressure low, they'll glide over mud, sand, and snow with ease as well. The maximum tire pressure is just 20 psi.
The double-wall rims are built with 12-gauge stainless steel spokes that are painted black to match the color of the bike better. They look bulletproof, and so far we haven't read any negative reviews about them. Seems like they're strong enough to take some abuse.
Battery and Motor Specifications
Rad Power equipped the RadRover 5 fat e-bike with a Li-ion 48V, 14 Ah (672 Wh) Samsung battery that's rated for 800 charge cycles and delivers 25-45+ miles of range.
This is the standard battery you can find on all Rad Power electric bicycles, so there are no big surprises here. The good news is that you can use the same battery for more than one Rad bike and swap them between models.
The battery pack is locked to the frame with a key, so it's safe if you leave the bike unattended. What's more, the locking mechanism has three positions: Locked Off, Locked On, and Unlocked. Therefore, you can put the key in the Locked Off position to prevent people from tampering with your motor without having to bring the battery with you.
The power to the wheels is provided by a 750W brushless Bafang geared rear hub motor with 80 Nm of torque. That's the most powerful motor Rad Power puts on its bikes. It has a 5:1 planetary gear reduction and offers 5 levels of assist, as well as a progressive throttle.
The motor is not as convenient as a mid-drive unit but definitely does not lack power. That said, watch out not to start too hard on a steep unpaved road, because the rear wheel will skid due to too much torque.
Drivetrain and Mechanical Brakes
RadRover's drivetrain is pretty simple and there's no reason for it to be any other way than that.
It consists of a crankset with a single 42T chainring and 170mm cranks. The chainring is protected by a dual-sided aluminum bashguard, which is a really nice addition. It keeps your pants clean and protects the chainring from damage.
On the back is a 7-speed freewheel instead of a more modern cassette which keeps the price down. It has an 11-34T range, which gives you a good choice of gears for really steep hills and fast flat sections. It's operated by a Shimano Acera rear derailleur and a Shimano thumb shifter. The thumb shifter is easy to use by beginners, but we prefer trigger shifters.
The Tektro Aries mechanical disc brakes are a decent choice for this bike. They come with 180mm rotors, which is enough to stop this beast of a bike. Remember that the bike weighs 70 lbs, so strong brakes are a must. Their only downside is that you need to press the levers harder to come to a full stop, but they don't lack power in any situation.
Suitable for Accessories?
RadRover 5 comes with some accessories but not too many. When you take the bike out of the box, you'll see the front and rear fenders, front and rear lights, and a kickstand. That's pretty much it.
This would be a good place to mention RadRover's fantastic lights. They are powered by the battery and the rear light doubles as a brake light. Once you press the brakes, the taillight will shine brighter, even if you've engaged the blinking mode.
The headlight is great and will help you see and be seen. However, there's still some room for improvement as we think it can be a bit stronger to enhance visibility in pitch-black conditions.
Rad Power bikes are famous for their modular nature. So is that the case with RadRover as well? The answer is yes. If you go to Rad's official website, you can purchase several handy accessories that fit on this bike and make it safer and more practical. Some of these are:
Top Tube Bag ($39)
Rear Rack ($79)
Front Rack ($69)
Thule Yepp Maxi Child Seat ($229)
Rad Mirror ($29)
Front Mounted Basket ($89)
Suspension Seatpost ($109)
…and more.
Of course, you don't have to buy any of these accessories in order to enjoy your RadRover 5 bike. However, we feel that a top tube bag, racks, and/or a front basket are excellent additions if you regularly carry a lot of stuff with you.
How Does RadRover 5 Ride?
RadRover 5 is not a lightweight performance bike. It would be more accurately described as a heavyweight beast that feels unstoppable on unpaved roads and challenging terrain.
Make no mistakes, this is a big bike. But that's one of the reasons why it's so fun to ride. The wide handlebars make it easy to handle and control, so don't expect to struggle in that sense. The massive tires make RadRover very stable even on rocky and very bumpy roads.
The 80mm RST fork will not eliminate ALL vibrations, but it will definitely make the ride more comfortable. You'll definitely notice it's there if you hit a large pothole, a big rock, or ride over a curb. Your wrists will be thankful.
As long as your battery has enough juice and you're able to use pedal-assist, you won't feel the weight of the bicycle. However, if you run out of battery—Good luck. You're going to have a good leg workout to pedal this beast uphill.
The motor delivers more than enough power, though, so you'll easily ramp the speed up to 20 mph, even on an uphill. Keep in mind that that speed feels a lot faster on a fat bike than on a slim road bike, so it's a fun experience to use the throttle or the pedal-assist level 5.
All in all, RadRover 5 is a phenomenal fat e-bike that does what it's built to do, even though it has a few downsides that might bug some people.
User Reviews: Is RadRover Good or Bad?
Since RadRover is a pretty popular electric bicycle in the USA, there are a lot of user reviews and impressions available online. At the moment, there are close to 2,500 reviews available on Rad's website!
That's good news if you're thinking about buying this bike because you can see what other people think about it first-hand, without any marketing noise.
So let's look at a few positive and negative reviews that people have left on Rad Power's official website. Though, you can find many more on other websites and social media platforms like Facebook, YouTube, Reddit, etc.
As you can see, there are many people who like RadRover after buying it. Our impression is that people are mostly happy because of the freedom that the bike has given them. It has allowed them to spend more time outside, regardless of where they live or the weather outside.
Most folks praise the motor and the battery but mention that the weight of the bike surprised them, among a few other things: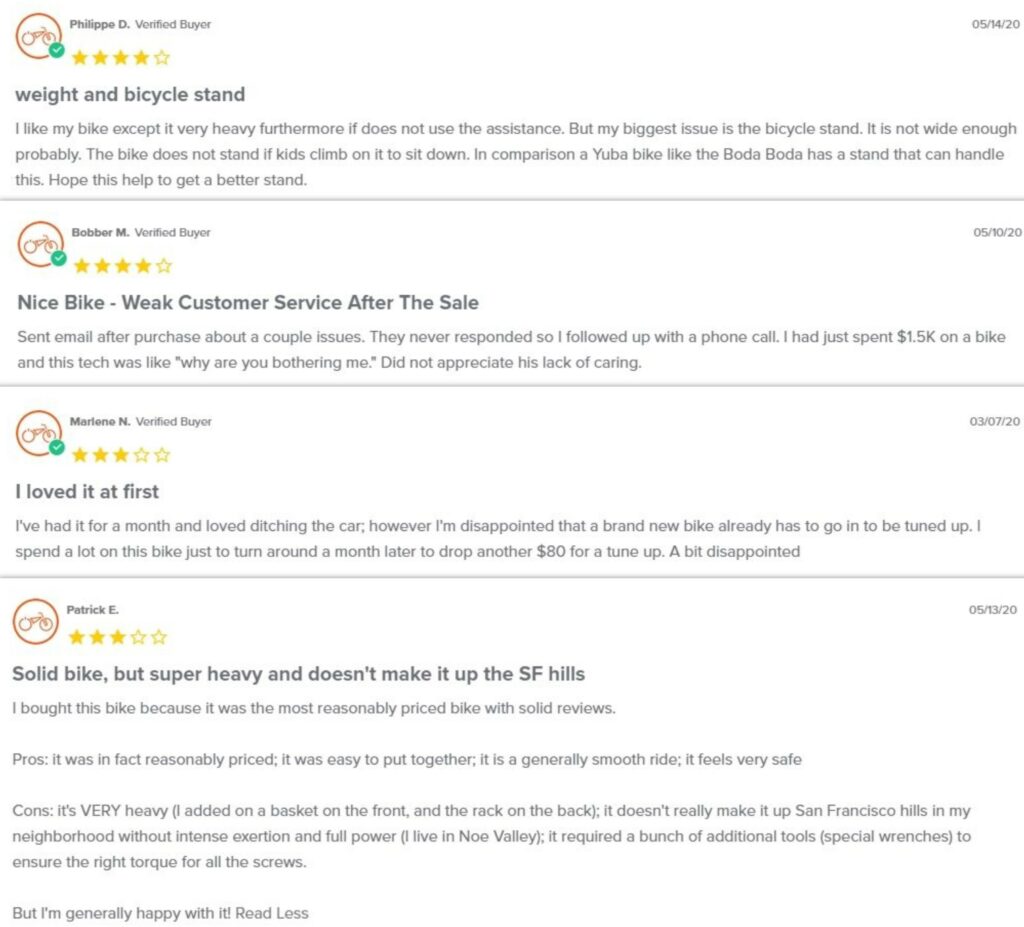 Apparently, there are both good and not-so-good things to say about RadRover 5.
If you purchase the bike, some things that you can expect to give you headaches include the brakes, a few electronic parts, and customer support.
But it's important to note that out of close to 3,700 reviews, so it seems that most people are quite happy with their RadRovers.
Should You Buy RadRover 5  E-Bike or Not?
If you want a powerful and capable electric bike, you should definitely buy the RadRover. You'll not regret it once and it will provide you with hours of fun on forest and gravel roads. For $1,600, this bike is a bargain considering the looks, the electronics, the practicality, and the off-road capabilities.
However, if you need an urban commuter, an everyday city bike, or a cargo bike, RadRover is not the best option. In that case, you can check out other Rad Power models that might meet your requirements better.
RadMission — This is a simple city/hybrid bike with a 500W motor and minimal accessories. It's Rad Power's cheapest model that is excellent for urban commutes and leisure rides.
RadRunner (& Plus model) (Our In-depth review)— A compact cargo electric bike that can be completely transformed by attaching different accessories. The bike is quite small, with 20″ wheels, which makes it suitable for city commutes. The Plus model comes with more accessories out of the box and better components.
RadWagon (Our in-depth review)— A heavy-duty cargo bike that can haul up to 350 lbs of weight. It has an oversized integrated rear rack that can take two kids, a passenger, or bags and baskets to carry cargo.
RadMini (& Step-Thru) — A compact folding electric bike that has a step-over and a step-thru frame design. It has the same power and battery capacity as all other Rad bikes. It folds down small, so it's excellent for urban dwellers and travelers.
RadCity 5 Plus (& Step-Thru) — A straightforward hybrid or city electric bike that's an excellent choice for city commutes or fitness and leisure rides. It's very powerful and very practical, especially as it's available with either a step-over or a step-thru frame.
---
FAQs
Are Rad Power bikes any good?
Rad Power makes some of the best budget electric bicycle money can buy.
They're very popular and well-known in the USA, Canada, and Europe. Rad's bikes are characterized by excellent money to value ratio reflected in the quality build and durable components. All of their bikes are Class 2 e-bikes with pedal-assist and throttle functions and a focus on style and practicality.
Is RadRover a good electric fat bike?
Yes, RadRover is a very good electric fat bike. This is a budget fat bike equipped with mid-range and entry-level components, which is why it has an affordable price. It can be ridden both on and off-road thanks to its wide tires, front suspension, and powerful motor. With 750W of power and 80 Nm of torque, RadRover is a splendid choice for overweight riders as well.
How fast does the RadRover 5 go?
RadRover 5 has a maximum speed of 20 mph when using the pedal-assist or throttle mode. Of course, you can go faster than that if you use the power of your legs and pedal.
Why are Rad Power bikes so cheap?
Rad Power bikes are cheap because the company has a Direct-to-Consumer business model which means they manufacture, advertise, and sell the bike. By buying the bike directly from the company, you avoid paying the retail markup which makes the total price of the product lower. Rad Power also lowers the price by using entry-level components where possible.
How can I make RadRover faster?
There are two ways to make RadRover faster. You can either make it lighter by removing some of the accessories that are not necessary for you, or you can increase its top speed. The top speed can be increased in the settings menu on the LCD controller, but make sure your bike is still road-legal after that according to your local laws.
How fast can a 750W Rad Power bike go?
All Rad Power bikes have a maximum assisted speed of 20 mph. On a flat road, you will easily develop that speed in seconds. However, if the terrain is very steep, you might have to go a bit slower, especially if the road is unpaved.
Are Rad Power bikes made in China?
Yes, Rad Power bikes, including the RadRover, are made in China. Rad Power designs and develops their bikes in Seattle, but the product is manufactured in China and then shipped worldwide.
How long does the battery last on RadRover 5 electric bike?
RadRover 5 has a 672 Wh battery that will give you a range of 25–45+ miles, depending on what level of assist you mostly use. The battery is rated for 800 charge cycles so it can potentially last for years. Just remember not to store it in direct sunlight because that can affect the battery's lifetime.
Final Thoughts and Conclusions About Rad Power RadRover 5
To bring this lengthy review to a conclusion, RadRover is not the ideal bike for everyone out there, but anyone who rides it is bound to have fun doing so.
Sure, it's a budget electric fat bike that uses some entry-level components, but as long as you ride it recreationally you will get years and thousands of miles out of it.
Off the beaten track, RadRover feels powerful and fills you with confidence to explore and ride routes that you avoided before. On paved roads, the fat tires feel a bit sluggish, but that's not what you buy this bike for.
So if you want a well-built and affordable electric bike and you don't mind the hefty weight or the big build, RadRover is the right choice for you.
---