Tern Electric Bikes (Review)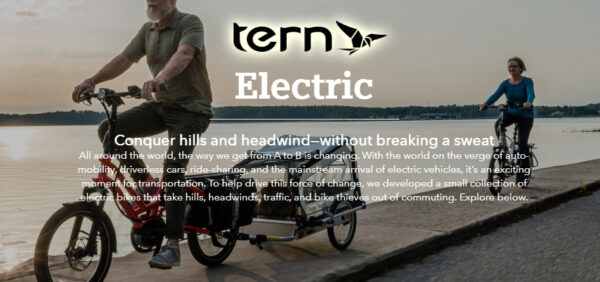 Folding electric bikes are the ultimate vehicles for urban commutes.
They're fast, practical, compact, and fold down small. You can ride them all the way from your home to work without breaking a sweat, or you can take them on trains at rush hour and solve your commuting problems.
The Taiwanese company Tern makes several different types of affordable folding electric bikes and regular folding bikes.
These compact commuters and cargo vehicles are designed to allow you to easily carry and transport them, as well as to easily carry and transport you and any additional cargo you might have.
In this review, we'll tell you all about Tern's electric bike models and help you figure out if a bike like this is the right choice for you.
About Tern Bicycles
---
Tern Bicycles is a Taiwanese bicycle company that specializes in making compact folding bikes for urban dwellers who crave practicality and want a small package that can do everything.
Tern was founded in 2011 by Florence Shen and Joshua Hon, wife and son of David T. Hon, the founder of the folding bicycle giant Dahon. Initially, the company was subject to litigation, but a settlement was reached between Tern and Dahon in 2013.
The company's name was inspired by the Arctic tern. A bird that is known for being light, small, and extremely efficient, traveling the longest distance of all migratory animals on earth. These are all the qualities that Tern attributes to its bicycles.
In the beginning, Tern mostly manufactured non-electric bicycles. However, that changed in 2015 when it launched several folding e-bikes with BionX motor units. Later on, in 2016, it expanded the lineup with models that relied on Bosch and Bafang systems, which are the e-systems their bikes have been using to this day.
Tern Electric Bike Models
---
At the moment, Tern produces eight lines of bicycles, all of which have folding properties. Tern makes both electric and non-electric folding bikes that are separated into three types:
Electric
Urban Performance
Around Town
The available models can best be described as compact commuters and compact cargo bikes. Therefore, practicality is at the bottom of Tern's philosophy.
Below, we'll take a closer look at Tern's selection of electric bikes that consists of three model lines—GSD, HSD, and Vektron.
Tern GSD Series
---
The GSD line consists of power cargo bikes with long, integrated rear racks and 20″ wheels. These bikes feature powerful Bosch motor and battery systems and can haul a lot of weight. They also fold, just not as compact as other models.
Tern GSD R14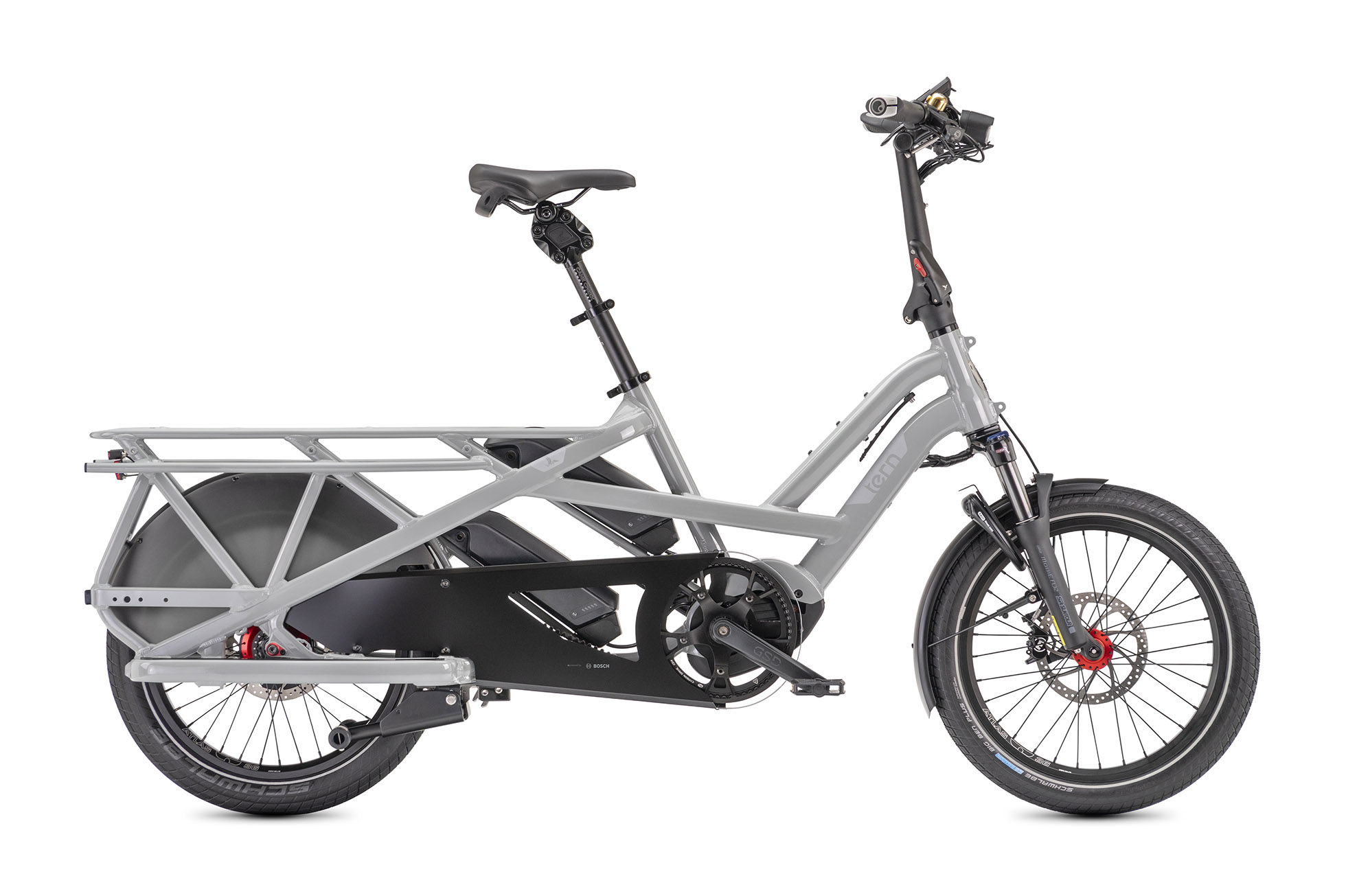 Motor: Bosch Cargo Line Motor, 80Nm, and 400% support
Battery: Bosch dual-battery system (1000 Wh)
Range: Up to 128 miles (206km)
Drivetrain: Rohloff Speedhub, 526% gear range
Features: Wheelskirt, chainguard, kickstand, front and rear lights, 4-piston disc brakes, electronic shifting
Tern GSD R14 is a premium electric compact cargo folding bike. Tern did not cut any corners when it comes to the components and features, which means that you will not lack any essentials. That also means that the price is quite high.
First of all, GSD R14 is powered by an 80Nm Bosch Cargo Line motor that provides 400% support. This is a class 1 e-bike, so the maximum speed is limited to 20 mph. It comes with two 500Wh Bosch batteries, so the total capacity is 1,000Wh. That means the expected range is around 128mi (206km). Very impressive numbers!
GSD R14 is also equipped with a Rohloff Internal Speedhub with a 526% gear range. It's controlled by electronic shifting, features automatic downshifting, and comes paired up with a maintenance-free Gates Belt Drive.
This bike also rolls on wide 20″ tires, has powerful hydraulic 4-piston brakes, front and rear lights, fenders, a suspended seat post, front suspension, Abus front wheel lock, and a host of other features.
GSD R14 has a 440 lbs (200kg) maximum gross bicycle weight and its seatpost and handlebar fold down for easy storage.
Get it if you want the best of the best!
---
Tern GSD S00 & S00 LX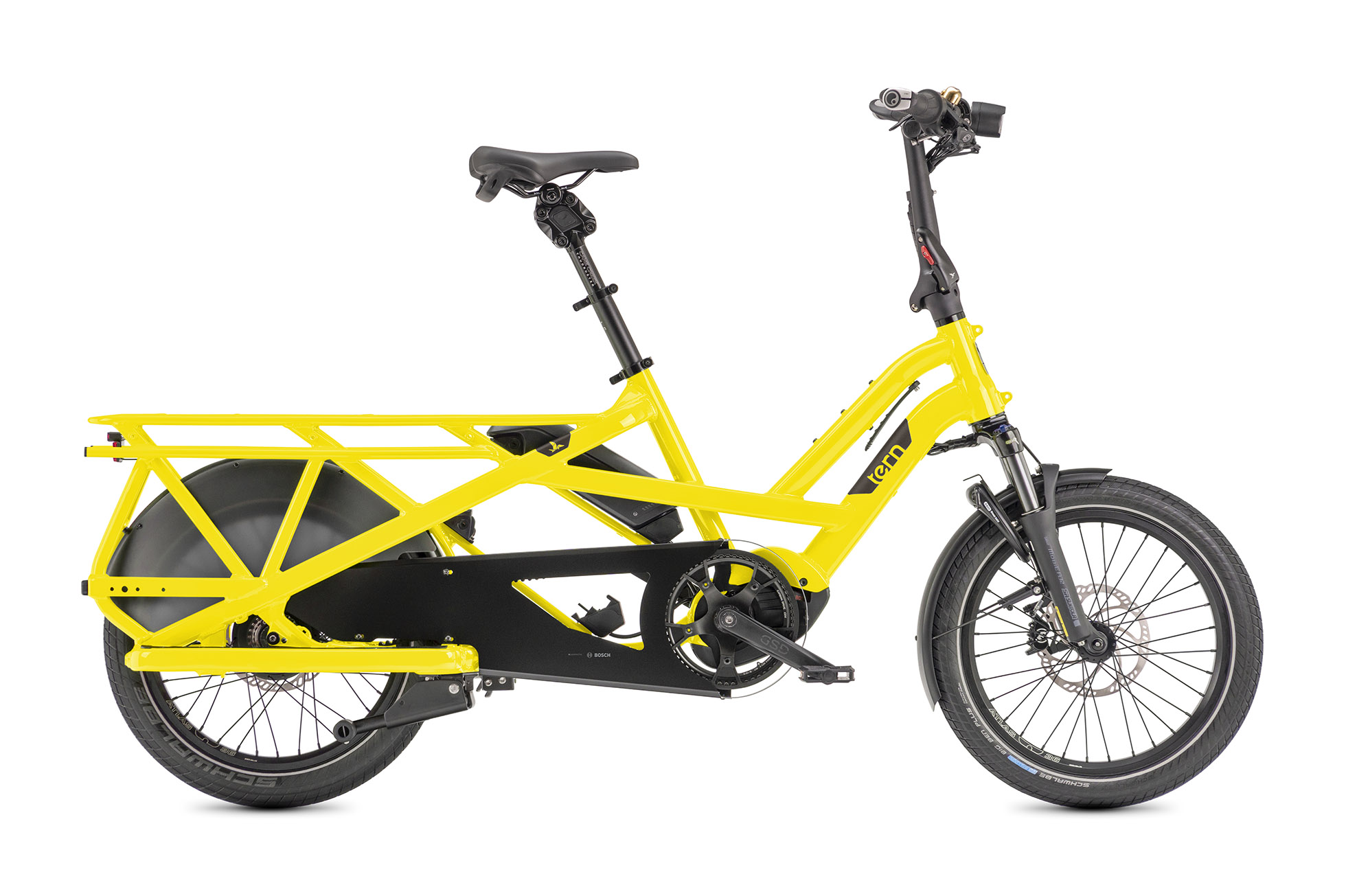 Motor: Bosch Cargo Line Motor, 80Nm, and 400% support
Battery: Bosch dual-battery system (500/1000 Wh)
Range: Up to 128 miles (206km)
Drivetrain: Enviolo SP hub
Features: Gates Belt Drive, fenders, wheel skirt, chainguard, kickstand, 440 lbs weight limit
Tern GSD S00 and S00 LX are also high-end folding cargo bikes coming from Taiwan. They have the same Bosch electronics as the R14 model described above, but the other components differ.
The only differences between GSD S00 and S00 LX are that the latter comes with a suspended seatpost and a more powerful, Ultra-bright Ignis™ Headlight. Everything else is the same.
These two bikes have a 20 mph maximum pedal-assisted speed and feature a heavy-duty, continuously variable Enviolo SP hub with a Gates CDX belt drive that requires no maintenance.
The stock version of the bike comes with one battery, but you can get another one for a 1000Wh capacity and a 128-mile maximum range. For many riders, that's enough for a few weeks of riding.
GSD S00 and S00 LX brake with 4-piston Magura hydraulic disc brakes that are extremely powerful and roll on Schwalbe Big Ben Plus 20″ tires that provide comfort and durability.
This bike fits riders 150 – 195 cm (4'11" – 6'5") tall. Basically, the whole family can ride it.
---
GSD S10 & S10 LX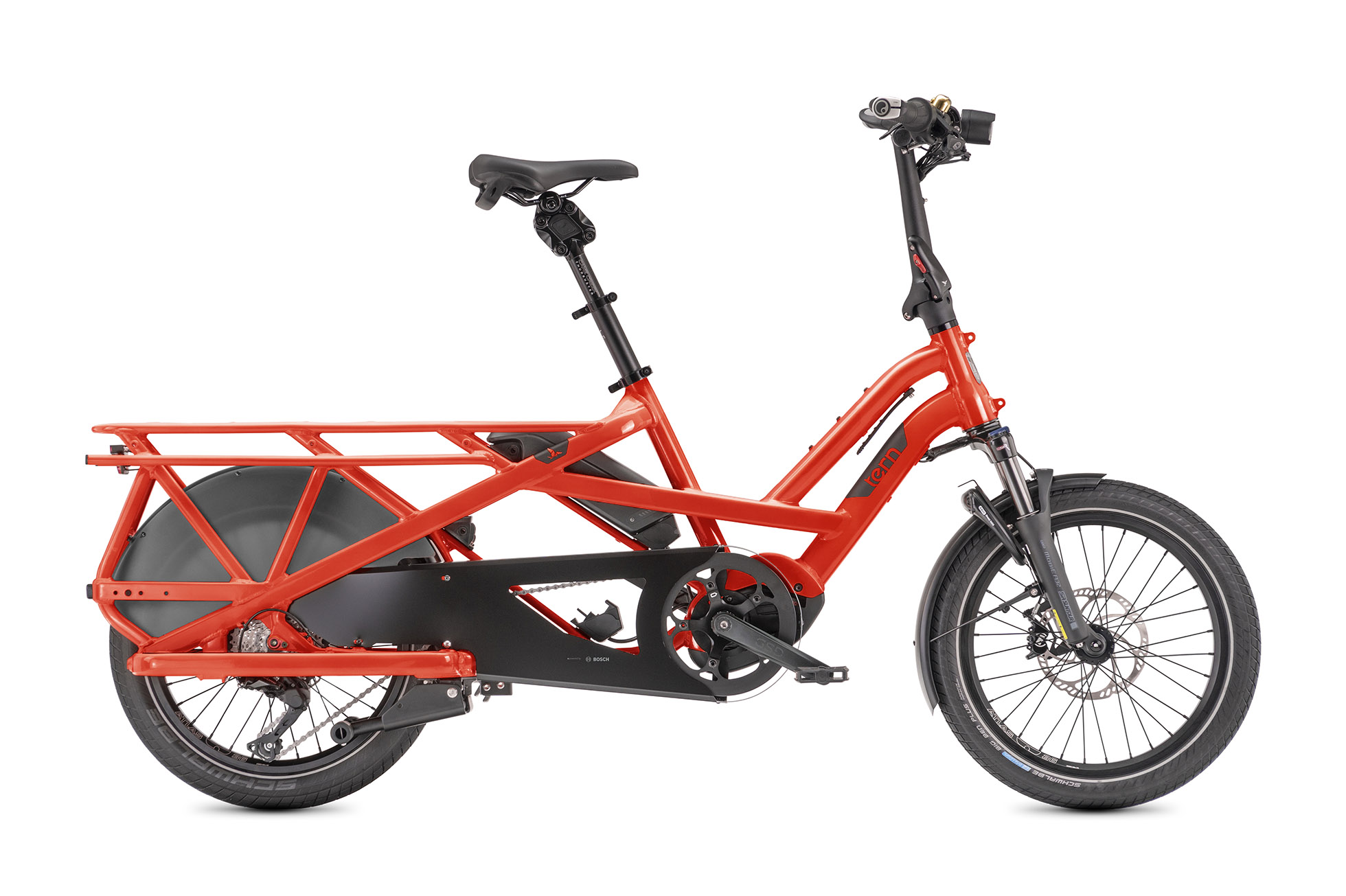 Motor: Bosch Cargo Line Motor, 80Nm, and 400% support
Battery: Bosch dual-battery system (500/1000 Wh)
Range: Up to 128 miles (206km)
Drivetrain: Shimano Deore 1 × 10-speed
Features: Foldable handlebar and seatpost, Atlas lockstand, integrated lower decks, Abus wheel lock
Tern GSD S10 and S10 LX are the most basic and most affordable of the three GSD models. The difference between the two versions is, again, just the seatpost and the front light. The S10 LX model has a suspension seatpost and an ultra-bright front light, which the S10 model lacks.
The motor and battery system is the same as on other GSD models, so you can expect the same power, top speed, and range. However, the drivetrain is significantly different. This model comes with a Shimano Deore 10-speed groupset instead of an internal gear hub. Still, this is a mid-range groupset that delivers excellent value.
GSD S10 is built around the standard aluminum GSD frame and has the same accessories as the other two models. The integrated rear rack can fit two Thule Yepp Maxi seats, so you can take your kids to school or bring them along on a leisure ride.
This bike offers excellent value at a high, but reasonable price. If you want to haul weight or take the entire family on a bike ride, you should consider getting it.
Tern HSD Series
---
Tern HSD is a lineup of three compact folding bikes that are more practical, but no less capable than regular bikes. They feature Bosch motor systems, internal and external gears, long racks that can carry kids or haul weight, and high-quality accessories and components.
These are bikes for the entire family to enjoy and find value in daily.
Tern HSD S8i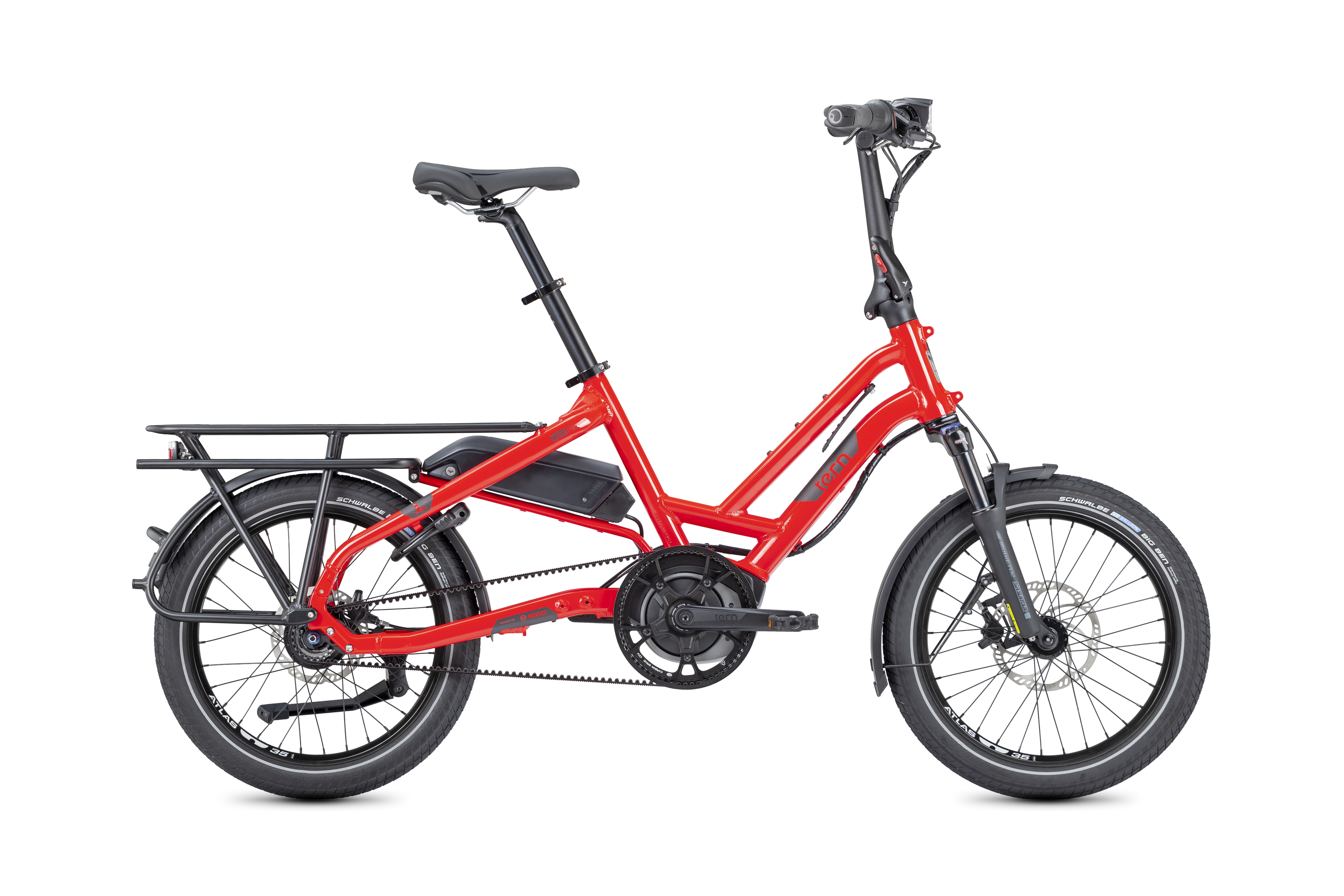 Motor: Bosch Active Line Plus motor
Battery: 400Wh
Range: Up to 69 miles (110km)
Drivetrain: Shimano Nexus 8 internal-gear hub
Features: Long rear rack, Gates Carbon Drive, hydraulic disc brakes, fenders, lights
Tern HSD S8i is a two-wheeler that comes in a small package but packs a strong punch. It's a convenient commuter for people who live in cities where every square foot of space is valued.
This is a folding electric bike with a Bosch mid-drive motor that will assist you up to 20 mph. The 400 Wh battery promises a 26-69-mile range, according to the company, depending on what level of assist you use.
HSD S8i rolls on 20″ wheels and tires so it looks quite small, but it fits riders between 4'11" – 6'5″. Its rear rack can easily carry a child seat and the bike has a 374 lbs maximum carrying capacity.
Thanks to the Shimano Nexus 8-speed internal-gear hub and the Gates carbon belt, there's almost no maintenance to do. The brakes are hydraulic discs, so they also require very little maintenance.
Other accessories on this nifty little bike include fenders, front and rear lights, a kickstand, front suspension, and a foldable cockpit and seatpost. All that's left to do is go for a ride and enjoy.
---
Tern HSD S+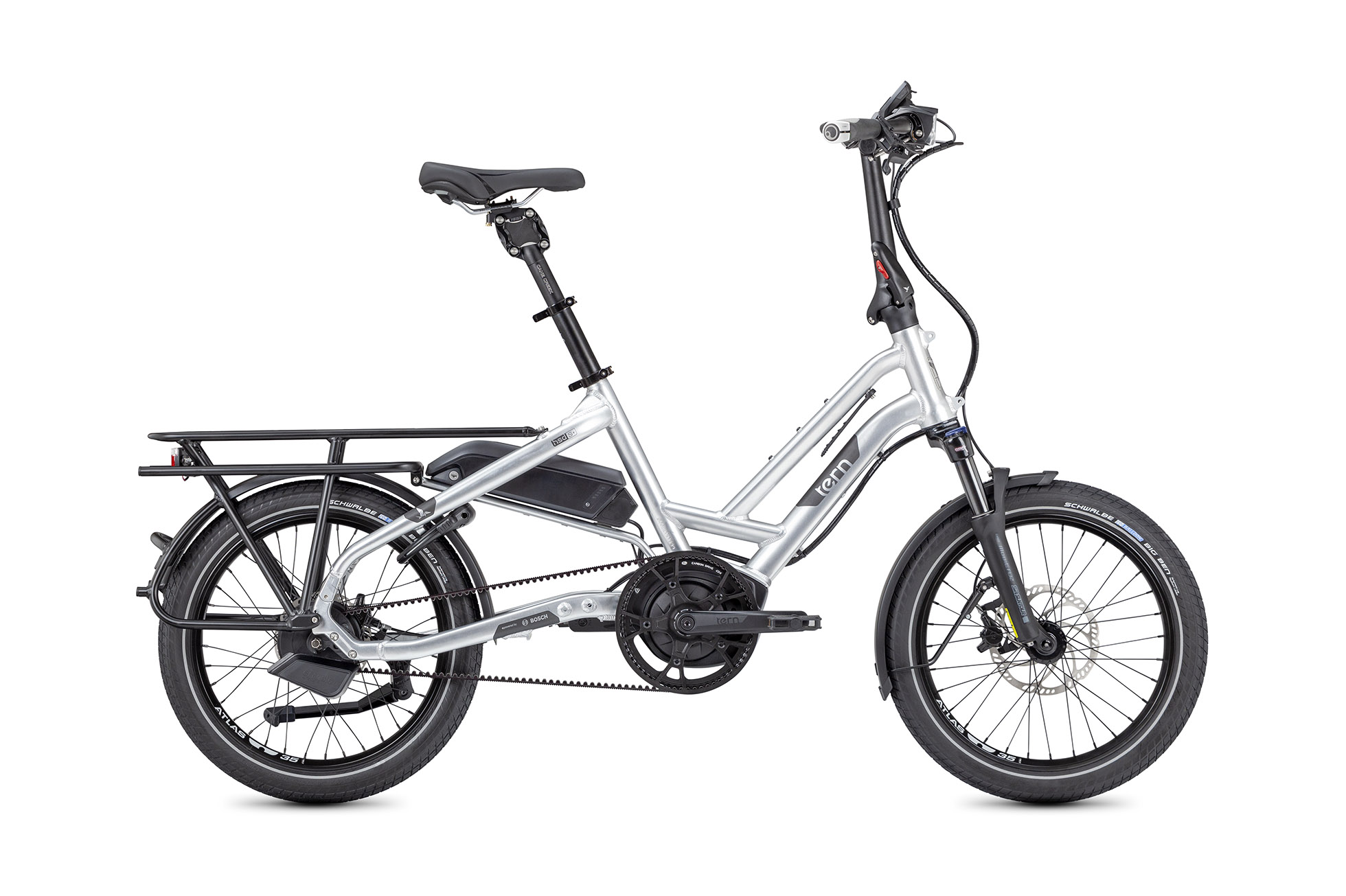 Motor: Bosch Performance Line motor with Intuvia display
Battery: 500 Wh
Range: Up to 74 miles (118km)
Drivetrain: Enviolo Sport 380 hub, automatic shifting
Features: Custom suspension fork, suspended seatpost, belt drive, Abus frame lock, lights
What you're looking at here is the flagship model in the HSD line. HSD S+ is a premium foldable electric bike that has all the bells and whistles an urban commuter could ask for.
It's powered by Bosch's Performance Line motor that draws power from a 500Wh battery. Therefore, the maximum assisted speed is 20 mph and the maximum range is 74 miles. That's more than enough for a week's worth of riding for many people.
HSD S+ is equipped with an Enviolo Sport 380 rear hub, featuring automatic shifting. All you need to do is turn the pedals and the bike will shift on its own. It's combined with a Gates carbon drive belt for a zero-maintenance experience. How cool is that!
This bike also promises a comfy ride thanks to its suspended seat post, balloon 20″ Schwalbe tires, and an SR Suntour front suspension.
You can ride HSD S+ every day to work, go grocery shopping, take your kids to school, or enjoy a leisurely Sunday ride. You can also do all of the above at once!
---
Tern HSD P9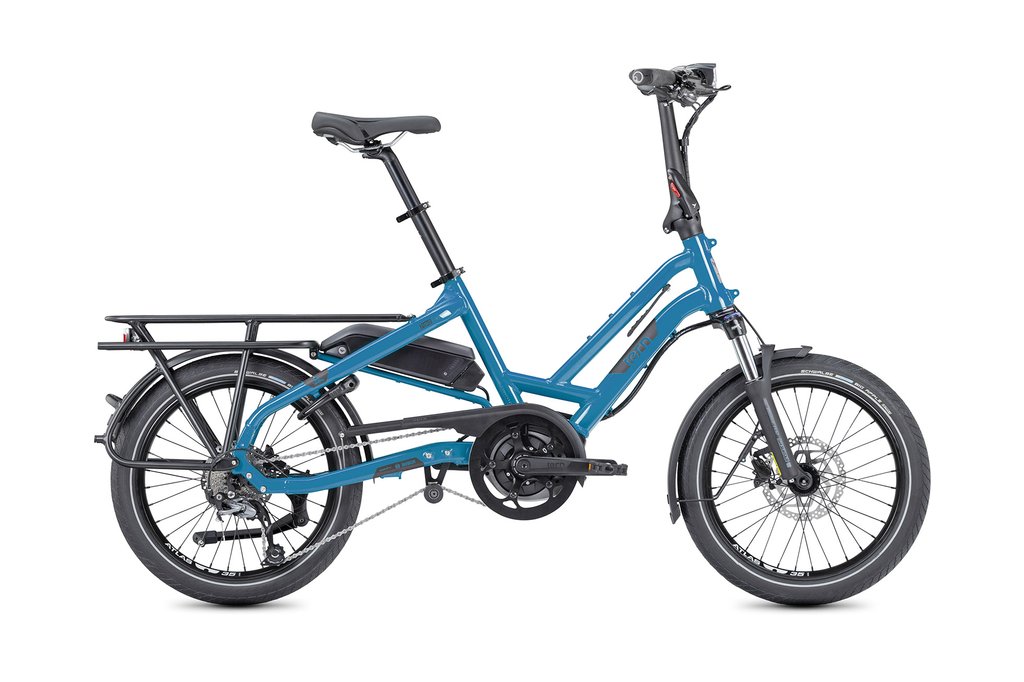 Motor: Bosch Active Line Plus motor with Purion display
Battery: 400 Wh
Range: Up to 69 miles (110km)
Drivetrain: Shimano Alivio 9-Speed
Features: Long rear rack, fenders, kickstand, lights, Abus frame lock, front suspension
Tern HSD P9 is the right model for budget-mindful riders who want an e-bike from the HSD lineup but don't want to break the bank. Still, don't think that you'll get less value or utility compared to the other two models.
HSD P9 is also powered by Bosch electronics which offer predictable pedal-assistance on all types of terrain. You can expect a range of up to 69 miles from the 400Wh battery, which is quite good.
Combine that with the 9-speed Shimano Alivio drivetrain and you have a capable and speedy city e-bike that will zoom past early morning and late evening traffic. When you need to stop, the Shimano hydraulic disc brakes will do it with no issues.
Tern HSD P9, just like other HSD models, can be equipped with a variety of accessories and be used for trips to school, grocery hauls, leisurely rides, or work commutes. When you need to store it or transport it, just fold the telescopic seatpost and the cockpit.
This bike offers excellent value for the money and can easily replace your car on a day-to-day basis.
 Tern Vektron Series
---
Tern Vektron is a selection of three bikes that fulfill every need modern city commuters have. These are best-in-class electric bicycles that fold into a compact bundle in a matter of seconds.
All three e-bikes are equipped with powerful Bosch mid-drive electric systems, useful accessories, quality Shimano groupsets, and mounting points for further modifications.
Ride your Vektron to school or to work, fold it, take it on trains, pack it in a car, or store it under your desk until work ends. Possibilities are endless.
Tern Vektron P7i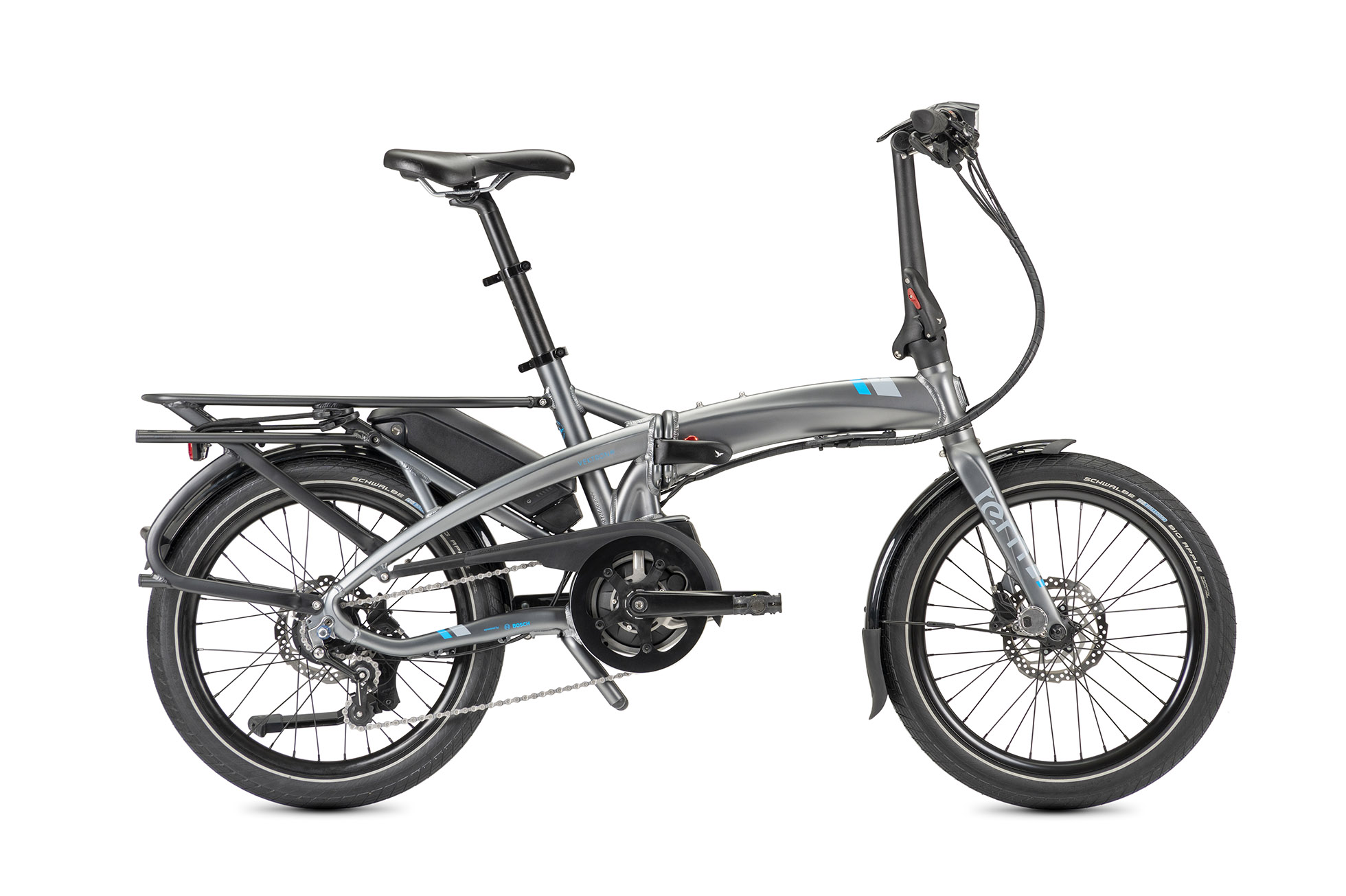 Motor: Bosch Active Line Plus, 270% assistance, 50Nm of torque
Battery: Bosch PowerPack 400 Wh
Range: 34-68 miles (54 -108 km)
Drivetrain: Shimano Nexus, 7 spd
Features: Folding frame, long rear rack, adjustable stem, hydraulic disc brakes, internal gears
Tern Vektron P7i kills two birds with one stone. It's a fully-folding electric bike, so it's easy to store and transport, and gives you an extra boost to farther than ever before.
Vektron P7i boasts a Bosch Active Line Plus electric system with a 250W motor that delivers 50 Nm of torque and 270% of assistance. The battery has a 400Wh capacity, so expect a range between 34-68 miles. That's great for someone who commutes daily.
As Vektron P7i is a premium folding e-bike, it also features a Shimano Nexus 7-speed internal gear hub that requires no maintenance. The chain, however, needs regular cleaning and lubrication. P7i also has hydraulic disc brakes for the best possible stopping power.
Tern folds down in a matter of seconds by unlocking the middle hinge, dropping the seatpost, and folding the cockpit. The folded dimensions are just 16.1″ x 33.9″ x 26.8″.
Tern Vektron P7i also has a myriad of accessories and comes at a reasonable price, which makes it the ultimate folding e-bike for city folks on the go.
Tern Vektron S10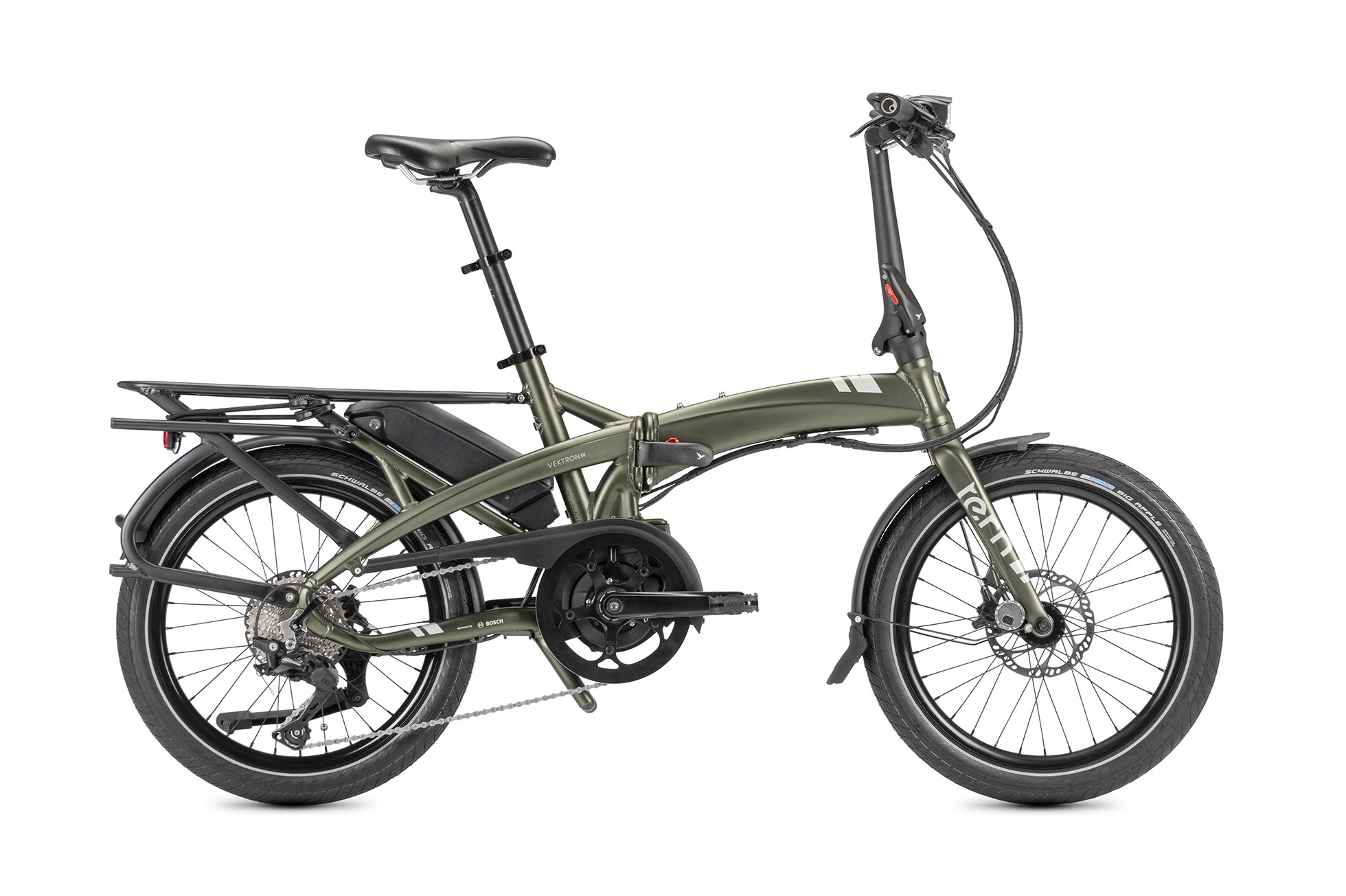 Motor: Bosch Performance electric drivetrain, 300% assistance, 65 Nm of torque
Battery: 400 Wh
Range: 34-68 miles (53-106km)
Drivetrain: Shimano Deore, 1 x 10 spd
Features: Fenders, kickstand, chainguard, lights, hydraulic disc brakes, reclining battery
If you're on the lookout for a top-tier folding electric bike, you might have just found it. Tern Vektron S10 is packed to the brim with advanced components and features that will get you to spend more time on your bike and less time in your car, sitting in a traffic jam.
Tern Vektron S10 has a Bosch Performance electric drivetrain with 65Nm of torque that delivers 300% of assistance. Therefore, no hill will present a challenge for the two of you. The 400Wh battery gives you the same range as on Vektron P7i, which is 34-68 miles.
This bike also has a mid-range Shimano Deore 1×10 drivetrain and Magura hydraulic disc brakes that stop on a dime in all conditions.
Finding the right position is easy thanks to the Andros adjustable stem, so Vektron S10 fits riders between 4'10" and 6'5″.
Get it if you want a premium bike for a premium riding experience, considering you don't mind a slightly elevated price tag.
---
Tern Vektron Q9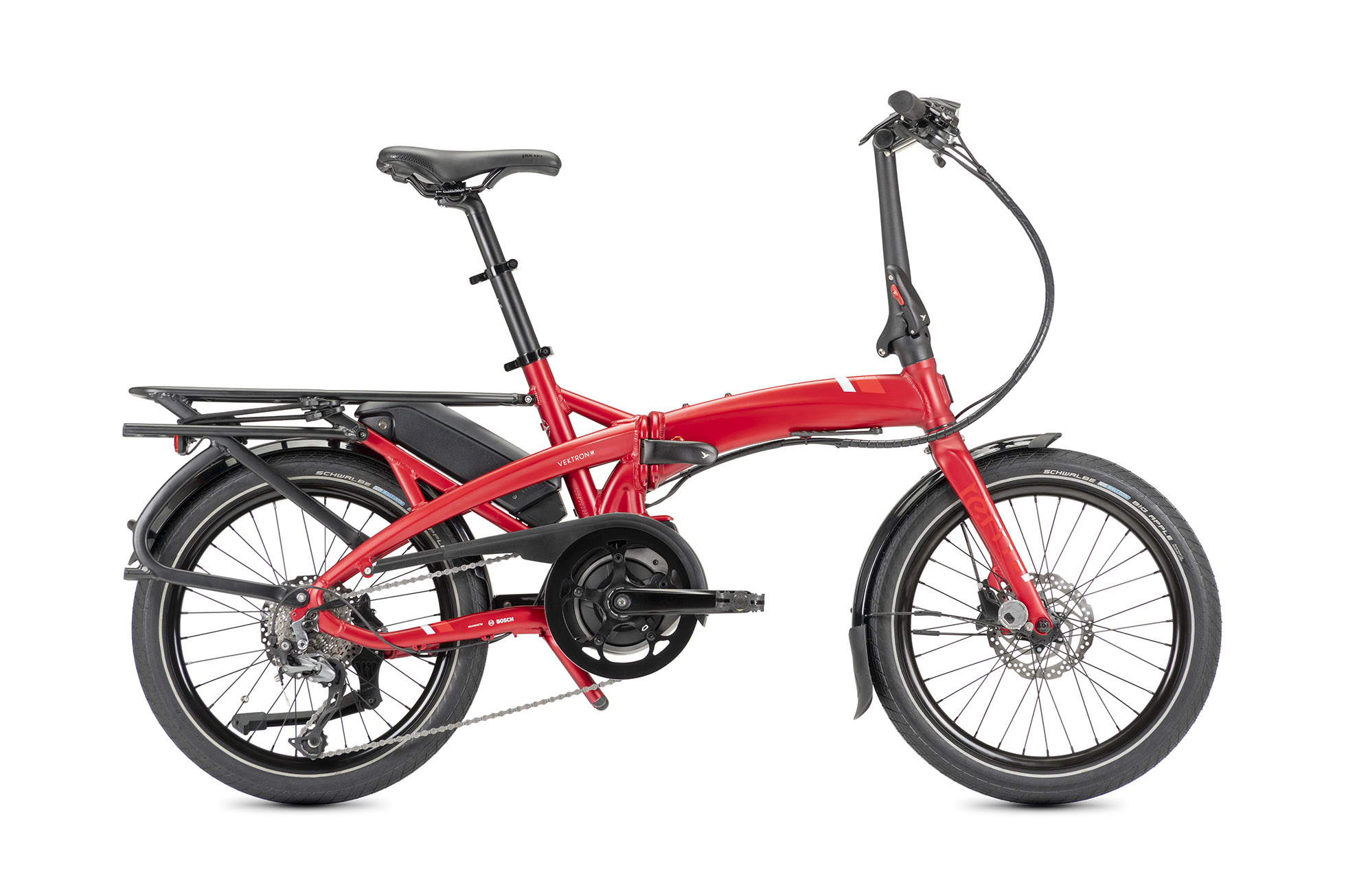 Motor: Bosch Active Line Plus electric drivetrain, 270% assistance, 50 Nm of torque
Battery: 400 Wh
Range: 35-70 miles (55-110km)
Drivetrain: Shimano Alivio, 1 x 9 spd
Features: Telescopic seatpost, fully foldable, fenders, kickstand, wide tires, hydraulic disc brakes
Tern Vektron Q9 is the most affordable and the most basic of the three models in this lineup. However, it is still an excellent mid-range folding electric bike that can make you happy and free every day for years and thousands of miles to come.
It has the same electronics as Vektron P7i, ensuring a 20 mph maximum pedal-assisted speed and a 35-70-mile range. The mid-range positioned motor and the reclining battery improve balance, stability, and ride feel.
Vektron Q9 also sports a 9-speed Shimano Alivio groupset, which is a great mid-tier choice. The hydraulic disc brakes offer good all-weather stopping power, and the Schwalbe tires will give you plenty of grip and comfort.
This bike folds in a matter of seconds into a compact bundle, so you can easily take it on a train, carry it upstairs, or pack it into your car's trunk. It weighs 48.2 lbs, which is quite reasonable for a folding electric bike.
We recommend this model if you want to invest in your freedom and commute on two wheels every day.
Tern Gear
---
If you need more gear and accessories for your Tern electric bike, you can check out the "Gear" section on Tern's website.
Tern makes all types of gear and accessories that are specifically designed for their bikes, so you do not need to worry about compatibility. You can browse the available products by the model of the bike you have or by product category.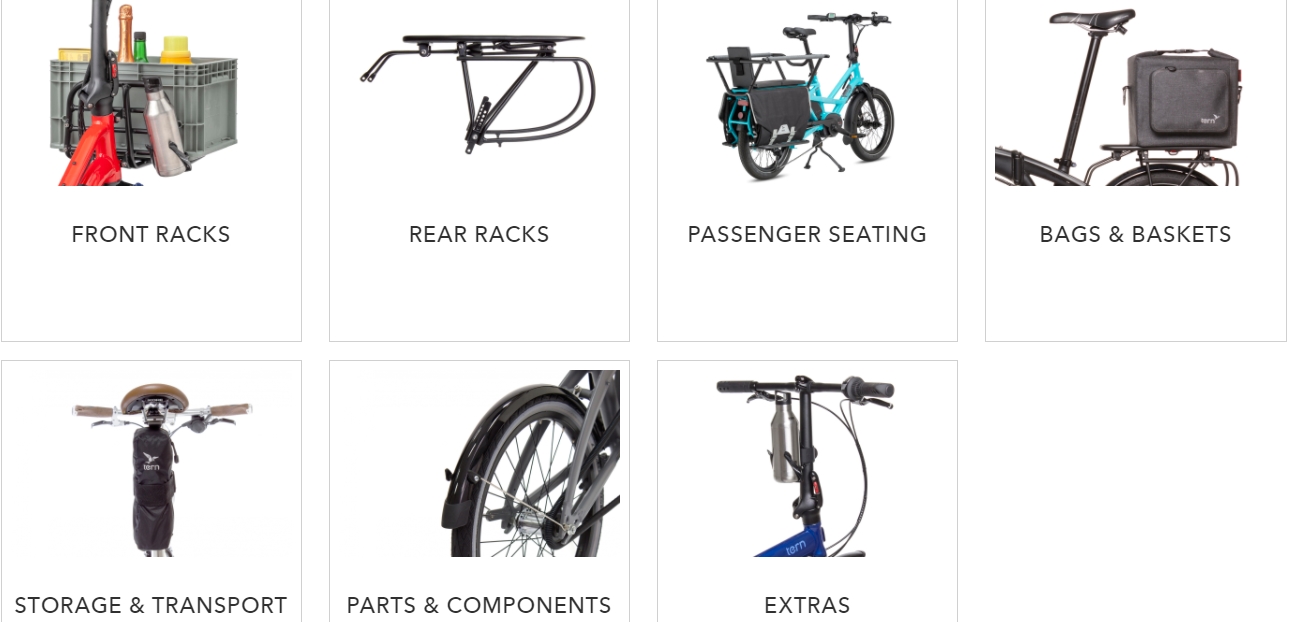 Tern stocks all sorts of items you can fit on your bike to enhance its practicality and comfort, such as:
Front racks
Rear racks
Passenger seating
Bags & Baskets
Storage and transportation gear
Parts & components
…and numerous other extras
The prices of these products are slightly higher than the market's average for the same type of item, but they are fully compatible with your bike, so you don't need to worry about getting a part that will not fit on your Tern.
Warranty
---
Tern believes in their products, so they offer a limited warranty against defects in materials and workmanship. The warranty period differs depending on the type of product:
Five Years: Frame, Handlepost, and Fork
One Year: All Tern or BioLogic branded parts and components, except as noted below.
Other: Any other parts or components are covered by the stated warranty of the original manufacturer of that part or component.
Owners of Tern bicycles can also sign up for Tern Care and get an extended 10-year warranty on the frame, handlepost, and fork, as long as they sign up within 30 days of purchase.
Final Thoughts About Tern Electric Bikes
---
To sum up, if you're looking for a practical electric bike that won't take too much room in your home and that's easy to transport, Tern is a very good choice. The company makes some of the best electric folding bikes in the world.
About the prices, well, they're slightly higher than the average. But Tern more than justifies the high price tags with the excellent build quality, durable materials, and reliable high-end components from reputable brands.
Therefore, if your budget is high enough and you want a bike that will serve you for years or decades with minimal maintenance and upkeep, what Tern has to offer is hard to beat.
---