Juiced RipCurrent S Review
Sale!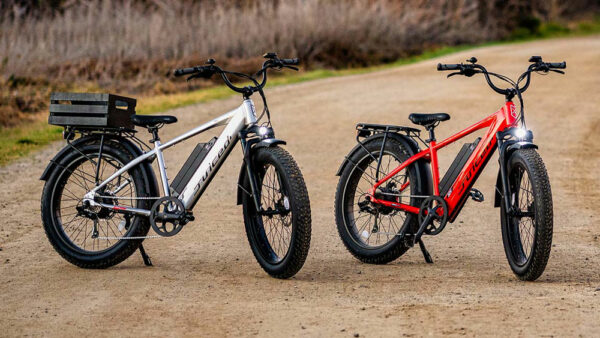 The Juiced RipCurrent S first hit the market in 2018 and remains one of the brand's most popular models.
Juiced Bikes specializes in moped-style electric bikes, but the RipCurrent has a traditional hybrid look. In 2022, it received a major power upgrade and the addition of torque sensors, a rear rack, and fenders. As a result, this e-bike is now more capable and versatile than ever.
You can purchase the RipCurrent electric fat-tire e-bike in a step-through or step-over frame and modify it to be Class 2 or Class 3, depending on your local regulations.
This Juiced RipCurrent S review will review the bike and its performance, discuss the design and components in detail, and finish with our ride or pass verdict.
Juiced Bikes RipCurrent S Main Specs
MSRP: $2,399

Class: 2 or 3, 28mph
Motor: 1000W (1,300W peak) Bafang hub

Battery: 998Wh, 52V
Range: 70 miles
Tires: CST 26×4″
Gears: 9-speed
Brakes: Hydraulic discs
Weight: 76 lbs (step-over) 73 lbs (step-thru)
Juiced Bikes RipCurrent S Review
The Juiced Bikes RipCurrent S is all about performance and utility. It's loaded with powerful electronics, a complete set of commuter components, and fat tires and air suspension for mixed-terrain riding.
Thankfully, Juiced didn't forget about comfort. The brand chose a plush Selle Royal saddle, ergonomic grips, swept-back handlebars, and relaxed geometry, giving the RipCurrent S a cruiser-like ride quality. Of course, the step-through model adds extra convenience when mounting and dismounting.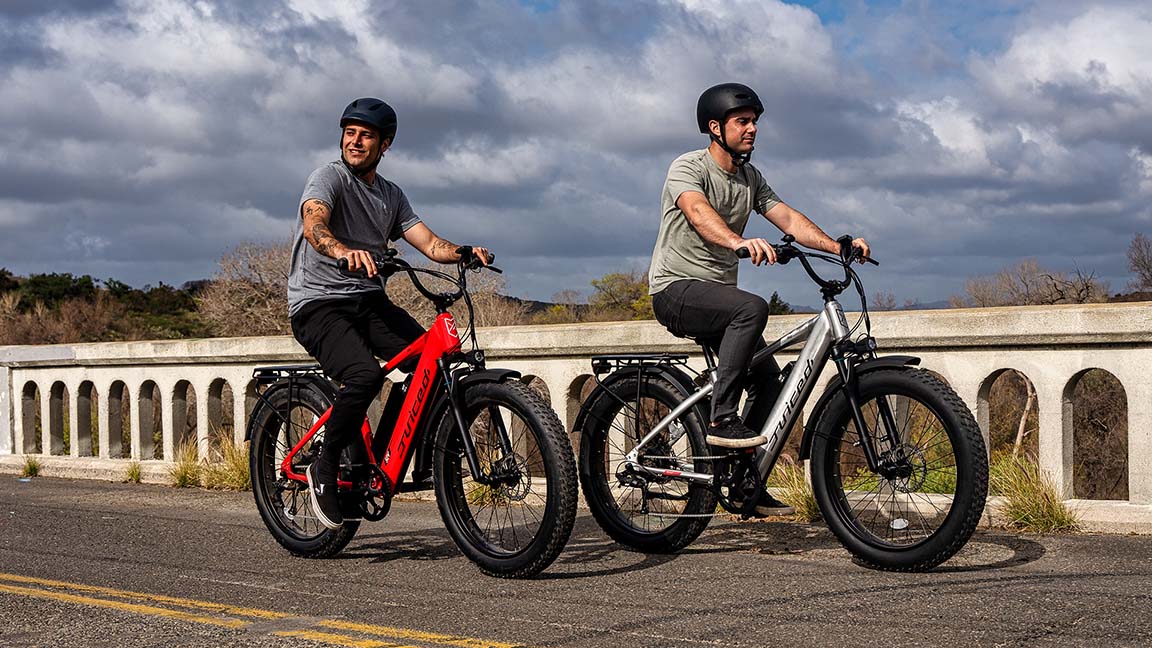 This e-bike feels extremely powerful. The 52V system allows huge power transfer to the 1000W motor, meaning you can maintain high speeds while climbing or with a 300-lb payload. The addition of torque sensing also results in a much smoother ride than cadence sensors alone.
A plush air suspension fork and massive 4″ tires make for comfortable and confident off-roading, but the geometry isn't suited to proper mountain biking trails.
All things considered, the Juiced Bikes RipCurrent S definitely justifies its price tag and makes the perfect companion for the thrill-seeking urban rider.
Juiced RipCurrent S vs. RipCurrent
There are several key differences between the RipCurrent and the RipCurrent S. Most importantly, the basic model only costs $1,699 ($700 difference).
In terms of components, the Juiced RipCurrent has a smaller battery (780Wh) and motor (750W), coil suspension instead of air, and no rack or fenders. It also has a lower payload capacity of 275 lbs and weighs slightly less (70 lbs).
Juiced RipCurrent S Frame, Geometry, and Sizing
The Juiced Bikes RipCurrent S has a straightforward hybrid-style frame made with heat-treated aluminum alloy.
Like all Juiced e-bikes, the battery is mounted on the downtube instead of integrated into the frame, giving it a cheaper look. Thankfully, the cabling is integrated into the frame, and you get bosses for a bottle cage on the seat tube.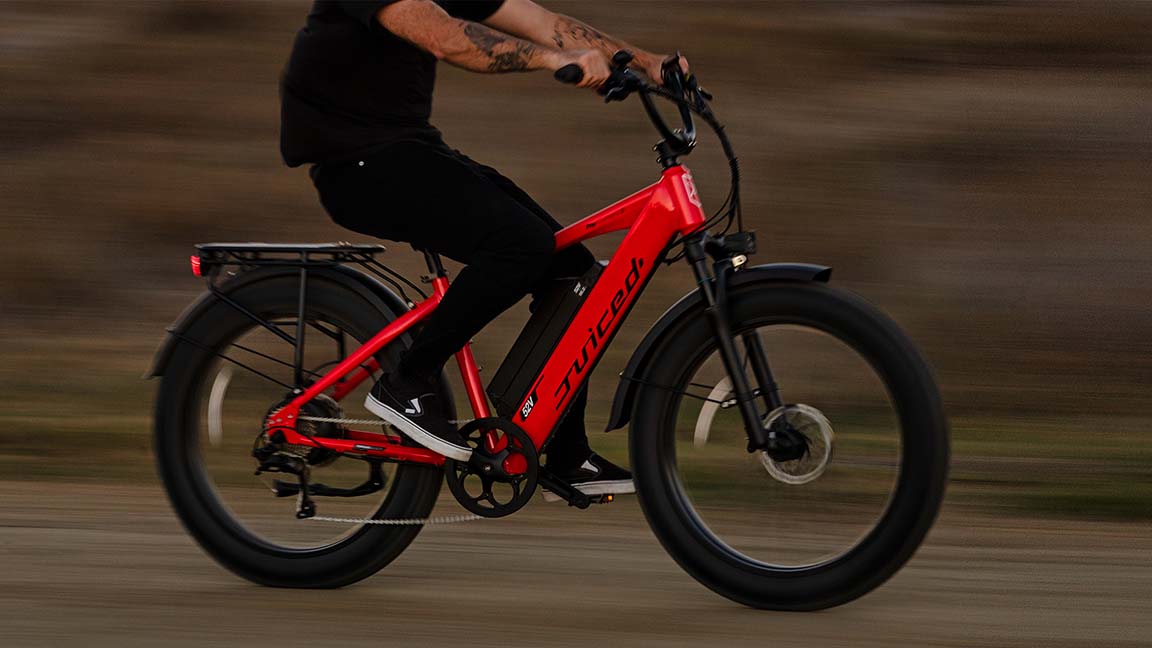 The geometry is standard for this type of bike; upright and comfortable. This design restricts its off-road capabilities, as riding on rough downhills will feel unstable. As mentioned, the rider-facing handlebars allow you to sit up straight in a relaxed position with plenty of visibility for riding in the city.
The sizing is unusual for this model. The RipCurrent S step-through comes in one  size only, fitting heights from 5'3″ to 6'1″. In contrast, the step-over comes in three sizes (Medium to XL), fitting heights from 5'4″ to 6'3″ and over.

How much does the Juiced RipCurrent S weigh?
The Juiced RipCurrent S weighs 73 lbs in the step-through configuration and 76 lbs in the step-over frame. Without the battery, the bikes weigh 65 lbs. This is a heavy electric bike, but it's in a normal range for the fully-equipped fat tire category.
Motor, Sensors, and Battery
The Juiced RipCurrent's e-bike system is where it truly shines. Firstly, you get a 52V system and a controller that supports up to 1300W, meaning you won't be short on power. With this setup, you can reach your top speed in just a few seconds.
The battery chosen is a gigantic 998Wh unit that returns up to 70 miles of range, more than average for the category. In addition, this battery has lights that indicate the charging progress while it's plugged in, a locking power button, and a hidden Apple AirTag slot for extra security.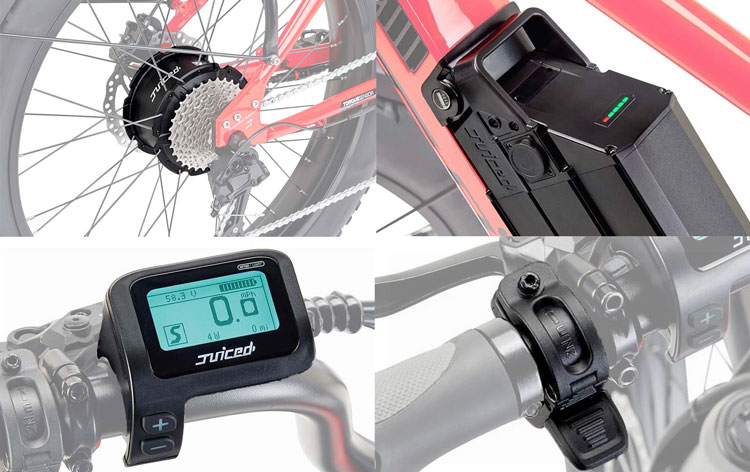 The motor is programmed as Class 2 when it ships, with a 20 mph top speed from throttle or pedal assistance (PAS). However, this setting can easily be changed through the display. You have five PAS modes and cruise control, so you don't have to hold down the throttle if you want to ride along at a steady pace.
The motor is a 1000W Bafang hub with a 1300W peak output. It runs off torque and cadence sensors, meaning the motor will provide dynamic assistance based on how much power you're pushing. This combination makes the RipCurrent ride more like a mid-drive than a hub-drive e-bike.
How much torque does the Juiced RipCurrent S have?
The Juiced RipCurrent S has 80 Nm of torque, which is relatively high for a hub motor e-bike. This torque rating is ideal for climbing steep gradients, accelerating quickly off the mark, and maintaining high speeds with a full payload of 300 lbs.
Juiced RipCurrent S Components and Accessories
The build kit for the RipCurrent S is hit-and-miss. You get a full commuter setup, including a rear rack, plastic fenders, a bell, and lights. The headlight has a whopping 1050 lumens for seeing and being seen wherever you ride, but the taillight isn't connected to the battery and requires disposable batteries.
This e-bike has a set of 26″ aluminum wheels wrapped in medium-tread 4″ CST fat tires. Unfortunately, the drivetrain is rather disappointing. It's an off-label L-TWOO A5 9-speed with trigger shifters, which doesn't perform well over time. That said, the gearing range is excellent for pedaling at high speeds, with a 52t crank.
Another so-so component is the Logan hydraulic disc brakes. They're not well known, but they perform fine for this price, although we'd prefer to see Shimano or Tektro.
Finally, it's worth emphasizing the air fork with lockout and preload. Air suspension isn't common on cheaper e-bikes, but it provides a superior ride quality and weighs less.
Juiced RipCurrent S vs. Aventon Aventure.2
The Juiced RipCurrent S and Aventon Aventure.2 are very similar, but the price difference is $500; the Aventure.2 costs $1,899.
Aventure.2 has tidier electronics and cabling integration, a Shimano drivetrain, Tektro hydraulic brakes, and an extra 100 lbs capacity compared to the RipCurrent S's off-brand groupset and externally mounted battery. That said, the RipCurrent has a more powerful 52V e-bike system and 1000W motor, a larger 998Wh battery with more range, and air suspension.
Shipping and Assembly
Shipping on Juiced electric bikes is free within the lower 48 states. Currently, they don't ship to Hawaii, Alaska, or Canada. Most orders are delivered by FedEx Ground.
Delivery times vary, but orders for in-stock items are processed in three to eight business days. Once the order is processed, you'll receive a confirmation email with tracking information.
Juiced e-bikes come partially assembled in protective foam packaging. There is a relatively involved assembly process, but Juiced provides detailed, high-quality follow-along videos for assembly and tuning with an FAQ and technical support live chat for additional questions.
If you're uncomfortable doing it yourself, we recommend taking the bike to your local electric bike dealer for a professional assembly.
---
Other Juiced eBikes to Consider:
---
Our Verdict: Ride or Pass?
The Juiced RipCurrent S gets a resounding thumbs-up from us.
No, it's not the cheapest fat-tire electric bike, but it has unique power for the category thanks to the 1000W hub motor and 52V system. It also comes with a set of urban commuter components and a plush air fork that we don't typically see at this price.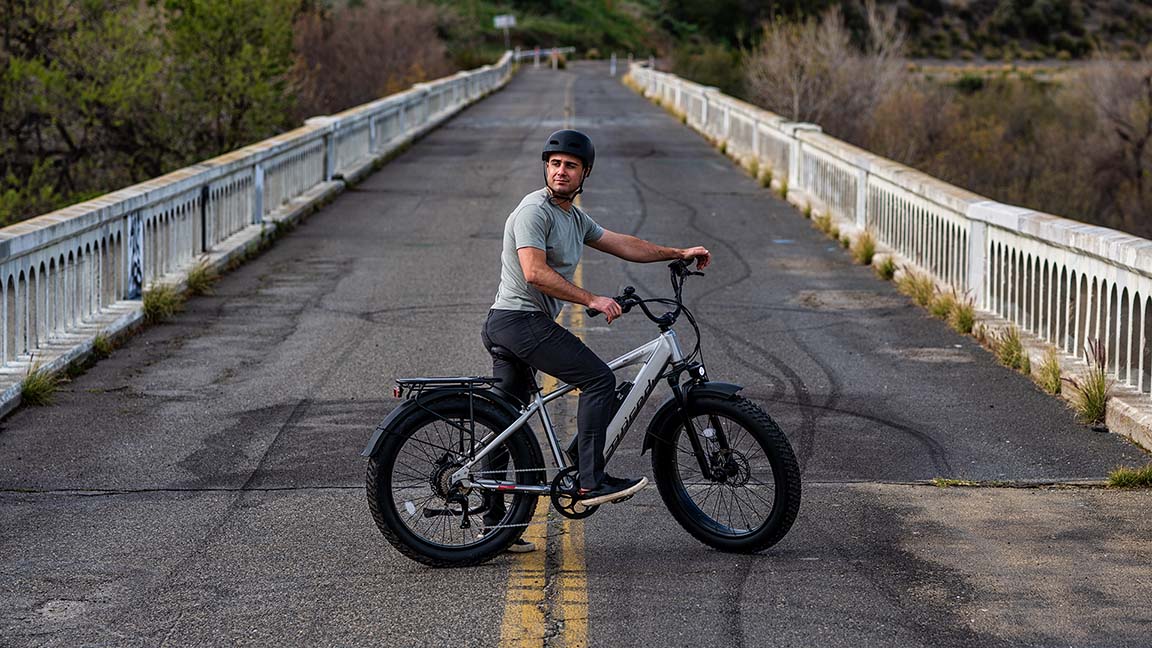 We expect fat-tire e-bikes like this to be heavy; the Aventon Aventure.2 and Rad Power Bikes RadRover 6 Plus weigh over 70 lbs, so we're not surprised that the RipCurrent S follows suit.
The major drawback of this bike is the non-integrated look which mightn't appeal to the aesthetic-minded rider. However, if that's not an issue and you want a thrilling and highly-functional ride, the Juiced Bikes RipCurrent S is worth adding to your shortlist.
---