Juiced Bikes Scrambler Electric Bike Review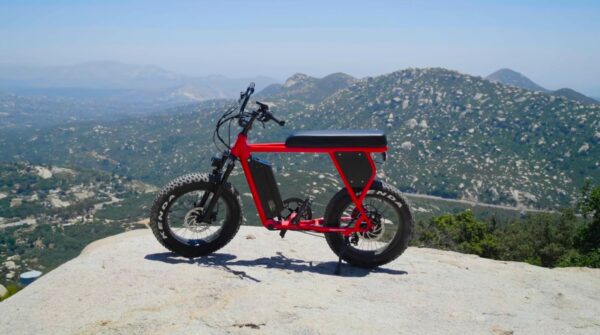 Have you taken a look at the Juiced Scorpion and wanted something a little more low-key? The Scrambler makes a great compromise between aesthetic and simplicity, while keeping the same performance of its bigger brother—the Scorpion. Furthermore, the Scrambler's simplistic design is easier on the eyes. 
Getting on the bus to work isn't as easy on the conscience as it used to be, with the global pandemic up and about. If you aren't from New Zealand, then chances are your neighborhood is still wearing a mask and practicing social distancing. So, why don't you get a motorcycle? For one, the paperwork alone will cost you a fortune. Additionally, the time it will take to arrive and pass through customs. A regular bike? Eh.
Electric bikes are a great way to get from point A to point B with the ease of a nimble bicycle, and then some.
The Scramble is a Class 3 electric adventure bike that has a lot to offer for your everyday commute. Say goodbye to paranoia-inducing bus rides and hello to calm, windy, and convenient riding to work and back.
Make sure to also check out our Juiced HyperScrambler 2 review if you want something similar but with a lot more power.
MSRP: $1,799
Class: 3 (Electric Adventure Bike)
Motor: 750W Geared Hub Motor (1,300W Peak)
Battery: 52V/13Ah
Range: 45+ Mile Range
Frameset and Geometry
---
Right off the bat with the Scrambler is you'll notice that the design doesn't look like your average e-bike, instead this is a moped-style electric bike that shares a lot of features with electric mopeds but passes as an ebike.
The Scramble gives off that classic vibe that seems to stem from the frame design or the leather seat. And, keeps the same performance as the Juiced Scorpion.
Now, speaking of seats, Juiced's e-bikes are strong enough to carry two people. Their intentionally long custom padded seats are simply open invitations to have a buddy ride their e-bikes with you. Don't be afraid of being too heavy, as the Scrambler can carry up to 275 pounds of weight before buckling down like the 2020 economy.
Furthermore, with the classic 4-inch wheels present in almost every Juiced e-bike, you can expect a much more enjoyable ride on rough terrain. If that wasn't enough, there's a Hydraulic Lockout and Hardtail Configured suspension on the front and rear areas, respectively. In conclusion, it's an electric bike made for adventure.
Juiced's e-bikes are strong enough to carry two people.
While Juiced does advertise a demographic of anyone above 5'2'' for the e-bike, a lot of reviews online beg to differ. A general consensus is that anyone above 6'0'', specifically 6'2'', will have a hard time on the Scrambler. Even though Juiced offers the seat extender, which comes at an extra $65 bucks, all it does is prop you up and doesn't make enough of a difference for some tall riders.
Now, the Scrambler is a heavy e-bike at around 71 pounds. Yet despite that, it feels pretty nimble when you finally drive it with pedal assist or with just the throttle.
Motor and Battery
---
On a single charge, the Scrambler can take you about 45 miles away from your starting destination. However, don't expect that you'll be traveling 45 miles running at 28 mph. Electric vehicles sacrifice mileage for speed and vice versa, so give your battery pack some allowance. Otherwise, we wouldn't want you to be that guy pedaling a 71-pound e-bike on the way home. The charger that comes with the package is a 2 Amp charger that charges the Scrambler, although Juiced does offer a separate Turbo Charger that pumps out 4 Amps.
The Scrambler has the same engine as the Scorpion, which is a 750W Geared Hub that peaks at 1,300W. This brings the bike up to a max speed of 28 mph, making it a class 3 e-bike.
Although this is a powerful engine, keep in mind that the Scrambler is a heavy bike compared to other e-bikes. Yes, the acceleration will feel great, but not amazing. Now, in the context of an actual bicycle replacement, however, the acceleration is more than enough to get you to where you are while still keeping you at a safe speed. In fact, the 28 mph limit—and other similar limits—are more mandated by law and not by the limitations of today's technology.
Components
---
Moving on to the finer details, the components of the Scrambler are—in short: amazing for its price.
When Juiced's first e-bike came out on the market as a startup, many doubted the price it was being sold at compared to other e-bikes in the market. That being said, Juiced has been around since 2009. So, there are years of experience behind this brand and its product.
The Scrambler's speed is controlled by a 7-speed Shimano Freewheel transmission. Juiced offers 7 gears to choose from: 0, Eco, 1, 2, 3, Sport, and Race Mode (which is unlocked by fiddling through the settings in your LCD display). To give you a better overview, here's a rundown of some extra key features that are worth mentioning:
Three colors available
The LED headlight is small yet bright, at 1,050 lumens
LCD Advanced Matrix Display
Tektro Hydraulic Disc Brakes(Front: 180 mm,  Rear: 160 mm)
Custom Padded Double Seat
4-inch thick Mag wheels with a Camp and City variety for different terrains
The frame is made from an industry-standard material, 6061 Aluminum that's heat treated. Additionally, you'll find the headlight at the front of the bike, near the wheel, which lights up the road at 1,050 lumens.
There are some other key components to the Scrambler, like the brake and seat, but those deserve a spot of their own.
Style and Aesthetic.
If you want an electric bike that catches everyone off-guard, the Scrambler has got your back.
Right off the bat, you can pick between 3 colors: Brushed Aluminum, Glossy Black, and Flat Red.
The clean design of the Scrambler makes it look like a regular e-bike, but the engine does not play around. Although the 28 mph top speed we talked about earlier is already impressive, it's even more impressive when it comes from this seemingly normal bike.
All in all, the Scrambler's simple design already has aesthetic points, but the performance with the minimal design? Completely unexpected. 6 out of 5 stars.
Made for the Adventurous.
The Scrambler lives up to its name, being an electric adventure bike.
You can purchase camp and city models, which come with all the same parts except for the tires. The Camp tires are 20'' x 4'' Kenda Knobby, which are perfect for off-road tracks and gravel roads. And, the City variation comes in a slightly bigger wheel, 20'' x 4.25'', and are both puncture-resistant.
With the 45 mile range, 28 mph top speed, and off-road designed tires, the Scrambler will take you anywhere.
Ride Feel and Suggested Use.
The e-bike is fun to ride and a joy to stroll around the city on. Though the design is simple, the performance is among the best. It is classified as a class 3 e-bike, after all. You can use this e-bike for the city or even on mountain trails if you have the Camp tires for it.
Assembly
---
The Scrambler doesn't arrive fully assembled to your doorstep, but the procedures to put the e-bike together are fairly simple. Refer to Juiced's dedicated video tutorial for this to guide you through the whole process.
You Might Also Ask
---
Are juiced bikes any good?
Juiced has been around since 2009. Although the Scrambler and Scorpion are new bikes, there are hundreds of positive reviews that back and support the quality of these bikes. In short, yes. They are good.
Where are Juiced bikes made?
Juiced's factory is located in San Diego, where the e-bikes are made. For the exact address, you'll find the factory in 1669 Brandywine Ave ste a, Chula Vista, CA 91911, United States.
Where can I buy Juiced bikes?
Juiced e-bikes are available on their website, on Amazon, and even in local dealerships (depending on the stock).
Does the Juiced Scrambler fit tall people?
Although Juiced advertises that anyone above 5'2" can ride the Scrambler, the general consensus is that anyone over 6'0" will have a hard time on the Scrambler. If you're still willing to give it a try, Juiced sells a separate seat extender for $65.
Do electric bikes charge when you pedal?
No. The technology for friction charging like that is too far from reality. However, the Scrambler does have regenerative brakes that charge your battery.
These are the specific measurements of the Scrambler. You can find this on Juiced's official Scrambler product page together with their spec sheet.
Furthermore, here is the height-compatibility index made by Juiced for the Scrambler. While it does say anyone taller than 6'3" can ride the e-bike, individuals who are 6'0" and above generally have a hard time feeling comfortable on the Scrambler.
Ride or Pass?
---
If you aren't a towering giant, the Scrambler is definitely a "Ride". The components on the Scrambler are amazing for its price. Additionally, the simplistic design and aesthetic vibe of the e-bike is a feature in and of itself.
---