Review of Pedego City Commuter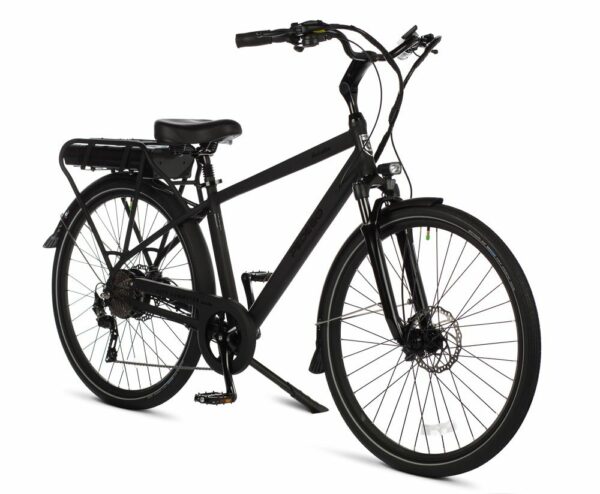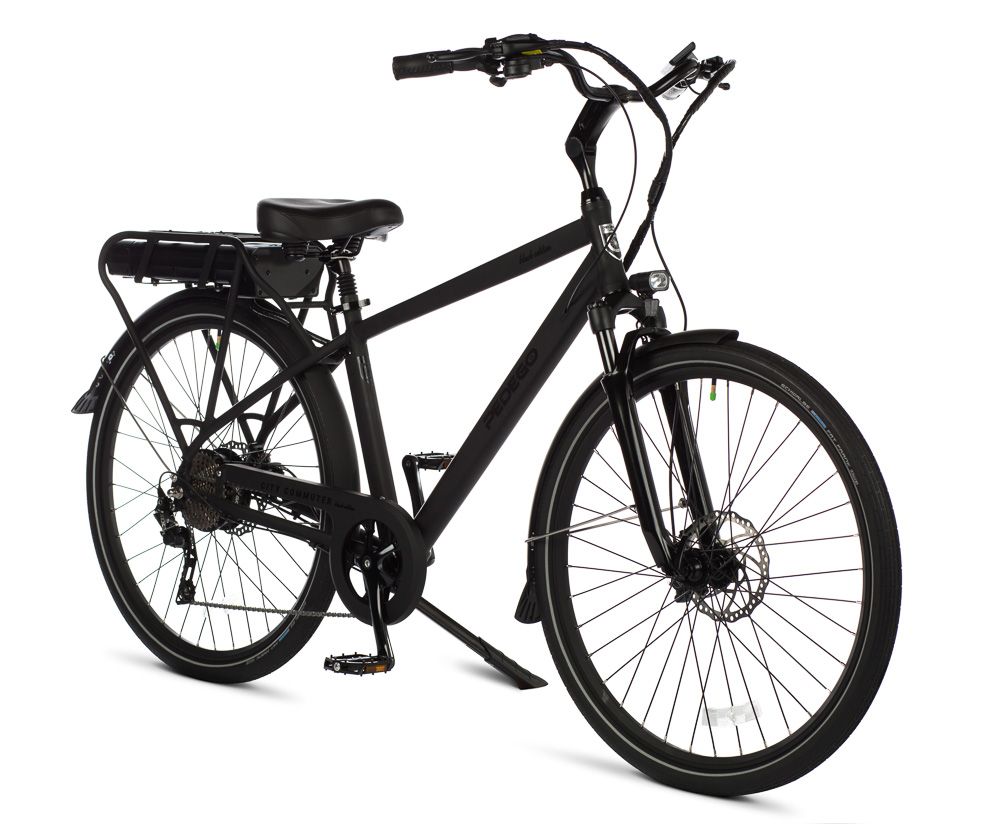 Pedego City Commuter is a sturdy and reliable hybrid electric bicycle available in four variations. It offers quality components and interesting extras that make it the perfect everyday workhorse.
Pedego City Commuter is a pretty upfront e-bike from the get-go. Even its name is straightforward and self-explanatory. This is an electric bicycle ideal for regular commutes in the city and leisure/comfort riding on the weekends.
Class 2 e-bike with pedal-assistance, throttle, and a 20 mph maximum speed.
Four differently-priced and differently-equipped models available.
You can choose between a step-over and a step-through frame, and between 26″ and 28″ wheels.
Two battery packs available: 48V 10Ah or 48V 15Ah.
Includes numerous accessories, such as fenders, a rear rack, kickstand, chainguard, lights, and more.
Pedego City Commuters are capable and well-equipped hybrid/cruiser e-bikes with some splendid features and a few trade-offs. The 500W motor that powers them is sufficiently strong to confidently pull you up a hill, especially with the help of the throttle override function.
Let's see why this is one of the best-selling e-bikes in the USA and whether or not it deserves that accolade.
See Full Specs on Pedego Website
Pedego City Commuter – Electric Commuter Bike
---
If you're looking for a single electric bicycle that can meet all the daily requirements you have, you'll probably be very happy with the Pedego City Commuter e-bike. This bike comes in an affordable package that includes all the features you could ask for. It does entail a few drawbacks, but there are no apparent dealbreakers.
Pedego City Commuter is a city/hybrid/comfort e-bike made with a lightweight aluminum frame and a steel fork. It's available with 26″ or 28″ wheels and with a step-over and a step-thru frame.
This model sports a geared rear hub 500W motor that includes both pedal-assist and throttle. It has more than enough power to pull you up a hill and the throttle will help you start going from a full stop. You can choose between a 48V 10Ah or 15Ah battery, depending on your needs.
The one disadvantage of this bike is that it is rear-heavy because of the rack-mounted battery. Still, this is not such a big of an issue as Pedego City Commuter is not built for speedy fitness riding. Plus, the kickstand gives it lots of stability when stopped.
This Pedego also features full fenders, disc brakes, front and rear lights, a chainguard, an upright geometry, and comfy balloon tires with reflective sidewalls.
This is a good choice if you want an affordable and good-looking bike with all the bells and whistles you could ask for.
Pedego City Commuter: Lite Edition
---
The Pedego City Commuter: Lite is a capable comfort electric bicycle that's stripped down of some advanced features found on the original model above.
This model comes with the same frameset, offering the same choices of wheel sizes and frame designs, but lacking a few accessories. It doesn't have fenders or a headlight, but it does sport a chainguard, kickstand, and a rear rack.
The 350W geared rear hub motor is super quiet and comes paired with a 36V 10Ah or 15Ah battery pack—the choice is yours. The throttle is included and the pedal-assist offers five modes to fine-tune the assistance. This bike also features an entry-level Shimano Acera 7-speed drivetrain that will help you pedal with even more ease.
Pedego City Commuter: Lite is a good deal regardless of its basic equipment. It's a bike that requires little maintenance and gets the job done for the majority of average city riders.
Like the model above, Pedego City Commuter: Lite has a 20 mph maximum speed. However, this can be adjusted using the 2.5″ backlit LCD screen mounted on the handlebar. You get a USB charging port as well to keep your electronics charged.
A few other features include the Shimano mechanical disc brakes that offer pretty good stopping power, as well as Kenda puncture-resistant tires with reflective sidewalls.
If you're on a tight budget and you can live without some of the comfort and practicality the original model provides, Pedego City Commuter: Lite is for you.
Pedego City Commuter: Mid-Drive Edition
---
If you think the two models above don't have enough power for your needs, you should really check out the Pedego City Commuter: Mid-Drive. This good-looking e-bike features a super-powerful 500W mid-drive motor with pedal-assist and throttle functions.
Pedego says it can climb up a wall, but we'd go as far as saying it will climb even 10% hills with relative ease. So if you live somewhere very hilly, we recommend pairing it up with the 48V 15Ah battery.
Other than the mid-drive motor, this Pedego City Commuter is pretty similar to the original model. It has an aluminum frame (step-over or step-thru), a steel fork, and 26″ or 28″ wheels with 2″ Schwalbe tires. It also has mechanical disc brakes and a Shimano Acera 7-speed rear derailleur. These are all solid components, though entry-level.
Pedego City Commuter: Mid-Drive e-bike offers a lot of comfort as it comes with a suspension seatpost. It also sports fenders, a rear rack, lights, a kickstand, and a chainguard. That's all you need to ride day or night, rain or shine.
Like the previous models, its main drawback is the rear heavy design due to the rack-mounted battery. You can feel it if you ride out of the saddle to accelerate, but it's not too noticeable.
If you have more money to spare and think you'll benefit from a more powerful and smoother mid-drive motor, Pedego City Commuter: Mid-Drive could be the right choice for you.
Pedego City Commuter: Platinum Edition
---
Pedego City Commuter: Platinum Edition is a premium comfort electric bicycle. It comes with several mid-range components that put it in a class that's higher than the other versions of this model.
This e-bike has all of the features that the original City Commuter has, plus a few additional ones. The biggest difference is definitely the suspension fork on this model. The air-sprung suspension fork is light and efficient, offering 50-60mm of travel depending on the wheel size. It will greatly improve your comfort while riding.
Pedego City Commuter: Platinum is the most expensive version of this bike, but it packs the strongest punch when all the pros and cons are taken into consideration.
City Commuter: Platinum also features hydraulic disc brakes, which is a big step-up from the mechanical ones. You'll also like the mid-range Shimano SLX 10-speed rear derailleur. It puts more gears at your disposal and offers significantly smoother gear changes compared to Shimano Acera.
When it comes to electronic components, there are no big surprises. This e-bike is powered by a well-known 500W rear hub motor and features a 48V 10Ah or 15Ah battery pack mounted on the rear rack. You can operate the system with 5 pedal-assist modes or the throttle.
Of course, fenders, a rear rack, kickstand, chainguard, and lights are part of the standard accessory package.
All in all, City Commuter: Platinum does not have the best electronic components, but the rest of the features are spot-on. You won't make a mistake if you need a reliable and powerful commuter to exploit instead of your car.
Pedego City Commuter Assembly
---
Pedego City Commuter e-bikes come pre-assembled and require only a few steps to get them ready for the first ride. The bike is packed in a sturdy cardboard box, loaded with bubblewrap and internal cardboard protection.
The first thing that you need to do is attach the handlebar stem to the frame and align the handlebar. You can do this with a 6mm Allen key that Pedego will provide with the bike.
Next, you should attach the pedals to the cranks using the 15mm wrench provided in the box. Keep in mind that the pedals are marked "L" for left and "R" for right.
That's pretty much it! Adjust the height of the saddle using the quick-release clamp and you're good to go and enjoy your new Pedego e-bike.
You Might Also Ask
---
Check out our answers to the most common questions we get about Pedego City Commuter e-bikes.
Where are Pedego bikes made?
Pedego bikes are made in Asia, specifically Taiwan, Vietnam, and China. The majority of successful brands move their production to these countries because of low prices and high-quality standards.
Why are Pedego bikes so expensive?
Pedego bikes are more expensive than other similar e-bikes because they're produced by a major brand in the US. Pedego has a massive dealership network, so the company is able to provide outstanding customer support anywhere in the country. Plus, good warranty service and quality components also increase the price of their e-bikes.
Are Pedego bikes worth the money?
Yes, Pedego bikes are worth the money to the right people. Pedego e-bikes do not offer the best bang for the buck when it comes to the components, but they have excellent customer support, a great warranty, a strong brand identity, and quality bikes that do their job well for a long time.
How long does a Pedego battery last?
Pedego batteries last between 2-4 years, depending on how you charge them and how well you store them. They come with a 2-year warranty, which is when you can expect your battery to gradually start losing capacity and range.
How much do Pedego electric bikes cost?
On average, Pedego electric bikes cost between $2,000 and $3,000. However, the cheapest model can be purchased for around $1,500, whereas the most expensive model costs around $5,500.
How fast does a Pedego bike go?
Pedego bikes are Class 2 e-bikes, so their maximum throttle and pedal-assisted speed is 20 mph. However, this can be changed and increased in the bikes' settings using the LCD display.
Size Recommendation: Pedego City Commuter
---
The Pedego City Commuter e-bike is available with three frame variations. All three frames have different sizes, so they're suitable for different types of riders. These are:
26″ Step-Thru
28″ Step-Thru
28″ Classic (Step-Over)
Unfortunately, Pedego does not provide a detailed size chart that would advise riders which size to get based on their height or inseam length. However, they do give a few rough estimates that you can use to try and guess which frameset will fit your size the best:
26″ Step-Thru City Commuter: 5'2″ to 5'8″
28″ Step-Thru City Commuter: 5'6″ and Up.
28″ Classic City Commuter: 5'10" and Up.
Therefore, if you are around 5 feet tall, you should get the 26″ model. If you are around 6 feet, you're best off with a 28″ Step-Thru model. However, if you are above 6 feet tall, go for the 28″ Classic model.
Either way, you can adjust the height of the saddle and the handlebar to find the right position, which will make fitting the bike to your size easy.
More Models by Pedego
Accessories
---
Pedego City Commuter bikes are jam-packed with accessories. This is one of their main selling points. Of course, the City Commuter: Lite model is an exception to this rule. It is a stripped-down version of this bike, without many of the extras found on the other models, with the exception of a rear rack, kickstand, and chainguard.
All of the other City Commuter models feature full-length front and rear fenders that match the color of the frame. They also come with battery-powered front and rear lights that will keep you visible at night and help you see where you're going.
The City Commuter has pretty much all the accessories you need to ride this bike in all conditions and at any time of the day, without having to spend any extra money on further equipment.
A rear rack, kickstand, and a chainguard are part of the standard equipment. Unfortunately, Pedego City Commuter does not have mounts for a front rack, so you can't extend its carrying capacity this way.
However, the rear rack can easily carry a child seat, a pair of panniers, or a basket. All in all, this is a well-equipped comfort cruiser for the money, featuring all the accessories one would expect from a bike of this kind.
Bottom Line: Ride or Pass?
---
To sum, Pedego City Commuter is a capable, good-looking, and well-thought-out comfort electric bike. It has both good and bad sides, but the former ones greatly outweigh the latter.
We love the diversity of frame shapes and sizes, as well as the wide choice of setups, components, colors, and assistance kits. It's easy to find just the setup you need, without overpaying for something you won't need in the future.
If your motivation to purchase an e-bike is to save money in the long run, leave your car at home, be more active, and generally more content, one of the Pedego City Commuter models will prove to be a good buy.
---