Rad Power Bikes RadCity 5 Plus Review
Rad Power Bikes is one of the leading manufacturers of modern-day e-bikes, incorporating a unique design and build that e-bike enthusiasts have embraced.
The team of professionals at Rad Power Bikes has set out to manufacture everyday bikes that are suitable for daily commuting, and are using their 15 years of bike-building experience to design near-perfect hybrid and commuter e-bikes.
Every RadCity bike comes with a 14-day free trial period, a 1-year warranty, and a customer helpline to help with queries. Buyers receive the bike fully boxed for self-assembly or can opt to have an expert do it for them for a fee, starting from $129.00, depending on availability.
After countless hours of planning, designing, and R&D, Rad Power Bikes came up with the RadCity 5 Plus, a bike that is Dutch-inspired and loved by many hybrid e-bike enthusiasts. In today's RadCity 5 Plus review, we will look at both the high-step and step-through models.
RadCity 5 Plus Quick Specs:
MSRP:

$1,999.00 – $2,386.95

Class:

2 – Electric Commuter Bike with a throttle

Motor:

750w brushless geared hub motor

Battery:

48V (589 – 672 Wh)

Range:

28-50 Estimated Mile Range

Builds:

High-Step and Step-Through 

Colors:

Charcoal or Glossy White
---
What's New for the RadCity 5 Plus 
The new and improved RadCity 5 Plus electric commuter bike comes with a powerful 750W motor churning out 58Nm of torque, allowing for a top speed of 20 Mph. Combined with a 48V 14Ah down-tube mounted battery, and a 7-speed derailleur, riders enjoy over 55 miles of riding.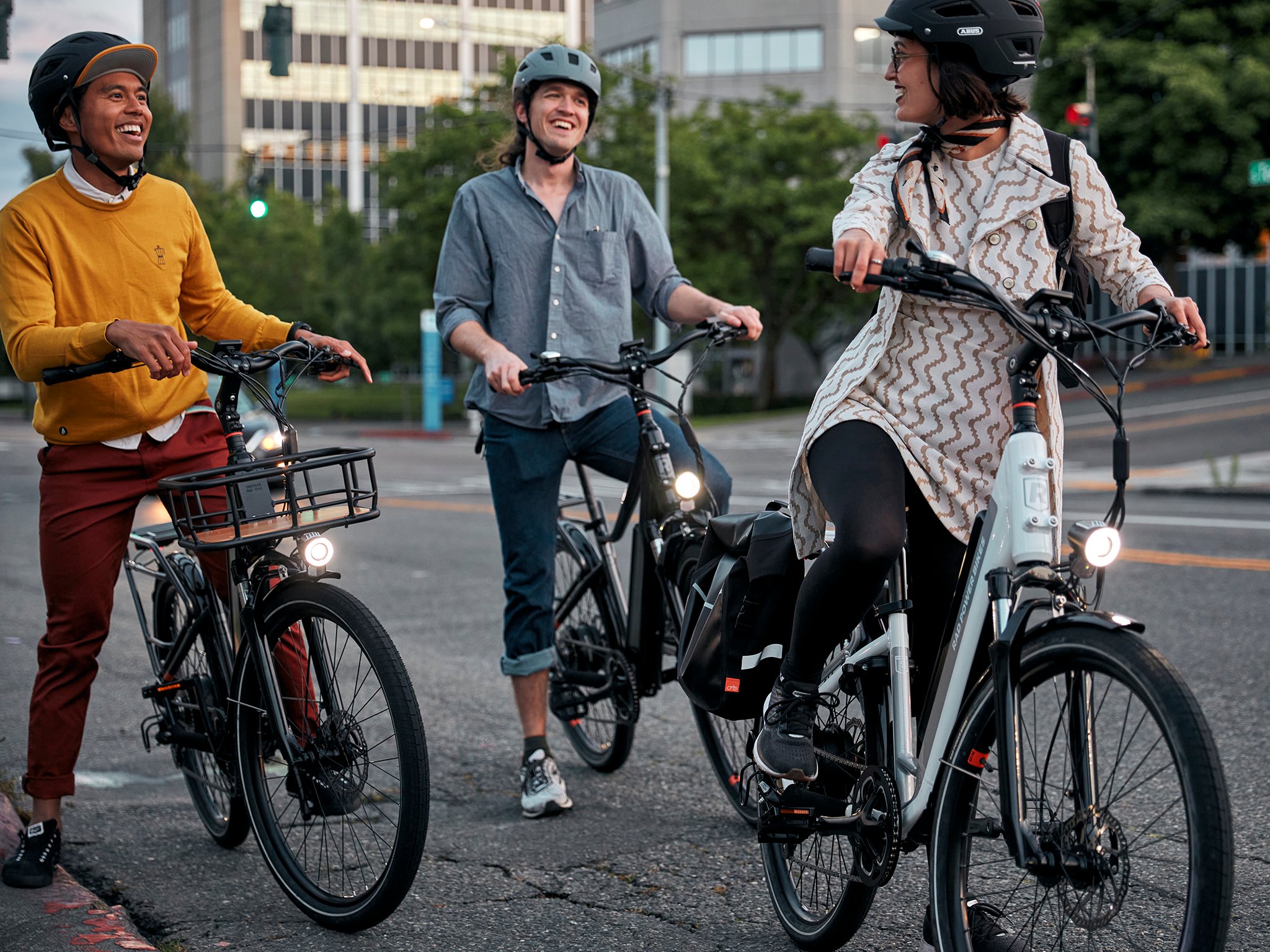 Also included is a dual display system with a digital instrument panel located in the center and a touchpad on the left. The Rad Power Bikes onboard computer has an odometer and monitors speed, light wattage, battery level, and pedal-assist system settings. The other notable features include:
Optional USB ports. 
Water-resistant connectors and cables.
Quick 6-hour charging and LED lighting. 
Intelligent 5-level pedal assists with 12 magnet cadence sensors.  
The build is entirely from aluminum and the RadCity 5 Plus weight is a respectable 65 lb, while the battery is a mere 7.6 lb. The bike is rated to carry up to 275 lb, and the built-in rear rack can easily handle 60 lb.
The only challenge when purchasing a RadCity electric bike is that some parts are substituted with other brands as per the availability. A major shortage has made it difficult to supply the same product every time. However, Rad Power Bikes has issued a public statement guaranteeing the quality of the substitute components they use. 
Frameset and Geometry
Rad Power Bikes has designed this RadCity ebike with an upright seating position and the frame is available in two options – high-step or step-through. The difference between the two is in the top tube angle and depending on the model buyers pick, riders between a height of 4'8" and 6'5" can ride comfortably. 
The overall geometry of the RadCity 5 Plus is very comfortable and the low-profile battery is semi-integrated into the body. With a build weight that's lower than similar e-bikes on the market, it's easier to cycle uphill and uses less battery power.
Being a commuter bike, it's simple to navigate through busy and narrow streets with a comfortable upright seating position and ample space to secure luggage on the racks. 
The handlebar measures 680mm and has ergonomic grips, giving riders a congenial feel and allowing them to install gadgets and bags. An adjustable 50mm travel spring fork with preloaded adjustment provides a decent amount of suspension and gives cyclists the freedom to escape traffic and hit gravel paths.
The frame also comes with pre-threaded mount holes to add any extra gear and baggage across the bike – a significant advantage for those that wish to use the RadCity 5 Plus for touring.
RadCity 5 Plus Motor and Battery
It's a well-known fact that high-torque motors need a battery that stores enough juice to keep the bike going for long distances. To achieve this, Rad Power Bikes paired its 750W motor with a lightweight 48V 14Ah battery that fits so well on the bike, one could say it belongs there as part of the aesthetics.
For added security and ease of use, the battery pack is lockable and removable, allowing riders to swap batteries after they run out of charge. It's unfortunate that many e-bikes on the market have a more complicated and less convenient system. 
The motor on the RadCity 5 Plus is powerful enough for typical hills found in urban settings, with a 5-level intelligent pedal assist that automatically kicks in to help you get through hilly commutes more easily.
Gone are the days when hill climbing seemed to be a grueling task – with the RadCity 5 Plus, you'll be able to conquer hills without difficulty. The 6-hour charging time is fast compared to other bikes, allowing riders to plug in while at work for full power on the commute back home.
Solid E-Bike Components
Rad Power Bikes electric bikes are manufactured using the finest components available in the market to create some of the best commuter e-bikes on the market. Other than the quick response throttle, dual control panel, and front and rear LED lights, the RadCity 5 Plus comes loaded with many other useful parts.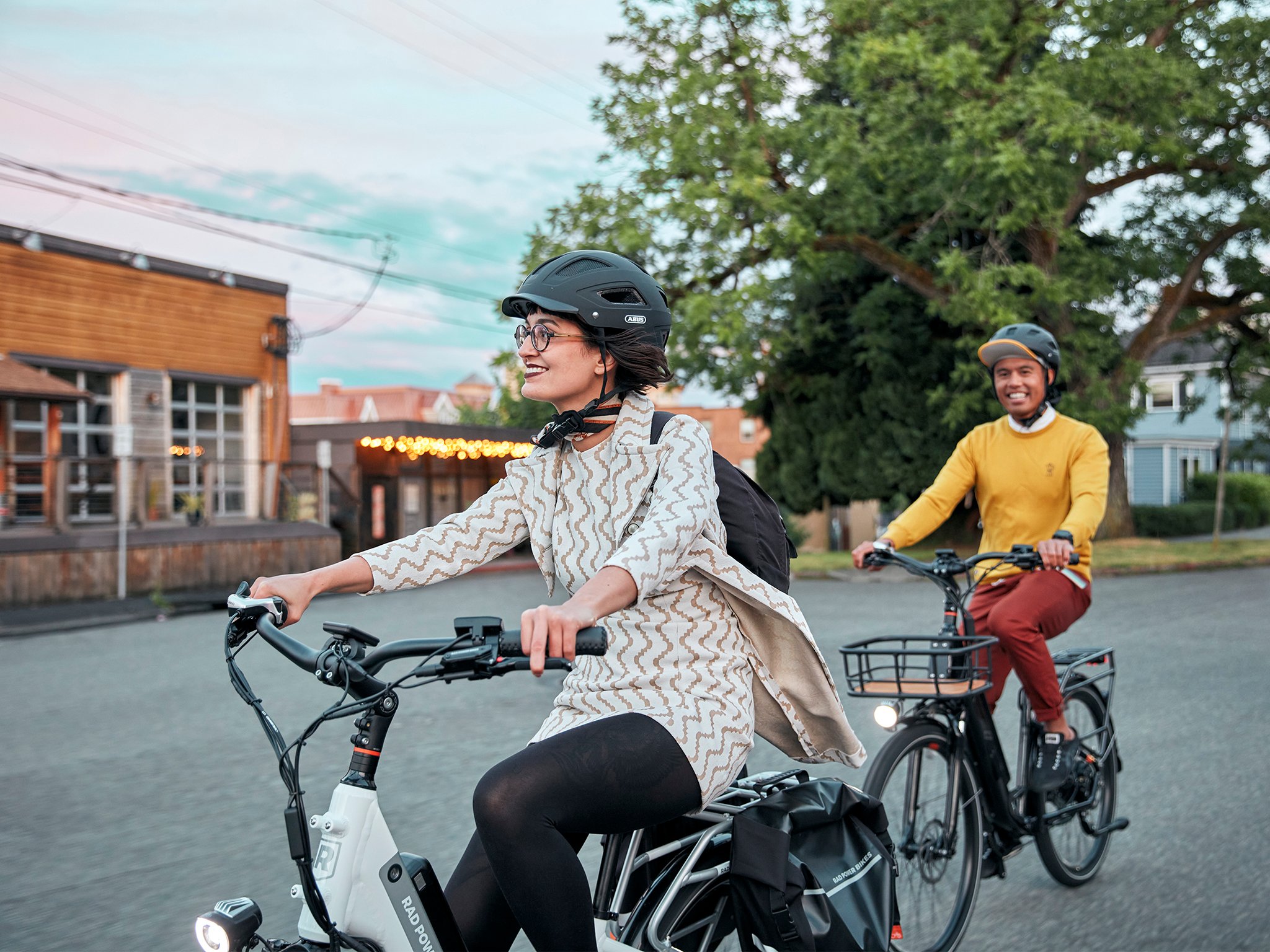 The wire harness, connectors, and cables are water-resistant and internally routed for a proper seamless design, giving riders more space to mount their favorite gadgets and gizmos onto the bike without causing damage.
For cyclists with children, the sleek rear carrier can be fitted with the Rad Power Bikes Kiddo Kit seat for $386.95, giving you the option to cycle with your child. The black front and rear fenders provide full coverage from mud and buyers can also opt for a front basket at extra cost. 
All RadCity 5 Plus bikes come with a geared hub motor and a 46T, 170mm, forged alloy crankset that is connected to the Shimano Altus 7-speed derailleur with a KMC Z7 chain.
For smooth suspension, the RadCity 5 Plus is equipped with a 50mm travel spring fork featuring preload adjustment and lockout. Experts say that this gives it a mountain bike feeling and impressive handling. 
The custom 27.5 x 2 e-bike-rated, puncture-resistant tires supplied by Rad Power Bikes are mounted on double-wall aluminum rims. The brand has opted for hydraulic ceramic braking to stop this beast in the shortest time possible, Plus an intelligent motor cutoff system for added safety.  
RadCity 5 Plus Compared to Similar E-bikes on the Market
The race for producing the fastest, lightest, cheapest, and most user-friendly electric bike is becoming more competitive with every manufacturer looking to outdo the other. However, with a global rise in inflation and new players coming into the market, companies find it difficult to keep up. 
To understand this better, below is a comparison of 3 e-bikes that are performing well today according to enthusiasts – RadCity 5 Plus, Aventon Level, and Ride1UP 700. They all share certain similarities, such as close price range, battery voltage and type, and wheel size. The three bikes are often confused with each other when seen from a distance, with many biking specialists unable to tell them apart at first glance. 
NOTE: The majority of manufacturers globally are facing production and supply chain disruptions and, as a result, these bicycles may occasionally come with different components than those listed here.
RadCity 5 Plus vs Aventon Level
The Aventon Level has a more stylish look and build compared to the RadCity 5 Plus, with 15mm more suspension travel and 4.5 kg less weight. Not only is the Aventon Level base mode cheaper by $50 but it charges faster, rides longer than the RadCity 5 Plus range, includes mobile app compatibility, and is available in more sizes.
However, Rad Power Bikes bags the points for rider height as the level is suitable for riders between 5'7" and 6'4". When comparing Aventon Level vs RadCity 5 Plus, the only other notable difference is the 8-speed derailleur, which could be a deciding factor for some.
The Level provides pedal assist up to 28Mph and throttle-only power up to 20Mph, outrunning the RadCity 5 Plus in a real-world scenario. The battery onboard is fully concealed and goes on the lower frame.
RadCity 5 Plus vs Ride1UP 700
The Ride1UP 700 Series is very similar in looks compared to the Aventon Level and can easily be mistaken for each other. However, like the RadCity 5 Plus step-thru and high-step, it comes in two versions, giving buyers the option of getting it with or without the top tube. 
At $1595.00, it's significantly cheaper than its rivals and is a worthwhile investment considering the similarities. This puts the Ride1UP 700 base model $404.00 lower than the RadCity 5 Plus e-bike, making it the cheapest out of the three bikes.   
The 700 series is available with some standard fits that are a notch up from the 5 Plus, such as a hydraulic fork, less exposed battery, a 30-day return policy, and 50mm more travel. The overall frame of the Ride1UP 700 is slightly chunkier as a result of the concealed battery.
Other Rad Power Bikes Models We Reviewed:
FAQ
1. Does RadCity 5 Plus have a throttle?
The RadCity 5 Plus comes with a quick response and half-twist throttle that accelerates the bike, coming in handy when riders want to cruise around effortlessly.
2. What does the RadCity 5 Plus weigh?
The RadCity 5 Plus bike is lightweight compared to similar bikes in the market, with the step-thru model weighing 29kg while the high-step is 500 grams heavier because of the extra top tube. The battery pack is only 3.4kg.
3. How can I make my RadCity faster?
This is a common question asked by many first-time owners as the RadCity 5 Plus top speed is capped at 20mph and going any faster cuts out the power. However, experts have found a way to trick the system and derestrict the limiter by entering programming mode. To do this, press the down pedal assist and light button on the left panel for approximately five seconds. Then push all three buttons for 10 seconds until you enter a hidden menu to make the bike go faster. NOTE: Depending on the traffics laws in your country, it may be illegal to ride a Class 2 e-bike above 20mph on public roads.
4. How long does a RadCity battery last?
The RadCity 5 Plus is equipped with a whooping 750W 48V 14Ah battery that powers the motor, electronic computers, and LED lights. The total charge time is six hours, while the ride is rated to last up to 55 miles. However, it can be replaced with another battery in no time for a longer ride.
5. Why are Rad Power Bikes so cheap?
Rad Power bikes don't cost as much as their competitors but are in no way a cheap build or poor quality. As much as the price point is low, the components are of superior quality and affordable because they are assembled in China but designed in the USA.
6. What class is the RadCity 5 Plus?
Electronic bikes come in three classes, with the RadCity 5 Plus rated class 2.
The motor kicks in only when riders pedal (pedal-assist) and is limited to 20Mph

Pedal assist and throttle mode, also limited to 20Mph

Pedal assist up to 28 mph. 
7. Are Rad eBikes waterproof?
Yes, Rad Power bikes are manufactured to perform in wet conditions, but this doesn't mean they are fully waterproof and shouldn't be taken into ponds and pools. Rad Power e-bikes are designed for a rainy climate in the city of Seattle, where annual precipitation is high, and are paired with electrical components that cope well in rain. 
8. How fast does the RadCity 5 Plus go?
The RadCity 5 Plus will go as fast as the rider can peddle, however, the electronic motor peaks out at 20Mph and cuts out power after this. Due to e-bike regulations that are set out for rider safety and for others on the road, the bike motor is designed not to exceed this speed limit.
What's Our Verdict? 
If buyers are on a tight budget, the Ride1UP 700 is the more appealing bike, but e-bike enthusiasts and professionals preferred the RadCity 5 Plus electric commuter bike.
Experts have found the derailleur to be more reliable and are inclined towards the 180mm ceramic brakes. For those looking for extra speed, the Aventon Level is appealing, but it's possible to achieve similar speeds on the RadCity with adjustments.
Therefore, if you like the RadCity 5 Plus and what Rad Power Bikes does with their builds, we recommend getting it. It checks almost all of the boxes that average e-bike riders have, and is one of the best class 2 e-bikes across the board.
---