Rad Power Bikes RadRunner E-Bike Review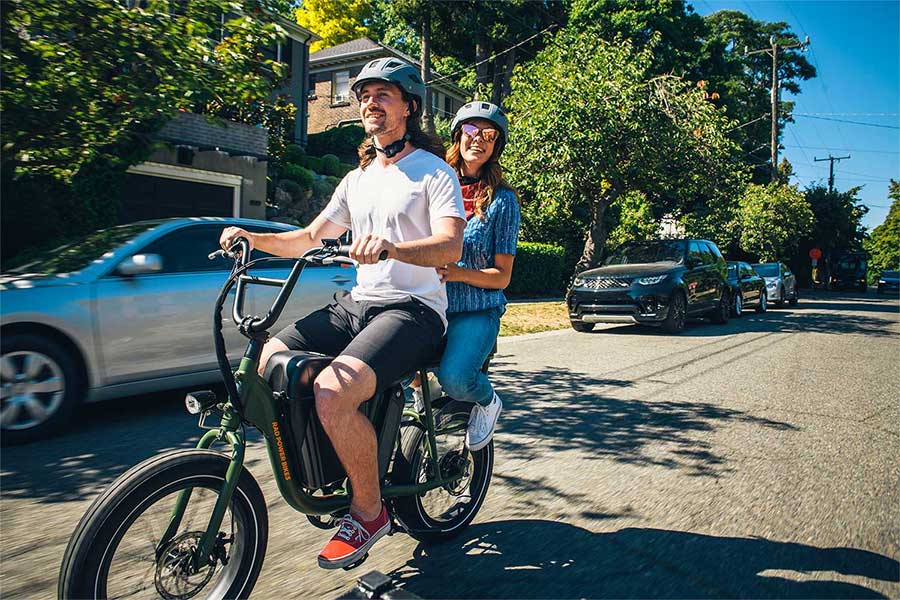 RadRunner has a sturdy integrated rear rack that can easily carry a child seat or even take a petite adult passenger for a ride. Electric bikes are slowly but confidently sweeping the market and taking skeptics over to the e-side.
Rad Power Bikes, a Seattle-based e-bike company is riding and empowering the wave with its lineup of affordable and revolutionary simplistic electric bicycles.
Rad Power's RadRunner is an affordable Class 2 electric bicycle built with simplicity and versatility that will transform the way you think about day-to-day urban commutes.
RadRunner is a perfect example of the company's unique approach. A shrunken-down electric city bike that doesn't have all the bells and whistles found on more expensive models, but can still replace your car and serve as a commuter, cargo, or leisure bike.
---
Rad Power RadRunner has a powerful 750W geared rear hub motor with 80 Nm of torque, with pedal-assist and throttle modes.
It comes with an LED headlight and a rear light that doubles as a brake light when you press the brake levers.
RadRunner is available in the Plus version as well, which has front suspension, a 7-speed drivetrain, and a lot more accessories than the original version.
You can get a 25-45+ mile range out of the 672 Wh battery, which is enough for a few rides for most people.
With a few added accessories, RadRunner can become a compact cargo electric bike that can haul a lot of weight and even an adult passenger.
The LED display/controller is basic but lets you set the pedal-assist level and check the battery charge.
---
RadRunner attracted a lot of attention (and still does) when it was debuted in 2019 because it costs only $1,299, which is substantially lower compared to similar products offered by bigger brands.
RadRunner PROS and CONS
Rad Power RadRunner is essentially an affordable compact cargo bike. As such, it falls into several categories, which means it does multiple tasks really well. But to do that, compromises had to be made, which means this little e-bike comes with both pros and cons.
You can quickly see the main ones by looking at the table or read about the main advantages and disadvantages in more detail below.
| | |
| --- | --- |
| Pros | Cons |
| Low price | |
| Wide, comfortable tires | No front suspension |
| Powerful 750W motor and high-capacity battery | Not many stock accessories |
| Throttle and pedal-assist functions | |
| High rear-rack weight capacity | |
| Easily customizable with available accessories | |
Pros:
RadRunner is one of the most affordable e-bikes on the market, considering what the buyer gets for the money. Cost savings have been made in all the right places so they affect the riding experience and the quality of the bike as little as possible. All of the essential parts, such as the motor, battery, frame, accessories, etc., are strong and durable, so the end product offers great value at a low price.
The 750W motor and the 672 Wh battery offer great performance and excellent range. You're unlikely to feel the motor lacking power unless you find yourself on an extremely steep hill, which is where most e-bikes will show their weaknesses. The battery is easily swappable and can be charged both on and off the bike.
The controller is separated from the battery, which is not the case on most e-bikes. This makes it a lot easier and cheaper to swap batteries. Plus, all Rad electric bikes now use the same batteries, so you can interchange batteries if you have more than one Rad Power bike in your garage.
Riders can control the motor with either a pedal-assist or a throttle mode. This makes it easy to get the right amount of assistance in all situations. The throttle is especially helpful when starting to pedal from a dead stop.
RadRunner incorporates numerous safety features, such as front and rear lights, brake lights, reflective materials on the frame and the tires, and even a bell integrated into the brake lever.
The mechanical disc brakes combined with 180mm rotors offer ample braking power, even though they don't have the precision you get from hydraulic disc brakes.
Tons of options for mounting handy accessories, in addition to the accessories you already get with the stock version of the bike.
Cons:
RadRunner comes in only one frame size, which does not make it suitable for a wide range of riders. The bike is compact, so shorter riders will not have any problems finding the right position; however, taller riders might struggle with the reach and feel cramped while pedaling.
This model does not have a detailed LCD display seen on some other Rad Power models, such as the RadCity or RadWagon. Instead, it has a simple LED controller that shows you basic info like battery charge and pedal-assist level.
The mechanical disc brakes have plenty of power, but they require more hand effort on the brake levers to actually fully activate. They also require more frequent adjustments compared to hydraulic disc brakes.
The single-speed drivetrain is limiting at low and high speeds. It might make starting from a dead stop challenging for some riders without using the throttle and asks for high-cadence pedaling and high speeds.
RadRunner is fairly heavy at 64 lbs, which should be taken into consideration if you plan to carry it up a few flights of stairs into your apartment.
Standout Features
RadRunner is one of the best selling city e-bikes in North America not because it's the lightest, fastest, prettiest, or best-equipped choice out there—as it's none of those things. Where's the catch then?
The answer lies in the fact that Rad Power packed RadRunner with everything you need and nothing you don't, bringing the price down, while still incorporating some unique features omitted by the competition.
Here are the ones that first catch the eye:
750W Bafang rear hub motor
672 Wh Samsung Battery
25-45+ mile range
Four levels of pedal-assist + twist-grip throttle
300 lb payload capacity (rider+cargo)
Low-maintenance single-speed drivetrain
Mechanical disc brakes
Headlight, brake light, and reflective materials
Dual-leg kickstand
Full Spec List on RadPowerBikes.com
Frame Design
RadRunner's frame is neither unique nor pretty. There are many low, step-through, moped-style electric bikes on the market right now, as it is a popular approach taken by many companies. However, the design is incredibly practical and gets the job done.
The 6061 aluminum is a popular choice in the bicycle frame-building world as it offers the best bang for the buck and the best strength-to-weight ratio.
This is not a lightweight bike, as it weighs 64 lbs. However, its chubbiness is justified by its 300 lbs maximum payload capacity, which includes the rider and the cargo/passenger.
The elongated integrated rear rack can handle 120 lbs of weight, which is more than enough to carry a child, weekly groceries, a few bags of dog food, or even a compact-sized friend.
After all, RadRunner is marketed as a 'car replacement', which means being lean is not at the top of its priorities. Being practical and capable is.
According to Rad Power, the bike is suitable for riders with an inseam length between 23″ and 34″. However, riders with 21″-23″ inseam can also ride RadRunner, but they may not be able to stand over the frame without it contacting their body.
Electronics
RadRunner is a Class 2 e-bike, which means it comes with both pedal-assist and throttle functions, while its top speed is capped at 20 mph.
All of the essential features found on other Rad Power bikes are found on this model as well. This includes a 750W Bafang rear hub motor, a 672Wh/48V/14Ah lithium-ion Samsung battery, and an estimated 25-45+ mile range, depending on the use.
The battery can be locked on the bike and the locking mechanism has three positions: 1) Unlocked, 2) Locked but powered off, 3) Locked but powered on. This way, you can lock and disengage the battery, preventing anyone from tampering with your bike while you're not next to it. On many other e-bikes, you'd have to take the battery pack off to prevent that.
When your battery dies, it will be easier and cheaper to replace it because the controller is positioned separately on the frame, so you'll only have to swap the battery pack.
It's important to note that Rad Power is present on the European and Canadian markets as well, where the motor is listed as having 250W or 500W, respectively, in order to comply with local e-bike legislation.
As you can guess, the 750W motor has enough power and torque to take the bike, the rider, and any cargo up a steep hill with ease. If you're fully-packed and starting from a stand-still, remember that the twist-grip throttle is a life-saver.
The only downside is that the amount of pedal-assistance is estimated via cadence sensors, which is an inferior solution compared to torque sensors. This means that the motor sends more power the FASTER you pedal, rather than the HARDER you pedal. Still, it's a decent solution for $1,299 as it gets the job done without any issues.
Moreover, to save on costs, Rad Power equipped RadRunner with a basic controller without an LCD screen. Instead, the controller has a series of LED lights that show you the battery charge and pedal-assist levels. You can also use it to turn the lights on or off.
Finally, the battery is swappable between different Rad Power models. So, if you have two Rad bikes, you can take one battery off of the second bike and bring it along as an additional charge for your first bike.
Drivetrain and Components
RadRunner's drivetrain is as simple as it can be. Rad Power opted for a single-speed approach, presumably to cut costs and simplify maintenance and everyday use. Some might call RadRunner overly simplified, but I'd call it economical and utilitarian.
This bike has no shifters, derailleurs, or wide-range cassettes. A single cog on the back and a single ring at the front is all you get. But the reality is that you don't really need a lot more when you have all the assistance you need from the 750W motor.
That said, try not to run out of battery while far away from your home and/or charger. Pedaling a 64-pound, single-speed bike with monster tires should prove to be quite a feat, especially if you're loaded with cargo or faced with a steep incline.
The drivetrain also includes a chain tensioner that will keep the chain nice and tight, preventing slippage or chain slap, which I deem essential on single-speed e-bikes.
RadRunner slows down with mechanical disc brakes coupled with 180mm rotors, which is part of standard equipment on Rad Power's bikes. They work well, stopping the bike on a dime despite the high total weight.
However, it's worth noting that you need more hand effort to press the levers and as the cables stretch after the first few rides, you will have to readjust the cable tension once again. But you can do this easily using the barrel adjuster on the levers.
Accessories
One of the reasons RadRunner is one of Rad Power's most affordable models is that it's quite conservative when it comes to the accessories you get. Rad electric bikes made a name for themselves thanks to a long list of stock accessories their bikes come with, but that's not the case with this one. RadRunner is pretty Spartan.
You get headlights, rear lights (which double as brake lights), and a dual-leg kickstand. That's pretty much it. No fenders, no passenger seat, or additional bags and baskets.
However, RadRunner is compatible with more than 330 combinations of accessories you can get from Rad Power's website. Some popular choices include a front rack ($69), motorcycle-style center console ($99), passenger seat ($99), and fenders ($89).
The available accessories are reasonably priced and could prove to be a good upgrade if you plan to ride in bad weather or need additional options for carrying cargo.
Riding Experience
RadRunner is a quirky little bike that is simply FUN to ride. As I've already mentioned, it's not the fastest or the lightest bike out there, but the whole package delivers where it matters the most.
The simplicity of the single-speed drivetrain is refreshing and you don't really feel that you lack gears when you're faced with a sudden gust of wind or an uphill section on your route. The reason is that you have four pedal-assist levels to choose from, so you can simply bump up the motor's power output when pedaling becomes hard.
If you stick to urban areas and paved roads, your riding experience is going to be more than positive. However, if you try riding RadRunner off-road, you might not have as much fun. Even though this bike has very wide tires (3.3″), they're just 20″ in diameter, so they don't offer too much stability. And the same can be said for aggressive cornering.
Still, RadRunner differentiates itself with a high level of versatility, which is why most riders keep getting back to it even if it's not the only bike in their garage. It does a lot of things decently well, so you can enjoy riding it when commuting, going to the store, taking your kids to school, or going for a leisurely spin with a friend.
User Reviews: What Do Real People Say?
When spending more than one thousand dollars on an e-bike, a lot of people don't care too much about what the company or review websites have to say about the model. They want to hear what real people have to say about their purchases.
That's completely understandable. Luckily, there are tons of comments and reviews from people who bought RadRunner on Rad Power's official website, Facebook, Reddit, YouTube, and other platforms.
First, here are a few positive ones, so you can get the overall feeling.
However, not everyone for 100% stoked about their purchase. There are always those who expected more but were not fully satisfied with the service or the product they received. Here are a few such examples:
These are just two snippets, as there are a lot more reviews and comments online. Too many to fit on this page. Overall, people who bought RadRunner are happy with their purchase, especially with the build quality, the price, and the motor and the battery.
Those who are not happy mention that they had negative experiences with customer support, cite that brakes need frequent adjusting, or are not happy with the fact that all of the features available on RadRunner Plus are not included on the original RadRunner.
Ultimately, you'll have to make a decision for yourself.
Is RadRunner a Good E-Bike for Everyone?
As much as I like RadRunner and the simplistic concept behind it, I can't recommend it to EVERYONE out there. Whether or not you'll like it depends on what you expect to get out of an e-bike.
If you've been a performance-focused cyclist your whole life and you want an e-bike that will let you continue road/mountain/gravel/cyclocross/etc. cycling, then you'll find RadRunner to be a miss.
However, if you're someone who generally does not cycle a lot and wants to do it more, RadRunner will definitely motivate you to spend more time zooming around city streets on two wheels.
This is the right bike for riders who are not too worried about great looks, low weights, or fast speeds (even though the 20 mph maximum speed is not negligible). RadRunner is a workhorse that you can employ to help you get stuff done and save energy (and money) you'd otherwise spend walking, cranking the pedals, or sitting in a traffic jam.
One of RadRunner's biggest selling points is that, with the addition of available accessories, it can transform itself and become most people's go-to choice for commuting, regardless of terrain or the time of the year.
Other Models
If you feel that RadRunner does not meet all of your requirements but you like the concept and the pricing, you can take a look at the rest of Rad Power's lineup and you might find something that is more suitable for your needs.
At the moment, Rad Power offers 10 models in total. However, there are actually six original models and the other four are Step-Thru or Plus models.
RadRunner Plus (Our in-depth review) — This is the 'premium' version of the original RadRunner. It costs $500 more which gets you front and rear fenders, a passenger seat, wheel skirt, 7-speed drivetrain, suspension fork, LCD display, and a few other improvements.
RadMission — Rad Power's cheapest model intended for commuters and city riders. It's essentially an e-hybrid bike stripped of all accessories. It has a simple single-speed drivetrain and a 500W motor.
RadWagon (Our in-depth review)— A heavy-duty cargo bike that can haul up to 350 lbs of weight. It has an oversized integrated rear rack that can take two kids, a passenger, or bags and baskets to carry cargo.
RadRover (Our in-depth review) — Rad Power's fat bike intended for off-road riding. It has huge 4″ puncture-resistant tires, 80mm of travel in the fork, and a 7-speed drivetrain. Excellent for riding off the beaten path.
RadMini (& Step-Thru) — This is a compact folding bike for people who commute in the city or don't have a lot of storage space in their homes. It's equipped with a 7-speed drivetrain, fenders, lights, and front suspension, even though it folds.
FAQ
Are Rad Power Bikes any good?
Rad Power makes budget bikes that are on par with more expensive models from some bigger brands. They cut some corners to achieve a lower final price, but the final quality remains very high. Rad Power bikes are popular for their powerful motors and high-capacity batteries, as well as for their modular, utilitarian nature and a plentitude of available accessories.
Is RadRunner a good e-bike?
Yes, RadRunner is a very good e-bike. It comes at a reasonable cost and offers plenty of value and numerous features for that price. RadRunner does not have a whole lot of accessories, but it does have good electronic components, a simple build, and an excellent range. It's a good choice for urban riders who need a compact commute/cargo bike.
How fast does a Rad Power bike go?
All Rad Power bikes, including RadRunner, can achieve a 20 mph maximum assisted speed. You can go faster than that, but you'll have to use the power of your legs.
How can I make my Rad Power bike faster?
The maximum speed on some Rad Power bikes can be increased from 20 mph to around 25 mph in the settings menu that can be accessed using the LCD display controller. However, before you do this, make sure that it complies with your local e-bike speed limit laws.
Why are Rad Power bikes so cheap?
Rad Power bikes are cheaper than similar e-bikes from competitors mainly because Rad Power is a direct-to-consumer company. This means that they both manufacture and sell their bikes, eliminating third parties, which brings the price down. Rad Power also cuts some corners by using entry-level and mix-and-match components where possible to lower production costs.
Are Rad Power bikes legal in the UK?
Yes, RadPower bikes are legal in the UK. However, to comply with local laws, e-bikes sold in the UK (including Rad Power) can be powered with 250W motors.
Are Rad Power bikes made in America?
No, Rad Power bikes are manufactured in China. However, they are designed and developed in Seattle, Washington.
How do you charge a Rad Power bike?
A Rad Power bike's battery can be charged both on and off the bike. All you need to do is turn the battery off, plug the charger into the battery, and then plug the other end into an appropriate power outlet. Charge the battery until it is full but not more than 12h because you might cause premature wear on charging components that way.
Final Takeaways
Regarding utility, Rad Power hit the nail on the head with RadRunner. It created an affordable electric bicycle that offers something for everyone who cares about more than just performance and speed.
RadRunner is cheap (for an e-bike), practical, easy to use, simple to take care of, and painless to store. It's also one of the most versatile bikes I've seen so far, capable of transforming itself with a few affordable accessories.
Most riders will love its powerful motor, high-capacity battery, and twist-grip throttle, whereas some riders might not enjoy the small-diameter wheels or the lack of front suspension.
Nonetheless, for $1,299, you easily get more than you've bargained for, as few e-bike brands offer as much performance for such a low price.
---