Ride1UP Cafe Cruiser Review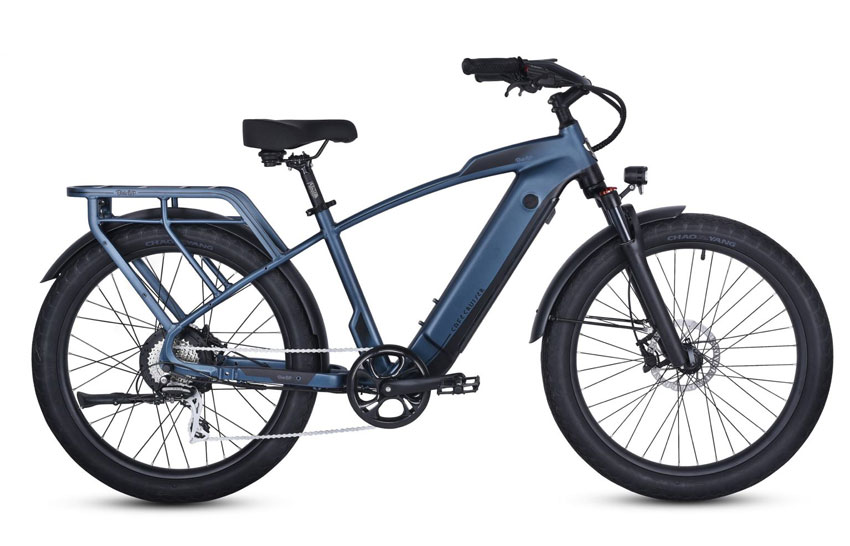 The last few years have seen sales of e-bikes rocketing, as people slowly become more environmentally aware and shift how they travel. 
Whether you're on the morning commute or exploring your local city, the Ride1UP Cafe Cruiser is designed with modern life in mind. Having already hit success with the 700 series, this Ride1UP Cafe Cruiser review breaks down what this bike does differently, and whether it might be right for you. 
Is this one of the best cruiser electric bikes you can buy? It's time to find out.
MSRP: $1595
Class: 3
Motor: 750W
Battery: 48V 15A Samsung battery
Range: 30-50 miles
Tires: 26″ x 3″
Drivetrain: Shimano Acera 8-speed
Brakes: Zoom hydraulic disc brakes
Frame, Geometry, and Sizing
---
One of the most distinctive parts of Ride1UP's Cafe Cruiser vs the 700 is the frame design. There's no arguing the fact that the bike is absolutely gorgeous. Available in step-over (XR) and step-through (ST) models and a choice of three colors, the body is low-slung and swept back, resembling a cross between a motorcycle and a beach cruiser, which ends up as its own unique thing. 
Made from lightweight alloy, even fully loaded with electronics and motor the bike weighs in at a surprisingly deft and maneuverable 65lbs, and the long wheelbase keeps it reassuringly stable, even when laden down. That's doubly impressive when you consider the 350 lb weight capacity and the fact that it can handle riders from 5'5 up to 6'4. 
Designed for distance and commutes, the cruiser-style saddle is large and comfortable, and the rest of the fixtures, like the Wellgo alloy pedals and beefy, grippy, 26″ x 3″ Sandstorm tires, all feel reliable and well-made.  
Another feature we were particularly impressed by is the built-in cargo area, which comfortably handles panniers or a child seat straight out of the box. The cargo rack is welded directly into the frame, which pushes the cargo limit to a huge 130lb. That's more than enough for luggage and groceries, and also ideal if you have young kids, because of the option to fit an aftermarket passenger seat and footpegs. 
The bike is IP65 water resistant, meaning getting caught in a rain shower isn't going to fry the electronics, but we still wouldn't recommend leaving the bike outside in rough weather.  
Cafe Cruiser Motor and Battery
---
Compared to many in its price class, the Cafe Cruiser's internals are powerful and effective. The Shimano Acera 8-speed drivetrain is powered by a 750W sustained gear motor, which can reach the 28 mph top speeds you'd expect to see on a class 3 bike like this when pedal-assisted, and hits a comfortable 20 mph under its own power, though the motor does struggle slightly on hills when solo. 
Cadence sensor performance is also rapid and reliable, quickly picking up when you're pedaling and providing a boost, with up to five levels of pedal assist. 
The batteries are Samsung-made, high quality, and again, slightly bigger than you'd expect to see for the price you're paying. Battery life is decent, giving the bike a range that sits between 30 and 50 miles, depending on road conditions and rider weight. 
Another incidental bonus, and one we love to see, are the safety features. The bike has a key locking system that disables the motor, and the batteries are incredibly easy to remove, which helps to deter thieves. 
Ride1UP Cafe Cruiser Components
---
Breaking the bike down, the overall quality extends to every part of the bike. The drive system is controlled with a responsive left-side thumb throttle, with an e-bike-standard 2-inch LCD display mounted right next to that. 
The brakes are excellent as well; 180 mm hydraulic Zoom discs with an electric cut-off, which are a common sight on bikes similar to this one. When tested, performance was reliable and instant, stopping the bike dead at distances equal to any comparable bike on the market. 
The front fork has a built-in hydraulic suspension with 80mm of give, more than sufficient for a city runner, especially in concert with the big wheels. At 26-inch diameter with a 3-inch width, the Chinese-made Sandstorm tires are grippy and responsive on roads and cycle tracks but might need replacing if you're planning on cycling anywhere more rural. Though that's not what this bike was intended to do.
Integrated head and tail lights finish off the package, with a Buchel 80 lux front light and a 48V rear light. Both are built into the bike and strong enough to do the job, but if you regularly ride at night we might also recommend a more powerful aftermarket front light. 
---
Other Ride1UP Models to Consider:
---
Cafe Cruiser Shipping and Assembly
---
As a US-based Californian company, the shipping of all of Ride1UP's bikes is second to none. Expect delivery straight to your door in all mainland US states bar Alaska completely free, with an impressive standard delivery time of 7 to 10 days. Shipping to Canada is also available, for a very reasonable $100. 
Ride1UP Cafe Cruiser assembly is nice and easy. The bike arrives 85% assembled, as all main electronics and the power system are built directly into the frame of the bike. Finishing the build is simple, taking less than an hour out of the box, even if you've never put a bike together. The video instructions and user guide are both simple to understand, clear, and easy to follow. 
To assemble, the front wheel and handlebars need to be fixed in place, as do the seat and pedals. Adjustments to ride height and comfort should be made here too. Once the bike is sized for you, the rest of the electronics, like the front light and battery, can be slotted into place, and once charged the bike is ready for the road. 
In addition to this, the Cafe Cruiser comes with a solid 1-year warranty, as well as a 30-day free trial, during which you can send the bike back if you decide it's not for you. 
Our Verdict: Ride or Pass?
---
Our verdict is 100% RIDE. There's no disputing that the Cafe Cruiser is a great bike. It's well made, comfortable, balanced and just feels good to ride. Everything has been designed to be as simple as possible, making this the perfect model for anyone taking their first foray into e-bikes. 
But the most impressive thing about the Ride1UP Cafe Cruiser is that it delivers all of this at a genuinely impressive price. If you're looking for an e-bike that can handle a daily commute and just as easily tour and explore your local city, the Cafe Cruiser is a solid, reliable choice with enough flair to stand out from the pack.  
---