Ride1UP LMT'D Review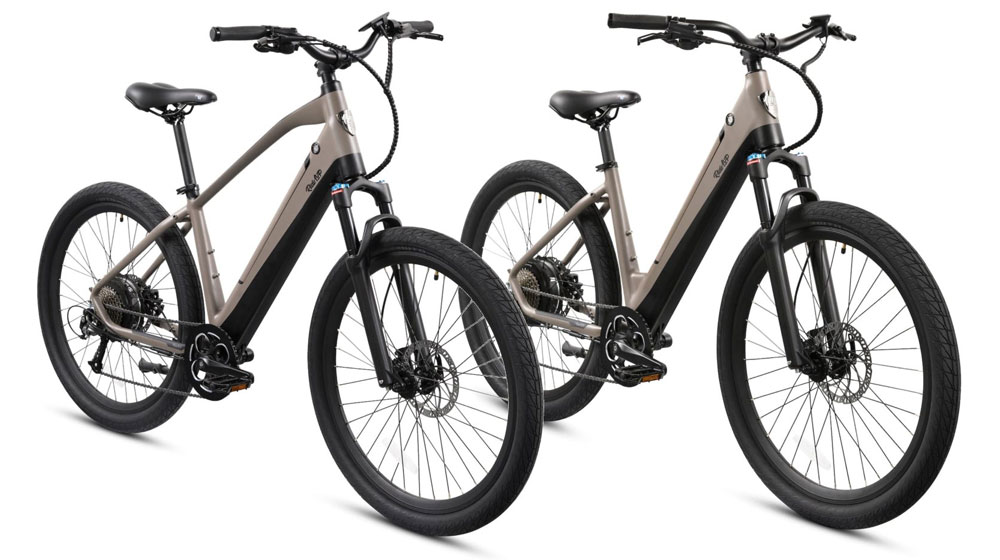 Since its founding in 2019 in San Diego, California, Ride1UP has quickly become a leading e-bike manufacturer in the USA.
With electric bikes like the Ride1UP LMT'D, it's no surprise that the company is finding success. This bike looks, feels, and performs above its price tag.
The LMT'D is an urban e-bike optimized for power and comfort. Ride1UP Bikes chose a strong motor and a set of components that smooths out bumpy roads and dirt trails. In addition, the most recent release included a torque sensor.
This Ride1UP LMT'D review will cover the e-bike's main components and characteristics and finish with our verdict on whether to ride or pass.
MSRP: $1,695

Class: Class 3, 28mph
Motor: 750W, 100Nm MXUS hub

Battery: 672Wh, 48V
Range: 30-50 miles
Weight: 53 lbs
Ride1UP LMT'D Review
The Ride1UP LMT'D is available in two designs, a step-through (ST) and a step-over (XR). The only difference between them is the frame layout and the handlebars; the ST has swept-back cruiser handlebars.
Regardless of the frame type you choose, this is a straightforward electric bike designed for comfort in the city and on light gravel trails.
At first glance, you'll notice the lack of commuter accessories, which may be a turn-off for some riders. However, the big draw of this bike is the wicked power that makes light work of steep hills and adds an element of excitement to riding it.
Impressively, Ride1UP managed to include an air suspension fork and durable WTB tires, giving you the ability to venture off-road without issue.
Overall, the LMT'D feels solidly built, has a natural-feeling power transfer, and handles steadily at speed. However, it's worth noting that inexperienced e-bikers may find the 100 Nm of torque overpowering.
Ride1UP LMT'D vs. 700 Series
The differences between the Ride1UP LMT'D and the 700 Series are substantial. Recently, the brand dropped the price of the LMT'D so that both bikes now cost the same.
The 700 Series has a rear rack, fenders, and taillight. These three components would cost roughly $120 to add to the LMT'D (excluding labor).
In contrast, the LMT'D has torque sensors instead of cadence, 40 Nm extra in the motor, and air suspension instead of coil suspension. In addition, it's nine pounds lighter (without a rack and fenders), and the drivetrain is one step above the 700 Series.
Ride1UP LMT'D Frame, Geometry, and Sizing
The Ride1UP LMT'D frame stands out from most other models in the sub-$2,000 price range. The smooth integration of the battery and cabling gives it a refined look reminiscent of higher-end e-bikes.
Both the ST and XR frames ride similarly, but the ST is slightly more upright, with two inches less reach and two inches extra stack.
This geometry change with the step-through top tube makes the ST version the perfect ebike for senior riders and those with limited mobility or who regularly ride with heavy cargo. The XR frame is comparatively sporty but still upright and comfortable.
Like all Ride1UP e-bikes (except the Roadster v2), the LTM'D comes in one frame size. The ST fits rider heights between 5'1″ and 6'3″, whereas the XR fits 5'6″ to 6'4″. Finally, you can choose a Midnight Gray or Sandstone finish for the frame.
Motor, Sensors, and Battery
The Ride1UP LMT'D is a hub-drive electric bike, which is standard for the sub-$2,000 category. However, it's not your typical hub-drive system. Instead, this e-bike has a 100 Nm MXUS motor and a torque sensor, which creates a uniquely smooth ride quality.
Most hub systems use cadence sensing, which delivers power based solely on whether the pedals are turning, the speed of rotation, and the power assistance level you choose. This results in a clunky, unnatural ride quality and a slight delay between when you start pedaling and when the motor starts.
In contrast, torque sensing is more advanced, providing power dynamically based on the force you are pushing through the pedals; increased force results in a proportionate increase in assistance. This change makes the LMT'D ride smoother and more natural than other hub-drive e-bikes.
With 100 Nm of torque, the MXUS motor performs better on steep hills and when hauling heavy cargo and is faster off the mark than most other hub drives. This ability creates a more exciting ride experience once you become accustomed to the power.
Lastly, the battery chosen by Ride1UP is a standard 672 Wh, 48V unit from Reention. It provides solid ranges between 30 and 50 miles and has a Smart Battery Management System, which helps extend its lifespan.
Ride1UP LMT'D Components and Accessories
This electric bike has a few surprising inclusions that are uncommon for a bike that costs just $1,695.
Firstly, an air suspension fork. The RST 80mm fork is light-duty and best for urban environments and light gravel. However, it's significantly lighter and plusher than the coil forks you usually see at this price.
Another welcome inclusion is the Tektro HD-M285 180mm-rotor hydraulic disc brakes, which provide plenty of stopping power for a bike like the LMT'D.
Unfortunately, Ride1UP switched from Schwalbe's puncture-resistant Super Moto-X tires to 2.4″ WTB Groov-E tires without puncture protection. The WTB set performs better on gravel with its all-terrain tread but isn't as durable.
A Shimano Altus 8-speed drivetrain pairs an 11-32t cassette with a 44t chainring, a perfectly good setup for this bike that will hold up over time.
As mentioned, this bike doesn't have a rack, fenders, or a taillight. However, the brand has listened to its customers and added a 60-lux headlight to the newest generation.
An extensive range of Ride1UP LMT'D accessories is available from the online store, allowing you to personalize the bike for specific jobs, such as commuting or running errands. For example, model-specific fenders cost $60, and a rear rack costs $50.
Shipping and Assembly
Ride1UP currently ships to all 50 states and Canada. The cost varies depending on your location. Unfortunately, European delivery is not available.
Lower 48 states: Free
Hawaii and Alaska: $400 per bike
Canada: $100 + import fees
Within the lower 48 states, shipping is estimated at 1-6 business days. The company will provide tracking information within one business day of placing the order.
Once the bike arrives, there are a few steps to take to get it ready to ride. The Ride1UP LMT'D assembly is more involved than other e-bikes in the category, but the brand provides a step-by-step assembly instruction video to assist you.
Owners must install the suspension fork, stem, front wheel, handlebars, chainring, pedals, seatpost, and saddle. Then, you must adjust the cabling, brakes, gears, and kickstand.
We recommend taking your e-bike to a professional if you're not confident in your abilities as a mechanic.
---
Other Ride1UP Ebikes to Consider:
---
Our Verdict: Ride or Pass?
In our opinion, the Ride1UP LMT'D is one of the best electric bikes you'll find below $2,000. It doesn't have a mid-drive system, but it bridges the gap in performance by adding torque sensing and a high-torque motor.
This e-bike is a joy to ride once you get used to its powerful acceleration. It handles well and floats along on bumpy roads and light gravel thanks to the air suspension fork and 2.4″ tires.
The main drawbacks of purchasing the LMT'D are the complicated assembly and the need to buy a rack, fenders, and rear light separately.
Nonetheless, this is an excellent choice for urban riders who want hill-crushing power and a natural ride quality without splashing out on a mid-drive e-bike.
---