Ride1UP Core 5 Electric Bicycle Review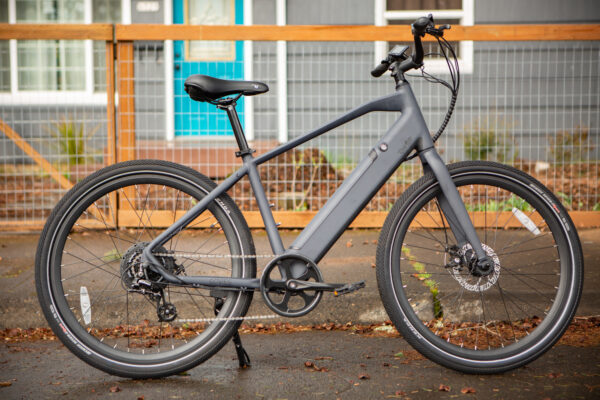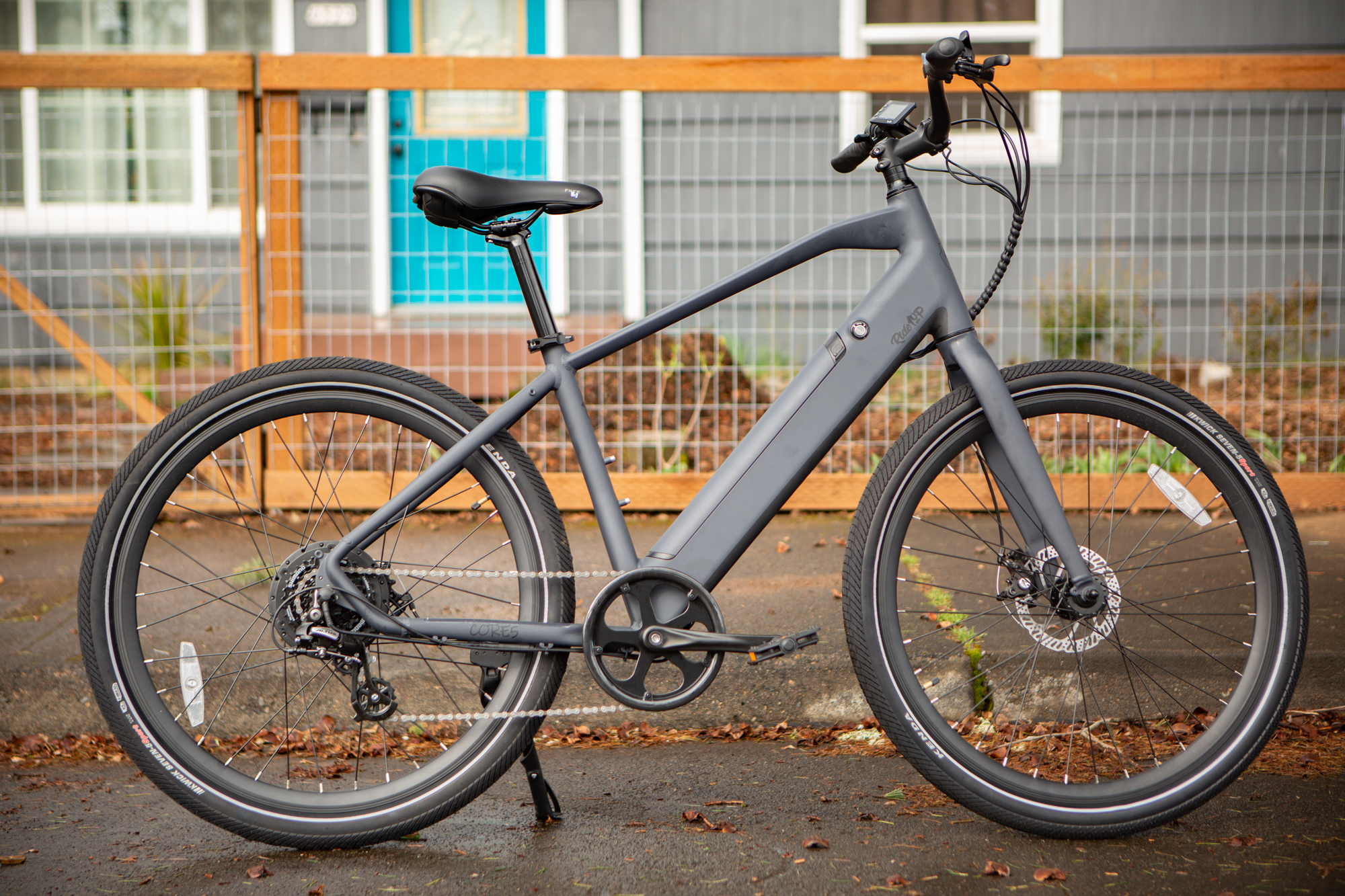 Ever heard of the Ride1Up Core 5?
Probably not, unless you've gone looking for a great price on an electric bike. Even then you might not have found Ride1Up and the Core 5.
They are a three-year-old company based in San Diego California and they sell affordable electric bikes.
Take a look at the company info on their site and they have a great section about efficiency. It's all about efficiency of use, the efficiency of manufacturing, and the efficiency of sales. Instead of just marketing fluff, I find it to be a brilliant way of looking at what they do.
That's incredible but Ride1Up takes the concept further.
Any electric bike advocate will be happy to talk your ear off about the efficiency of electric bikes for moving people. Do a bit of math, explained here, and the Ride1up Core-5 has an eMPG of somewhere between 1350 and 2650 depending on how much you pedal. That's incredible but Ride1Up takes the concept further.
By staying lean all the way through the supply chain Ride1Up keeps the prices of their bikes accessible. It's a different kind of efficiency but just as important. The efficiency with no thought to cost isn't all that relevant to most people. Ride1Up has thought it through and they are able to offer quality, attainable, products that range from $1095 to $2195.
I had an opportunity to spend some time with the Ride1Up Core-5 XR. It's not the least expensive in the line-up but it's close. During my time with it, the story it has to tell became clear. The narrative of the Ride1up Core-5 is all about relaxed around-town riding. Keep reading to learn about the details that help it tell the story as well as what it's like to touch and feel.
Frameset Geometry and Sizes
Electric bicycles as a category cover a huge range of different riding styles. It's possible to find an aggressive race machine with pedal assist. That's not the norm though and it's certainly not the case for the Ride1Up Core 5.
My favorite way to examine bicycle geometry is to look at the stack, reach, and wheelbase numbers. Stack and reach represent a basic snapshot into how forward and upright the bike will feel. The wheelbase then fills in a little bit of context with an idea of stable, or not, the bike will feel. In the case of the Ride1Up Core 5, the stack is missing from the numbers and the reach isn't correct as listed.
Armed with a tape measure, the numbers I got are 15″ reach, 23″stack, and a wheelbase of 43″. Keep in mind, stack and reach ask for a measurement to an imaginary point. I check this measurement more than many people do but I would still consider my work an estimate. It's good enough to start comparing though.
Numbers in isolation don't mean a whole lot. To get a picture of what it's going to feel like I take the numbers I get and compare them to bikes I understand. Trek is a well-known brand that lists its geometry numbers and is very deliberate in its marketing messages.
That makes them a good place to look for comparisons. In this case, the Trek Verve+ 3 makes sense for the sake of comparison. Despite a much higher price, there are a lot of similarities between the two bikes. You can see Trek markets that bike as a very upright, comfortable, around town bike. As expected, the geometry numbers line up pretty well.
The comparison to that Trek also helps make sense of sizing a bit. The Ride1Up Core 5 is only sold in one size. Rider height range is 5'6″-6'4" but no explanation for what that size actually is. I had a feeling that would line up with what most companies call a size large frame and, comparing the numbers, it does. Given how relaxed this bike is there is a lot of latitudes but expect the frame to be around the size of a large for most companies.
Motor and Battery
The Ride1Up Core 5 uses a 48V Geared Hub Shengyi Motor (nominal rating of 500w) paired with a 48V10.4ah Reention Eel Pro using LG Cells. The best way to break down what that means is to say they are low-priced, off-the-shelf, components from major Chinese brands.
Shengyi Motor has been around since 2003. Depending on your level of experience with electric bikes you may, or may not, have heard of them but they are a major force in the market. The brand tends to be more common with lower-priced offerings and they compete primarily on price. They are however a brand that shows up frequently and they do a good job. In the case of the Core 5, the motor in use is a rear hub motor with a cadence-based pedal assist sensor.
The battery system needs splitting into a few different pieces to properly discuss. The company responsible for the casing and fitment is Reention. This is another major Chinese electric bicycle component company and in this case, the Eel Pro model is in use. Reention does not manufacture the battery cells and for those pieces, it's an LG product. LG is one of the largest battery manufacturers in the world so this is a great choice.
The last piece of the battery puzzle is the size of the battery. Some companies list the battery size in terms of volts and amps. That's what you see here with 48V and 10.4ah. I find that to be more confusing than watt-hours but it's an easy conversion. The formula is (Ah)*(V) = (Wh) and that gets us a battery size of just under 500Wh. That also perfectly matches up with what I think is very realistic, based on the numbers, range of 20-40 miles.
Battery and motor discussion can turn very technical quickly.
What's important to understand is that Ride1Up is being smart with money spent. By sourcing off-the-shelf components from quality companies, they are able to keep the price down. At the same time, the performance is good and for the consumer, it can actually be nice to know that you could source parts without Ride1Up.
Components
When I look at the components that make up a traditional, non-electric, bike what I'm looking at is less than what's listed. A great example is Ride1Up lists a Promax stem. Promax is actually a well-known American brand that makes great stuff. Aside from this example though I'm not really getting into the details. It's not important to the ride experience. When talking about the ride experience, I look at the shifter, gearing, crank, derailleur, and brakes.
When I look at the components that make up a traditional, non-electric, bike what I'm looking at is less than what's listed.
The shifter is the most visible piece as it's a touchpoint. It's right there in your hand all the time. Ride1Up has gone with a Shimano Tourney piece in this location. The tourney is the bottom of the lineup for Shimano mountain bike components. Having electric assistance on a bike takes a lot of pressure off these components but it's good to know what you are getting.
There's plenty of power for that but it will impact range a bit
Moving on from the shifter the next set of pieces are the gearing, crank, and derailleur. These three pieces are a group because they all work together. The Core 5 is a 7-speed rear cassette with a range of 11-32. In the front is an unnamed, square taper, aluminum crank with a single ring. The tooth count on the front ring is 44-tooth and makes for a 44-32 easiest gear. Changing those gears is a Shimano Altus derailleur.
With gearing, you have to balance a lot of things. The high-top speed of the Core 5 demands gears for dealing with it. The 44-tooth front chainring reflects that compromise. If you are in an exceptionally hilly area that is going to put a lot of pressure on using the electric motor. There's plenty of power for that but it will impact range a bit. It's unlikely that's going to be a real issue for many people but there is a cassette available with a 34-tooth max gear if you have worries.
Last up are the brakes. There are disc brakes on the Core 5. They aren't hydraulic but that isn't really expected. At this price range, hydraulic disc brakes are unheard of and mechanical brakes work well. The Tektro 160mm brakes do a great job of stopping the bike although mechanical will mean they are a bit more finicky over time. The inclusion of an electric cut-off switch is a nice touch.
Assembly and Delivery
The Ride1Up Core 5 ships in a bike box like every other bike and it comes mostly assembled. That last bit of mostly is where things matter though. I put together a lot of bikes and this one surprised me a little.
Ride1Up calls the Core 5 85% assembled for shipping. That's less than many bikes on the market. Everything left for assembly is simple but you might, like me, come across pieces you aren't used to assembling. In the case of most bikes, the fork is already through the frame with the bearings installed. Attaching the handlebars is the standard while popping the bearings onto the fork is not. Similarly, installing the pedals is typical but installing the crank is less so.
None of the assembly required is tough but the included directions don't mention the bearings and the videos don't cover the Core 5.
I reached out to support just to make sure I was installing the correct bearing in the correct location, and direction. Once you know those details it's just a matter of sliding pieces onto the steer tube. There's nothing more complicated than that but you will need a pedal wrench for the pedals.
Once I had the bearings in the right location the assembly was actually faster than some bikes. There's no hard-to-align pieces that left me swearing and things were quick and easy.
---
Other Ride1UP Models to Consider:
---
Verdict
This is where I get to back out of the details and talk about the experience of riding the bike. The Ride1Up Core 5 is an amazing bike. There's no way to talk about it without discussing the price but at the same time, it's not only good because of the price. The price dictates some of the choices but the ride experience seems to transcend budget constraints.
On paper a 50-pound bike is heavy. In person the Core 5 does a great job of carrying that weight well. It doesn't look heavy, and it doesn't feel heavy when riding. During assembly, I picked up the rear of the bike to turn the pedals and was totally surprised by how heavy it was.
When I imagine what the future of electric bikes should be it's a bike like the Ride1Up Core 5.
The rear of the bike is the heaviest part and even lifting a lightweight road bike to turn the pedals is a bit tough, so that's very high praise.
Having recently tested a very expensive, full carbon framed, electric bike I found myself comparing the two. At about a quarter of the price, the Ride1Up Core 5 was on par and in some ways superior. That exceptional ride quality has to do with how smooth and easy it is to ride. The expensive bike did a better job of being a high-end bike but for cruising around town with pedal assist the Core 5 was better. Take-off is powerful without any of the jerkiness some electric bikes have.
When I imagine what the future of electric bikes should be it's a bike like the Ride1Up Core 5. It looks like a bike, it's not overly heavy, it's smooth and comfortable to ride, and it's cheap. In short, it's a good buy.
---