Trek Verve+ 2 Review
The American company Trek is one of the world's leading bicycle brands, known for producing premium quality bikes with high prices to match.
Trek has a wide range of electric hybrids with Bosch electronics and quality components. These include the Dual Sport+, FX+, Allant+, and Verve+.
The Verve+ is the comfort-focused model family in the lineup.
These lightweight city bikes have upright geometry, shock-absorbing seatpost suspension, smooth Bosch mid-drive motors, and a set of commuter components. Each of the three Verve+ models is available as a step-over or step-through.
This review will examine Trek Verve+ 2, the most affordable of the three Verve+ builds. We'll discuss the bike's main specs and characteristics to see how they stack up against the competition to help you choose the perfect e-bike for your needs and preferences.
---
Trek Verve+ 2 Specs:
MSRP: $2,850
Class: 1, 20 mph
Motor: 250W Bosch Active Line, 40Nm
Battery: 400Wh PowerPack
Range: 60 miles
Tires: 700c x 45mm
Drivetrain: Shimano Alivio 9-speed
Brakes: Shimano hydraulic disc brakes, 160mm rotors
Trek Verve+ 2 weight: 51.5 lb (Step-over) 52 lb (Lowstep)
Payload Capacity: 300 lb
---
Trek Verve+ 2 Review: Comfort, Convenience, and Reliability With a Brand-Name Price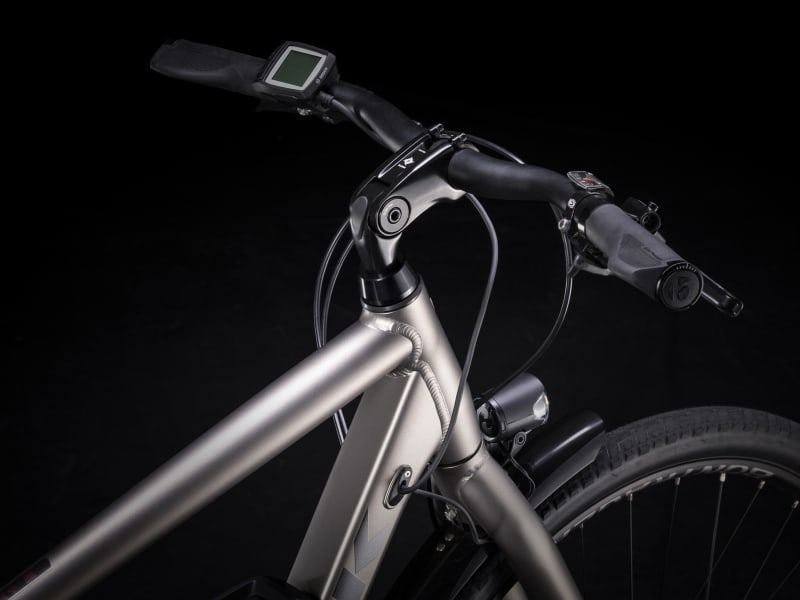 There's no getting around it, Trek electric bicycles cost more than average. A reputation for quality, a lifetime warranty on each bike frame, and convenient support from local dealers help explain the inflated prices.
At slightly less than $3,000, the Trek Verve+ 2 is expensive for an electric hybrid bike, but it offers plenty for riders who value comfort, smooth performance, and reliability. It has Bontrager, Bosch, and Shimano components throughout, all of which work smoothly. This bike is ready for commuting as it's sold, but the mid-drive design and modest motor power mean that it's best suited to riders who want a boost, not a free ride.
The Verve+ 2 competes with other brand-name models like Cannondale's Adventure Neo 3 EQ and Specialized's Turbo Vado 3.0, which have very similar build kits and are slightly more expensive but more refined.
You can easily find an urban e-bike for one-half or one-third of the price that the Verve+ 2 goes for, but you're much more likely to run into issues and be left high and dry when they arise.
Alternatively, you have dozens of similar options in the entry-level market, such as the Ride1UP 700 Series, Aventon Level.2, and Rad Power Bikes RadCity 5 Plus. These options are roughly $1,000 cheaper and have much more power. However, they use hub motors, are heavier, and have cheaper components. Likewise, they're direct-to-consumer, so you don't have the same support if something goes wrong.
Now, let's look closer at this Trek bike to see how the individual characteristics and components compare against the abovementioned competition.
Trek Verve+ 2 E-Bike Pros and Cons
Pros

Bosch electronics are reliable and smooth.
This bike is relatively lightweight for the category.
It has a solid max range of 60 miles.
Available in step-over or step-through.
The Bontrager Hardcase H5 tires are puncture-resistant.
Seatpost suspension adds comfort without adding much weight.
Rides well without assistance.

Cons

You pay more for Trek's name.
The motor lacks power and torque compared to similarly priced urban models.
The semi-integrated battery doesn't look great.
A Semi-Integrated Frame With Upright Geometry and Ample Sizing
The Trek Verve+ 2 is one of the few models above $2,000 without a frame-integrated battery, which gives it a slightly old-fashioned look. Even entry-level Aventon, Rad Power Bikes, and Ride1UP models have integrated batteries. One slight upside of this design is the battery is straightforward to remove for security or off-bike charging.
Despite its slightly outdated look, the Alpha Gold Aluminum frame is high quality, sturdy, and relatively light, resulting in a 52lb total weight. It can also support a payload of 300 lb.
The geometry is upright and relaxed, providing a comfortable position for riding in the city. This position also gives you a good view of the road ahead.
The Trek Verve+ 2 Lowstep is more accessible with its easy-to-mount frame. However, neither is quite as comfortable as the Cannondale Adventure Neo or Rad Power Bikes RadCity with their swept-back handlebars, fork suspension, and wider tires.
An advantage of buying a Trek bike is the ample sizing options. Between the two frame designs, there is an option for riders 4'10" to 6'6″ (the Lowstep fits shorter riders), so pretty much everyone can find the right fit.
Bosch-Powered E-Bike with Smooth Assitance and Plenty of Range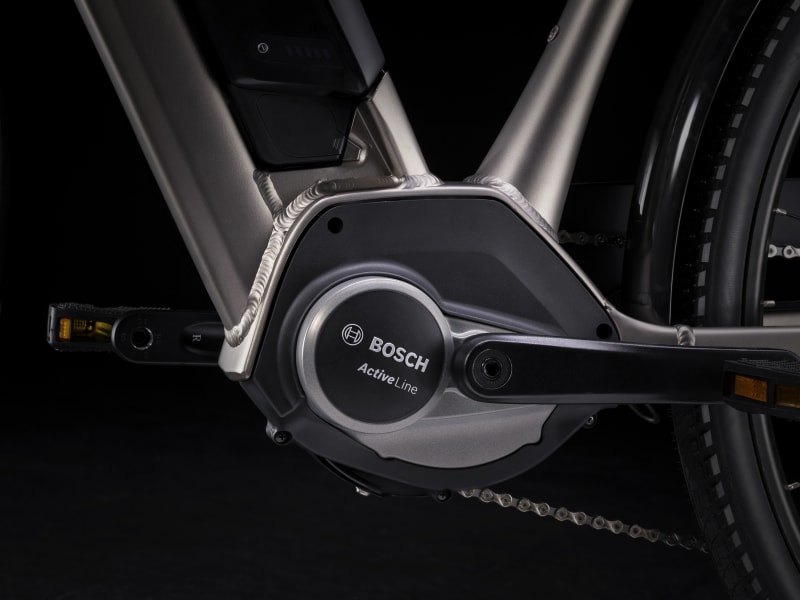 The Trek Verve+ 2 is an ebike with a Bosch motor, boasting a Bosch Active Line motor and a 400 Wh PowerPack, the same system used on the Cannondale Adventure Neo 3 EQ. Bosch mid-drive motors are among the best in the industry, providing smooth and reliable performance.
However, a mid-drive unit like the Active Line is only suitable for riders who expect to contribute some of their power to get where they need to go. This type of system doesn't give you an effortless ride like the 750W throttle-powered systems found on the RadCity 5 Plus or 700 Series.
The Trek Verve+ 2, powered by a Bosch Active Line motor, offers a reliable performance for riders seeking a traditional bike feel with a boost, covering up to 60 miles on a single charge.
Additionally, with just 40 Nm of torque, you must make a significant effort when riding up steep gradients or carrying cargo. However, if you like the natural feel of a traditional bike and want an extra boost instead of a scooter-like ride, then the Verve+ 2 is a great option.
The 400 Wh battery will return a max range of roughly 60 miles, similar to the Adventure Neo 3 EQ and slightly less than the Turbo Vado 3.0 with its 530 Wh battery.
Finally, Trek chose Bosch's minimalist Purion display for the Verve+ 2. This suits the bike well and provides enough information for most riders.
Comprehensive Urban Design with Quality Brand-Name Components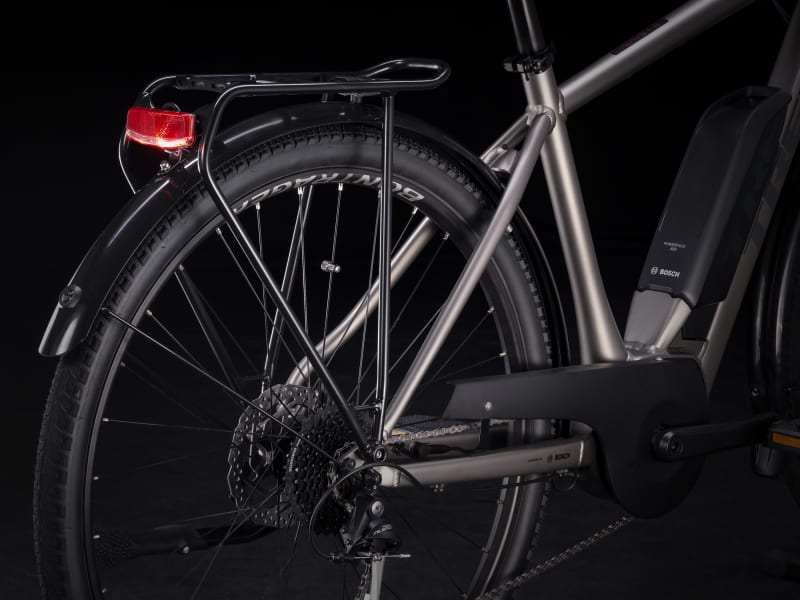 The Trek Verve+ 2 is a commuter-style hybrid with everything you need for urban riding. This includes front and rear lights (120-lumen headlight), an MIK-compatible rear rack with a 55 lb capacity, and plastic fenders.
Its Shimano groupset is typical for this price point and provides solid, reliable performance for urban riding. The Verve+ 2 gets the same Shimano Alivio 9-speed drivetrain and MT200 hydraulic discs as the Specialized Turbo Vado 3.0, just with a lower-quality 38t chainring. The Cannondale Adventure Neo 3 has a slightly cheaper microSHIFT Marvo 9-speed drivetrain and Tektro hydraulic discs.
One major difference between Verve+ 2 and the bikes we've been comparing is the wheels and tires. The comparison bikes have 27.5″ wheels with tires between 2″ and 2.4″. The Verve+ 2 has large 700c wheels wrapped in 45 mm tires.
This combination allows this bike to roll much more efficiently on pavement, making this e-bike suitable for riding without assistance, if necessary. The Bontrager H5 Hard-Case Ultimate tires are also some of the most durable on the market.
FAQs
What is the range of the Trek Verve+ 2?
The range of the Trek Verve+ 2 is around 30 miles on average. However, in ideal conditions on 'Eco' mode, you can achieve up to 60 miles. In very tough conditions on max power, the total range may be as low as 10 miles.
How much does a Trek Verve+ 2 weigh?
The Trek Verve+ 2 Lowstep weighs 52lb, and the regular step-over frame weighs slightly less at 51.5lb. This is relatively low for a fully-equipped commuter e-bike in this price range. The PowerPack battery weighs approximately 5lb, so removing it can help when lifting the bike.
What is the top speed of a Trek Verve+ 2?
The top speed of a Trek Verve+ 2 is 20mph. At this speed, the motor stops assisting, making it a Class 1 electric bike. This speed is achievable on flat terrain without a headwind. Riders will struggle to reach the max speed going uphill or against a strong wind.
Our Verdict: Ride or Pass?
Trek's Verve+ 2 is one of the company's most affordable electric bikes. While Trek bikes are known for their premium prices, the Verve+ 2 is a compelling option if you want brand-name quality without the huge price tag.
The Verve+ stands out for its comfort and urban functionality. With features like reliable Bosch electronics, Shimano gearing, comfortable geometry, seatpost suspension, and puncture-resistant tires, the Verve+ 2 is convenient to own and a pleasure to ride.
The Trek Verve+ 2 offers brand-name quality at an affordable price, blending urban functionality and comfort with agile performance, making it a top pick for versatile city commuting.
One notable aspect of the Verve+ 2 is its low weight, 700c wheels, and narrow-ish tires, contributing to its overall agility and maneuverability. Whether you're commuting to work, exploring local bike paths, or simply enjoying leisurely rides, the Verve+ 2's specs make it a worthy consideration.
Trek's attention to detail, warranties, and dealer network means you can expect a bike that performs well and withstands the test of time. Therefore, this bike gets a 'ride' verdict from us.
---