Aventon Soltera Review: Affordability, Efficiency and Style in One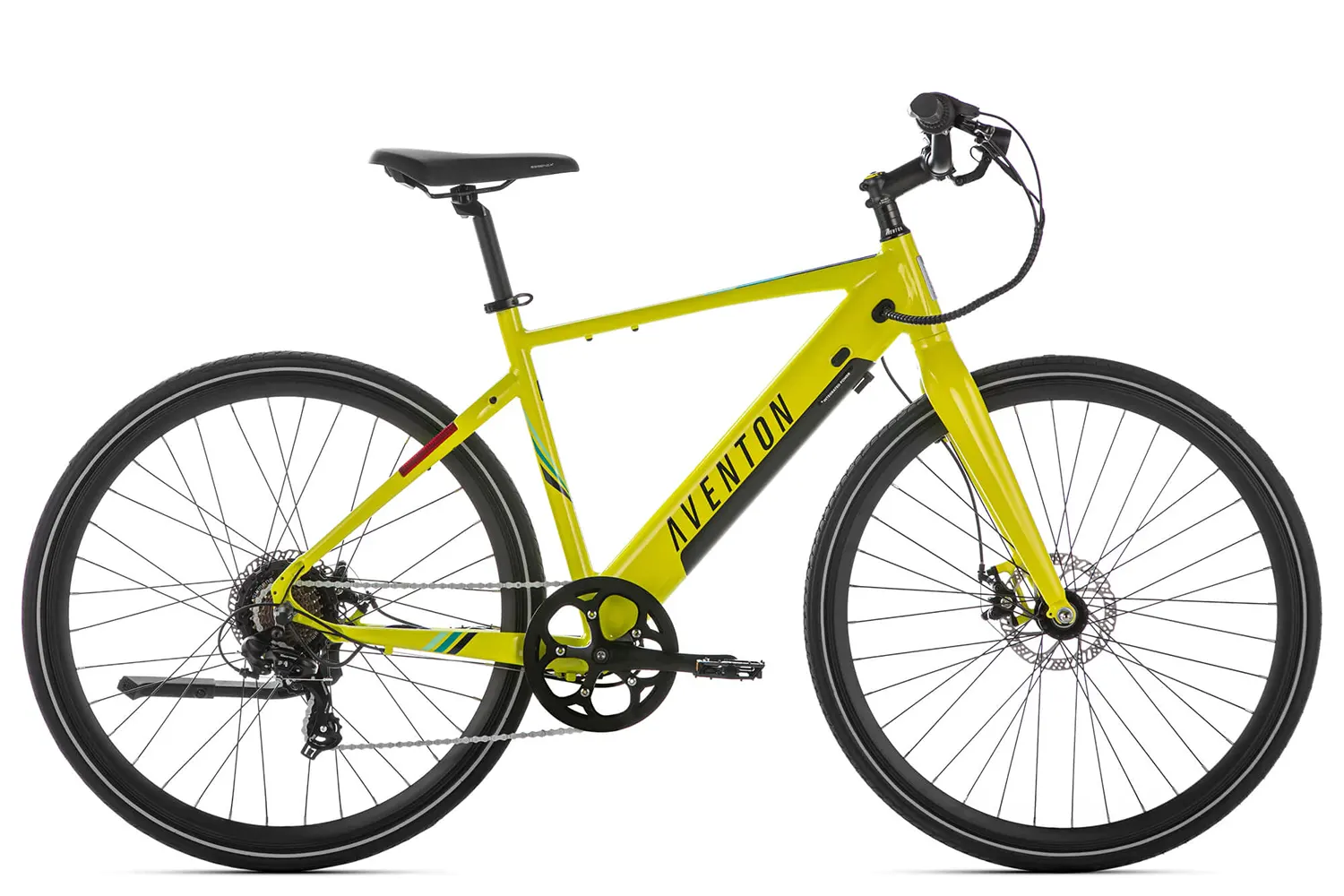 Aventon is well known for its affordable electric bikes that push the standards of what a low-priced electric bike can offer. Its Soltera ebike is yet another example of this.
The Aventon Soltera is a budget-friendly option with a light-duty motor and a modest battery, making it ideal for those seeking a little boost on their commutes, rather than continuous power.
Its frame shape and the overall finish pay tribute to Aventon's beginnings in the fixed-gear scene, positioning it as a direct competitor to the Ride1UP Roadster V2 and State Bicycle Co.'s 6061 ebike commuter.
With trickled-down features from Aventon's more expensive models, the Soltera unquestionably delivers excellent value for money.
But does it outperform its competition? Let's find out.
Aventon Soltera Main Specs:
MSRP: $1,199
Class: Class 2, 20 mph
Motor: 350W rear hub, 36V
Battery: 36V, 9.6Wh (~350Wh)
Range: 41 miles (average)
Tires: Kenda 700c x 35c
Drivetrain: 7-speed Shimano Tourney
Brakes:Tektro Mechanical Disc Brakes, 160 mm Rotors
Weight: 43 lb
Weight limit: 300 lb
Aventon Soltera Review: Wallet-Friendly Option with Surprising Features
The wallet-friendly lightweight ebike selection is definitely underserved at the moment, with not a lot of options to choose from. That's just part of the reason why Aventon Soltera stands out in the ebike market.
Its combination of affordability, efficiency, and style makes it a rare find in the current landscape of budget-conscious, lightweight ebikes.
With a streamlined aluminum frame, 41 lb weight, decent motor, integrated battery, a 7-speed drivetrain and disc brakes, the Soltera encompasses almost everything an urban commuter could desire.
In comparison, the Ride1UP Roadster v2, another popular pick in this category, features a single-speed drivetrain (with a belt drive), rim brakes, and a smaller battery, albeit at a slightly lower cost.
While the Soltera isn't flawless and it would be great to see a larger battery and some basic accessories, it's difficult to criticize it considering the $1,199 price tag.
Aventon Soltera Pros and Cons
Pros

We love the streamlined fixie-style aluminum
frame and refined looks.
The 43 lb weight makes it one of the lightest
ebikes in the budget-friendly price category.
Exciting higher-end features, such as integrated taillights and a color LCD display.
A 7-speed drivetrain and mechanical disc brakes make it stand out from the competition.
The battery is neatly hidden inside the frame, but still removable.

Cons

We'd like to see fenders and/or a rear rack on the future version.
The light-duty motor and battery may be underwhelming for riders who are used to continuous assistance.
Sporty Aluminum Frame with Seamless integration
As some of you probably already know, Aventon used to be a big name in the fixie circles, before it started focusing exclusively on the ebike market. The Soltera is obviously an homage to those times.
It comes with a sleek aluminum frame available in step-over and step-through variations, each of which is offered in two unique colors. Each frame is also offered in two frame sizes that fit riders between 5'3″ and 6'4″ tall.
| | | |
| --- | --- | --- |
| | Step-Through | Step-Over |
| Regular | 4'11″ – 5'7″ | 5'3″ – 5'10″ |
| Large | 5'7″ – 6'1″ | 5'10″ – 6'4″ |
Given its fixie roots, the Soltera's geometry is on the more aggressive side, putting you in a forward riding position. This is by no means an athletic position, like on a proper road bike, but it's more aggressive than on most popular city electric bikes.
The only downside of this frame is that the water bottle cage mounts are located on the underside of the top tube on the step-over version, which is not ideal. A much better position would be on the seat tube.
Reliable Motor and Battery Suitable for Urban Riding
Aventon Soltera's motor and battery are solid for an ebike designed for city commuting and urban riding. It comes equipped with a 350W rear hub motor and a 350 Wh battery neatly integrated into the downtube.
With a setup like this, you'll have no problems cruising along flat roads and rolling landscapes using throttle only, but you will need to supplement your own power when the road starts going up.
With five levels of pedal assist and a thumb throttle, the Soltera offers a 40-mile average range and a 20 mph top speed. In comparison, the Ride1UP Roadster has a 28 mph top speed, but only a 20-30-mile average range.
Considering that the Soltera weighs only 43 lb and rolls on sleek 700c x 35 mm tires, this motor and battery combo is just enough to provide decent oomph unless you're a particularly heavy rider.
Entry-Level Drivetrain and Solid Disc Brakes
When it first came out, Aventon offered the Soltera with either a single-speed or a 7-speed drivetrain. Today, only the Aventon Soltera 7-speed version is available.
On top of that, the single-speed model came with caliper brakes, whereas the 7-speed version uses Tektro mechanical discs, which offer a huge improvement in braking power and modulation.
With a 7-speed cassette on the back and a 43 lb weight, you'll find it pretty easy to pedal even with a dead battery, which is a big plus.
On top of that, by being able to shift gears and pedal more efficiently, you'll also climb hills more easily and get more range from the 350 Wh battery.
Surprisingly High-Tech Features
The lack of accessories is Soltera's main downside for riders used to riding fully equipped city commuters. But even though it lacks fenders and racks, the Soltera offers a few other unexpectedly advanced features.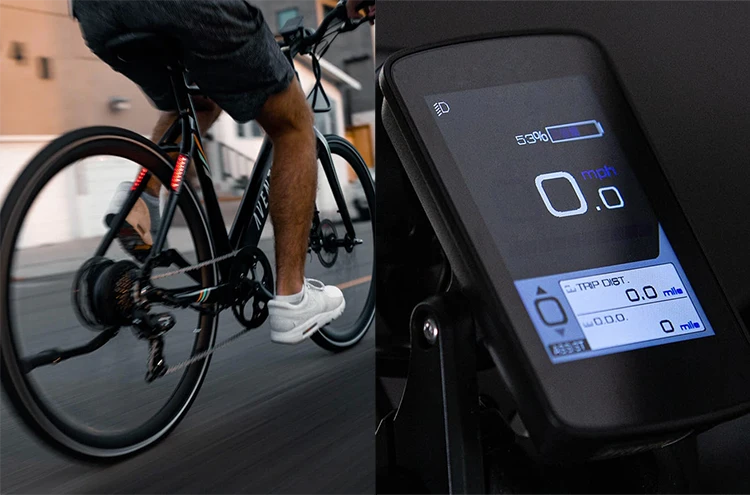 First of all, it has a handlebar-mounted front light that's not super bright, but it's decent enough to see and be seen at night. It also has taillights integrated into the seat stays, which is a feature adopted from Aventon's more expensive Aventure model.
The Soltera also comes with a full-color LCD display that's compatible with Aventon's official app and offers some cool features and metrics.
For example, on top of showing you all the standard metrics (speed, distance, average speed, odometer, etc.) it also shows you the battery level as a percentage (which is fantastic and should be more common) and how many kilograms of CO2 and trees you've saved by riding your ebike instead of driving your car.
Frequently Asked Questions
How heavy is the Aventon Soltera?
The Aventon Soltera weighs just 43 lb, which makes it one of the lightest ebikes in its price category. Similarly outfitted 7-speed ebikes typically weigh around 55 lb or more, which is a big plus for the Soltera.
What class is the Aventon Soltera?
The Aventon Soltera is a Class 2 ebike, as it offers five pedal-assist levels, a throttle, and a 20 mph top speed. You can ride it faster than that, but the assistance from the motor cuts off when you reach 20 mph.
What is the speed limit on Aventon Soltera?
The Aventon Soltera's top speed is 20 mph with both pedal assistance and throttle. Though, keep in mind that its average top speed is slightly lower, as it can't reach its maximum 20 mph on steep hills.
How can I make Aventon Soltera faster?
To make your Aventon Soltera ebike go faster, you need to first download the official Aventon app and then follow these steps:
Press and hold the center button on your handlebar control to access the display menu.
Navigate to the "Connect to App" option using the minus button ( " – " ).
Launch the Aventon app on your phone, create an account, and log in.
Within the app, tap on "scan pair."
Scan the QR code that appears on your ebike's screen.
Assign a nickname to your ebike and click on "confirm."
After successfully connecting the Aventon app to your ebike, navigate to the settings menu in the app (click the settings icon at the top right of the Ebike page), and scroll down until you find the option to customize your top speed preference.
Does the Aventon Soltera have a throttle?
Yes, the Aventon Soltera has a thumb throttle located on the left side of the handlebars. It's designed with grooves so it doesn't slip under your fingers and lets you travel at a 20 mph maximum speed.
How long does it take to charge the Aventon Soltera battery?
The Aventon Soltera battery charges in around three hours. The battery has a capacity of only 350 Wh, so it doesn't take long to charge it fully. However, for the best life expectancy, you should try to keep it between 20% and 80%.
Our Verdict: Ride or Pass?
In conclusion, the Aventon Soltera offers an exceptional blend of style, affordability, and utility, making it an appealing choice in the currently underserved lightweight ebike category.
While it isn't without its flaws, such as the lack of accessories and limited battery capacity, the Soltera's high-tech features and solid performance outshine its minor shortcomings.
For city commuters seeking an economic, efficient, and practical mode of transport, the Aventon Soltera definitely merits strong consideration.
---