Gazelle Electric Bikes Review: Complete Lineup Review and Buying Guide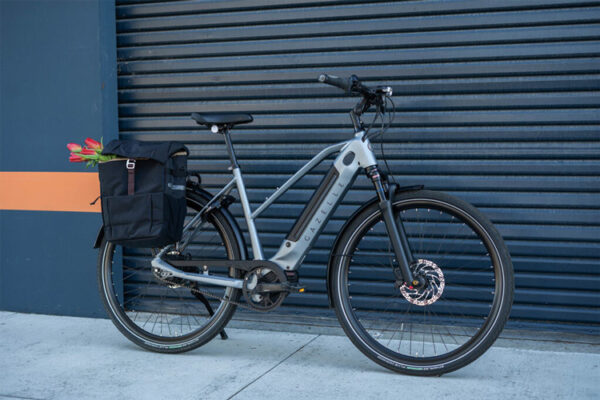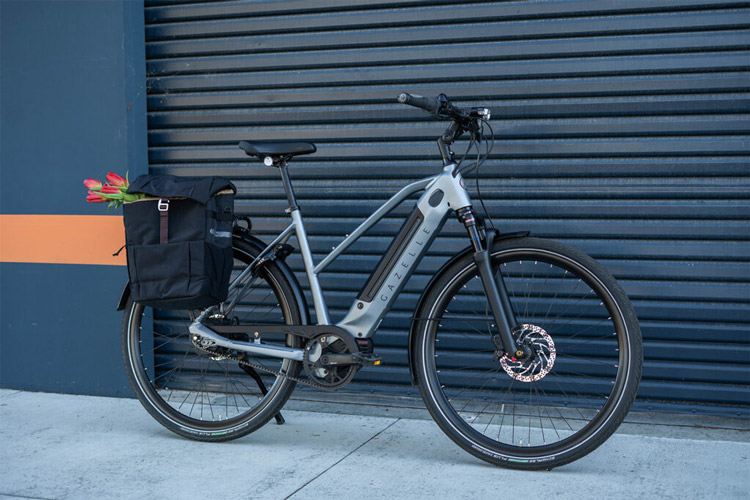 Gazelle Bikes is a Dutch company steeped in history in the region. You won't walk more than 200 feet in a Dutch city without passing one of their bicycles.
Since the emergence of e-bike technology, Gazelle electric bikes have also become a large part of the brand's portfolio. In 2017, Gazelle opened a headquarters in North America, an opportune moment to begin serving that fast-growing market.
As of 2023, Gazelle offers 11 eBikes in Canada and the US, focusing almost solely on the electric market, in contrast to the primarily traditional bike market in Europe.
This Gazelle Bikes review will discuss the brand and its history, some standout features of Gazelle e-bikes, and each model in detail.
About Gazelle Bikes
---
Gazelle Bikes is one of the world's oldest continuously running bike manufacturers, celebrating its 130th year in 2022. Although it has been operating since 1892, the brand continues to innovate and grow its offering.
Gazelle's mission is to make stylish, comfortable, and long-lasting products built to handle the demands of everyday life. It's clear that they are achieving this goal, given their international popularity.
The primary Gazelle factory is located in Dieren in the Netherlands. Between the factory, Innovation and Production center, and the testing and assembly building, the company employs over 450.
The current capacity is around 300,000 bikes a year, and with that, the brand opened a North American headquarters in Santa Cruz.
The entire Gazelle range in the US and Canada consists of fully-equipped city bikes, eleven electric and one standard model.
Standout Features of Gazelle Electric Bikes
---
A commitment to quality is evident to anyone who has ridden a Gazelle e-bike. At the assembly center, Gazelles mechanics perform 129 tests on each bike, ensuring the highest standards possible.
Gazelle electric bikes come in three frame designs, including low, mid, and high-step. In addition, each model has between one and three color options.
Fully-Equipped for Urban Riding
All the e-bikes in the range come with puncture-resistant Schwalbe tires and a fully-equipped setup of battery-powered lights, a rear-mounted rack, fenders, a wheel lock, and a kickstand.
These components make urban life convenient and safe, and because they come preinstalled, you won't have to worry about adding them after purchase.
Bosch Electronics
As of 2023, each Gazelle e-bike uses a mid-drive Bosch motor with 40, 50, 65, or 85 Nm of torque. Apart from the Medeo T9 and T9 City (400 Wh), all models use a 500 Wh battery. Max ranges for each model are from 55 to 70 miles depending on the motor's power.
These premium Bosch electric bikes ensure the most natural and efficient ride quality possible, providing plenty of power for tackling hills, hauling cargo, or going fast. The standard e-bikes are Class 1, and the 'Plus' builds are Class 3.
Comfort and Durability
Dutch electric bikes are designed to be comfortable, putting the rider in a relaxed position ideal for zipping around the city. While the three families have different geometries and componentry, each provides a smooth and comfy ride using fork suspension, large balloon tires, upright geometry, and soft touchpoints.
With over 130 years of experience, Gazelle is incredibly experienced in designing and manufacturing reliable urban bikes that stand the test of time and regular use. Their electric bikes are no different.
Brand-name components, high-end frame design, and rigorous testing mean superior durability. Pair this with the belt drive and internal gearing seen on many of the company's e-bikes, and you have one of the longest-lasting bikes on the market.
Gazelle Electric Bike Lineup
---
The Gazelle e-bike range includes eleven different models across three families. Each family has specific characteristics, although the difference between them isn't drastic (they are all essentially fully-equipped urban e-bikes).
Ultimate – Comfort, functionality, and high-performance electronics
Medeo – Reliability, affordability, and functionality
Arroyo – Style and comfort
Eight of the eleven Gazelle electric bikes are Class 1 e-bikes with 20 mph top speeds, and the rest are Class 3 (Plus) with 28 mph max speeds. The differences between the standard and the Plus builds are minimal, as you'll see below.
Gazelle Ultimate C380/C380+
MRSP: $4,249 / $4,999
Gazelle's premium model
Powerful electronics
4-piston Shimano disc brakes
The Gazelle Ultimate C380 electric bike is the brand's most advanced, consisting of one Class 1 and one Class 3 build (C380+). These Gazelle bikes feature premium components in every area.
The Ultimate series blends sporty electronics and comfort geometry with a sleek, fully-integrated design and plush touchpoints. The main differences between the C380 builds are the motor power, top speed, saddle, and suspension.
The C380 has Bosch's Performance Line 65 Nm motor that gets 25 to 70 miles of range, while the C380+ has the Performance Line Speed 85 Nm that gets 20 to 55 miles. Both builds use 500 Wh batteries integrated into the downtube.
Each C380 has fork suspension, but the standard one has 40 mm integrated into the headtube, while the C380+ has an 80 mm telescoping fork.
Shared features include 1.75″ Schwalbe Energizer Plus puncture-resistant tires, a premium Gates Carbon belt drive, Enviolo's stepless 380% Trekking hub, and Shimano MT420 hydraulic discs.
If you want the best Gazelle e-bike on the market, choose the Ultimate C380 or C380+.
---
Gazelle Ultimate C8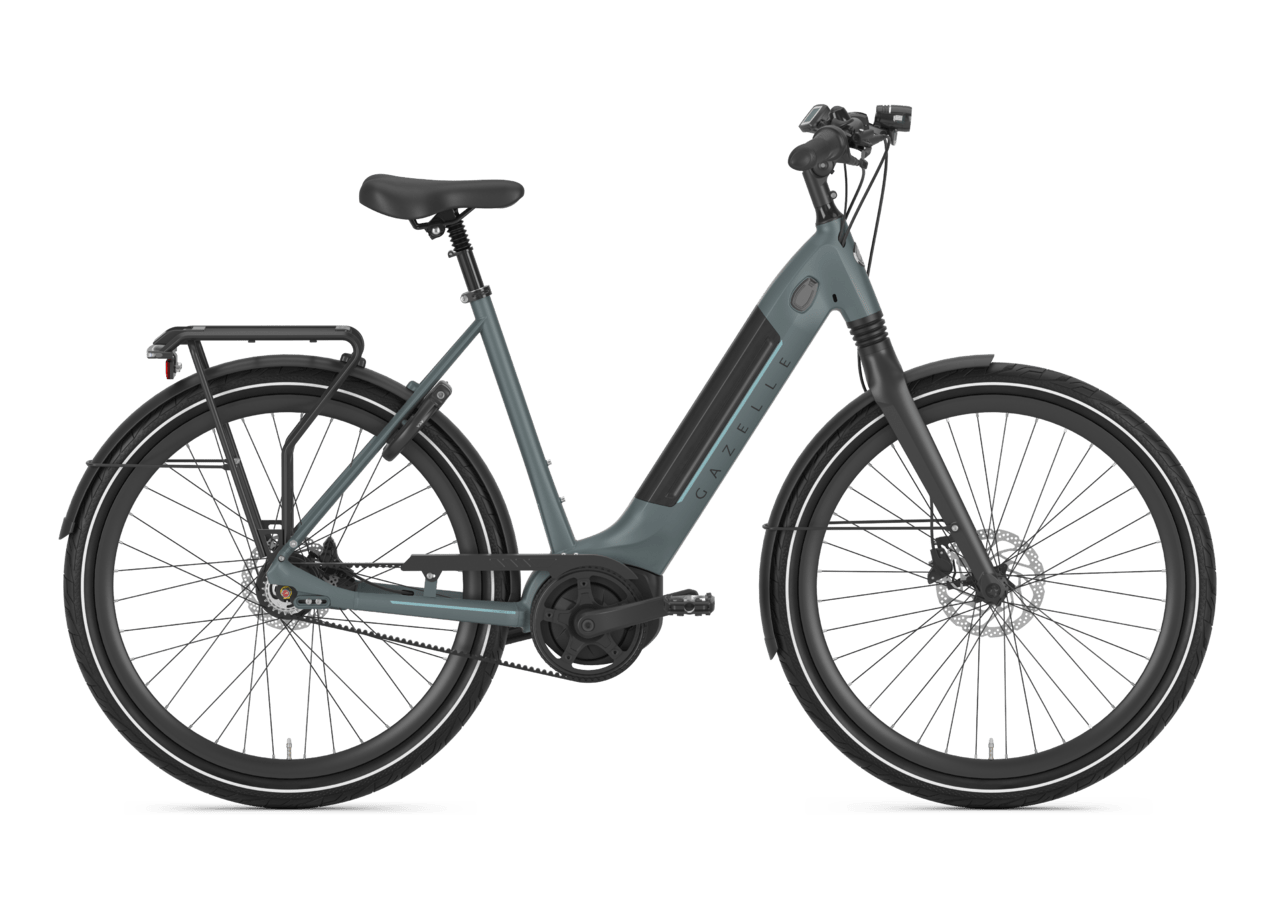 MRSP: $3,749
Cheapest Ultimate e-bike
70-mile range
Belt drive and Shimano Nexus 8-speed hub
The Gazelle Ultimate C8 is the most affordable in the five-model family, with lower torque, less powerful brakes, and a Shimano internal hub.
The Gazelle C8 bike uses the same Gates Carbon belt-drive system as the other models, except paired with a Shimano Nexus 8-speed hub, which doesn't have as much range and isn't as smooth as Enviolo's, but still performs well for this price.
Gazelle chose a set of Shimano MT200 two-piston hydraulic disc brakes for this model, which are perfectly adequate. As a Class 1 e-bike, the C8 can reach top speeds of 20 mph. Its electronics include a Bosch Active Line 50Nm motor and a 500Wh battery.
Aside from that, this Gazelle bike has the same fully-equipped setup, the Ultimate family's active yet comfortable geometry, and 40mm of headtube-integrated suspension. Finally, you can choose between two colors and three sizes on a low-step frame.
Add the Gazelle C8 bike to your shortlist if you want one of the best belt-drive e-bikes on the market right now.
---
Gazelle Ultimate T10/T10+

MRSP: $3,999 / $4,499
Shimano Deore 10-speed gearing
Bosch Performance Line electronics
The Gazelle e-bikes Ultimate T10 and T10+ are almost identical to the corresponding C380 models, except for the fact that they come with a traditional drivetrain instead of a belt drive and internally geared hub. The 'T' in T10 stands for transmission.
By using a mid-tier Shimano Deore 10-speed drivetrain, Gazelle cut the price of these bikes by $500, substantial savings for those not interested in the belt-drive system.
That said, the upfront savings will balance out through increased repair costs and maintenance requirements in the future. Belt drives require little to no maintenance and last three to four times longer.
The other major difference between the C380 and T10 models is the weight. These bikes are roughly five pounds lighter, weighing 50.7lbs and 51.1lbs, respectively.
Choose the Gazelle Ultimate T10 or  T10+ if you want performance, comfort, and style without needing a belt drive.
---
Gazelle Arroyo C7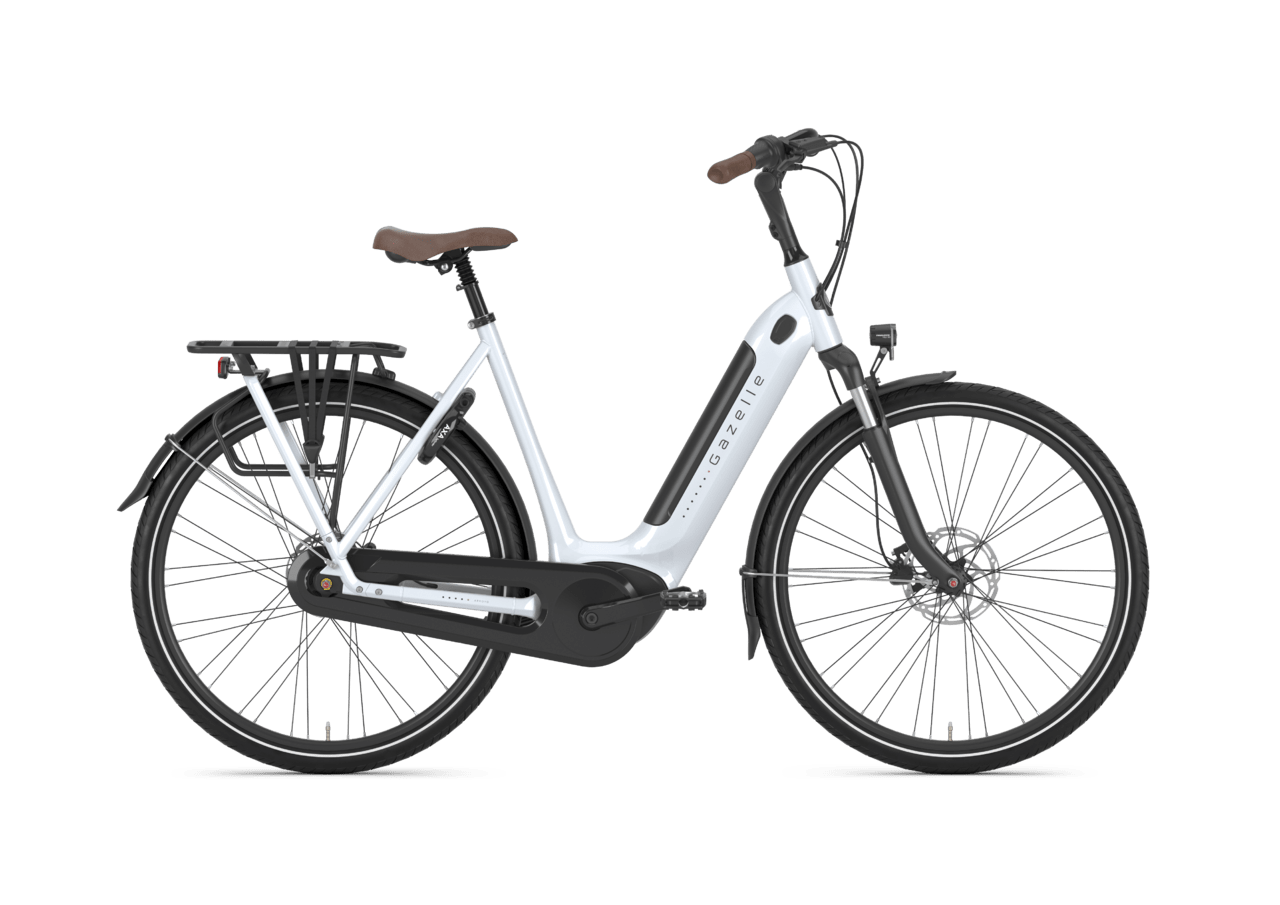 MRSP: $3,399
7-speed Nexus hub
Dutch-style handlebars
Sprung seatpost
The Gazelle Arroyo is the comfort-optimized series, and the C7 is the cheaper of the two models, using a 7-speed Shimano Nexus hub.
This Dutch electric bike has a relaxed upright position, low-step frame, swept-back handlebars, 40mm of fork suspension, and a sprung seatpost to provide a comfortable ride no matter where you go in the city.
The Arroyo C7 uses a belt drive with internal gearing to ensure smooth and long-lasting operation. Gazelle also equipped this bike with a chain guard for extra protection.
Many of the components on the Arroyo C7 are a slight step down from the Ultimate series, such as the Tektro HD-T280 hydraulic disc brakes, which aren't as powerful or consistent as Shimano's.
This bike is powered by a Bosch Active Line Plus 50Nm motor and 500Wh battery that returns up to 70 miles of range.
Overall, the Arroyo C7 is a solid comfort-focused electric city bike that offers great value for money.
---
Gazelle Arroyo C8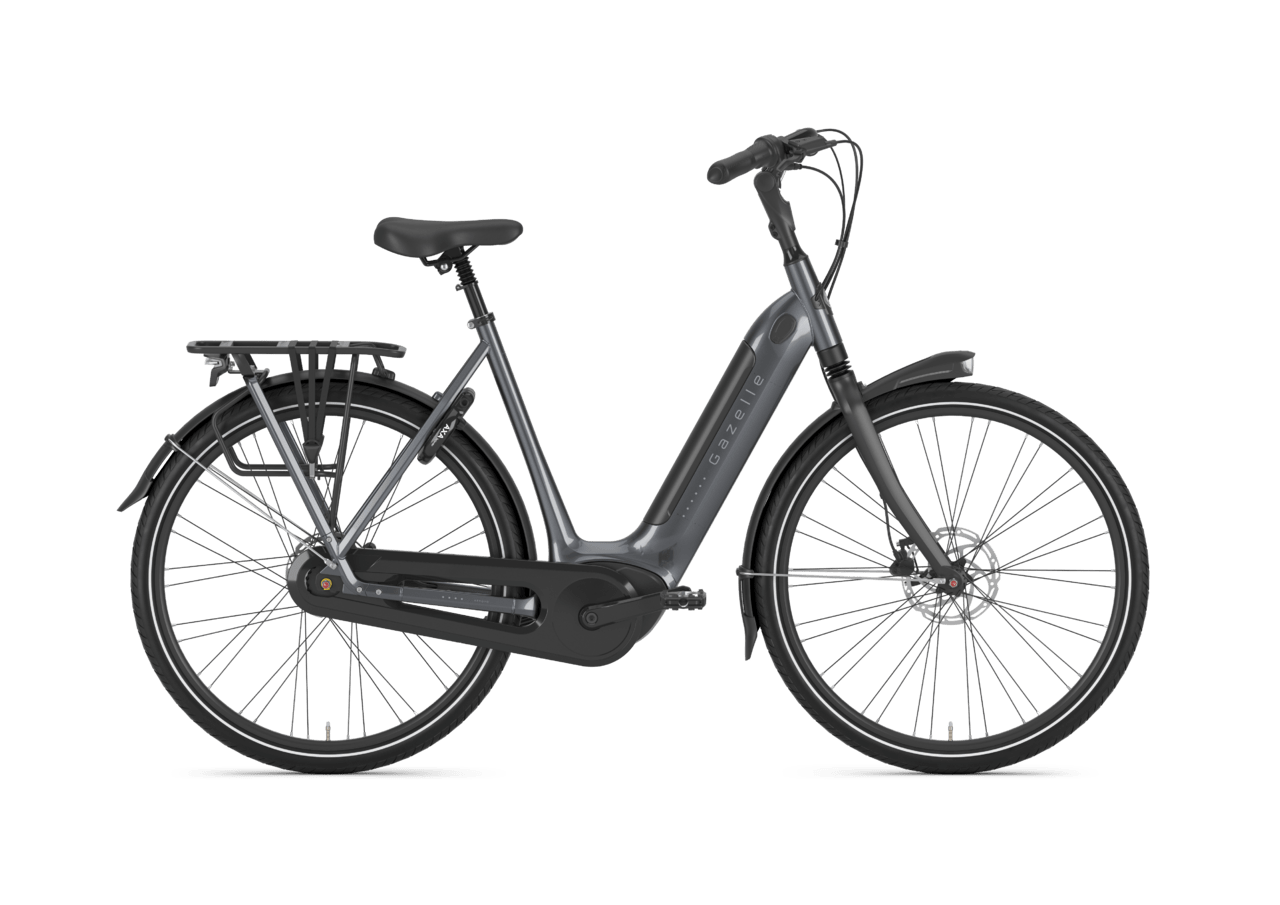 MRSP: $3,699
8-speed Shimano Nexus
Headset integrated suspension
2″ tires
The Arroyo C8 Gazelle electric bike is the higher-end version of the two, primarily due to the wider-range 8-speed hub and improved touchpoints.
One unique feature of this bike is the Gazelle Fendervision 50-lux LED light integrated into the front fender.
The C8 sticks to Shimano Nexus but has 8-speed gearing rather than 7-speed. In addition, you get a Selle Royal Loire saddle and luxury leather handlebar grips instead of the plastic ones used on the C7. Otherwise, these two bikes share the same components and design features.
Choose the Gazelle Arroyo C8 if you want unbeatable comfort and functionality from your city bike.
---
Gazelle Medeo T10/T10+
MRSP: $3,299 / $3,799
High-performance electronics
Lighter weight and sportier geometry
2″ tires
The Gazelle Medeo family is highly functional, reliable, and designed with an active geometry and responsive ride feel.
The two premium models, the Medeo T10 and T10+ use the same high-end Bosch electronics seen on the Ultimate C380 and T10 builds. These include a Performance Line 65Nm motor with a 70-mile range and the Performance Line Speed 85Nm with 55 miles max.
A more forward, touring-style geometry makes the Medeo T10 more efficient over longer distances, and the Shimano Deore 10-speed drivetrains will help you find the right gear on varied terrains.
The other differences between the T10 and T10+, besides the motor, top speed, and range, are the standard T10 only has two-piston hydraulic disc brakes, 50mm of fork travel, and more small gears (38t chainring). In contrast, the T10+ has four-piston brakes, 63mm of fork travel, and more big gears (52t chainring).
The Medeo family has two notable differences compared to the Arroyo and Ultimate. These include wider 2″ Schwable Big Apple tires and a 35-lux headlamp.
All things considered, the Medeo T10 Gazelle e-bikes are excellent options for riders who demand speed and versatility from their city bike without sacrificing comfort.
---
Gazelle Medeo T9/T9 City
MRSP: $2,499 / $2,799
Affordable
Same reliable design and component choice
Lightweight
The Gazelle Medeo T9 e-bikes are the cheapest and lightest in their lineup. This weight is saved by using a smaller 400Wh battery and mounting it outside the frame to save frame material.
Even with the smaller battery, these bikes still get impressive max ranges of 65 and 60 miles, respectively, a very slight drop from the 500Wh batteries.
The cheaper T9 city has a 9-speed Shimano Alivio drivetrain, MT200 hydraulic disc brakes, and a 40Nm Bosch Active Line motor. In contrast, the standard T9 has a 9-speed Acera drivetrain and a 50Nm Active Line Plus motor.
Another key difference is the placement of the battery. The T9 City has a rack-mounted battery, and the T9's is downtube-mounted. The downside of a rack-mounted battery is the extra weight in the rear can negatively impact handling.
For less than $2,800, you won't find many better options than the Gazelle Medeo T9 e-bikes.
Warranty and Service
---
Gazelle prides itself on its industry-leading warranty and customer service excellence. All Gazelle electric bikes come with the following:
Frame – 10-year warranty
Fork and paint – 5-year warranty
Battery, motor, and display – 2-year warranty
Other parts – 2-year warranty
Gazelle e-bikes are available from dealers across the US and Canada; they do not sell their products online.
FAQs
---
Gazelle bikes are excellent choices for urban riders and commuters. Their electric bikes are designed with keen attention to detail and well built, and they use reliable brand-name components in every area. In addition, they offer great warranties to back up their promise of quality.
A Gazelle bike is a bicycle from a Dutch manufacturer named Royal Dutch Gazelle. All of their bikes are based on the traditional Dutch bicycle, with upright, relaxed geometry, a rack, and fenders. Gazelle bikes are ideal for riders who need a bike for urban transportation, running errands, or commuting.
Gazelle bikes are made in the company's factory in Dieren, the Netherlands. Design, manufacturing, assembly, and testing all happen in the various facilities located in the area. This impressive fact sets Gazelle apart from most of its competitors, most of whom outsource manufacturing to factories in Asia.
A Gazelle bike weighs anywhere from 47 to 56lbs, including all the extra components. The lightest electric bikes in the brand's lineup include the Medeo T9 and T9 City, and the heaviest bikes are the C380 and C380+. Gazelle bikes are slightly lighter than the similarly-priced competition.
Is a Gazelle bike worth it?
Yes, a Gazelle bike is worth it. Gazelle e-bikes are some of the best quality options on the market for urban riders and commuters. All the components are from big-name manufacturers, and the bikes are proven reliable, long-lasting, and enjoyable to ride.
Are Gazelle bikes good on hills?
Yes, Gazelle bikes are good on hills. All of the Gazelle electric bikes use mid-drive motors, which are best for tackling steep gradients. In addition, the brand has a range of high-torque options (up to 85Nm); the more torque, the faster you can take on steep inclines.
Do Gazelle bikes have a throttle?
No, Gazelle bikes do not have a throttle because throttles are illegal on electric bikes in the European Union, where Gazelle's e-bikes are manufactured. For this reason, they only manufacture bikes without throttles. However, they do offer high-speed Class 3 electric bikes with 28mph assisted speeds.
What is the lightest Gazelle bike?
The lightest Gazelle bike is the Medeo T9 City e-bike, weighing just over 47lbs. This weight includes the rack, fenders, lights, kickstand, and battery. The other bikes range from 48lbs to 56lbs. The heaviest models are the 'Plus' ones, which have bigger motors.
Conclusion
---
Gazelle bikes are some of the most reliable, well-rounded, and enjoyable-to-ride mid-range urban models out there.
While they aren't cheap, they easily justify the price, especially given that they are designed and manufactured in-house at the company's factories in the Netherlands. In addition, the warranties on Gazelle e-bikes are some of the best in the industry.
With a price range from $2,500 to $5,000 and three distinct design families to choose from, there is something in the Gazelle e-bike range for most riders.
All things considered, we would undoubtedly consider a Gazelle electric bike for our next urban companion!
---