Juiced Electric Bikes Review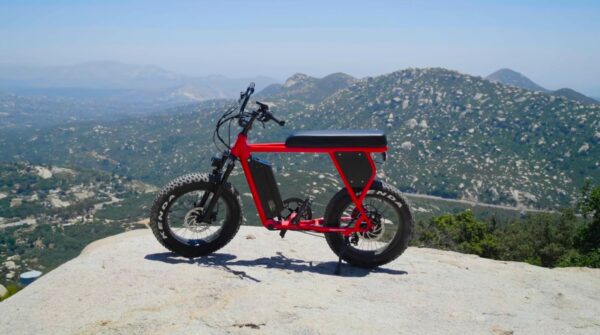 Juiced Bikes is a California-based e-bike company that manufactures moped-style, commuter, and fat-tire electric bicycles with powerful electronics at reasonable prices. 
Do you want to save money on gas and navigate the busy city traffic more easily during your morning commute? Then Juiced Bikes is where you should be looking to find the solution to your problem.
Juiced Bikes produces stylish and innovative e-bikes intended for commuting, recreational riding, off-road adventures, and any other type of everyday use. These are practical and well-built machines that can be used by the entire family.
Juiced Bikes are unique as some of them come with 1000W motors and 52V 19.2Ah batteries, which are among the most powerful electric setups money can get.
Is buying a Juiced bike the right choice to make in today's oversaturated e-bike market? Find out in our Juiced Bikes review.
Short Overview of Juiced Electric Bikes
---
Juiced Bikes is a relatively young cycling brand with a fresh approach to making e-bikes. The company was founded in 2009 by Tora Harris, with headquarters located in sunny California. Thus far, it is most popular for making some of the best moped-style ebikes on the market.
Tora Harris is a former record-breaking high jump champion, but he is also a graduate from Princeton University with a degree in Mechanical and Aerospace Engineering. In 2009, he decided to use his mechanical knowledge and passion to design e-bikes that stand out from the pack.
It's important to point out that Juiced Bikes is a direct-to-consumer business, which means that the bikes can only be bought online, on the company's official website. This way, redundancies and third-parties are eliminated which brings down the costs and lowers the price of the final product.
At the moment, Juiced Bikes produces e-bikes in four categories—Moped-Style, Adventure, Commuter, and Fat Tire—with around ten models on offer in total.
Their products can be described as reasonably priced, but packed with quality electric and mechanical components suitable for everyday use and for various types of riders.
Technologies & Features
---
Juiced Bikes makes attractive e-bike products that come jam-packed with modern technologies and practical features. Though the company has a diverse lineup of e-bikes on offer, there are some features that are common for most of them.
Here are some that we find particularly important and that we believe make Juiced Bikes worth the money.
The majority of e-bikes nowadays feature 36-Volt or 48-Volt batteries. In addition to determining the range, the battery also influences the power of the motor and the climbing performance of an e-bike. Juiced Bikes is one of the only companies that use 52-Volt batteries, which pack more range, better acceleration, and more power when you need it the most. Specifically, a 52-Volt battery provides you with a 100+ mile range and a 30+ mile throttle-only maximum speed.
Every Juiced e-bike comes with an advanced matrix LCD display that gives you a detailed overlook of ride metrics and data. Some of the features it has include Cruise Control, Throttle Assist Boost, Low Voltage Limit Pre-set and Advanced Metrics View Mode. The display has three buttons, so it's easy to be used even by beginners. It's also water-resistant and backlit, so you can use it no matter the conditions. You can use it to cycle through one of five pedal-assist levels or activate the Walk mode as well.
You don't see many complete e-bikes with 1000W motors nowadays but that did not stop Juiced Bikes from going with this setup. At the moment, the company fits two of its models with these powerful Bafang rear hub motors—HyperScrambler 2 and HyperScorpion—which allows them to reach speeds of 30+ miles per hour.
Pedal-Assist and Throttle Technology
All Juiced Bikes are equipped with both pedal-assist and throttle technology. Therefore, you can ride them either as e-bikes or as electric scooters. However, Juiced bikes are not necessarily Class 2 e-bikes, as you can set speed limits in the settings and engage or disengage the throttle. Therefore, depending on your needs and the local laws, these can be Class 1, Class 2, or Class 3 e-bikes.
Super Bright Headlight & Puncture-Resistant Tires
All Juiced e-bikes are equipped with bright headlights, some of which are pretty massive. Therefore, you can ride them at night without any issues—you will be able to see and be seen with ease. Every model also comes with puncture-resistant tires which will significantly reduce the number of flats you get. If you're lucky, you could go thousands of miles without having a single flat.
Model Lineup
---
Looking at Juiced Bikes' lineup, it seems like the company is focusing on quality rather than on quantity. At the moment, there are eight e-bikes on offer, which are actually variations of five unique models:
HyperScorpion
Scrambler
CrossCurrent
RipCurrent
RipRacer
Even though these are modern-looking and high-tech e-bikes, they are not expensive at all. Juiced e-bikes cost between $1,500 and $3,499, depending on the model and build you choose. They feature some entry-level parts, but overall you'll get a good bang for your buck.
Juiced HyperScrambler 2
---
Limited Founder's Edition
This limited edition HyperScrambler 2 is the brainchild of Juiced Bikes' founder Tora Harris. This series is limited to just 150 e-bikes, so it's a true collector's item.
It features a stunning green paint job with a leather seat and an attractive design.
In the electronics departments, this HyperScrambler 2 boasts a custom 1000W rear hub motor for a 30+ mph top speed, two 52V 19.2Ah batteries for a 100+ mile range, cadence and torque sensors, and a twist throttle.
For the $3,500 price tag, you also get knobby tires, a 2,000-lumen headlight with an integrated Bluetooth speaker, turn signals, brake lights, and so much more.
This limited-edition HyperScrambler 2 is on pre-order and is expected to begin shipping in March 2023, so hurry up and secure yours if you like what it offers.
Make sure to also read our review of the original Juiced HyperScrambler 2 ebike that's less expensive and available year-round.
Juiced HyperScorpion
---
Moped-style e-bike
Juiced HyperScorpion is a lineup of two fun, moped-style e-bikes with some pretty unique features. First of all, these are stylish e-bikes with a unique design and modern Custom Cast Aluminum 'Mag' wheels.
The moped-style frame will give you the utmost comfort thanks to the adjustable handlebar and the large, plush saddle. Moreover, these are full-suspension e-bikes with 4.25″ fat tires, which will add to the overall comfort.
The HyperScorpion models have a 30mph+ top speed and come with a 52V 998Wh battery and a 1000W motor, which make them some of the fastest e-bikes on the market.
Juiced HyperScorpion is a small, nimble e-bike that's ideal for everyday commutes on urban city streets by riders who value style, speed, and the cool factor.
Scrambler
---
Fast and fun adventure e-bike
Juiced describes the Scrambler lineup as a collection of fast and fun adventure e-bikes and we couldn't agree more. These compact and funky-looking moped-style machines are perfect for commuting or casual urban exploration.
But this Juiced e-bike is not intended for city riding only. It's a solid choice for off-road adventures as well. The Scrambler comes in two variations, City and Camp. The City Scrambler rolls on 20″ x 4″ slick tires, whereas the Camp Scrambler has much more potent 20″ x 4.25″ knobby fat tires.
The Scrambler has a 750W motor and develops up to 28 mph, but if that's not enough for the adrenaline junky in you, go for the HyperScrambler 2 with a 1000W motor and a 30+ mph top speed. Moreover, the former has a 45+ mile range, whereas the latter has a double battery pack and a 100+ mile range, which is pretty impressive.
So if you want a fun commuter with a unique design and top performance for the money, the Scrambler lineup will meet all your requirements. It's a fun little bike with big dreams.
CrossCurrent
---
The top-rated commuter e-bike
The Juiced CrossCurrent series is the absolute pinnacle of e-bike commuting. These are affordable 700C electric bicycles that are absolutely jam-packed with features every commuter would appreciate.
With these bikes, Juiced placed the emphasis on speed, comfort, and practicality, so the final result is a big success. At the moment there are two models available, the CrossCurrent S2 and the CrossCurrent X Step-thru.
Both models have the same 750W Bafang rear hub motor with a 28 mph maximum assisted speed. The CrossCurrent X has a bigger battery with 80+ miles of range, whereas the CrossCurrent S2 offers "only" 65+ miles of range.
The CrossCurrent S2 doesn't have too many accessories and features just bright lights, a kickstand, and a suspension fork. The two CrossCurrent X models have a rear rack and fenders for added practicality.
If speed is your greatest concern during your morning commute, the CrossCurrent lineup will give you some peace of mind.
Juiced RipCurrent
---
Ultimate fat tire e-bike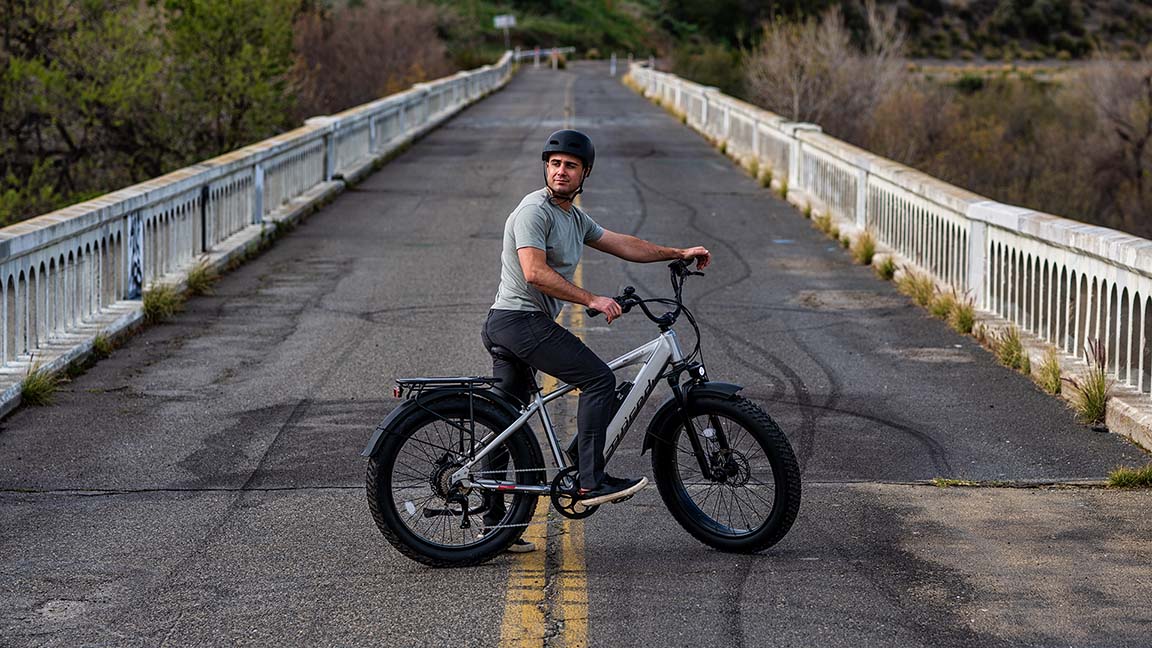 The RipCurrent series makes it obvious that Juiced thinks about off-road adventure lovers as well. This is a selection of extreme fat-tire e-bikes with massive 26×4″ all-terrain tires, sturdy aluminum frames, and powerful electronics that can deal with any unpaved adversity.
There are two models that differ in the size of the battery, the range, and the accessories. The cheaper model has a 45+ mile range and 750W motor, while the more expensive one has a 70+ mile range and 1000W motor, allowing you to enjoy longer riding days.
This lineup's highlights are definitely the wide, knobby tires and the capable suspension fork. These will give you plenty of comfort and elevate the bike's off-roading capabilities.
If you need a rear rack and fenders for some longer adventures, you can get the more expensive RipCurrent S model. But you'll get lights and a kickstand with both builds.
So if you live near some winding gravel routes or challenging dirt roads, Juiced RipCurrent is the choice that makes the most sense.
Juiced RipRacer
---
Mini fat-tire electric bike
The Juiced RipRacer is the brand's fun-sized fat bike and a standalone model with a low price of $1,499. This electric bike comes in two builds, a Class 2 20mph or Class 3 28mph.
They both have the same 750W motor but the Class 2 version has a smaller 541Wh battery with a 35-mile max range vs. the 777Wh battery with a 55-mile range.
Juiced Bikes' RipRacer has 2-x4″ fat tires with all-terrain tread, hydraulic disc brakes, and a bright 1050L headlamp for off-road adventures.
This is the lightest Juiced bike at just 66lbs and comes with a unique AirTag compartment for anti-theft protection.
If you want a compact yet highly capable off-roader for adventures or comfortable urban riding, consider the RipRacer.
Juiced Bikes Accessories
---
Juiced e-bikes are highly customizable, so you can personalize your two-wheeler any way you find suitable. Most models already come with some basic accessories, such as lights, whereas others include a richer package with fenders, racks, and more.
The company sells a large selection of Upgrades, Gears, and Components that will make your Juiced e-bike more powerful, more practical, or simply more appealing to ride.
Some of the upgrades that you can buy include passenger kits, mirrors, fenders, suspension seat posts, chargers, racks, Abus locks, and more. Juiced also sells Thousand helmets, panniers, and frame bags, that you can fit on most bikes.
Therefore, if some Juiced bike looks good but not good enough for your needs, consider upgrading it with some of these accessories and it might be just perfect to accompany you every day.
Frequently Asked Questions (FAQ) of Juiced Bikes
---
Here are some of the most frequently asked questions we get about Juiced bikes from e-bike fans!
Are Juiced bikes any good?
Juiced makes well-rounded e-bikes equipped with powerful electronics and quality components. These are versatile e-bikes that can be ridden on and off-road and used for commuting or recreational riding. Considering the price, Juiced bikes offer great value. The only disadvantage is that they are quite heavy.
Where are Juiced bikes made?
Juiced bikes are designed in the USA, but they are manufactured and assembled in China. This is the way most US-based companies organize the production process to cut down on costs and lower the final price for the customers.
How do you turn on a Juiced bike?
Depending on which model you have, there are two main ways to turn on a Juiced bike. The first thing you always need to do is turn on the battery. After that, depending on the build, you can turn on the bike either by pressing the power button on the display or turning the key switch.
Where is Juiced Bikes located?
The Juiced Bikes' headquarters are located in San Diego, California. This is where a small team of engineers works on designing and engineering Juiced e-bikes. However, these e-bikes are manufactured and assembled in China to cut down on production costs.
Are Juiced bikes waterproof?
Juiced bikes are water-resistant which means they can be ridden in light rain. However, they are not waterproof, so the components are not fully protected from water damage. Therefore, you should avoid riding your Juiced e-bike in heavy rain or leaving it out in the rain.
How much are Juiced bikes?
Juiced e-bikes are neither super cheap nor super expensive. Price-wise, they sit right in the middle of the market. The cheapest model costs around $1,500, whereas the most expensive one sells for around $3,000. On average, you can expect to pay $2,000–$2,500 for a Juiced e-bike.
Are Juiced bikes too heavy?
Juiced makes excellent e-bikes for the money that have just one slight disadvantage—they are heavyish due to massive batteries. However, e-bikes are heavier than regular bikes in general, so this does not come as a surprise. With the help of the motor, you won't feel this extra weight when riding.
Final Thoughts About Juiced Bikes
---
Juiced Bikes has taken a smart approach to the growing e-bike market; they've determined the most important features riders are looking for in e-bikes and decided to focus on them. These are range, power, and price.
Juiced manufactures some of the most powerful e-bikes with the highest available range on the market. On top of that, a Juiced e-bike will not cost you an arm and a leg, which is not the case with many big-brand models.
Are Juiced bikes perfect? Far from it. They're heavy, not always super practical (the Scorpion is hard to pedal), and lack some smart features and integrations like GPS and Bluetooth. However, they still meet and exceed expectations considering the average price tags.
Therefore, if you're willing to make some compromises in other areas but get the most value in terms of range, speed, and power, Juiced e-bikes are a pretty solid choice.
---