Overview of Kona Electric Bikes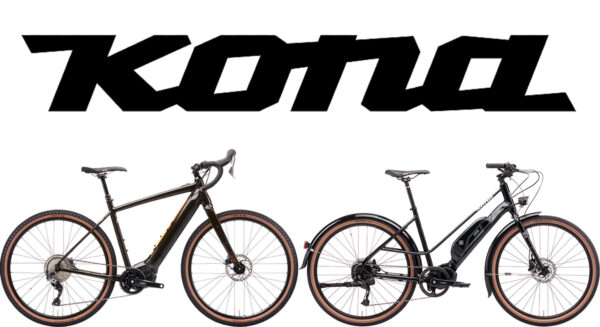 Kona is deeply rooted in bringing freedom and empowerment to both the cyclist and the bicycle. The outcome? Premium-quality, highly adaptable e-bikes designed to bring power to each of their patrons. 
Kona was founded back in 1988 by Dan Gerhard and Jacob Heilbron. The company was initially founded in Vancouver, British Columbia but later moved to Ferndale, Washington. This brought them closer to the center of the Pacific Northwest's quickly-evolving bike scene.
The company first released its e-bike lineup back in 2010, which is very early considering the technology and industry at the time. The early models, Electric Ute, Ticket, and Token were meant to be for commuters. Now, the company's extensive portfolio offers electric-assisted mountain bikes as well.
The founders were already close friends, but their history for bikes started with Joe Murray, an American Mountainbiking Hall of Famer, helping him develop custom steel hardtails. Dan and Jacob remain close friends up to this day, with their advocacy and passion for bikes remaining as strong as ever. As a testament to passion, their Kona Africabike project helps healthcare workers fight against HIV and AIDS in Africa.
Overview of Kona Electric Bikes
---
Kona is a company that is no stranger when it comes to the cycling scene. It has been up since 1988, and its founders and owners are veterans of the game. We understand the caution of getting into the e-bike ecosystem, especially with the tons of startup companies that prioritize profits over quality.
With Kona, you can rest assured that your e-bike is made with quality, forged with years of experience and passion.
The familiarity with cyclists' demands gives Kona an edge in developing and providing bicycles that strike both quality and endurance.
The company dubbed itself as "The Smallest Biggest Bike Company in the World." With its employees numbering just a little over 100, Kona had to employ creative means to market their bikes. One of their styles is to use distinct, if not bizarre, ways to name their bikes. Names like Stiny, Muni-Mula, Ute, King Kahuna, Hei-Hei, and even the S*x series were encouraged by the company's culture.
Kona significantly made its mark in the mountain biking scene. But this didn't stop them from deviating from the rigidity and adapting to the ever-changing bicycle scene. As a result, the company produced a well-rounded portfolio of mountain, gravel, urban, and electric bikes.
What We Like and Dislike About Kona Electric Bikes
---
While Kona stood the test of time, never failing to deliver its promise of "freedom and empowerment." There's always a few bumps that keep your ass sore, even with the most expensive shock absorbers.
Here are the good and the bad parts about Kona Bikes.
Likes:
The Kona Bike Finder makes it easy to find the bike that's best suited for you.
Kona sells its bikes to over 60 countries all around the world.
There are a plethora of options for all types of riders.
Kona's obsession with durable mountain bikes is also present in their road and gravel bikes.
Kona imparts their culture of fun and fluidity to their electric bicycles seamlessly. This allows them to create plenty of shapes and forms that affords their patrons the flexibility and performance they deserve.
You can easily book to Rent or Test Ride a Kona through their website.
Points to Consider:
Kona Bikes sit on the pricier range when it comes to electric bikes.
Some bike models are heavier than you'd want them to be.
Another downside to consider is that you may be overpaying for some of the specs.
Popular Kona E-Bike Models
---
Kona Bikes have a portfolio of products that rivals every bicycle company—old or new. The company has an extensive line of 69 bikes! You read that right. Sixty-nine. We understand how that might feel like a non-serious number, but you can visit their product line and count them yourself.
Meanwhile, we've taken the arduous task of looking through user reviews, blog articles, and our own secret research to filter out their catalog. Here are Kona Bikes' five most popular bikes.
Libre El – MSRP: $4,699 – Built from the popular Libre platform, the Libre El is Kona's response to the rising demand for gravel bikes with electric assist. Everything is almost similar to its conventional sibling except for its Shimano E7000 and 504 Wh internal battery.
Splice-E – MSRP: $2,999 – Kona took the Splice back to the drawing board. The result? A redesigned frame with an integrated battery and a Shimano E6100 motor. It is one of the most versatile e-bikes in the pack, as it can be used both off the road and as a commuter. You've got nothing to worry about while riding this thing, as its Suntour NCX D LO fork will get most of the beating during a bumpy ride.
El Kahuna – MSRP: $2,999 – No hill is too steep for one of Kona's best-selling hardtails. El Kahuna packs enough juice in its 504 Wh semi-integrated battery for hours of recreational riding while still allowing you to get home. If you love a practical and straightforward bike, then El Kahuna will never disappoint.
Remote – MSRP: $4,699 – Looking for power and performance? Kona's Remote e-MTB first comes to mind. Riding is really a breeze on this thing thanks to its combination of 10-speed Shimano Deore gear and E7000 motor. You also won't have to worry about going up to speed as its hydraulic disc brakes will reliably stop you on your tracks.
Remote 160 – MSRP: $7,299 – If you've got enough money for a high-quality and top-performing bike, then this beast is probably your best choice. The Remote 160 screams premium as all the parts and components are built to climb the roughest tracks and gnarliest trails. Shimano EP800 motor, 504Wh battery, and a SRAM 200mm braking system. This bike speaks for itself.
Kona E-Bike Classes, Motors, and Batteries
---
Kona is all about quality, durability, and reliability.
Even for its relatively high price, the company makes sure you are getting what you've paid for. A quick look at the material and components used in building their bikes, and you'll see why it competes with other top companies out there. However, to get one, you need to get to the dealer nearest to you. Thankfully, finding them should not be a problem as Kona provides a Dealer Locator for potential customers on their website.
Kona strongly believes in reliability and endurance while still retaining its fluidity to adapt to changes.
For this reason, the company has every model for every purpose for every individual rider.
Rigid Core, Fluid Designs
---
The company develops and manufactures bikes with a specific niche in mind made to suit a rider's style or choice of terrain.
This can be seen in the company's catalog, where the bikes are clearly segregated for each purpose. While the price might be discouraging to some riders, especially for those that are just starting out, Kona Bikes is a good investment that will surely lift its weight in the long run.
The same is true for their e-bikes. There is a clear-cut separation between MTBs, gravel, and the commuter valiant. Each bicycle has its own unique design, and no two bikes serve the same purpose or demographic. This shows the dedication and passion of the company to provide the best for all its customers.
One thing that separates Kona from the competition is how it despises "all-around" bikes.
Kona also doesn't neglect its customers after they purchase their bikes, as shown by their warranties. For the original owner of bicycles assembled and sold by Kona, there is a one-year warranty for those residing in Canada and the US. On the other hand, those in the EU get an additional one-year warranty for each complete bicycle they purchase.
Read More: Electric Bike Brands
You Might Also Ask
---
If there are still questions that linger, we've prepared this section with some of the most asked questions about Kona Bikes.
Where can I buy Kona Bicycles?
Kona distributes its bicycles to over 60 countries worldwide. To find the dealer nearest to you, you may use the dealer locator on their website so you may know where to buy your Kona Bike.
What are the available types of e-bikes does Kona sells?
Kona e-bikes are available in mountain bikes, gravel, or commuter variants. These variants are also available for non-electric models and come in different sizes, colors, and frame models.
Where are Kona bikes made?
Kona Bikes design their bikes in the US and Canada, while Taiwan manufacturers and assembled their frames and components.
Yes, Kona bikes are well-made and have excellent quality. Kona Bikes is a brand that has been in the industry for decades, with a line of excellence decorating their history. Their bikes are a good investment if you're planning to have a bicycle that could last you for decades.
How fast do Kona e-bikes go?
Kona e-bikes typically go for up to 20 mph on throttle alone. It can go even faster by using pedal assist, up to 28mph on their commuter bikes. Kona has a plethora of choices for every type of customer, including ones that enjoy a little bit of speed.
Bottom Line — Who Are Kona's E-Bikes For?
---
Kona targets a wide range of customers who want a reliable vehicle for their daily commute. Aside from that, they also offer rugged bicycles to cater to those who are willing to challenge the equally rugged terrain of the mountain.
Kona designs and builds these e-bikes with the purpose of freedom and empowerment. To answer the question, Kona Bikes is for anybody who can afford their luxury, premium quality, and stellar custom-service experience. It's a bike and brand with a story of its own, for people as passionate about cycling as they are.
---
How it stacks against others