Orbea E-Bikes Review
Orbea is a popular manufacturer of premium bicycles based in Mallabia, Spain. It is already a big name in European cycling, and it is confidently growing its presence in the USA too.
Orbea is a well-known brand that has been making some of the best bicycles in the world for decades. Their bikes are regularly seen in road cycling grand tours, as well as in mountain biking world championships.
But apart from supplying the world's best athletes with the right tools to win races, Orbea also makes Road, Mountain, and Urban E-Bikes for us mortals who need an extra push up a steep hill.
Orbea stands out from other brands because it equips its e-bikes with high-end electrical and mechanical components, which means you will have to pay a bit more to get one of its models.
But is the upcharge worth it? You can make your own mind after reading our full Orbea review!
Overview of Orbea Electric Bikes
---
Many might not know, but Orbea is the second oldest bicycle manufacturer in the world, after Bianchi. The company was founded in 1840 as a handgun manufacturer and began producing bicycles in 1920.
When it comes to e-bikes, at the moment Orbea makes five electric models (with multiple builds) in three categories:
The Road and the Mountain category consists of high-end models built with carbon materials, premium suspension, and top-tier components. That makes them ideal for riders who are set on performance but need a helping hand at the end of a rough day.
The Urban category consists of two modern-looking bikes described with two very precise words—Urban Lightness. These are lightweight urban commuters made for zipping around big cities and making short work of morning and afternoon traffic jams.
One of the best things about Orbea is that it lets you customize almost all of its bikes. You can choose the entire color scheme, some of the components, as well as the size of the handlebar, stem, cranks, etc. You end up with a bicycle that is unique and your own.
What We Like About Orbea E-Bikes
---
Though Orbea's e-bikes look stunning at the first, second, and third glance, there are certainly a few areas where they can improve. Let's take a closer look at the good and not so good.
Likes:
Orbea has been around for a long time and constantly improves its lineup of bicycles.
Its e-bikes are powered by the best motors in the industry, such as ebikemotion, Bosch, and Shimano.
Orbea includes integrated lights on most of its e-bikes to improve nighttime visibility.
The company's e-bikes fit into the "enough power" segment, preserving the pure riding feel.
Orbea lets riders fully customize most of its e-bikes. You can choose the colors and components.
These e-bikes look sleek and feature integrated cable routing and integrated batteries on all models.
Dislikes:
High prices might deter some riders from considering an Orbea e-bike.
The company does not disclose the weight of its bicycles, which is an important factor for many.
There are no Class 2 or Class 3 e-bikes on offer, only Class 1 pedal-assist models.
Popular Orbea E-Bikes
---
It has become easier than ever before to spot an Orbea bike in the wild. Orbea does not manufacture too many individual models—only five at the moment—but each model is available in multiple builds.
The average price tag of Orbea e-bikes seems to be in the $3,000 to $6,000, but there are lots of models that cost less or much more than that.
The good news is that if your budget is limited, even the cheapest models will get you high-quality electronics, dependable components, and amazing looks.
Here are the five model series you can choose from.
Orbea Gain
MSRP: $2,900 – $9,300
Orbea Gain is a lineup of performance-oriented e-bikes made to enhance instead of control your ride. They are the best representative of the "Enough Power" concept, which aims to help you pedal but preserve the authentic riding experience.
Orbea Gain comes with aluminum or carbon frames, and with Ebikemotion X35 Plus integrated motors and batteries that offer a 20 MPH maximum assisted speed.
These e-bikes also feature integrated lights, a sleek cable-free appearance, a modern display, and an advanced pedal-assist sensor. Gain also comes with a sleek on-off switch positioned on the top tube that lets you quickly turn the motor on or off and control the pedal-assistance.
---
Orbea Rise
MSRP: $6,500 – $10,500
Though e-mountain bikes are becoming more popular, there's still a wrong notion that they are not as capable as normal bikes on the trails. The Orbea Rise full-suspension trail bike will make you question that.
Orbea Rise e-MTBs are high-end trail machines built with lightweight carbon frames. They are equipped with capable Fox suspension and feature 140mm of travel.
These e-bikes are incredibly lightweight. Orbea rise can weigh as little as 36.3 lbs. thanks to advanced electrical components. Namely, Orbea partnered with Shimano to make the unique Shimano EP8 motor with Orbea's RS Firmware, specifically for the Rise.
Best of all, Rise has an integrated primary battery and an option to attach a range extender pack for a total capacity of 612Wh and over four hours of ride time.
Buy Orbea Rise (JensonUSA)  Buy Orbea Rise (evo.com)
---
Orbea Wild FS
MSRP: $9,600 – $5,000
Orbea Wild FS is another full-suspension e-mountain bike built for high-performance riding in the mountains. This is a slack and long e-bike with 29″ wheels and 160mm of travel that can dominate descents and climbs.
These are Class 1 e-bikes with a 20 MPH maximum assisted speed provided by Bosch Performance CX Cruise motors. If you thought that Rise had a high battery capacity and long range, Wild FS will blow you away. Its modular battery system offers up to 1125Wh of capacity!
Wild FS comes with both aluminum and carbon framesets, equipped with Fox and RockShox suspension, as well as high-end Shimano drivetrains.
Need a bike to propel you up a climb and not hinder your descent? Orbea Wild FS looks like the one.
Buy Orbea Wild (JensonUSA)    Buy Orbea Wild (evo.com)
---
Orbea Vibe
MSRP: $2,700 – $3,500
Orbea Vibe is the ultimate urban commuter bike for those who have decided to part ways with their car. This is a lightweight, smart, fast, and reliable city bike that gets you from point A to point B without a grain of sweat.
Orbea Vibe e-bikes are built around step-over and step-through aluminum frames coupled with stiff carbon forks. They have multiple mounts to attach fenders, racks, and water bottle cages.
The Vibe models are powered by Ebikemotion X35 Plus integrated motors and batteries. At first glance, it's almost impossible to tell that you're looking at an electric bicycle.
Another quirk of these bikes is the massive gear range, as they come with 10-46T or 11-51T cassettes coupled with 42T chainrings. You almost don't even need a motor to climb hills with this gearing.
---
Orbea Optima
MSRP: $2,500 – $2,800
Orbea Optima is a lightweight city bicycle ideal for zipping up and down city streets, bike paths, or around the neighborhood.
It's made with lightweight step-through aluminum frames and Ebikemotion X35 Plus electronics that provide pedal-assistance up to 20 MPH.
Orbea Optima has an upright geometry, a wide gear-range, wide tires, and integrated lights. Therefore, it's practical and comfortable for everyday rides.
Orbea E-Bike Classes, Motors, and Batteries
---
Orbea makes only Class 1 pedal-assist bicycles, which means there are no throttle-assist or speed-pedelec models. The maximum assisted speed on all models is 20 MPH, which reflects Orbea's "Enough Power" approach.
Depending on which model you buy, you can expect to get Ebikemotion, Shimano, or Bosch electronics. What's common for all three is that these are lightweight, sleek, and integrated units combined with integrated batteries. Therefore, it's hard to tell that Orbea e-bikes are even electric.
Orbea is in the process of patenting their range extender battery packs available for Rise and Wild FS models. This is a secondary battery pack that you can fit on the frame to extend the battery capacity and range.
Some of Orbea's e-bikes might be slightly more expensive than the competition, but you get your money's worth back in high-quality and reliable components.
Personalize Your Orbea E-Bike
---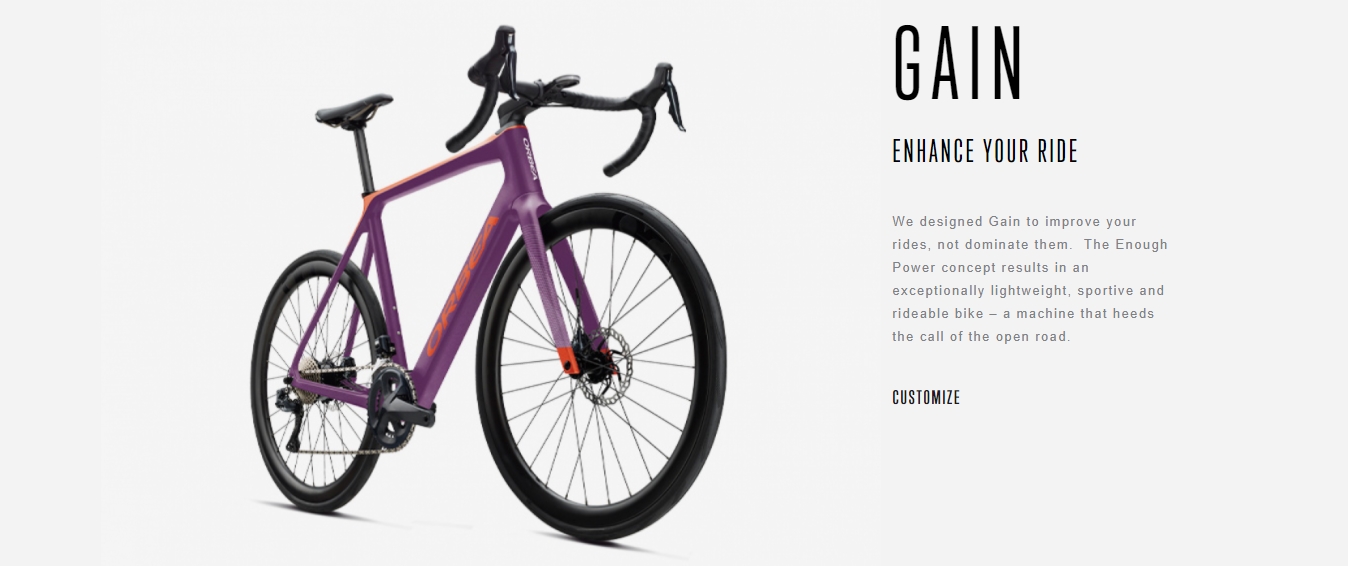 You can give your future Orbea's e-bike a personal touch by personalizing it and making it your own. Orbea lets you customize the Gain, Wild FS, Rise, and Vibe models with a few clicks.
Namely, you can choose the entire color scheme and combine it anyway you want. You can give your bike a name and even print your own name or slogan on the frame.
In addition to choosing the colors, Orbea also lets you pick the gear range, handlebar, stem, and crank length, tires, and other things.
After finishing the process, you'll end up with a unique Orbea electric bike that no one else has in the world.
You Might Also Ask
---
Looking for more answers? Check out some frequently asked questions below.
Where are Orbea bikes made?
Orbea's framesets are made in China, but the bicycles are manufactured and assembled at Orbea's factory in Mallabia, Spain. This way, Orbea has better control of the manufacturing process and makes it possible for customers to personalize each bike before purchasing.
Orbea is a Co-op owned by the company's workers. However, the company is also part of the Mondragón Cooperative Corporation, which is an umbrella organization that owns numerous other co-ops. This way, Orbea maintains full control of its production process.
What does Orbea mean in Spanish?
Orbea is the last name of the family that founded the company back in 1840. The name itself is derived from a Basque word that means "plot", "ground", or "lot". Orbea kept its name even after it changed owners and became a co-op in 1969.
Are Orbea bikes worth the money?
Yes, Orbea bikes are definitely worth the money. At the moment, Orbea makes some of the most innovative bicycles in the world, especially when it comes to e-bikes. Some of their models are considered expensive, but the price is justified with quality components and excellent build.
What types of e-bikes does Orbea make?
Orbea manufactures only Class 1 e-bikes, there are no Class 2 or Class 3 models. The company makes road, mountain, and urban bicycles intended for beginners, enthusiasts, commuters, and recreational riders. Orbea also makes both carbon and aluminum e-bikes, with step-over and step-thru frames.
Bottom Point—Is an Orbea the Right E-Bike for You?
---
Orbea's e-bikes are not the right choice for every rider out there. These are not electric bicycles with massive motors that will pull you and 30 lbs. of your cargo up a steep climb. They're capable of doing it, but that's not what they are built for.
Orbea makes most of its e-bikes with the idea to supplement power when and where necessary so you can stay out longer, go faster, and ride farther.
This Basque brand has perfected the "Enough Power" concept, which makes their e-bikes sort of a masterpiece. If you have a large enough budget and you want a unique e-bike that will give you a natural riding experience, Orbea will make you happy.
---
How it stacks against others