Overview of Specialized Electric Bikes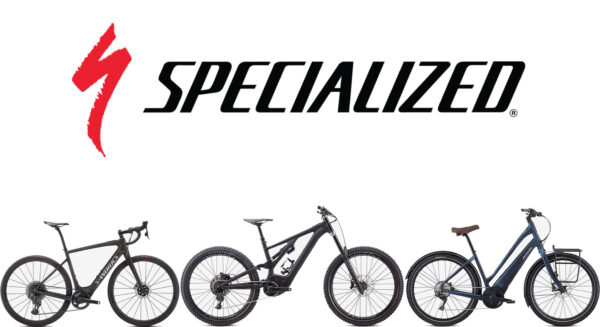 The Specialized brand is almost synonymous with innovation and sustainability. They constantly push their limits towards high-performance bicycles. The company also strives to achieve sustainable and more environmentally-friendly methods of making their bikes.
When speaking of origin stories, the beginning of Specialized should be among the most adventurous, if not the most daring. Mike Sinyard, the company's founder, sold his Volkswagen for $1,500 to go on a cycle tour around Europe in 1974. There, he bought plenty of handlebars and stems made by Cinelli to bring back to the U.S.
Based in Morgan Hill, California, the company began to take its stride in 1975. That year, Specialized started producing its bike parts. Before, Sinyard still had to import crucial components from Italy when they weren't available in the U.S. By 1981, the company introduced its first three bikes, the Sequoia, the Allez, and its hallmark, the Stumpjumper. 
Specialized always strives for better things, like equipment and riding experience. However, this doesn't stop the company's noble goal of finding new ways to reduce their byproducts and increase their positive impact on society.
Overview of Specialized Electric Bikes
---
Generally, Specialized is a reputable brand known for its innovative designs and unique geometry application. 
They abide by their company identity as "riders." This makes it easy to relate to their customers' woes and what they needed to solve them. 
The company employs over a thousand people worldwide and works with 260 suppliers to help them reach that goal. Other than that, Specialized also aims to change the lives of every person that is involved in the company. They do this by producing many bikes of various types and uses.
As a testament to their dedication, renowned biker Peter Sagan uses the S-Works Venge. The said bike comes from Specialized's collection of tour-worthy bikes. In terms of electric bikes, the company follows the same principle. Albeit, they made sure that each bike will have you feeling that you'd grown a pair of superhero legs.
What We Like and Dislike About Specialized Electric Bikes
---
Specialized's collection of bicycles are without a doubt belong to the best of the best. However, there is no such thing as a perfect bike company here in this world.
This section will discuss what makes them good and what makes them bad. 
Likes:
Specialized constantly pumps out highly-advanced designs and geometry when it comes to their bikes.
Their frames are nothing short of sleek, minimalist, and fashionable in terms of design.
Specialized bikes have durable frames, built and designed to last years into the future.
Specialized also makes sure that their e-bikes are full of features and are loaded with accessories. This affinity is hard to find on other bike companies, in fact, who sell these special features separately.
One thing that separates Specialized from the rest is its Mission Control Application which allows users to control their e-bikes using their phones.
Points to Consider:
Specialized have a highly demanding set of dealers' requirements that causes the latter to hate the company. This negative vibe might affect potential buyers negatively when the time comes actually to buy the bike.
The company is also involved in numerous lawsuits concerning minor products with the least similarities to their own.
Specialized is also prone to hit or miss when it comes to their proprietary components.
Popular Specialized E-Bike Models
---
Specialized has a ton of bicycles to offer the general public and their portfolio of e-bikes is no different. These bicycles cover all sorts of price ranges, but you'll definitely find one or two with a price tag that'll give you a double take.
It's not a cheap brand, that's for sure. Here are the five most popular bikes that Specialized has to offer for riders everywhere.
1. Specialized Turbo Creo SL – MSRP: $ 14,500 – The Creo SL boasts as the lightest weighted e-bike within its class thanks to its 11r carbon build. It sports the SL 1.1 motor and an internal battery that has an 80-mile range. Even then, its integrated range extender can give it an extra 40-miles of gravity-defying range.
2. Specialized Turbo Como 5.0 650b – MSRP: $4,600 – This top-of-the-line commuter e-bike sports a low-entry E5 frame. Made of aluminum, you can be sure that this e-bike will deliver you to your destination for years to come. This e-bike is also quite the speedster on the road as it has a 28 mph top speed with a Specialized 1.3 motor.
3. Specialized Turbo Como 4.0 650b – MSRP: $3,750 – A mid-level bike from Specialized, this e-bike comes packed with features. A few of these are the relaxed and comfortable riding position, hydraulic brakes, and flawless mid-drive 1.2 motors. It is custom-tuned for city riding and is perfect for cruising when going out on an errand or simply for a chill-out ride.
4. Specialized Turbo Kenevo Expert– MSRP: $9,000 – This e-bike boasts a newer 2.1 motor that is more efficient, 11 percent lighter, and 15 percent smaller than its previous versions. However, what makes this e-bike even more mind-blowing is its powerful 700 Wh battery. This ensures you can get to the summit with plenty of juice to spare on the way down.
5. Specialized Turbo Como 2.0 Low-Entry 650b – MSRP: $3,750 – Lightweight and exhilaratingly fast, this e-bike is designed with fitness and transportation in mind. Its integrated 1.2 motor is highly intuitive and efficient. This means that you benefit more power from it the harder you pedal. Riding at high speed has never been smoother thanks to its SR Suntour NCX E25 front suspension.
Specialized E-Bike Classes, Motors, and Batteries
---
As we have said earlier, Specialized is a reputable company that aims to produce top-notch bikes. They are also known for their high-quality frame and highly innovative designs, especially in their mountain and road bikes.
Aside from this, Specialized is renowned for its proprietary components, like their Future Shock suspension and original tube-forming-and-joining. However, this might also prove to be one of their disadvantages. This is because Specialized compels shops to stock a large number of Specialized parts and accessories to sell their bikes.
While others do this, Specialized is just more notoriously aggressive than other companies. Thus, many salespeople are derisive towards the brand, which might also affect the customers' mindset.
Amidst all of that, it cannot be denied that Specialized still produces high-quality e-bikes. A proof of this is that their Specialized electric motor can rival those made by Bosch, Yamaha, and Shimano.
This is especially impressive, because unlike other brands that import their motors, Specialized actually build their own.
High Quality and Feature-Packed Designs
---
While there might be some cyclists who loath Specialized Bicycles, most, if not all, would never deny that the company makes high-quality bicycles. However, all of that comes at a cost. Because of this, Specialized charges more than usual for these bikes.
While some people say that Specialized bikes are overpriced, others believe that the cost more than justifies Specialized's way of doing things.
The high-quality materials alone need a ton of money to make. For example, Specialized's S-Works Carbon frames are lighter and stronger than the competition.
Not to mention the plethora of features that other bike companies do not offer. Just ride one and note the difference that their Electronic Gear Shifting Systems Spike Valve Technology provides. Additionally, Specialized e-bikes are also controllable through your phone, which is an impressive party trick if I've ever seen one.
People Also Searched For
---
If you still have any unanswered questions, perhaps this section will help clear those up.
Can I control Specialized E-Bikes using my phone?
Yes, Specialized's Swiss designers ensured that the e-bikes are smart by connecting them to the Mission Control App. The app allows you to customize and tune your bike according to your liking. It also allows you to do plenty of other things like running a system diagnosis.
Can I bring my Specialized e-bike on my travels?
Yes, you can travel with your e-bike. Just make sure to mount them on approved roof racks and keep them away from any wet and wild conditions. You may also carry your bike along for a flight depending on the airline.
How long does it take to charge a Specialized e-bike fully?
It would take anywhere between 3 to 5 hours to recharge the e-bike fully.
Can I test ride a Specialized e-bike?
Yes, Specialized Retailers are ready to assist you if you want to have a demo on their e-bikes.
What's the difference between Specialized e-bike SL models and non-SL models?
The main difference is the weight. SL stands for 'Lightweight System' and is fitted with a smaller motor. In comparison, non-SL are full-powered e-bikes with larger engines that can provide four-times the power.
Bottom Point — Who Are Specialized E-Bikes For?
---
Specialized is good for riders willing to invest a ton of money for their high-end bikes to cut to the chase. This is because Specialized is a company that invests more in their high-end stuff than their low-end ones.
They do have some good mid to entry-level e-bikes. But the difference in features, build, and components are just so lopsided. That said, if you are looking for a bike that you can ride well into the future, Specialized is for you.
---
How it stacks against others