Overview of Trek Electric Bikes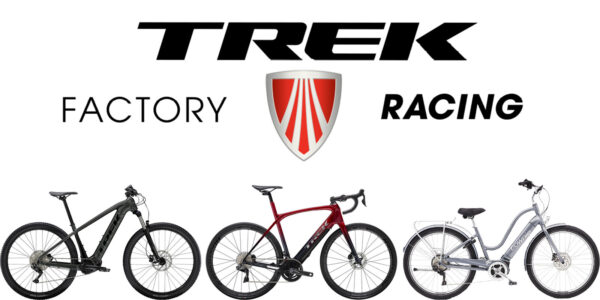 In terms of principles, Trek is firmly grounded in producing bikes with high-quality craftsmanship, aiming to bring the joy of cycling to a broader audience. The fact that the company has four electric bikes speaks for itself. 
Trek started its roots in 1976 as a subsidiary of Roth Corporation, an appliance distributor based in Milwaukee. The founders, Richard Burke and Bevil Hogg, began to manufacture steel touring frames with the aspiration to rival Japanese and Italian-made bicycles that were dominating the market at that time.
Just as its name suggests, Trek is fully committed to bringing its riders to great adventures and even promises to take them to the edge of the horizon.
It's also fitting that their place of origin, Waterloo, is home to the Waterloo Driving Park Association, where spirited residents gather for some old-time tough and gritty bicycle racing.
Throughout its long history, Trek has been fueled by its determination to provide the best and the most rugged bicycles for the adventurous spirits that form part of their heritage.
Overview of Trek Electric Bikes
---
Trek was founded with an established goal of building high-end bikes for the United States. Back in the day, all the good bikes came from European brands. This inspired Richard Burke and Bevil Hogg to take matters into their own hands. The solution? To make their own brand of bicycles.
Three years after its foundation, Trek sales came close to the $2,000,000-mark.
Now, Trek Bicycle Corporation is one of the world's biggest bike companies.
The company offers models designed for Road, Mountain, and Urban biking. Trek is also renowned for making the bikes that Lance Armstrong rode to his number of victories in Tour De France.
In terms of their electric bike portfolio, Trek covers a wide range of frames, from amiable town bikes to more powerful road bikes and mountain bikes. Currently, the company sells 24 of these bikes with a price range between $1,500 to $12,000.
What We Like About Trek Electric Bikes
---
It is a given that Trek is very well-known when it comes to building bikes. However, this doesn't mean that every giant company doesn't have kinks in its armor.
This section will talk about the pros and cons of Trek e-bikes. Here to highlight the things we like about them and the points to consider before buying their e-bikes.
Reasons to buy:
Trek produces high-quality bikes that can handle any type of weather and terrain.
Most models are available in five different sizes for an optimal fit for each rider.
Aside from their magnificent designs, Trek bikes boast high-quality frames and components.
Massive collection of e-bikes span from hybrids, mountain bikes, and road bikes.
The Bosch motor boasts top-notch performance while keeping its size and weight minimum.
Reasons to avoid:
Some bicycles are overly expensive for an everyday e-bike.
Some key components don't come with the complete bike and are sold separately.
Popular Trek E-Bike Models
---
Finding out the most popular bikes that Trek has to offer was a challenge in and of itself.
Seriously.
The company has a ton of bicycles underneath their belt and a compelling product line, market value, and spec sheet that makes me want to buy one. Or two.
Trek has been in the biking industry for a long time, but it didn't hold back on innovating the e-bike scene. Here are the top five most popular e-bikes that Trek has to offer. Behold, the best-sellers.
Domane+ LT 7
– MSRP: $9,199 – If you're looking for an ultra-fast bike that can handle long distances, then the Domane+ LT 7 is definitely for you. It's got the look and feel of a traditional road bike, except that it has a powerful and efficient Fazua drivepack to give you that added boost. Stopping is also as smooth as driving, thanks to its hydraulic disc brakes set.
Verve+ 3 Lowstep
– MSRP: $3,149 – This e-bike is a classic electric hybrid bike that will serve you well in your everyday commute. Verve+ 3 Lowstep is designed with safety and convenience in mind. With its smooth suspension seat posts and front and rear lights, this e-bike will provide an extremely comfortable and reassuring ride around the town together with the safety of the rear lights for round-the-clock commutes.
Townie Go! 8D EQ Step-Thru
– MSRP $2,199 –With a Bosch Active Line Gen 3 250W motor, this baby can take you up to 70 miles away with a 20 mph top assisted speed. With its ergonomic design, this e-bike is easy to control and maneuver. We highly recommend it for urban riding.
Allant+ 9.9S
– MSRP: $5,999 – The Allant+ 9.9S is designed and built to replace your car for short-distance commutes. This e-bike sports a terrific Bosch Performance Speed motor and a long-lasting 625Wh battery. This is as sleek as an e-bike can be, and its carbon fiber frame makes it even more appealing due to the added strength and durability despite the lightweight frame.
Rail 7
– MSRP: $6,499 – The Rail 7 is a high-end trail bike with a much better fork and drivetrain. It also sports a robust Bosch Performance Line CX 250W that makes riding through challenging terrain as easy as driving through paved roads. Going downhill is as reassuring as going uphill thanks to its Shimano M6120 4-piston hydraulic disc, which is reliable and effective.
Shop Trek Electric Bike Models
Trek E-Bike Classes, Motors, and Batteries
---
The principle which the company is built upon is simple. That is to create a bicycle brand that is on par or even more significant than its European and Japanese counterparts back then. Now, they are one of the biggest bike companies in the whole world, so their grit and drive really paid off.
Trek is all about creating reliable bicycles that could take their customers to the next level of fun and enjoyment.
The company's formula to success lies at their rigid standard of quality when it comes to their bikes. It ranges from steel, alloy, and carbon fiber, ensuring that it can take on any punishment it might receive when riding. They also didn't hold back in choosing each component, as evidenced by their top-notch Bosch electric motors and Shimano parts.
When it comes to selling, the company won't have any problems catering to your needs as they distribute their bicycles worldwide. What's more? They even have 1,700 dealers in the U.S. alone. Their website also allows you to see the store closest to you, where you can view, test, and purchase their bikes.
Reliability and Durability
---
Trek began with a vision from the two founders to build the best bicycles that the world had ever witnessed.
Thus, the company's strict observance of the highest possible craftsmanship quality was born.
The company's collection of bicycles typically receive rave reviews for their build quality. This applies to even their entry-level bikes, which at the price tag they're sold at, isn't always known to have the most premium components. Even if their price range generally makes their bikes a luxury, everything about it feels premium and durable when you get your hands on it.
As a testament to their bike's quality, one Quora user shared that he almost managed to travel across Canada by riding an entry-level 1993 Trek 820 Antelope. This devotion to their founder's vision endeared many cycling enthusiasts to the company and brand.
People Were Also Looking For
---
If there's anything that remained unanswered, here are some of the most frequently asked questions regarding Trek e-Bikes.
Are Trek e-Bikes any good? 
Yes, Trek e-bikes follow the standard set by their conventional siblings. The excellent quality is a given. What makes it even better is that Trek is supported by a vast network of dealers to ensure that parts and maintenance are readily available.
What happens if Trek e-bikes run out of battery?
If the battery on your Trek e-bike dies, you can no longer use the throttle, nor will you have the benefit of the pedal assist. However, you can still pedal the bike on your own, just like any regular bike.
Where are Trek e-bikes manufactured?
Trek's headquarters itself is located in Waterloo, Wisconsin. Still, the manufacturing happens outside the U.S., in countries such as the Netherlands, Taiwan, Germany, and China.
How do I buy my own Trek e-bike?
Buying a Trek bike is an easy process. You can find the dealer or retailer closest to you using Trek's Store Finder on their website. Alternatively, you can order them online and have the bike delivered to your address.
What is the motor used on Trek e-bikes?
All of Trek's e-bikes use Bosch electric motors. These are mid-drive pedal-assist electric motors meant to mimic a natural, consistent feel while pedaling.
Bottom Point — Who Are Trek E-Bikes For?
---
Trek creates their bicycles with the sole purpose of providing reliable vehicles for adventurous spirits. However, the company also caters to those who only want to get from point A to point B without hiccups.
The company offers a lineup of electrical bikes consisting of road bikes, commuter bikes, mountain bikes, and hybrid bikes. Sure, the price may prove to be high for some, but it will all pay off as soon as you see and feel the quality of each part of the bike.
---
Facts
Trek Bikes provides only the best bike products available! Ranging from road and city bikes to mountain bikes. No matter what type of biker you are, there's a Trek Bike out there for you.
Features
Trek Bikes' e-bikes are artfully designed and carefully crafted by top class artisans to ensure premium quality bikes.
With the e-bikes' price range of $2,000 to $9,000 Trek Bikes are accessible for everyone who loves biking on affordable and premium prices.
Trek Bikes is regarded as one of the "Big Three" bike companies together with Giant and Specialized.
Using only the best quality materials like steel, alloy and carbon fiber made sure that Trek Bikes' e-bikes are durable to go through even the toughest terrains and harshest weather.
Trek Bikes' incorporate Bosch's state-of-the art powerful motor to make their e-bikes faster and more powerful.
---
How it stacks against others