Juiced Hyperscorpion Review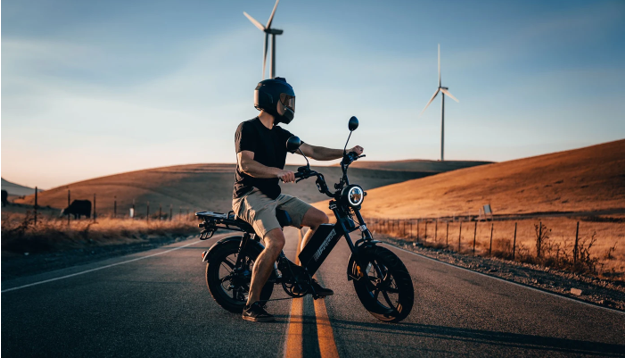 Is a 45-mile range not enough for you to get by? Well, the Juiced HyperScorpion has more than got you covered—it practically has you settled for life.
Most e-bikes are capped at the 20mph speed limit, if you're riding a class 3, then this might rise up to 28mph. For the HyperScorpion, this is just a gear below its maximum output. Getting to work or going out for errands is already a chore, but couple that with traffic and you're pretty much guaranteed to be out for two hours because of a five-minute errand.
While getting a motorcycle can be a huge pain, with the paperwork, fees, and customs, electric bikes don't suffer from this problem. In fact, that's part of the appeal as to why they've gotten so popular. Not only will they get you from point A to B, they'll get you there fast—even without pedaling!
There's a lot to go over with the HyperScorpion, so put on your helmet and let's go for a ride.
MSRP: $2,499
Class: Electric Moped-Style Bike
Motor: 1000W RetroBlade (1,800W Peak)
Battery: 52V/19.2Ah
Range: 70+ Mile Range
Frame and Geometry
---
A better, faster, and more improved Scorpion with headlights, the HyperScorpion looks just like a monster of an e-bike.
If you thought the Scorpion was heavy, think again. The HyperScorpion is like the final boss at the end of a video game, weighing over 100+ pounds—heavy! The design itself is inspired by classic motorbikes, which we assume is taken from Harley Davidson motorcycles.
This moped-style electric bicycle has a very rugged aesthetic, but we must admit that it works. With wheels 4-inches thick and motorcycle-grade suspensions on both ends, it's definitely a powerhouse to look at but a smooth ride to run.
The vintage headlight at the front adds a touch of finesse that completes the look. With 2,000 lumens, it does more than look good as well—the headlight has over twice the standard lighting power of most motorbikes.
The HyperScorpion does come with only one size, and Juiced advertises that anyone above 5'2'' can ride the bike. This works well all the way up until you're above 6'2'', before the frame and size feel too small for comfort. You'll find a lot of online reviews that express this same sentiment.
So, although it is a heavy bike, the ride quality is very comfortable. The acceleration is standard for e-bikes, which is impressive, considering this is over 100 pounds. You can carry over 275 pounds of weight here which is more than enough for everyday needs.
The bike is agile and quick. Steering it around isn't as heavy as it looks, making it surprisingly nimble for such a heavy bike.
Motor and Battery
---
For the nitty-gritty details, here are the specs that talk about the performance, range, and practical capabilities of the HyperScorpion on and off the road.
First off, it comes with a 1000W RetroBlade motor, which peaks at 1,800W of power. This is 33 percent stronger than the engine on the Scorpion and the Scrambler, which is what allows the HyperScorpion to reach speeds of up to 30+ mph, which makes it one of the fastest ebikes you can buy.
Not for the lack of technology, as displayed by Juiced with the HyperScorpion, but class 4 e-bikes have yet to be officially termed in the e-bike industry. Class 3 e-bikes are already close to being considered a motor vehicle, which requires a license and paperwork.
Now, the HyperScorpion doesn't run into that problem yet. However, one thing's for sure, and it's that this borders between becoming a motor-vehicle rather than just a simple e-bike.
Well, if you do get into trouble with a Karen who argues that you're riding a motorcycle, you can just outrun her with your 52V and 19.2Ah electric battery, which is the same battery you get on the RipCurrent S. The HyperScorpion can travel up to 70 miles before you're at risk of losing out on power—which is almost double that of the Scrambler and Scorpion's range!
The package comes with a standard 2 Amp charger, but you can also get a turbo charger that puts out 4 Amps to cut the charging time in half.
Components
---
It's definitely not the cheapest e-bike in Juiced's garage, but we can argue that it's one of the best for value.
The HyperScorpion houses a lot of premium quality components, like its engine, for example. Furthermore, you're looking at a battery pack that can last you 70+ miles. If you're new to e-bikes, that number might fly by your head, but Juiced's next e-bikes in line only offer 45+ miles of range (e.g. The Juiced Scorpion and Scrambler).
With the capability of going over 30+ mph, the HyperScorpion transmission gets an extra speed option—powered by an 8-speed Shimano Cassette transmission. There are a lot of new features on this bike that separate it from Juiced's earlier products. Here's a quick rundown of these key features:
Three available colors
Turn signal lights
Brake lights
Side mirrors
LED headlight with over 2,000 lumens
Tektro Hydraulic Disc Brakes (Front: 180mm, Rear: 160mm)
Integrated motorcycle horn
Key to start the motor
Without even mentioning the custom seats and thick puncture-resistant wheels, among others, there's already a lot of new features here with the HyperScorpion.
These key features deserve a spot of their own, so we'll reserve the details for those down below.
Style and Aesthetic
---
It's not an understatement to say that this bike will turn heads your way as you pedal through the street.
The HyperScorpion offers a very large balance between power and comfort. When you're cruising on a calm day and just want to take your time on a comfortable ride to work, you can easily choose a 20mph limit. However, when you're on a longer road and you're pressured to keep up with traffic, well you have a turn signal and up to 30mph of acceleration backing you up.
Point is, the HyperScorpion looks like a mean and vintage motorbike, but it doesn't lose its comfortable and familiar appeal of being a regular bicycle just because it looks like a Harley.
Some Respect on the Road
---
The HyperScorpion demands a different type of respect on the road.
Juiced admits that the turn signal and side mirrors are not required from a legal standpoint. However, they believe that it's in the best interest for their riders to have a turn signal, brake light, and side mirror available when they can go up to 30mph.
When you're riding a bicycle on the road, not everyone understands how fast you can go with pedal assist. Having a turn signal and side mirror immediately lets fellow drivers beside you understand that you're more than just a hippie on a bike.
Ride Feel and Suggested Use
---
The moment you step on a HyperScorpion and press your foot down on the pedal, you'll first realize how well it calculates how much pedal-assist to give you. The second thing you'll realize is that you have over 70 miles of range. The ride feel is definitely among the best, and we suggest using it for city errands, or even some off-road adventures.
Assembly
The HyperScorpion is delivered to your house or a nearby shop pre-assembled. Although Juiced does have a video of the HyperScorpion assembly, it should already be assembled before it arrives at your home. Other features like the extended seat will have to be assembled on your own, however, so keep that in mind if you're a taller gentleman.
You Might Also Ask
---
Are juiced bikes any good?
Juiced bikes seem like a recent trend, but the company itself has been around since 2009. Their quality is superb and has lived up to the hype, which is more than I can say against other e-bike startups.
Where are Juiced bikes made?
Juiced bikes are made in San Diego, specifically at 1669 Brandywine Ave ste a, Chula Vista, CA 91911, United States.
Where can I buy Juiced bikes?
You can purchase a Juiced bike directly from their website or in Amazon and in local dealerships if they have stock ready.
Does the Juiced HyperScorpion fit tall people?
Juiced advertises that anyone above 5'2'' can ride the HyperScorpion. Although the founder himself is 6'3'', most reviews online from taller riders find the unit uncomfortable to ride. To mitigate this, you can buy the extended seat, but that has mixed reviews for the taller gents.
Do electric bikes charge when you pedal?
No. Unfortunately, friction charging technology like that is still too far. On the other hand, regenerative braking does charge your battery.
---
Juiced HyperScorpion Size Chart
 These are the specific measurements of all the parts in the HyperScorpion. Juiced officially posted this on their website, so customers could get a good idea of what to expect when they ordered their e-bike.
Juiced advertises a 5'2'' and taller demographic for the HyperScorpion. If you're any taller than 6'2'', take this with a grain of salt and an extended chair seat to boot, because you're going to need it.
Ride or Pass?
If you enjoy the aesthetic, need to go from A to B quickly, and would like to have a turn signal and a couple of side mirrors, then this is definitely a "Ride". The HyperScorpion is an affordable e-bike with premium features that would cost a lot more on a different company.
---