2023 Orbea Rise Ebikes Review: The Most Natural Feeling Ebike on the Market
Orbea Rise is a high-end electric mountain bike, renowned for its low weight, Shimano EP8 motor, high battery capacity, and amazing customizability.
This state-of-the-art e-bike marries elegant design with rugged off-road competence, making it hard to decide whether you're looking at an analog or electric mountain bike.
The Rise excels on fast, flowy trails and shines both on descents and climbs thanks to its 150 mm of travel and up to 790 Wh of battery capacity.
Join us as we unpack the features and capabilities that position the Orbea Rise as a standout choice in the realm of e-biking.
Orbea Rise Main Specs:
MSRP: $5,299 – $11,499
Intended Use: Trail, Big Mountain
Class & Speed: Class 1, 20 mph
Motor: Shimano EP801-RS / Shimano EP601-RS
Battery: 360 Wh / 540 Wh
Travel: 140-150mm / 140mm
Wheels: 26 inches
Groupsets: Shimano Deore, XT, XTR
Weight: from 35 lb
Material: Carbon / Alloy
Orbea Rise Review
Orbea Rise is one of the lightest electric bikes in the mountain biking category, promising high trail performance and maximum fun obtruded by clunky electronics.
The Rise is also one of the most natural-feeling ebikes you can get, thanks to the Shimano EP8 motor. Orbea specifically tuned it for the Rise, limiting its torque from 85 to 60 Nm to make the ride smoother and more minimalistic.
As a 29er, this ebike rolls over obstacles extremely well, so it's fair to say that it's a potent descender. However, thanks to having a shorter reach and a more upright geometry than other similar picks in this category, the Rise is also great for climbing.
It's difficult to find faults on ebikes in this price category, other than the price itself. You'll have to pay anywhere between $5,300 and $11,500 to become a proud owner of one, which is pretty steep.
However, these price tags are justified with high-end Shimano groupsets across the lineup, potent hydraulic disc brakes, Fox Float suspension, and Shimano electronics.
So if you're willing to splurge on your next electric mountain bike purchase, the Orbea Rise could be the right choice for you.
Orbea Rise Pros and Cons
Pros

MyO offers several customization options
Excellent climbing ability
Long battery life
Efficient, natural-feeling motor
Compatible with a battery range extender

Cons

The battery can't be removed for charging
Smallish 180mm brake rotors
Frame and Geometry
Orbea Rise is offered with either a lightweight carbon OMR frame or a hydroformed, smooth-welded aluminum frame. The aluminum models bear the letter H in their name (for Hydroformed), whereas the carbon models are dubbed M-LTD.
Though the aluminum frames are slightly heavier, the welds are smoothed out to such a high degree that it's very hard to mix them up with carbon.
The Rise's geometry is modern but not extremely progressive. The conservative reach tells us that it's more trail- than enduro-oriented; though you can still confidently descend thanks to 150 mm of travel.
Check out the geometry chart below to get a better idea of how Orbea Rise feels to ride:
| | S | M | L | XL |
| --- | --- | --- | --- | --- |
| Seat angle (degrees) | 77 | 77 | 76.5 | 76.5 |
| Head angle (degrees) | 66 | 66 | 66.5 | 66.5 |
| Chainstay (mm) | 445 | 445 | 445 | 445 |
| Seat tube (mm) | 381 | 419 | 457 | 508 |
| Top tube (mm) | 565 | 592 | 619 | 649 |
| Head tube (mm) | 95 | 105 | 120 | 140 |
| Bottom bracket drop (mm) | 35 | 35 | 32 | 32 |
| Bottom bracket height (mm) | 336 | 336 | 336 | 336 |
| Wheelbase (mm) | 1,180 | 1,205 | 1,229 | 1,255 |
| Standover (mm) | 710 | 736 | 766 | 776 |
| Stack (mm) | 604 | 613 | 627 | 646 |
| Reach (mm) | 425 | 450 | 474 | 500 |
Suspension
Depending on the build you choose, your Orbea Rise will come with some combination of Fox front and rear suspension—typically Fox Float Factory or Performance lines.
However, you can customize the suspension at checkout and choose to upgrade it with a more capable model if you need more plush.
The Rise boasts 140-150mm of travel on the front coupled with 140mm at the back, which helps it perform really well in different settings.
Even though the Rise is a trail machine at heart, it can also thrive in enduro settings, though the firm suspension may not fit everyone's preferences.
Where this ebike truly shines is on sustained climbs, where the firmness of the suspension, short reach, and powerful electric motor join forces to shoot you up any hill with minimal effort.
Motor and Battery
Despite being a lightweight e-mtb, the Orbea Rise packs a strong punch when it comes to its electronics.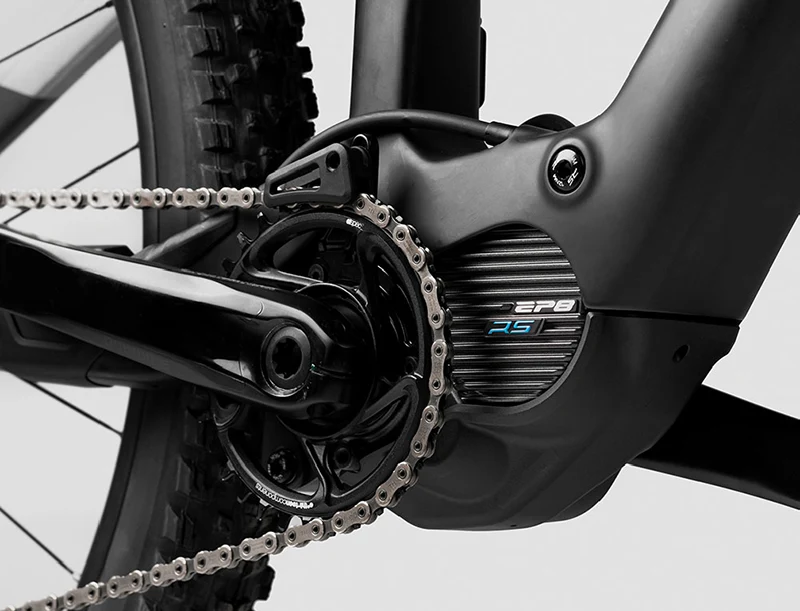 The two most affordable models are powered by a Shimano EP600-RS mid-drive motor, whereas the more expensive models come with an EP801-RS motor that's 11.64 oz (300g) lighter. Both motors have been specifically tuned for this e-bike.
The 'RS' stands for 'Ryder Synergy,' which means that the Rise responds instantly when you pedal, multiplying your efforts for a smooth and natural-riding feel.
The downtube on all models houses a 360 Wh or a 540 Wh battery that's fully integrated and non-removable. Plus, you can add an additional 252 Wh range extender to boost your total capacity and range.
This ebike comes without a display and instead uses a combination of LED lights to show you assist levels and the remaining battery. If you want more ride info, you can either choose to add a display at checkout, use Shimano's app to connect your smartphone to the bike or mount a cycling computer to the handlebar.
Builds
Orbea offers the Rise in five configurations, two of which are carbon and the other three aluminum. The components go from mid-range to high-end groups, all of which are provided by Shimano. Check out the builds and prices below:
Orbea Rise M-LTD: from $11,499
Orbea Rise M-Team: from $10,499
Orbea Rise H10: from $6,599
Orbea Rise H20: from $5,999
Orbea Rise H30: from $5,299
Depending on the build you choose, you'll get Shimano Deore, XT, or XTR components, which can't be upgraded at checkout. However, you can upgrade the corresponding hydraulic disc brakes on most builds for a surcharge.
The brakes come with 180mm rotors front and rear, which is pretty much the only issue we see with this ebike. We believe the Rise would perform much better on descents with bigger 200mm rotors, offering more confidence to riders.
Orbea Rise Review: Final Thoughts
In conclusion, the Orbea Rise stands as a high-end electric mountain bike, prized for its lightweight yet robust performance on the trail.
Its superior Shimano EP8 motor and significant battery capacity, coupled with the brand's unique customizability options, make it a top-tier choice among e-bike enthusiasts.
Despite its price range, the bike justifies its cost with high-end groupsets, potent hydraulic disc brakes, Fox Float suspension, and exceptional electronics.
Its sleek design masks its electric nature, promising a natural, minimalistic ride, excelling in both descents and climbs.
Despite minor issues such as non-removable batteries and small rear wheel brake rotors, the Orbea Rise proves to be an excellent choice for those looking to invest in a state-of-the-art e-mountain bike.
---
How it stacks against others