Gravel bikes are one of the most versatile bikes around, perfect for fast everyday commuting, performance training, or bikepacking.
Add an electric motor and you get one of the most capable, long-range vehicles around – an electric gravel bike. The best electric gravel bikes are quickly becoming popular amongst riders from all age groups, young and old alike.
Everybody enjoys these trendy bikes that can take you further with less stress as you choose your pedal assist to help you conquer previously exhausting elements. With the look of a road bike and the performance of an off-road bike, the best gravel ebikes shine through any time of the year.
Gravel bikes are one of the most versatile bikes around. You can ride one for fast everyday commutes, use it for performance training, and bikepacking. Add an electric motor and you'll get one of the most capable and long-range commuters around – an electric gravel bike.
What to expect from a good quality e-gravel bike?

The best gravel e-bikes typically have a mid-drive motor (although good-quality hub motors are also available) and a lightweight carbon fork and frame.
They allow you to reach higher speeds more confidently knowing that the power of hydraulic disc brakes have your back. The frame geometry and drop bars up front give you an aerodynamic position while maintaining a comfortable posture so can tackle any terrain.
Always look for tubeless-ready wheels (TLR) with extra grip on the side of the ridges so that you get extra bend around sharp curves. Good quality e-gravel bikes should be around 40 lbs (18kg) in weight with a battery that slips out the side for charging and standard tire clearance for 700c and 650b wheels.
---
The 7 Best Electric Gravel Bikes in 2023
---
#1

Cannondale Topstone Neo Lefty 3

Best all-terrain electric bike
MSRP: $6,350
Motor – Bosch Performance Line CX 250W, 85Nm
Battery Capacity – 500Wh
Drivetrain – 11-speed Shimano GRX
Charge Time – 3.5 hours
Pedal Assist Range – Up to 110 miles
The Topstone Neo Lefty 3 is a Cannondale electric gravel bike designed to thrive through the elements, especially up hills.
With a powerful Bosch Performance Line 85Nm motor offering three levels of support and a 500Wh battery nestled stylishly in its lightweight carbon frame, the Neo SL 2 is the ultimate gravel warrior for long-distance rides.
As a class 1 eBike, it has a pedal-assist speed of up to 20 mph (32 kph) and a range of up to 110 miles. The carbon fork has wide clearance space for the 650b x 47mm tubeless-ready tires, assisting in bump absorption and making your whole cycling experience smoother and more fun. In addition, you have 30mm of travel from the suspension in the front and rear.
The 11-speed Shimano GRX drivetrain and hydraulic disc brakes only contribute to an already powerful setup that makes the Cannondale Topstone Neo Lefty 3 one of our top electric gravel bikes to ride.
---
#2

Alchemy Bikes eRonin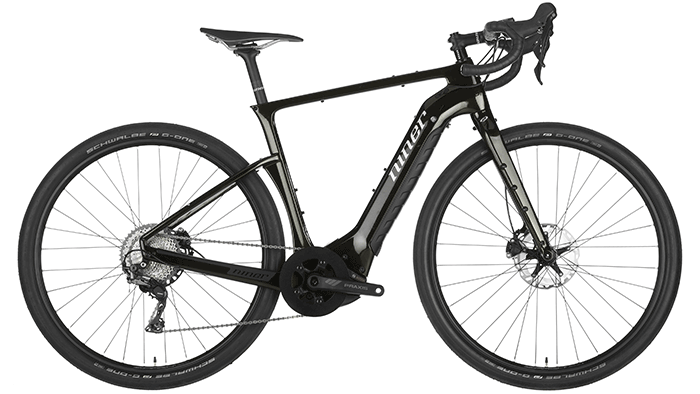 MSRP: from $10,999
250W Fazua Evation
250Wh Fazua battery
Carbon frameset and build kit
11-speed Shimano XT Di2 or 12-speed SRAM AXS (X01, Force XPLR, or XX1)
The Alchemy Bikes eRonin is one of the best electric gravel bikes on the market, brought to by a company that prides itself in its handmade bikes.
You seldom get electric gravel bikes showcasing such high-end components, including a full carbon frameset and build kit, an electronic groupset, and a 250W/60Nm Fazua motor and 250Wh battery.
Choose the eRonin in one of four electronic groupsets ranging from $10,999 to $12,499. The Shimano XT is an 11-speed setup while each SRAM build is 12-speed.
Wide-ranging cassettes give you plenty of gearing options whilst the versatility of the 700c x 45mm or 650b x 2.1″ tire clearance means you can choose the perfect tires for the moment.
---
#3

Pinarello Nytro Gravel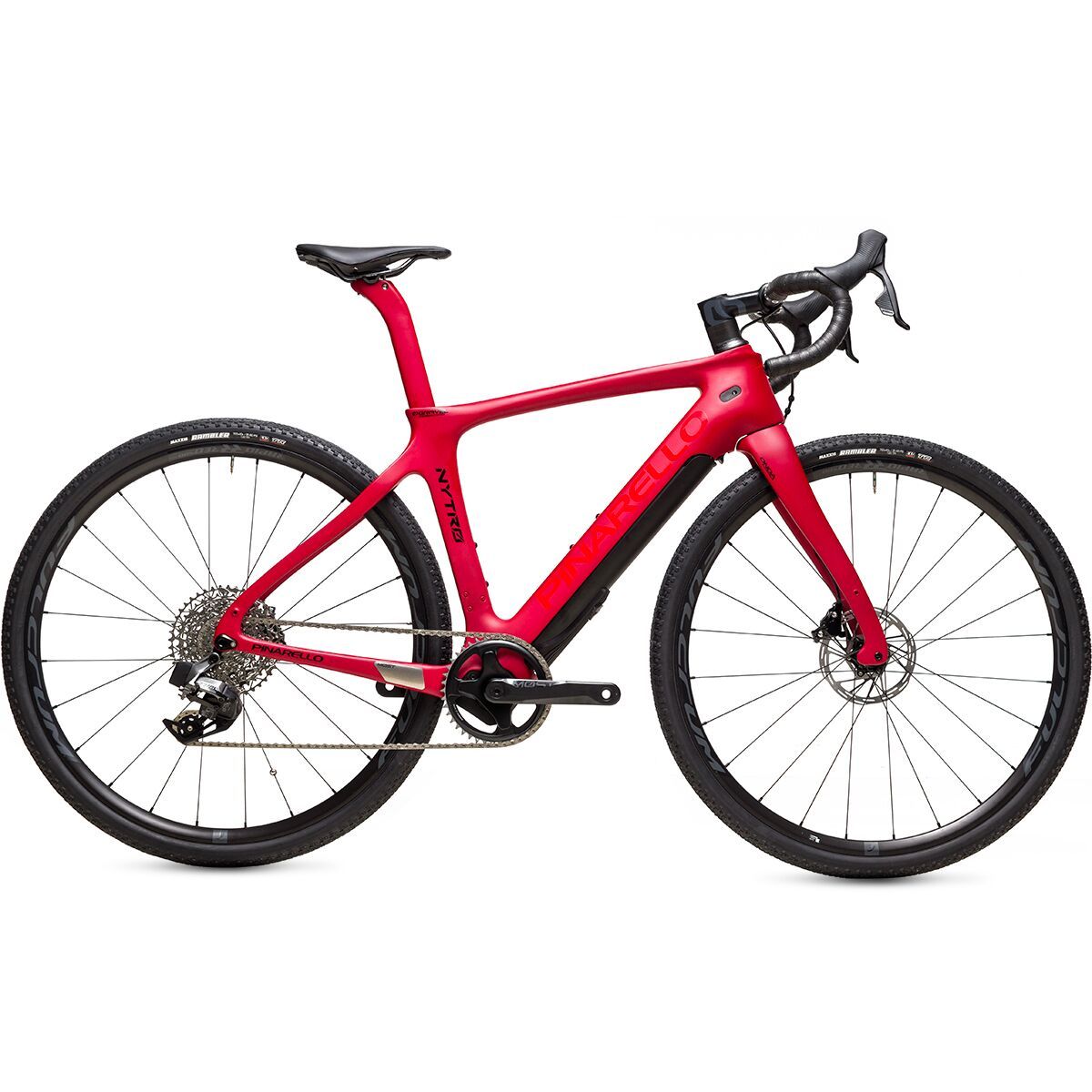 MSRP: $5,950
Motor: Fazua Evation Ride 50, 20mph
Battery: Fazua Evation 1.0 250Wh
Torayca T700 UD carbon frame
12-speed SRAM Rival eTap AXS drivetrain
SRAM Force hydraulic disc brakes
The Pinarello Nytro Gravel Rival AXS is a 700c gravel eBike built for commuting on both adventurous gravel and comfortable road-like terrain.
The Fazua Evation mid-drive motor allows a maximum assisted speed of 20mph (32km/h), and combined with a 250Wh battery provides plenty of range for a day on the trails.
A carbon frame and fork absorb most vibrations or bumps you encounter, and tire clearance of up to 700x42c or 650b x 2.1″ means you can customize this bike for varied terrains.
In addition, the 12-speed SRAM Rival electronic drivetrain provides flawless shifting and has a solid gearing range.
Finally, the Force hydraulic disc brakes don't disappoint and are a brilliant addition to the overall product.
---
#4

Bianchi Impulso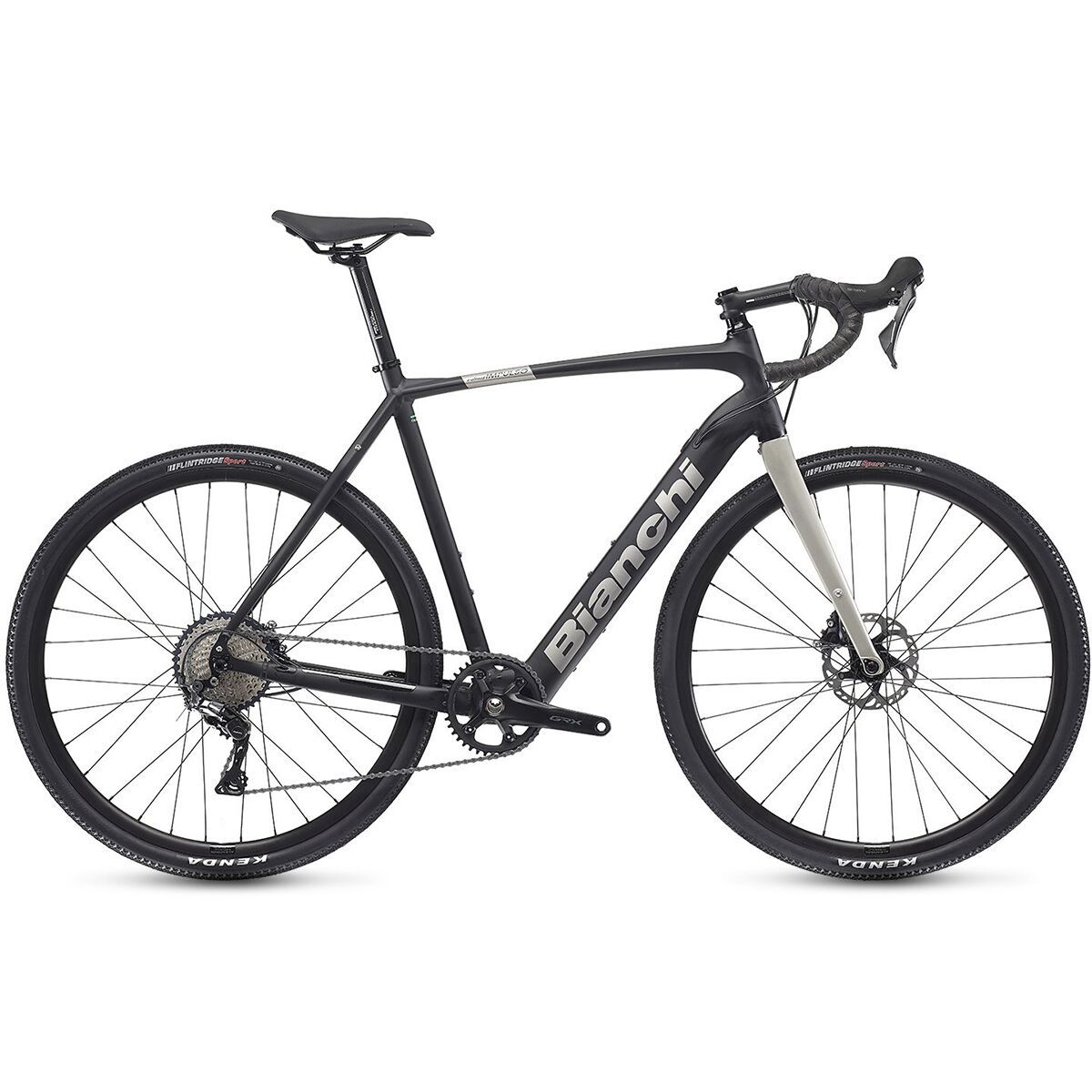 MSRP: $4,950
With its impressive e-bike technology, the Bianchi Impulso satisfies every desire of most gravel riders. The Impulso is not cheap, but it delivers excellent features for the money, including hydraulic disc brakes, Shimano's gravel-specific GRX groupset, and more.
The price also indicates that you are getting high-quality components. It showcases several advantages like the durable aluminum frame paired with a lightweight carbon fork, as well as the 12-speed GRX 800 groupset.
The bike has also been fitted with an eBikemotion X35 Plus motor  that will assist you up to 20 mph, as well as a 250Wh battery that can be upgraded using another external battery.
Shimano hydraulic disc brakes also ensure higher-ranking modulation and responsiveness to any quick changing braking on any terrain.
You also have enough clearance on this Bianchi electric gravel bike to fit up to 38 mm wide tires, while the bike leaves the factory with 35 mm wide Kenda Flintridge tires that leave something to be desired on very rough gravel roads.
---
#5

Canyon Grail:ON CF 7
MSRP: $4,999
Carbon frame and fork
Bosch Performance Line Speed, 28mph motor
Shimano GRX/SLX 11-speed drivetrain
Shimano GRX RX600 hydraulic disc brakes
Schwalbe G-One Bite 50mm tires
The Canyon Grail:ON CF 7 is one of our favorite electric gravel bikes due to its high-end specs and electronics, allowing you full enjoyment while conquering all terrains.
The lightweight carbon frame and fork on this bike deliver a premium ride quality with impressive stiffness to weight. You get 700c x 50mm tires, making the Grail:ON suitable for heavy off-road riding.
Canyon opted for an industry-leading Bosch Performance Line Speed motor with a max speed of 28mph, supported by an 11-speed Shimano GRX/SLX drivetrain and hydraulic disc brakes for rock-solid stopping power.
Don't look past this sleek gravel beast if you want unbeatable style and performance at a reasonable price.
---
#6

Pivot

eVault GRX Carbon

A high-end gravel machine inside-out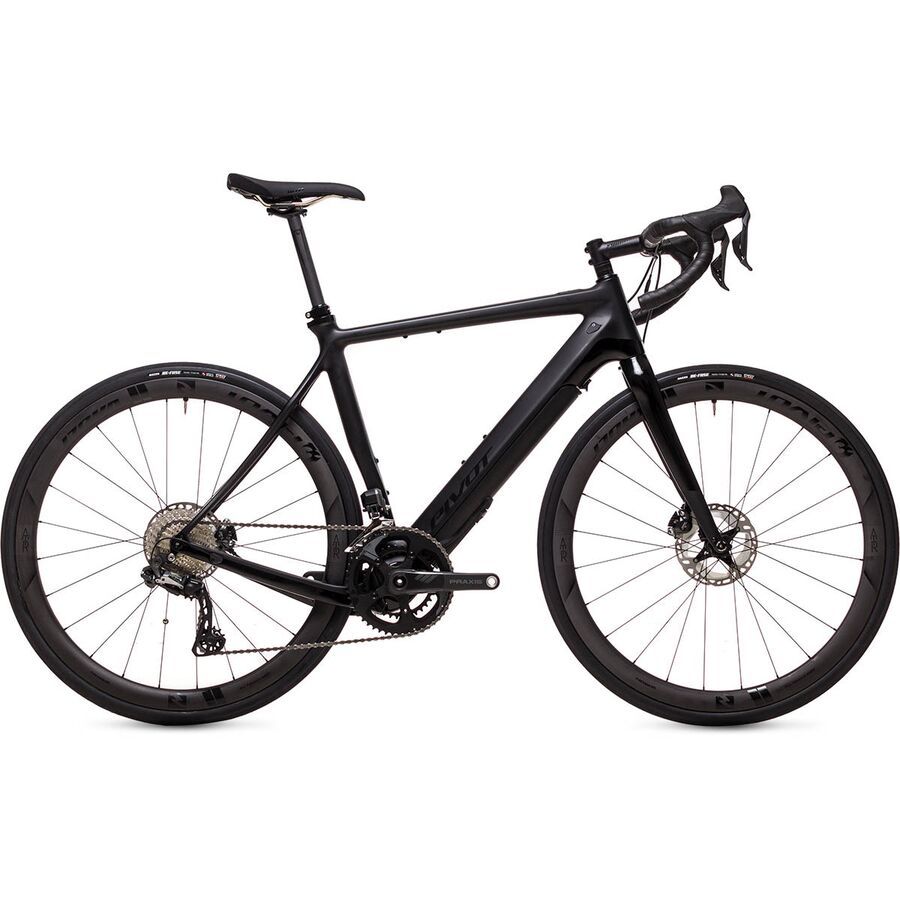 MSRP: $9,999
Motor: 250W Fazua Evation (Mid drive), 40Nm
Battery: Fazua integrated, removable
Hollow-Core molded carbon frame
2 x 11-speed Shimano GRX 815 Di2
700x32c (Clearance for 700 x 47mm / 650b x 2″)
The Pivot eVault GRX Carbon eBike is a high-end gravel machine inside-out.
It has a 10-year manufacturer warranty on the hollow-core molded, light carbon frame which says a lot about their confidence in their product. The integrated control panel gives you three different modes to choose from, whilst the 250W Fazua Evation mid-drive motor and removable battery give you that extra push allowing a max assisted speed of 28mph (32km/h).
With retail value standing at a whopping $9,999,00 you will be sure to know that the Pivot eVault means business. They've perfected their craft with high-end components like 2 x 11-speed Shimano GRX Di2 gears, a Reynolds carbon wheelset, and 2-piston Shimano GRX 810 hydro disk brakes. For that price, you sure as hell want to get your money's worth and the Pivot eVault GRX Carbon won't let you down.
---
#7

Cannondale Topstone Neo Carbon 3 Lefty

Lightest ebike on the list
MSRP: $6,350
Motor: Bosch Performance Line Speed 250W
Battery: 500Wh
Charge time: 3.5h
11-speed Shimano GRX 812
WTB Resolute, 650b x 42 mm
Weight: 39 lbs. 11.2 oz.
Cannondale Topstone Neo Carbon 3 Lefty is a mouthful but comes in at only 39lbs 11.2 oz, which makes it one of the lightest weighing long-range ebikes on our list. It is fitted with a Bosch Performance Line Speed motor, giving 75Nm of torque.
It also features a high-quality gravel-ready 11-speed Shimano GRX 812 rear derailleur, allowing you to shift gears smoothly and precisely even while riding in very harsh gravel conditions.
The 500Wh Bosch PowerTube battery charges in around 3.5h making it great for those time-effective commutes. You also get a Lefty Oliver fork with 30mm of front travel for the best possible comfort and a definite wow factor.
The huge 650b x 42mm WTB Resolute tires are nestled perfectly in WTB ST i23 wheels. The Cannondale Topstone Neo Carbon 3 Lefty is the stallion of gravel bikes, built to make you look good whilst having fun, no matter how powerful the elements you are faced with.
---
#8

Diamondback Current E-Bike

Best value electric gravel bike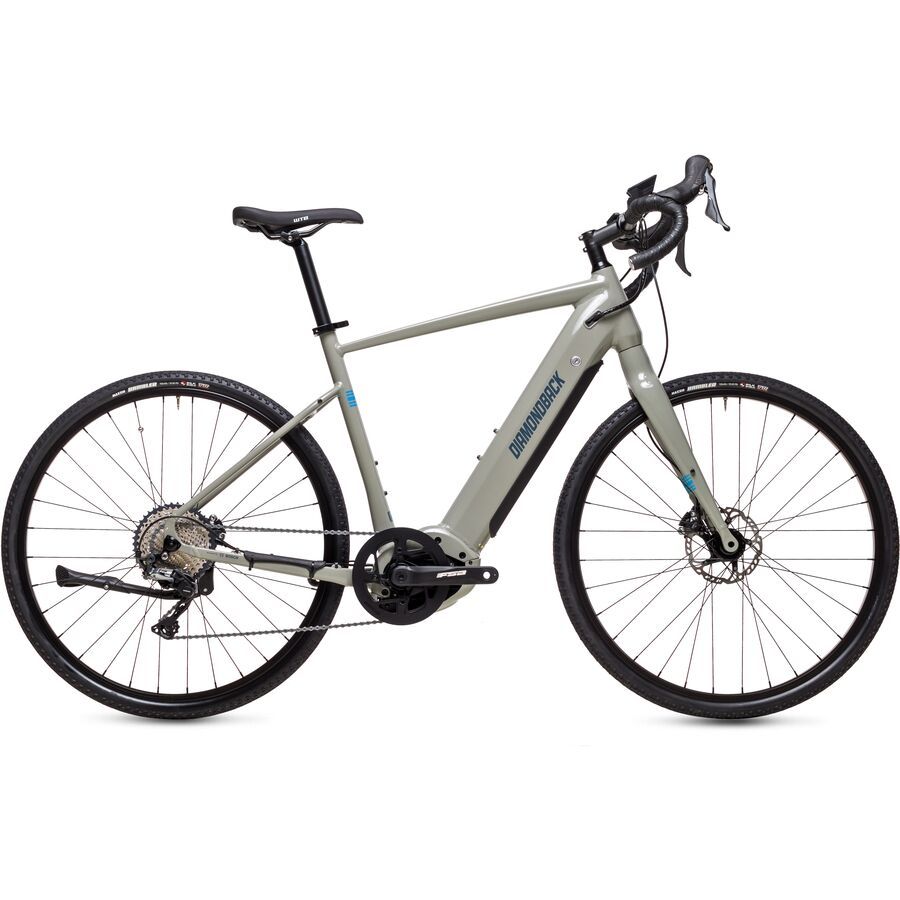 MSRP: $4,100
Motor: Bosch Performance Line Speed Gen 4, 350W
Battery: Bosch Powertube, 36V 13.4Ah (500Wh)
11-speed Shimano GRX
700x40c Maxxis Rambler
Hydraulic disc brakes
The Diamondback Current is on top of our list if you are looking for value, serving the best deal for a battery-powered bike.
It is of the most popular eBike brands for recreational cyclists showcasing a 350W mid-mount Bosch Performance Line motor and 500Wh Powertube battery pumping a max assisted speed of 28mph (32km/h).
It comes with an 11-speed Shimano GRX gearing range settled in a durable 6061 T6 Aluminum frame and fork designed to roll smoothly on city streets. The hydraulic disk brakes and 700x40c Maxxis Rambler tires allow for light commuting through some dirt roads but nothing too hectic.
The overall weight combined with a not-so-easy-to-remove battery is not everyone's cup of tea, so those who do opt for this bike, buy it for the minimal perks of its light gravel capacity.
---
Things to Keep in Mind
---
Electric Road vs Electric Gravel Bike
The main difference between lightweight electric bikes for road and e-gravel bikes is that the gravel bike is built to conquer more extreme terrains.
Both can be cycled through cities and back roads with their battery-powered pedal assist, but the specifically modified gravel monster is for those who want to endure more extreme performances whilst having the added comfort to do so.
Gravel e-Bikes are becoming more popular as they give the cyclist the option and freedom to choose their terrain.
Gravel eBike vs Touring eBike
Although they are both all terrain electric bikes, gravel-specific ebikes are designed more for performance to withstand and absorb hard knocks, whereas touring ebikes are for long-distance trekking.
Weight plays a huge factor over long distances, which makes gravel ebikes attractive, but the comfort factor and wider variety of gears are what counts in touring ebikes.
Are Gravel E-Bikes Legal To Drive On the Streets?
Gravel eBikes are legal to drive, as they fall into two e-bike classes – Class 1 and Class 3.
Class 1 eBike – Speed limited to 20mph, pedal-assistance. Motor wattage is limited to 750W.
Class 2 eBike – Speed limited to 20mph, throttle (and optional pedal assistance). Motor wattage is limited to 750W.
Class 3 eBike – Speed limited to 28mph, pedal-assist (and an optional throttle). Motor wattage limited to 750W
Class 4 eBike (Not legal to ride on the street) – Speed limit 28mph and over, pedal & throttle assist. Motor wattage 750W and over.