Best electric mini bikes are a practical alternative to the standard bulky, full-size e-bike design. These models offer portability and easier storage and are usually cheaper.
Mini e-bikes have small-diameter wheels between 14 and 20 inches, compact frame designs, and light-duty electronics. These characteristics make them convenient to own but lower performance compared to an average e-bike.
Among the best electric mini bikes for adults, you will find a wide range of designs and specs, but all are tailored primarily toward urban-style riding.
This article will review ten of the best models available in 2023 to help you decide if an electric mini bike is the right choice for you.
In case you don't find exactly what you're looking for on this list, you should also check out our review of the best 20-inch electric bikes for a few more options.
---
Best Electric Mini Bikes in 2023
---
1. Rad Power Bikes RadExpand 5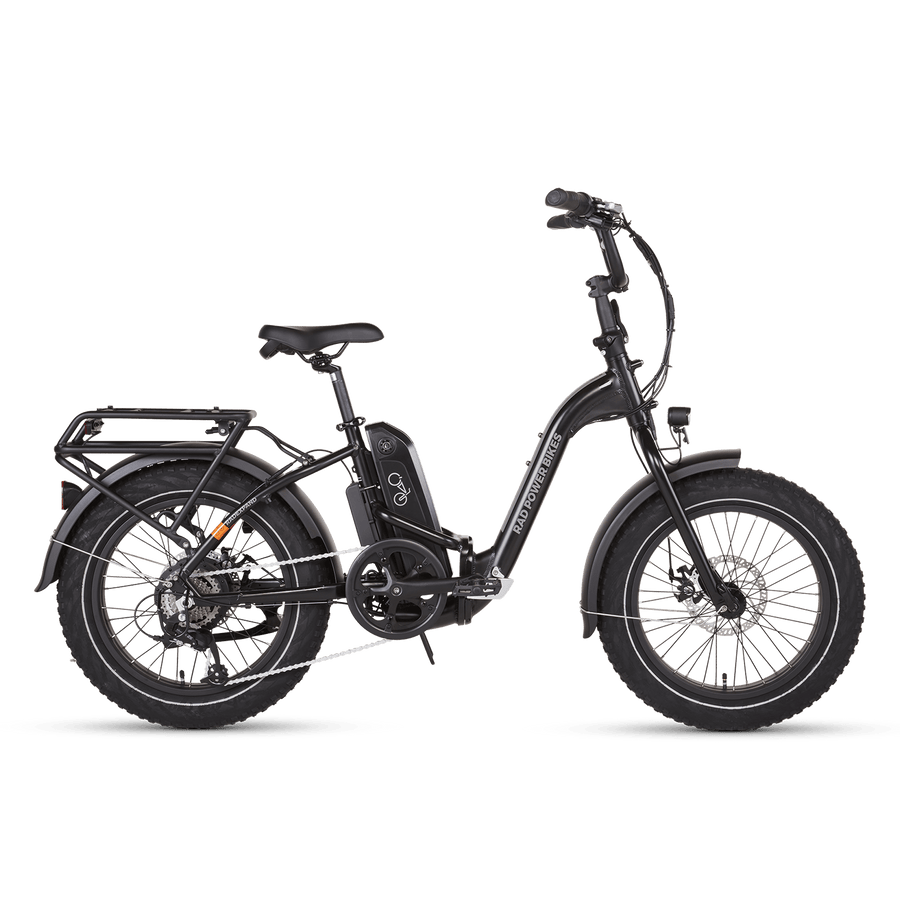 The Rad Power Bikes RadExpand 5 is a folding electric mini bike for adults, making it a practical choice for those with limited space at home.
This e-bike has 20″ wheels wrapped in shock-absorbent 4″ fat tires. Light tread and a puncture-resistant liner make these tires suitable for riding off-road. The 180mm rotor mechanical disc brakes are powerful enough but require regular maintenance and tuning.
The RadExpand 5 has a set of fenders, a 55-lb-capacity rear rack, and lights to make commuting convenient. That said, the 62.5-lb weight of this bike makes it difficult to carry if you want to take it on public transit.
Upright geometry, a low-step frame, a steel fork, and high-volume tires result in smooth ride quality. In addition, the throttle makes navigating busy city roads feel effortless.
Consider the RadExpand 5 if you need a comfort-optimized folding electric mini bike.
---
2. Tern Quick Haul D8
The Tern Quick Haul D8 is an electric mini bike designed to make the life of a commuter or city dweller convenient.
This e-bike has one of the best load capacity-to-weight ratios, meaning you can carry lots of cargo and haul it up stairs if necessary.
The punchy Bosch motor won't blow you away, but it provides more than enough kick for urban riding with moderate cargo loads. Tern chose an 8-speed Shimano Altus drivetrain to help support the motor and squeeze up to 65 miles from the battery.
The Quick Haul D8 also has a long rack, fenders, and lights for commuting. Add it to your shortlist if you're searching for a practical mid-drive mini electric bike.
---
3. Lectric XP Lite
The Lectric XP Lite is another no-frills mini e-bike that is easy to use, reliable, and lightweight.
Firstly, Lectric chose a simple single-speed drivetrain and a streamlined frame without extra accessories (except lights) to reduce weight and maintenance requirements. As a result, this bike weighs just 46 lbs, so you can more easily carry or lift it.
The XP Lite has Lectric's typical folding aluminum frame making it easier to store in a smaller space. It also has mechanical disc brakes to provide ample stopping power.
The electronics aren't very powerful, but the narrow tires and light build mean you get more range (up to 40 miles) from a smaller battery. A 300W motor with a throttle takes the effort out of your flat rides but will struggle to hold speed on climbs.
Add the Lectric XP Lite to your shortlist if you want the best electric mini bike for adults under $1,000.
---
4. Co-op Cycles Generation e1.2
Co-op Cycles' Generation e1.2 is another mini electric utility bike like the RadRunner, only with higher-end componentry.
Firstly, you get a Shimano Altus 7-speed drivetrain to help you squeeze up to 50 miles of range, combined with reliable Tektro hydraulic disc brakes. The one issue with the drivetrain is the lack of high gears for pedaling at speed.
Related review: Co-op Cycles Electric Bikes Review
A high-torque Bafang hub motor allows you to pull heavy payloads (up to 300 lbs) up light to moderate climbs and quickly reach the 20mph max speed but will struggle on steep inclines. In addition, 2.4″ puncture-resistant Schwalbe tires roll fast but allow a lot of road chatter through.
With two racks, the Generation e1.2 is ready to carry lots of cargo and is compatible with bags and baskets. Finally, the step-through frame and highly adjustable cockpit make for relaxed ride quality.
All things considered, this is another solid utility-style mini e-bike with reliable components.
---
5. Rad Power Bikes RadRunner 2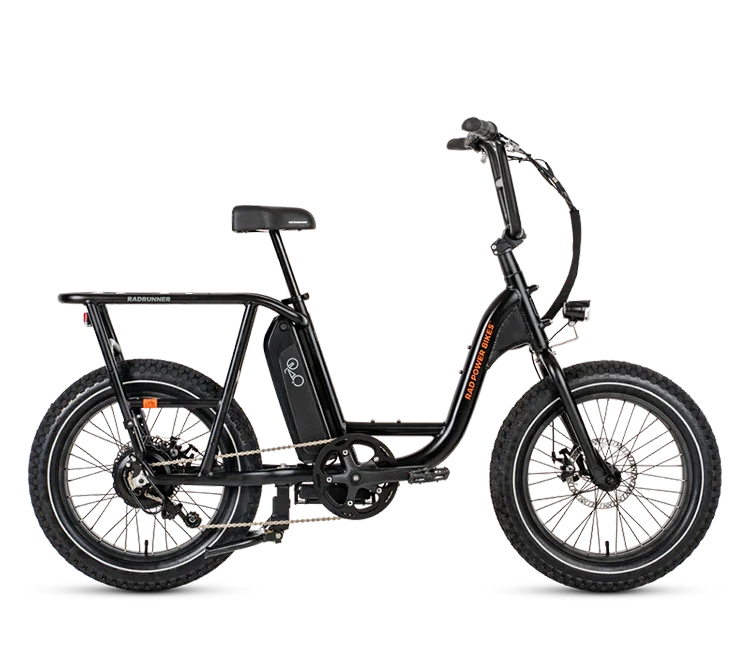 Rad Power Bikes' RadRunner 2 is the more affordable of the brand's two utility-style electric mini bikes.
This model has mini 20″ wheels wrapped in plus-sized puncture-resistant Kenda K-Rad 3.3″ tires, providing plenty of grip and shock absorption for pavement and gravel paths. In addition, the 180mm Tektro mechanical disc brakes provide ample stopping power for a single-speed e-bike.
As a utility bike, the RadRunner 2 can support 330 lbs and up to 120 on the integrated rear rack. It's also compatible with accessories for carrying cargo, such as pannier bags and a front rack. However, it doesn't come with fenders.
The throttle makes for effortless riding in a busy city, and the 68Nm motor allows you to pull heavy cargo loads without dropping speed. However, this isn't the case when going uphill, as the 65-lb weight and single-speed drivetrain will limit its ability.
Overall, this is a solid electric mini bike for adults with tons of carrying capacity and an affordable price.
---
6. Buzz Centris
The Buzz Centris is a fast electric mini bike designed for the thrill-seeking urban rider.
This e-bike has a high-power 48V system with a 500W power motor and an integrated lithium battery. Unfortunately, Buzz doesn't disclose the exact capacity of the battery.
The Centris is a class 2 ebike, so it has a 20 mph top speed with pedal assitance and a throttle. A set of 180mm-rotor mechanical disc brakes help keep you in control when riding at the bike's top speed.
If you're conservative on the pedal assistance and throttle usage, you can achieve up to 40 miles of range, which is standard for similar ebikes.
Although it's a 20″ small electric bike, the HyperScorpion weighs 67 lbs making it too heavy to lift or ride without charge.
Front suspension and 4″ tires help smooth out any lumps and bumps on pavement or hardpack trails and ensure stability and grip.
Choose the Buzz Centris if you want a high-power adult electric mini bike with everything you need for commuting.
---
7. Huffy Versic
The Huffy Versic is a no-frills folding electric mini bike suited to riders with a limited budget.
The Versic has a rack, fenders, and lights, meaning you can use it for commuting and city riding, but you can also take it offroad thanks to its 4-inch wide tires.
The modest electronics provide enough power for flat-terrain commuting, allowing you to arrive at your destination sweat-free. Utilizing the 6-speed drivetrain, you will get up to 40 miles of range, whereas the top speed is 20 mph, and it can be reached with pedal assistance or throttle.
One disadvantage of a 20″ mini e-bike with wide tires is that it can feel sluggish at times. Another feature worth noting are the mechanical disc brakes that will provide ample stopping power in all conditions, though they are not as convenient to use and maintain as hydraulic disc brakes.
Don't look past this cheap folding e-bike if you want a practical and well-built machine to provide that extra kick on your daily commute.
---
8. Engwe-Bikes T14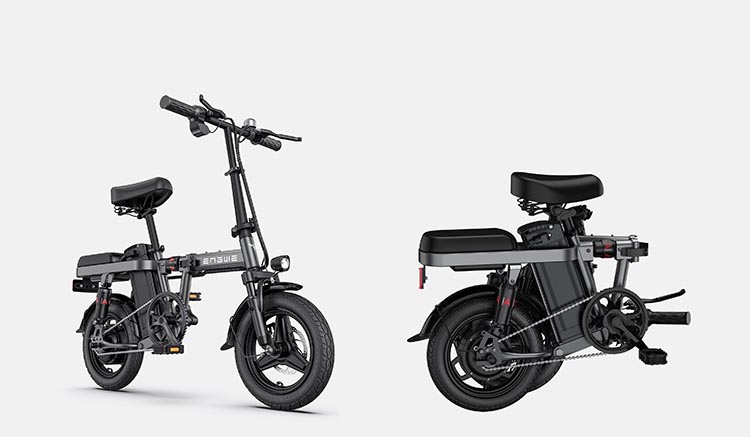 The Engwe T14 is the brand's mini e-bike, designed for convenient storage but not for carrying.
Despite its small size, the T14 weighs 68 lbs, making it one of the heaviest mini electric bikes on this list. This weight comes from the full-suspension setup, heavy steel frame, oversized saddle, and extra commuter components, giving the T14 a smoother ride quality than other 14″ bikes.
The T14's electronics are also decent for a bike of this price, providing plenty of range and power for typical city riding. Other notable components include a single-speed drivetrain, mechanical disc brakes, and 2″ tires.
At just over $600, we're impressed with the comprehensive design of this Engwe mini electric bike. It includes everything you need for light-duty use in an urban environment.
---
9. Sailnovo 14″ Electric Bike
The Sailnovo 14″ electric mini bike is another solid option for riders with a limited budget.
The height range for this model is 4'10" to 5'10", and while it can support up to 265 lbs of weight, it's best for riders weighing less than 200 lbs.
When purchasing a bike like this, there is a high likelihood of experiencing issues in the long run, but for light use in urban environments, it provides a decent kick to get you where you're going.
Sailnovo included a set of fenders, integrated lights, and a rear shock absorber. In addition, the handlebars fold down for neater storage at home or in the office. Most riders should be able to lift and carry this e-bike for short distances as it weighs just 46 lbs.
Consider the Sailnovo 14″ if you're on a tight budget but want the benefits of an electric bike for your short daily commute.
---
10. Swagtron EB5 Pro+
Swagtron's EB-5 Pro+ is the cheapest option on this list, offering budget-restrained riders the possibility to enjoy the benefits of an e-bike.
Like the Sailnovo model above, the EB-5 is a 14″ wheel electric bike with a folding frame making it convenient for commuters or those with limited space at home.
This e-bike is best for short commutes of up to 15 miles. The low-quality electronics and single-speed drivetrain limit your ability to go far or tackle hills but are adequate on flat terrain. Likewise, heavier riders won't notice much benefit from the EB-5's motor.
The ride position is highly adjustable, and the folding mechanism is sturdy and straightforward. Unfortunately, the battery isn't removable and can't be replaced.
All things considered, you won't find a more accessible electric bike for light-duty urban riding than Swagtron's EB-5; choose it if you need a cheap run-around for your short commutes.