Detailed Review of the Aventon Electric Bike Brand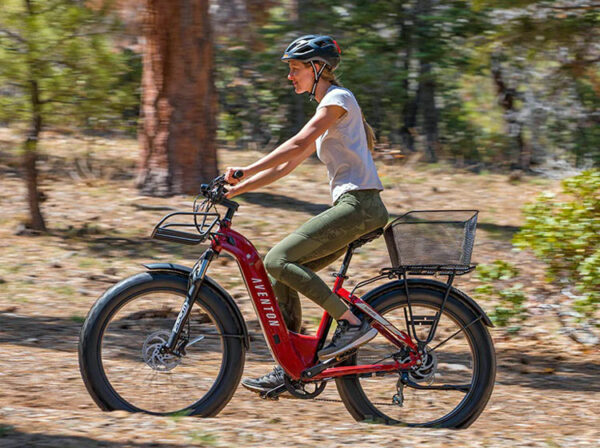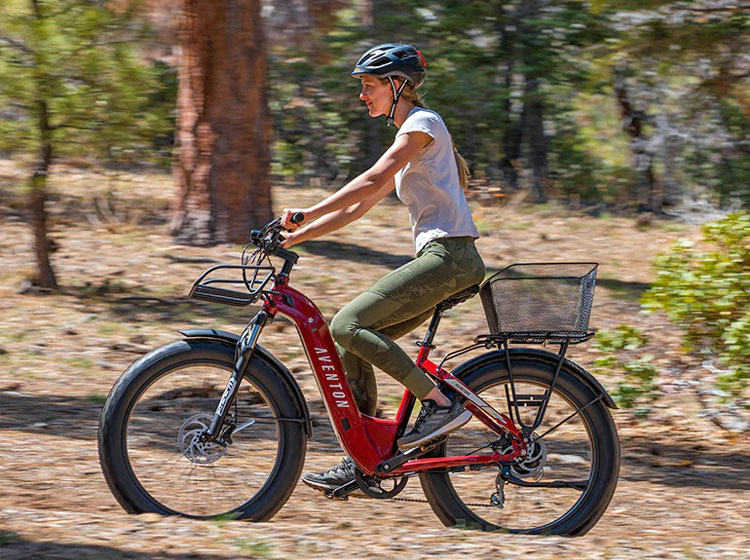 Aventon electric bikes are some of the most in-demand options in the US, boasting a wide range of electric bikes for different riders and uses.
The Aventon electric bike range includes durable, reliable, and stylish models that stand out from the competition thanks to their overall quality and value for the money.
The range of designs and specs means there is an option for most riders out there. In addition, the low prices ($1,300 to $2,000) make owning one of their bikes attainable for a big chunk of the population.
This Aventon review will briefly discuss the company and its history, highlight some unique features, and cover each bike in the lineup in detail.
Let's find out if you should buy an Aventon electric bike!
About the Aventon Electric Bike Brand
---
Aventon is a Los Angeles-based company founded by Jianwei Zhang and Augusto Peraza III. The company employs roughly 70 staff in the United States and owns its own factory in China.
Zhang grew up in China and moved to California for university, where he began his entrepreneurial journey. He started his career in the bicycle industry by building customized bicycles for his local community, eventually expanding online.
In 2012, Peraza and Zhang, two former university colleagues, combined their passion for cycling to start Aventon, a fixed-speed bicycle brand.
After five years of operation in the fixie/track bike space, Aventon took its first step into the ebike industry with the release of the Pace 500 in 2018.
Since then, Aventon has gone from strength to strength, developing a broad portfolio of affordable e-bikes and moving away from manufacturing standard bikes.
As of 2023, their offering comprises six e-bike models ranging from the single-speed Soltera city bike to the highly versatile Aventure fat bike.
Aventon's mission is to provide 'top-tier products at an attainable price.' There is no doubt that they are achieving that, as they've got a fleet of reliable, durable, and functional eBikes sold at affordable prices.
Standout Features of Aventon Electric Bikes
---
As mentioned, Aventon electric bikes do not have a singular design style or component choice that makes them stand out. Instead, they value broad functionality, durability, and dependable performance.
The resoundingly positive response to Aventon e-bikes has allowed the company to quickly begin competing with big-name bike brands and grow a vast network of distributors across the US.
Low Prices
The affordability of Aventon electric bikes is one of the two major contributors to their popularity. In addition, by owning its own factory in China, Aventon has made a long-term investment that gives them more autonomy over manufacturing and the ability to sell at lower prices and offer frequent discounts.
Electric bikes under $2,000 represent the most significant percentage of e-bike sales in the US, and all of Aventon's bikes fall into that category. However, low pricing isn't enough to grow in popularity as they have done; offering value to the customer is essential.
Reliability and Durability
Budget electric bikes are notorious for experiencing issues within the first six months to a year of use, mainly with the hubs and bottom bracket. So Aventon's prioritization of reliable performance gives them an advantage in the market.
Aventon bikes are not only affordable, but they are also highly regarded in both short and long-term reviews. The look and feel of Aventon bikes indicate a higher price than you pay.
To make this possible, Aventon ebike components are sourced from brands like Shimano, Tektro, and Kenda. In addition, the frame design and construction are solid and durable, directly resulting from their control over every stage of the design and production process.
You also get a two-year warranty on all models, which is more than many similar brands offer.
Sleek Design and Integration
Following the original release of the Pace 500 and Pace 350, the focus on design and integration has been a big priority.
All current Aventon e-bike models utilize frame-integrated batteries, powerful motors, computers with a color LCD display, and streamlined frames with internally routed cabling.
This level of detail isn't typical among budget e-bike brands, so Aventon's choice to emphasize style and integration sets it apart from many of its direct competitors.
Aventon also offers lots of additional accessories and new gear you can upgrade your ebike with to make it better.
Most models are also available in step-over and step-through frame style and regular or large frame size, but to ensure the best fit, we recommend checking the min saddle height, top tube length, wheelbase, and so on.
Aventon Electric Bike Lineup
---
Aventon's lineup features six models and five distinct designs, each with a step-over or step-through frame with a lower standover height.
The Pace 350 and 500 are almost identical, with the main difference being the size of the electronics and brake type (mechanical vs. hydraulic disc). Otherwise, you have the off-road Aventure fat-bike, the Level.2 urban commuter, the Sinch folding e-bike, and the Soltera city hybrid.
Check them out below in more detail!
Aventon Abound Cargo E-Bike
MRSP: $2,199
Huge power from the 750W motor
720Wh battery and 50-mile range
Jam-packed with accessories and extras
The Abound is one of the best-equipped cargo electric bikes on the market in this price category. Aventon designed this model to be able to haul up to 440 lb of cargo and rider weight, that you can fit on the long integrated rear rack. Thanks to the torque sensor, you also get a more natural riding experience.
The Aventon Abound comes with city-friendly 20″ x 2.4″ tires with a Schrader valve, which provide good grip and keep the bike low so it's easier to load and unload any cargo. These tires pair with a 50mm suspension fork and stable upright geometry for a comfortable, confidence-inspiring ride.
The electronics include a 750W hub motor paired with a 720Wh internal battery. This motor can reach its top speed of 20mph in just a few seconds and the battery will last up to 50 miles.
To stop this electric cargo bike when fully loaded, you have a set of hydraulic disc brakes and the Abound also gets a 7-speed rear derailleur with a wide-range cassette for easier climbing.
The Abound also comes with a foldable handlebar stem and an adjustable seat post, so you can quickly adjust your position or decrease the bike's size for storage.
Other extras include front & rear fenders, a wheel skirt, rear rack, double-leg kickstand, front and rear lights with turn signal function, footpegs, and a storage bag in the middle of the frame to keep your valuables safe.
The Aventon Abound is easily one of the best-equipped cargo electric bikes on the market considering its $2,200 price tag, so don't hesitate to get it if you want to ditch your car for good and guarantee great rides.
Recommended rider height
Aventon Abound comes in a one-size-fits-all step-through frame that fits riders 4'11" to 6'3″.
Buy Aventon Abound    Aventon Abound Review
---
Aventon Pace 350.2 (Discontinued)
MRSP: $1,299
Comfort-optimized
40-mile max range
Integrated lights
The Pace 350.2 Aventon electric bike is the more affordable of the two Pace urban cruisers.
This Class 2 e-bike features a 350W brushless motor and 417Wh battery combination, providing a max range of 40 miles and up to 24 miles without pedaling. In addition, this system has five levels of pedal assist and a 20mph top speed.
The groupset comprises a 7-speed Shimano Tourney drivetrain and Tektro mechanical disc brakes. These components are long-lasting and perform well for this price range.
Aventon chose Kenda Kwik Seven-5 2.2″ tires with reflective sidewalls on 27.5″ double wall aluminum wheels to balance comfort and speed on urban rides.
The upright geometry, swept-back handlebars, and suspension saddle enhance the ride quality further. However, some riders note that the saddle is uncomfortable for longer rides and that the grips are not ergonomic.
Finally, the bike weighs 49lbs, has integrated front and rear lights, and is compatible with a rack and fenders to ride in light rain.
Purchase the Aventon Pace 350.2 if you want one of the best class 2 ebikes with a low price tag.
Recommended rider height
Step-over – 5'1″ to 6'4″

Step-through – 5'1″ to 6'4″
Full Aventon Pace 350.2 Review
---
Aventon Pace 500.2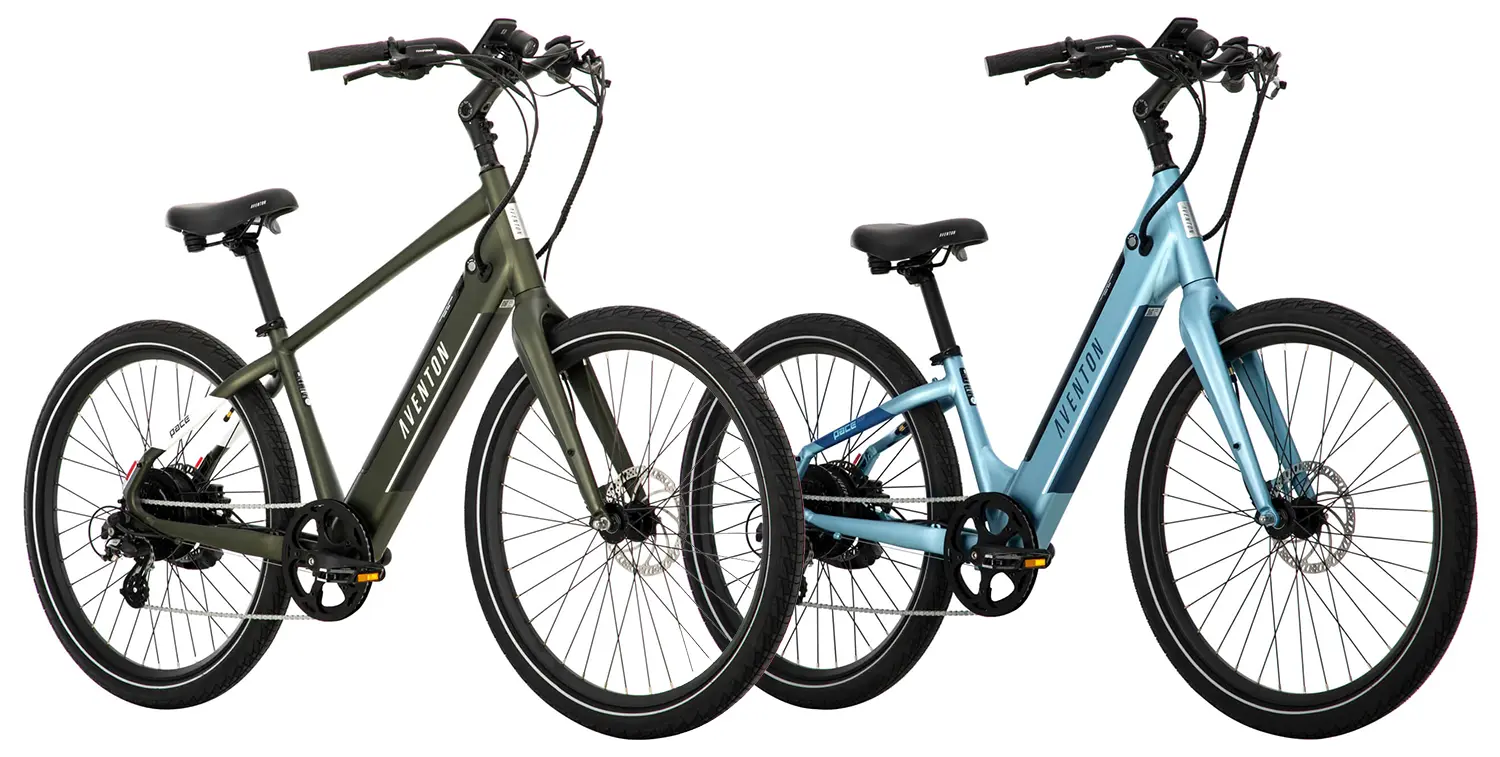 MRSP: $1,599
Powerful 500W motor
Smooth ride quality
Puncture-resistant tires
The Pace 500.2 Aventon electric bicycle is the bigger Class III sibling of the Pace Aventon family, with more power and capability.
Aventon designed this bike with versatility in mind. Compatibility with commuter accessories, puncture-resistant urban tires, and powerful electronics make the Pace 500.2 ideal for commuting and running errands around town.
The relaxed ride position, shock absorbent tires and saddle, and swept-back handlebars make it a joy to ride on your leisurely weekend spins.
A 500W motor and 614Wh battery with LG cells provide top speeds of 28 mph and a max range of 47 miles if you ride at a low pedal-assist level. In addition, this system has five levels of pedal assistance to choose from. If you need more range, your best bet is to get an extra battery.
The Pace 500.2 has hydraulic disc brakes, an 8-speed Shimano Altus drivetrain, and integrated LED lights. The one downside of this bike is that the torque can be overpowering, even in the lower gears.
Add the Aventon Pace 500.2 to your shortlist if you want one of the best class 3 electric bikes with powerful components in a comfortable and versatile package.
Recommended rider height
Step-over – 5'1″ to 5'11"

Step-through – 4'11" to 6'1″
Buy Aventon Pace 500.3    Aventon Pace 500.3 Review
---
Aventon Aventure.2
MRSP: $1,899
750W motor, 720 Wh battery, and a 60-mile range
Suitable for urban and off-road adventures
Fenders, rear rack and integrated lights that double as turn signals included
Single-butted aluminum alloy frame
The Aventon Aventure ebike has become even better with the release of the second-generation model named Aventure.2. On the surface, the two bikes look very similar, but under the surface, there are some significant changes, most of which are for the better.
Aventon Aventure.2 sports a 750W geared brushless rear hub motor and a 720 Wh battery, charged by a 3 amp fast charger for a 4-5 hour charging time. However, the range is now estimated at up to 60 miles per charge, which is a 15-mile estimate increase over the old Aventure.
The bike now also has four assist levels (eco to turbo) and ships as a Class 2 ebike with Class 3 possibilities that you can easily unlock. You can also take the throttle on or off to comply with your local regulations. Plus, tech lovers can connect the Aventon phone app to their smartphone to track ride info.
Aventure.2 now also has integrated rear lights that double as turn signals and a powerful headlight, in addition to fenders and a rear rack. Therefore, it's practical for urban commutes, but still capable of venturing off-road thanks to a 4-inch tire width and an 80mm fork.
Don't hesitate to get it if you like the full-color display with backlight, high range, turn signals, torque sensors, colorful screen with ride info, and a high payload capacity!
Recommended rider height
Step-over – 5'3″ to 6'4″

Step-through – 4'11" to 6'1″
Buy Aventon Aventure.2    Aventon Aventure.2 Review
---
Aventon Level.2
MRSP: $1,799
Fully-equipped setup
Powerful hydraulic disc brakes
Max range of 60 miles on Eco
The Aventon Level.2 is the brand's best electric commuter bike, fully-equipped with a rack, fenders, LED lights, and a kickstand for urban riding.
Aventon chose a 500W motor and 672Wh removable internal lithium-ion battery for this bike. This setup offers more than enough for any urban riding you'll do, even with a loaded bike.
The top speed is 28mph (20mph throttle), which the Level.2 reaches quickly. However, the battery life is the most impressive stat, topping out at 60 miles on Eco mode in real-world testing conditions.
Hydraulic disc brakes and a Shimano Acera 8-speed drivetrain make up the groupset. In addition, you have 2.1″ hybrid tires that roll fast and absorb plenty of road vibrations.
Other notable features include the 65mm front suspension fork and ergonomic comfort touchpoints, making for a smooth and comfortable ride. You also get a full-color display that can connect to your iOS or Android smartphone app and sync all ride information via Bluetooth or connect with the larger Aventon community.
Consider this sleek Aventon eBike if you want an affordable commuter with tons of power and range.
Recommended rider height
Step-over – 5'7″ to 6'4″

Step-through – 4'11" to 6'2″
Buy Aventon Level.2    Aventon Level.2 Review
---
Aventon Sinch
MRSP: $1,599
Quick folding mechanism
Off-road capable
Very comfortable
The Sinch is Aventon's folding electric bike, perfect for riders who need portability without sacrificing capability and comfort.
This bike comes with 4″ fat tires on 20″ wheels, a 45mm travel fork with lockout, and an Aventon Velo comfort saddle to deliver a smooth ride and good feedback on steep and flat terrain.
Power comes from a large 500W motor paired with a 672Wh battery. This setup can return a whopping max range of 71 miles, one of the best in this price range. In addition, you have a top speed of 20mph from using PAS and throttle.
When you're ready to pack the Sinch for transport or storage, it folds quickly into a neat unit. However, it's pretty hefty to carry, weighing 68 lbs; though the 300 lb total weight limit is respectable.
The Sinch also makes an excellent commuter, thanks to the rear mount for a rear rack and fenders, which is its ideal use. It has a high max saddle height, so it can fit riders up to 6'3″ tall.
Choose this bike if you want a high-quality folding e-bike without the high price tag.
Recommended rider height
Step-over – 5′ to 6'3″

Step-through – 4'11" to 6'3″
Buy Aventon Sinch.2    Aventon Sinch.2 Review
---
Aventon Soltera.2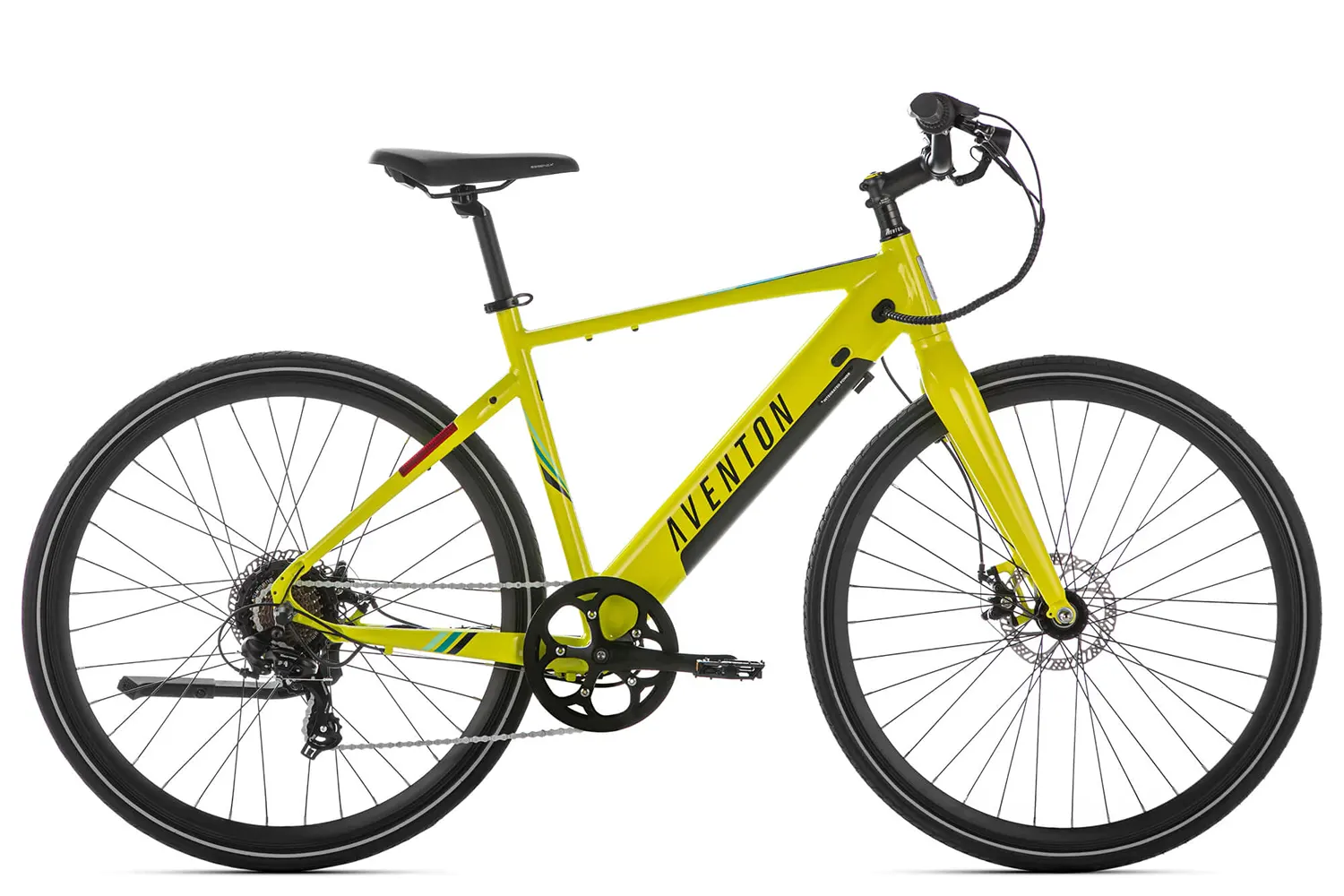 MRSP: $1,199
Single-speed and 7-speed options available
Sporty geometry and wheels
Integrated lights
The Aventon Soltera is the newest addition to the lineup, a throwback to the brand's origins in manufacturing fixed-speed bikes.
The Soltera comes in two builds; a 7-speed Shimano drivetrain with Tektro mechanical disc brakes ($100 extra) or a single-speed version with Tektro rim brakes, weighing 2lbs less at 41lbs. The disc brakes will bring you to a complete stop much faster and with less effort.
Both setups use the same aggressive geometry that puts the rider in a more forward position, allowing you to build up speed easier. This geometry combines well with 700c double-butted aluminum alloy wheels and narrow 35mm tires, allowing you to ride this bike with or without the motor.
The electronics consist of a punchy 350W motor and 345Wh battery, delivering max ranges of 63 miles and a top speed of 20mph.
Other notable features include the integrated LED lights, kickstand, and connectivity with the Aventon app.
Choose the Soltera if you want a cheap hybrid e-bike to build fitness and run errands around town.
Recommended rider height
Step-over – 5'1″ to 6'4″

Step-through – 4'11" to 6'1″
Buy Aventon Soltera.2    Aventon Soltera Review
---
FAQs
---
Yes, Aventon makes good eBikes. Their bikes are highly regarded and well-reviewed in short and long-term reviews. In addition, Aventon e-bikes are competitively priced, making them good value too. Creating high-quality products at attainable prices is one of the brand's missions, and they're achieving it.
Aventon bikes are manufactured in China. Aventon owns the factory in China, allowing complete control of the manufacturing process from start to finish. The company headquarters is in Los Angeles, California. After manufacturing, the bikes are sent to the US for final assembly and quality control.
Who owns Aventon eBike?
Jianwei Zhang and Augusto Peraza III own the Aventon eBike brand. They founded it together in 2012 and still fully own the company. Peraza III is a Los Angeles native, and Zhang is from China. They met at university, where they were classmates.
Aventon uses different brands of motors, such as Shengyi and Bafang. Their bikes have been spec'd with these two brands in the past. However, they may use other types based on availability. For example, the current Aventon Level.2 has a 500W Shengyi motor, while the Aventure has a Bafang 750W.
Aventon Bikes has been around for ten years as of 2023. They began operation in 2012, manufacturing fixed-speed bikes. In 2018, they began the switch to electric bicycles with the release of the Pace 500. In 2020, they discontinued the final fixie lines, transitioning to e-bikes only.
No, Aventon bikes are not waterproof. Don't submerge any of the electrical parts under water or use a pressure washer when cleaning, as this will damage them. Aventon eBikes have IPX4 water-resistant standard, meaning they won't be harmed by road spray from a wet road or raindrops.
Final Verdict: Would We Buy an Aventon Electric Bike?
---
In our opinion, Aventon electric bikes offer excellent value for money in the sub-$2,000 market.
Their bikes use reliable components from manufacturers like Tektro, Shimano, Bafang, and Kenda. In addition, the attention to detail in frame design and build quality gives their bikes a solid, sturdy feel.
The variety of e-bikes available is another strong point for the brand, appealing to a broad demographic.
Their lineup of six models includes folding, fat-tire, commuter, city, and cruiser options, each of which has a step-through and step-over frame choice.
From our research, the primary issue users experience with Aventon e-bikes is they can be a little too torquey, taking some time to get used to. Aventon has tried to address this by offering two throttle modes; 'throttle on demand' and 'throttle after pedal.' But, unfortunately, this must be decided while purchasing.
Nonetheless, this is still a young e-bike brand with only four years of experience, so were very excited to see how they continue to develop and innovate.
All things considered, Aventon e-bikes have undeniable quality and very attractive pricing. Given that, we'd be excited to own an Aventon electric bicycle. Feel free to tell us about your recent experience with Aventon in the comments below!
---