Hurley Electric Bike Brand Review: Evaluating Hurley's E-Bike Lineup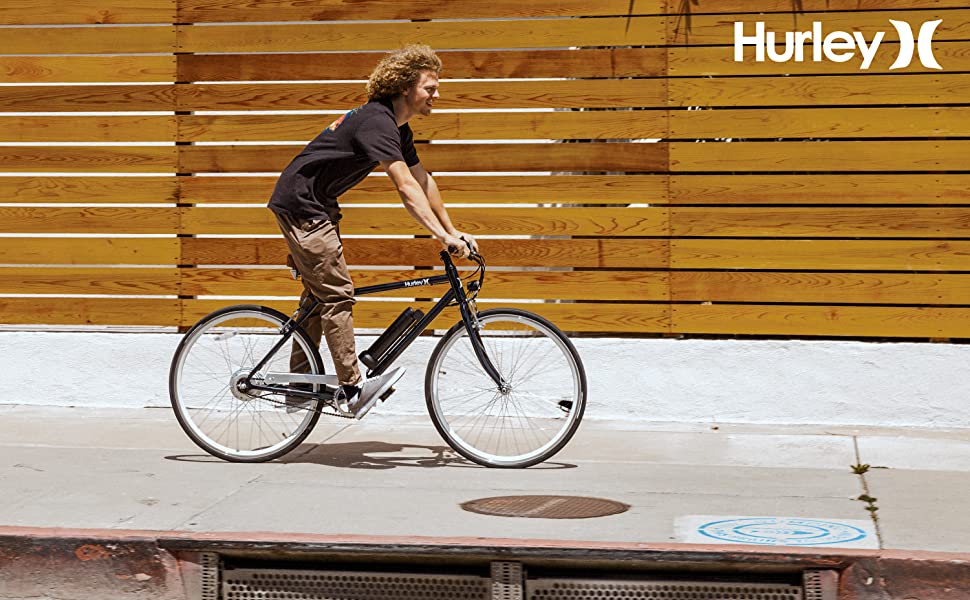 The Hurley electric bike lineup is a new addition to the California-based surf and skate brand's product offering.
Hurley is using its recognition and popularity as an outdoor apparel and gear brand to market a lineup of seven entry-level e-bikes.
These e-bikes cater to casual riders looking to enjoy the outdoors without spending too much money. They offer urban-style hybrids, cruisers, and one moped-style model, all sold in Hurley stores and online through Amazon.
This Hurley electric bike review will discuss the brand, the overall pros and cons of the bikes, and review each model in more detail. If you were thinking about buying one of their bikes, our review will help you make the decision.
About the Hurley Electric Bike Brand
Hurley is a well-known sports equipment and apparel brand mainly specializing in surfing and skating products. It was founded in Huntington Beach, California, in 1999.
In 2021, Hurley branched into the electric bike market. It partners with New York-based company, Joy Ride, which operates the warranty and servicing of Hurley bikes.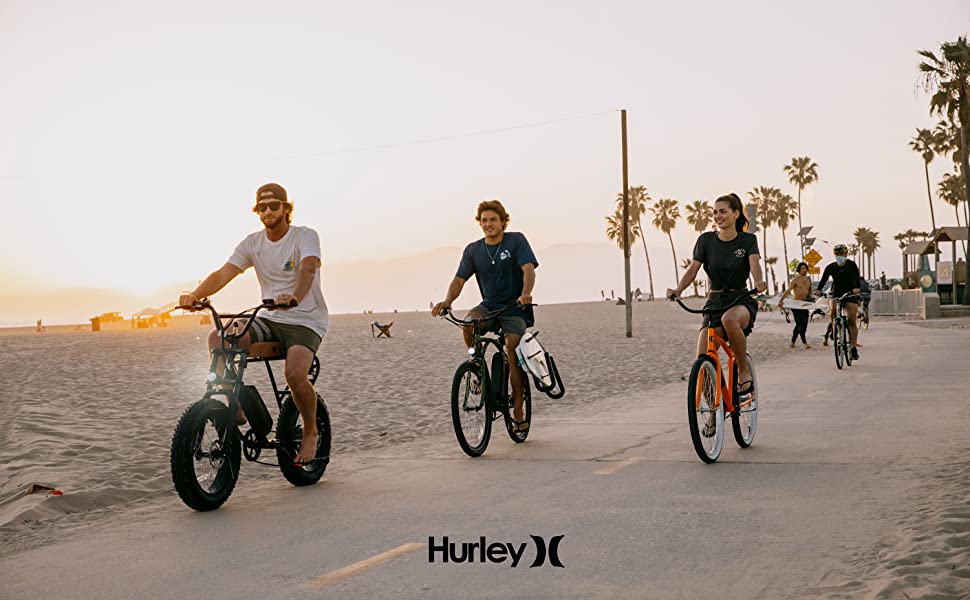 Hurley currently has seven e-bikes on its lineup, including urban, cruiser, and moped-style ebikes. All the bikes are budget/entry-level, with prices ranging from $599 to $1,399.
Each model is Class 2, which means they have throttle and pedal assist, reaching a maximum speed of 20 mph.
Hurley e-bikes are aimed at new e-bike riders who want to enjoy the outdoors without breaking the bank. Five of the seven bikes have single-speed drivetrains, so they are only suitable for riding on flatter terrain.
Hurley Ebike Pros and Cons
---
The Hurley e-bike range is one of the cheapest you'll find. These bikes work best for light-duty use, like recreational weekend cruises to the beach or short weekday commutes.
Given that, limit your expectations and expect trade-offs for the low prices.
Likes

Affordable
Low-maintenance drivetrains on five of seven models
Equipped with lights
Broad selection of models
Straightforward assembly

Dislikes

Rim brakes on five models
Low-end components
Poor customer service
Hurley Electric Bike Lineup
---
Hurley Amped
Motor: 250W rear hub
Battery: 180 Wh, 36V
Range: 20 miles
Speed: Class 2, 20 mph
Weight: 44 lb
The Hurley Amped electric urban bike is a commuter-style model with a low-maintenance single-speed drivetrain and lightweight electronics.
A 250W motor and 180 Wh battery mean this bike is ideal for those who want a slight boost for short trips in the city or along the boardwalk.
At just 44 lb, the Hurley Amped is lighter than most cheap e-bikes. It also has narrow CST City Parkour tires and 700c wheels, which allow you to roll fast, and the steel fork smooths out the ride somewhat.
Finally, basic rim brakes help keep the weight down but mean this Hurley e-bike is best for use in dry weather.
Consider the Amped if you want a lightweight, fast e-bike for a budget price.
---
Hurley Mini Swell
Motor: 500W rear hub
Battery: 480 Wh, 48V
Range: 40 miles
Speed: Class 2, 20 mph
Weight: 66 lb
The Hurley Mini Swell electric bike is a budget moped-style e-bike with a sleek design and more powerful electronics.
The 500W motor and 480 Wh battery are the biggest the brand offers. However, the 66 lb weight and 4″ fat tires mean they are necessary.
Fat tires and fork suspension allow you to ride on light off-road terrain such as gravel, sand, or grass. In addition, they make for comfortable riding on the road with plenty of traction for wet weather.
The Mini Swell is one of two Hurley e-bikes with mechanical disc brakes and a 6-speed drivetrain, meaning you can more easily tackle hills and stop safely in wet weather.
Add the Hurley Mini Swell to your shortlist if you like the moped e-bike look.
---
Hurley Layback
Motor: 350W hub
Battery: 360 Wh, 36V
Range: 30 miles
Speed: Class 2, 20 mph
Weight: 61.8 lb

The Hurley Layback electric bike is the more powerful of the two cruiser-style ebikes on the brand's lineup.
This e-bike has a moderate range and a punchy motor which help overcome the heavy weight of almost 62 lb. Unfortunately, the rim brakes aren't very safe for a heavy bike like this.
Wide 2.1 Kenda balloon tires, cruiser handlebars and geometry, the steel frame, and a large padded saddle provide a comfortable ride quality.
Aside from comfort, this bike looks great and has integrated lights and a kickstand for convenience and safety.
Choose the Layback Hurley e-bike if you want a comfortable beach cruiser at a low price.
---
Hurley Kickflip
Motor: 250W rear hub
Battery: 180 Wh, 36V
Range: 20 miles
Speed: Class 2, 20 mph
Weight: 56.9 lb
Hurley's Kickflip is the lighter-duty of two cruiser-style e-bikes, with smaller electronics and small weight savings.
This Hurley electric bike comes with a similar steel frame, balloon tires, swept-back handlebars, and a large saddle to deliver the relaxed and smooth ride quality associated with these bikes.
With just 20 miles of range, riders must be comfortable adding some of their own power if they want to go on longer rides, which will be strenuous with a heavy bike like this.
However, if you want to tackle short journeys along the beachside bike path, the Kickflip is a solid, affordable choice.
---
Hurley Carve
Motor: 350W rear hub

Battery: 360 Wh, 36V

Range: 30 miles
Speed: Class 2, 20 mph
Weight: 44 lb
The Carve is another straightforward commuter-style Hurley e-bike and one of two with integrated electronics.
This model has a downtube-integrated 360W battery that lasts up to 30 miles. The bike's light weight of 44 lb and narrow road tires make it easier to pedal if you run out of juice.
Again, rim brakes on this model aren't ideal, so it's recommended to exercise care if you get caught riding on wet roads.
The single-speed drivetrain lowers maintenance requirements but makes riding uphill challenging. Other notable features include the LED lights and kickstand.
Choose the Carve Hurley electric bike if you want an affordable and (relatively) lightweight commuter with integrated electronics.
---
Hurley Thruster
Motor: 360W rear hub
Battery: 360 Wh, 36V
Range: 40 miles
Speed: Class 2, 20 mph
Weight: 57.2 lb
Hurley's Thruster is branded as an electric all-road bike with knobbly 2.1″ tires and fork suspension for handling light off-road terrains like gravel and dirt paths.
The Thruster is one of three Hurley electric bikes with suspension, but this adds to the weight. With a single-speed drivetrain, modest motor power, and a 57 lb weight, this bike isn't suitable for going up steep hills.
A 40-mile range allows for adventures farther afield. However, rim brakes mean you're best off leaving these adventures for dry days.
Overall, this is a solid choice if you want light off-road capabilities, but you stick to flatter terrain.
---
Hurley Tailside
Motor: 350W rear hub
Battery: 360 Wh, 36V
Range: 40 miles
Speed: Class 2, 20 mph
Weight: 44 lb
Hurley e-bikes don't get better than the Tailside, the brand's premium model.
This model is the only one with a set of pre-installed fenders in addition to the mechanical disc brakes. These two components make the Tailside ideal for all-weather riding.
Hurley also chose all-terrain CST tires and a 100mm fork to provide mixed-terrain capabilities. The integrated electronics also give it a refined look.
Finally, the Tailside has a 6-speed drivetrain and a 40-mile range, opening up more opportunities for adventures on and off-road.
Don't miss out on this model if you want the best and most versatile Hurley electric bike.
Frequently Asked Questions
---
Where are Hurley bikes manufactured?
Hurley bikes are most likely manufactured in Asia. However, the brand doesn't officially state where they're made. Almost all cheap electric bikes are made in countries like China and Taiwan, and Hurley e-bikes are some of the most affordable on the market.
How fast does a Hurley e-bike go?
A Hurley e-bike goes up to 20 mph using the throttle or pedal assist system (PAS). This max speed means all Hurley electric bikes are considered Class 2 models. Riders can pedal at speeds higher than 20 mph, but the motor will not provide assistance.
Is Hurley a bike brand?
Yes, Hurley is a bike brand. In 2021, the company announced that it would start operating in the bicycle industry with a range of electric and traditional bicycles. Hurley focuses primarily on single-speed models, cruisers, and other urban hybrids in the entry-level segment.
How do you turn on a Hurley e-bike?
Turn on any Hurley e-bike by pressing the button located on the battery and waiting for the light. Then, push the on button on the display located on the handlebars. Once the screen turns on, your e-bike is ready to ride.
Final Thoughts: Should You Buy a Hurley Electric Bike?
The Hurley e-bike lineup is one of the cheapest on the market, with models starting at just $600. At these prices, electric biking is accessible to most riders.
In addition, the brand's range is diverse, with models of different spec levels and styles, so there should be an option for most needs and preferences.
An issue with cheap e-bikes is that they aren't reliable or durable; over time, you're likely to encounter issues with components that may need replacing, and dealing with customer service can be tricky.
If you're content with this and just want a light-duty e-bike for shorter journeys, a Hurley electric bike could be a great option.
Likewise, if you've got a limited budget and want to experience e-biking, these bikes offer a great entry point into the industry.
---
Facts
The Hurley electric bike lineup, targeting casual riders, offers seven affordable entry-level e-bikes, including urban, cruiser, and moped-style models.
These Class 2 e-bikes provide a budget-friendly and accessible introduction to the electric biking experience.
---
How it stacks against others