Electric bikes are a significant investment, and batteries are one of the most expensive components to replace. In addition, they're highly susceptible to performance losses if mishandled.
With that in mind, it's important to understand how to use and handle your e-bike battery. That way, you can extend its lifespan to get more enjoyment out of your e-bike, save money, and get the maximum electric bike range as long as possible.
This article will teach you how to estimate the lifespan of lithium-ion e-bike batteries and explore six best practices for extending battery life.
An additional benefit of reading this article is that you can apply the knowledge to any other device that runs on a lithium-ion battery.
How Long Does an E-Bike Battery Last on Average?
Estimating the average lifespan of an electric bike battery is tricky because the differences in quality, usage, and handling vary so drastically.
Most estimates set the range at two to five years or 10,000 to 30,000 miles, but this information isn't very useful at an individual level.
To calculate how long your battery will last, start with the 'charge cycle' rating. Modern lithium-ion batteries are typically rated for somewhere from 500 to 1000 cycles.
One cycle is a full charge from empty to 100% or twice from 50% to 100%, and so on. However, when your battery reaches its rated number of cycles, it should still have around 70% of its original capacity.
For example, Bosch states that its batteries, rated for 500 cycles, "should have 60 to 70% of the original capacity" after reaching that number.
Achieving the manufacturer's charge cycle rating with the battery in good condition assumes that you follow the charging, use, and storage guidelines.
For example, avoid allowing your battery to drain completely or overcharge, keep it in a cool, dry area, and store it long term with around 30 to 60% charge.
It's worth mentioning that one rider might get as little as one-third of the lifespan from a battery as the next rider when taken in terms of mileage. For example, a light rider that uses 'Eco' mode could get 75 miles range per cycle, whereas a heavy rider that uses 'Turbo' mode may only get 25.
Example Battery Lifespan Calculation
Say your e-bike battery has a 500-cycle rating, and each full cycle returns an average of 50 miles of range for the first 250 cycles and 40 miles for the second 250. The total miles covered after 500 cycles would be 22,500 (500*45).
If your daily riding is 25 miles, you'll do 9,125 each year (25*365). So after 2.46 years and 500 cycles (22,500/9,125), your battery range may drop to 35 or 30 miles per cycle and continue falling steadily until it dies.
However, if you're content with a decreasing range, you could get another two or three years (1,500 total cycles) from the battery before it dies completely.
How Much Does It Cost to Replace an E-Bike Battery?
Electric bike batteries vary hugely in size and quality.
Naturally, larger batteries are more expensive, and those from big-name or premium brands like Bosch, Shimano, and Fazua will fetch higher prices as they are of higher quality and last longer.
Here are some typical replacement prices:
Bosch PowerTube 500 Wh: $797.50
Bosch PowerPack 400 Wh: $629
Shimano BT-E6010 418 Wh: $440
Shimano BT-E8010 504 Wh: $646
Fazua Evation 252 Wh: $493
Ride1UP replacements: $240-$489
Rad Power Bikes replacements: $399-$599
Lectric replacements: $250-$500
Aventon replacements: $500
6 Ways to Prolong the Life of Your Electric Bike Battery
How you use and treat your battery greatly impacts its lifespan. The worst treatment may lead to a lifespan half the length of the best.
If you follow these six best practices, you can extend your e-bike battery life and save money.
1. Avoid Frequently Fully Charging and Discharging Your Battery
E-bike owners can extend the lifespan of their battery by charging more regularly, unplugging before or when it reaches 100%, and not allowing it to drop below 20%.
Ideally, do shorter charge cycles, allowing the battery to discharge by 25 to 75%, which will help your battery last as long as possible, as demonstrated by the following table by Battery University.
Lithium-ion batteries degrade faster if regularly discharged to empty. Likewise, leaving the battery plugged in once it reaches 100% speeds up the degradation process.
2. Don't Leave Your Battery Plugged In and Overcharge It
Let's face it, most of us leave our devices plugged in until they reach 100%. However, we should always plug them out at this point.
Leaving an e-bike battery plugged in will mean it's continuing to go through the charge cycle process and degrade quickly.
Set an alarm or timer to remind you to check on the battery and unplug it once it reaches or comes close to 100%. Also, never leave a battery unattended due to the risk of ebike battery fires.
3. Store Your Battery Partially Charged in a Temperature-Stable Environment
Any time you store your battery for a period of more than one or two weeks, ensure it has roughly half a charge. Each manufacturer has different recommendations, ranging from 30 to 75%.
If you store it when fully discharged or fully charged, it could damage the cells so that they cannot hold a charge when you begin using it again.
If storing it for several months, recharge the battery slightly every couple of months to maintain the charge close to the manufacturer's recommendations.
The following table by Battery University demonstrates the effect of temperature and storage charge percentage on recoverable capacity after one year of storage.
Store your battery in a cool, dry environment, away from direct sunlight or heat sources. Cold storage won't damage your battery, but you shouldn't immediately use or charge a battery that's been stored in a cold environment; wait until it comes up to room temperature.
4. Avoid Extreme Temperatures
Avoid exposing your battery to extremely high temperatures to maximize its lifespan. Using your e-bike or charging the battery in hot temperatures will shorten its life.
Using your e-bike in extremely hot or cold conditions can cut the capacity in half. While operating at 104°F, battery capacity is roughly 60% of the maximum. Similarly, at –4°F, the battery is around 50% of the maximum.
The optimum temperature for capacity is 68°F, but slightly higher for performance at 80°F.
5. Use the Original Charger Only
Only ever use the original charger that came with your electric bike. If this breaks, purchase a replacement from the bike or e-bike system manufacturer.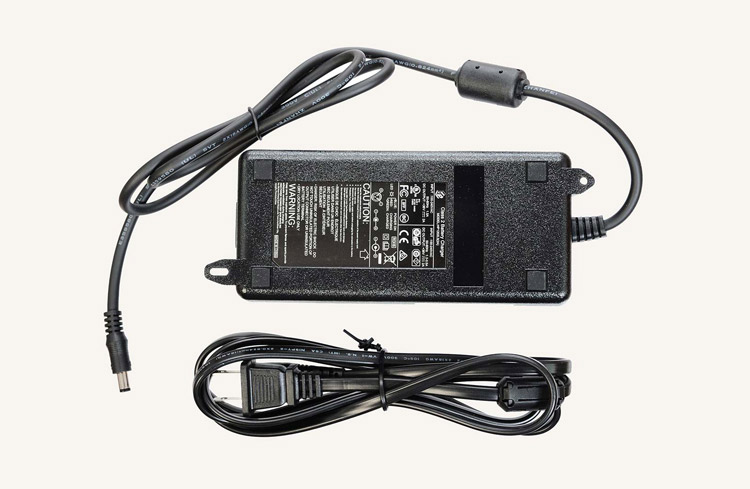 Using the incorrect charger or a cheap replacement can shortcircuit the battery and cause irreparable damage, or worse, it could cause an e-bike battery fire.
6. Keep It Away from Water
As mentioned, storing your e-bike battery in a dry place is essential. Avoid moist or humid environments where water can build up and damage the battery.
Almost all batteries are water resistant so you can ride your e-bike in the rain without issue. However, never submerge the battery in water or wash it with a pressure hose, as this could damage it.
Likewise, when cleaning your bike, remove the battery and wipe it with a damp cloth to remove any dirt buildup.
Final Takeaways: How Long Do E-Bike Batteries Last?
The lifespan of an e-bike battery is tough to estimate as it depends on several factors, such as the quality of design and manufacturing, how the e-bike is used, and how you charge and store it.
Most modern lithium-ion batteries are rated for 500 to 1000 cycles. This means they will have roughly 70% of their original capacity after charging and discharging fully the rated amount of times.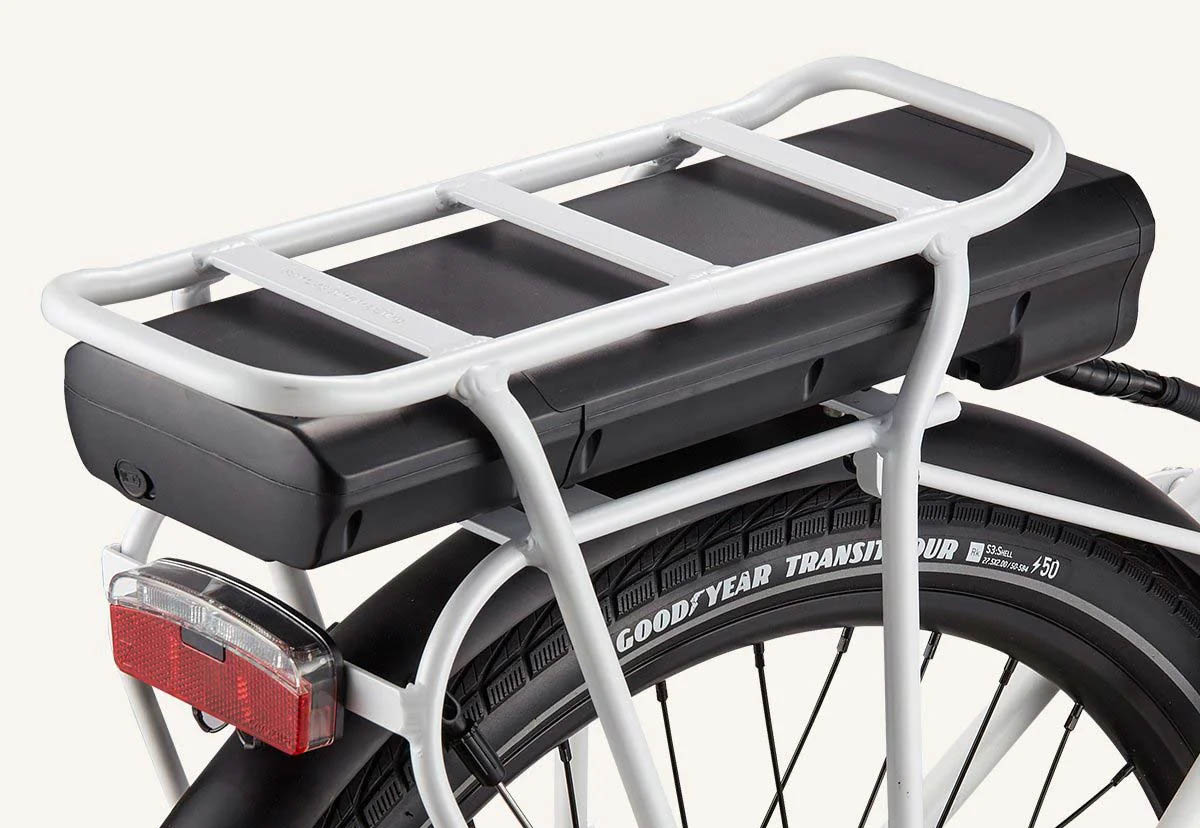 If you handle and charge the battery optimally, you can extend the lifespan considerably, maintaining a higher max capacity for longer. On the other hand, poor handling and charging habits can drastically reduce the max capacity long before the rated number of cycles.
By following the charging, use, and storage guidelines set out by the manufacturer and the six tips outlined in this article, you will significantly prolong the lifespan of your electric bike battery, get more enjoyment from your e-bike, and save money in the long term.