Review of Pedego Trike Electric Tricycle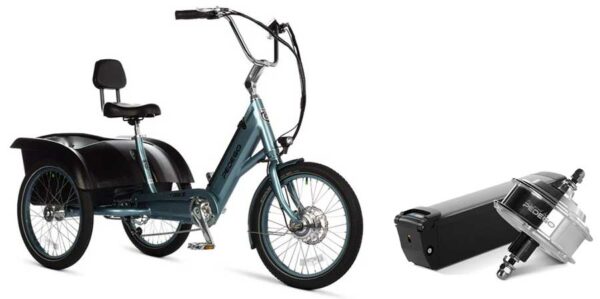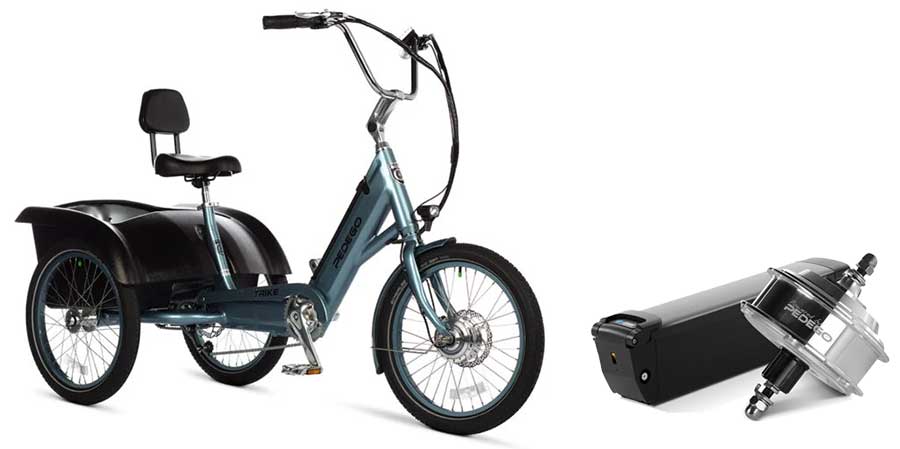 Pedego Trike is a comfortable and stable electric tricycle built to enable more people to get out and ride. Use it as a capable cargo trike or for running everyday errands.
Pedaling outside is not reserved only for fit young people and athletes with powerful legs and perfect balance. With an electric tricycle for adults like Pedego Trike, anyone can enjoy a spin around the town and get a good exercise.
This tricycle puts you in a comfortable upright riding position, and its low-step frame lets you get on and off with ease. Thus, it is very accessible.
Powered by a 250W geared front hub motor with 30Nm of torque.
The 396Wh (36V 11Ah) battery can take you up to 33 miles on 10 cents worth of electricity.
Disc brakes front and back ensure the best possible braking performance.
A 3-speed internal gear hub lets you shift at standstill.
Comes with a spacious storage container that can carry all of your necessities.
Pedego
Trike is a versatile three-wheeled machine that can help elderly people or riders with injuries reclaim their freedom. However, it can also be used by everyone else as a cargo hauler or just to have some fun.
Is it worth the money? Let us find out.
MSRP: $2,995
Class: Class 2
Motor: 250W brushless geared hub, 30Nm
Battery: 396Wh (36V 11Ah) with Panasonic cells
Range: 25 to 30 miles (estimated)
Read more on Pedegoelectricbikes.com
Frameset, Geometry
---
Pedego Trike is built around a low-step aluminum frame with a high tensile steel fork. The frame has a forward pedaling position, which puts the rider closer to the ground while giving them full leg extension. This provides more stability, and it makes it easier to hop on and off the saddle.
The frame is pretty bulky and strong, though the company does not disclose what the maximum carrying capacity is. All we know is that they say 'most' of their bikes have a 250 lb. weight capacity, but that there are examples of heavier people riding without any issues.
The geometry puts the rider in a relaxed upright position, while the wide saddle with a padded backrest provides extra support.
Pedego Trike is heavy, but not extremely so. The total weight of this tricycle is around 80 lbs, with the battery included. That's not bad at all, considering the size. There are even some electric bicycles that weigh the same.
Pedego Trike Motor and Battery
---
Pedego Trike is a Class 2 electric tricycle, which means it offers both pedal-assist and throttle functions.
The company chose to equip it with a 250W geared hub motor, placed inside the front hub. Due to the unique frame design, there was no room for the motor on the rear axle. With 30Nm of torque, this motor performs decently, but there is an occasional wheel spin when you use the throttle too hard. The reason is that most of the weight sits over the two rear wheels.
Pedego Trike's battery capacity is not impressive, but the low maximum speed means that you can still get a manageable range out of it.
Pedego Trike is powered by a 396Wh removable battery that's neatly integrated into the frame. More capacity would certainly be nice, but a 30-mile range you get from it is far from negligible. Depending on how often and how far you ride, you'll probably charge it once or twice a week. The battery comes with a lock and a battery charge indicator, so you can track how much farther you can go.
An important thing to point out is that Trike's maximum speed is limited to 7 mph in throttle mode and 11 mph in pedal-assist mode. Tricycles are very stable when riding in a straight line, but they can flip over when cornering too fast. That's why Pedego limited the top speed for safety reasons.
Components
---
Pedego did a really good job when it comes to the components they chose to include on the Trike model.
Firstly, this tricycle has mechanical disc brakes on both front and rear wheels. That's a big plus as it's not very common; many similar trikes have rim brakes on the front wheel. This setup gives Trike great braking performance, especially when riding downhill with a heavy load.
Both brakes on Pedego Trike can also function as parking brakes, which will help you get on and off the saddle and load and unload the rear bucket.
Next, Pedego Trike drives with a 3-speed internal gear hub that requires no extra maintenance. It shifts smoothly, and the three gears provide enough range to pedal with ease on flats, downhills, and moderate climbs. Best of all, you can shift gears while standing still, so you can start pedaling from a full stop without stomping the pedals.
What's also important to point out is that this trike rolls on 20″ wheels with Schwalbe Big Ben 2.15″ tires. They feature puncture protection and a slime inner tube sealant, so you don't have to worry about flats.
Spacious Storage Container
---
Pedego Trike includes a massive, custom-built storage container mounted atop the rear wheels that can carry all of your necessities. It's made of lightweight, but durable plastic, textured with an "orange peel" tread that masks any scratches.
The dimensions of the container are 20" W x 13" L; Overall Width: 30". Pedego also included drainage holes on the bottom, so you can easily wash it and keep it clean.
The container is pretty large, so you can easily fit all of your weekly groceries inside or a large backpack with all of your necessities.
The good news is that the basket has a regular shape, so most of the space can be used. The bad news is that the container's shell protrudes too far, so you can scrape your heels on it, especially if you have large feet. If this happens, I recommend just cutting off the part that protrudes since it's there just for style, not for function.
Pedego Trike Assembly
---
Depending on where you buy it, you may receive your Pedego Trike fully or partially assembled. If you buy from one of Pedego's local dealers, they will assemble the trike for you, adjust and tune all the components, and make it ready and safe to ride.
However, if you buy Pedego Trike on the company's official website, you'll receive it in a box, partially assembled. But don't worry, you'll receive all the tools necessary for assembly and detailed instructions on how to do the last few steps.
Pedego Trike is easy to assemble. It takes about 30 minutes or less, with just a few tools that come in the box, with the trike.
All you need to do is attach the stem to the frame using the 6mm Allen key and align the handlebar. Next, attach the pedals using the 15mm wrench, making sure to pay attention to the left and right size denomination. Finally, insert the battery in place, and lock it with the provided key.
After you check that everything else is in place and tightened up, you can take your Pedego Trike for its first real ride!
People Also Asked For:
---
Do you have some burning questions? You're likely to find the answers below.
Is Pedego Trike safer than a bicycle?
Thanks to its three-wheel design, Pedego Trike feels very stable to ride. It's easier to maintain balance and get on and off a Pedego Trike than a bicycle. However, keep in mind that tricycles are not very stable when cornering; if you go too fast, you might tip over.
How fast can Pedego Trike go?
Pedego Trike has a 7 mph maximum throttle speed and an 11 mph maximum pedal-assist speed. This is lower compared to most electric bicycles, but Pedego lowered the maximum speed to make Trike safer in corners.
Is Pedego Trike worth the money?
Yes, Pedego Trike is worth the money. It provides really good value for your investment with excellent components and a practical design. Pedego Trike features a high-quality motor and battery, as well as reliable mechanical components.
Why are Pedego bikes so expensive?
Pedego bikes are more expensive than similar bikes made by competition because they come with a 5-year warranty and a lifetime warranty on the frames. Pedego also offers seamless customer support through their massive dealership network in the US. Their bikes also have great components, made by reputable cycling brands such as Shimano.
Is it hard to ride a 3 wheel bike?
It is very easy to ride a 3-wheel bike. It is much easier to get on and off compared to a traditional bicycle. You also do not need to worry about keeping balance, as tricycles support themselves. Therefore, riding a trike is easier than riding a bike, overall.
Pedego Trike Size Recommendations
---
Pedego Trike comes with a one-size-fits-all frame. This is a low-step frame with a pedal forward position, so short riders should be able to ride with ease. You can raise the saddle quite a bit, so riders taller than 6 feet can pedal comfortably as well. You can also raise the handlebar using the adjustable stem.
Unfortunately, Pedego does not provide any type of size chart for the Trike model, so we can't recommend it to you based on your height. It's advisable to visit a local Pedego dealer and try the Trike if possible, to see whether or not it fits you.
Alternately, you can take a look at the geometry chart below to get a feel for the dimensions of this trike.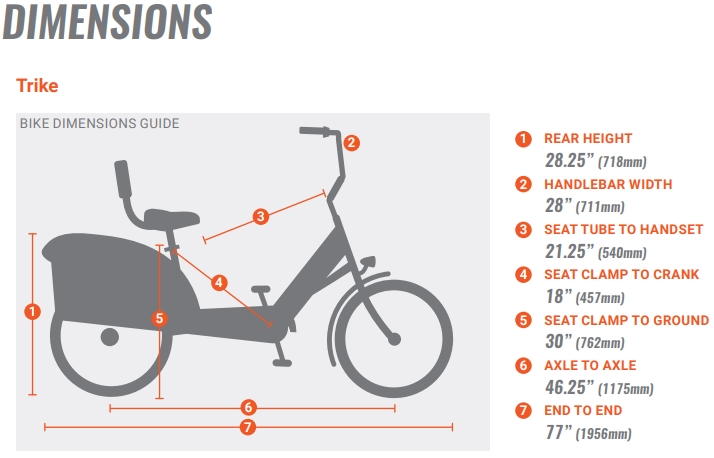 Accessories
---
The accessories you get with Pedego Trike are definite standouts. This tricycle features a front fender and a cargo bucket that doubles as a rear fender. Therefore, you will be completely protected from water, mud, or grit when it starts raining.
Trike also comes with bright front and rear battery-powered lights that will illuminate your way and make you more visible at night. The headlight is adjustable, so you can raise or lower the beam, improving visibility.
A few other handy accessories include a chainguard, a comfy saddle with a backrest, and adjustable stem, and the storage container that we've already talked about above.
Therefore, as you can see, Pedego Trike comes with all the necessary accessories to enjoy riding it in the city or around the block.
Other Models:
Bottom Line: Ride or Pass?
---
With a $2,995 price tag, Pedego Trike is far from being a budget-friendly buy. Still, once you look at what this electric tricycle offers, you realize you're not paying through the nose. You're getting your money's worth back.
Pedego Trike provides maximum stability and comfort, which makes all the difference. If you're not riding, getting the exercise, and spending time outside because you don't feel confident on a traditional bicycle, you will love the freedom that Trike comes with.
Though there is some room for improvement, this trike has great components, an accessible design, good accessories, and a nice paint job.
We recommend it to elderly people, those looking to lose weight, riders with injuries or disabilities, or anyone else who fancies a relaxed three-wheeled ride!
---