Addmotor Electric Bikes Review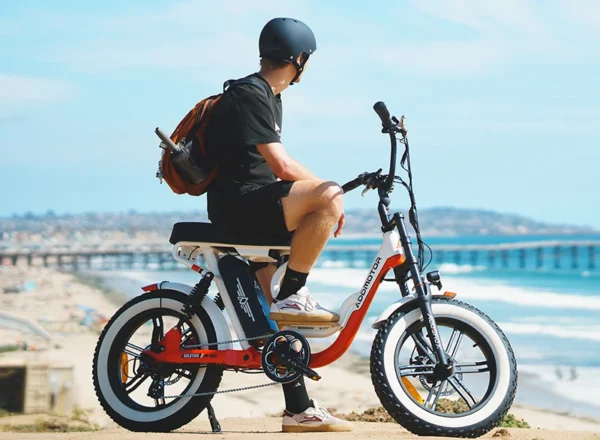 Addmotor is among the industry's most prolific electric bike brands, with 29 models across multiple categories, including e-trikes, off-road, folding, moped, and city e-bikes.
The company has models spanning a wide price range, broader than most direct-to-consumer brands, and its products range from $1,399 (CityPro E-43) to $3,899 (GrandTan Turbo). Addmotor competes with companies like Rad Power Bikes, Aventon, Lectric, Ride1UP, Himiway, and Velowave.
An unusual feature of the Addmotor e-bike range is that many models are similar. Most brands offer models in different builds instead of adding a separate bike. Nonetheless, there are still plenty of unique options for you to consider.
In this article, we will review the brand and explore the different categories of electric tricycles and bicycles they offer. Then, we'll finish with frequently asked questions and our verdict on Addmotor.
About Addmotor Electric Bikes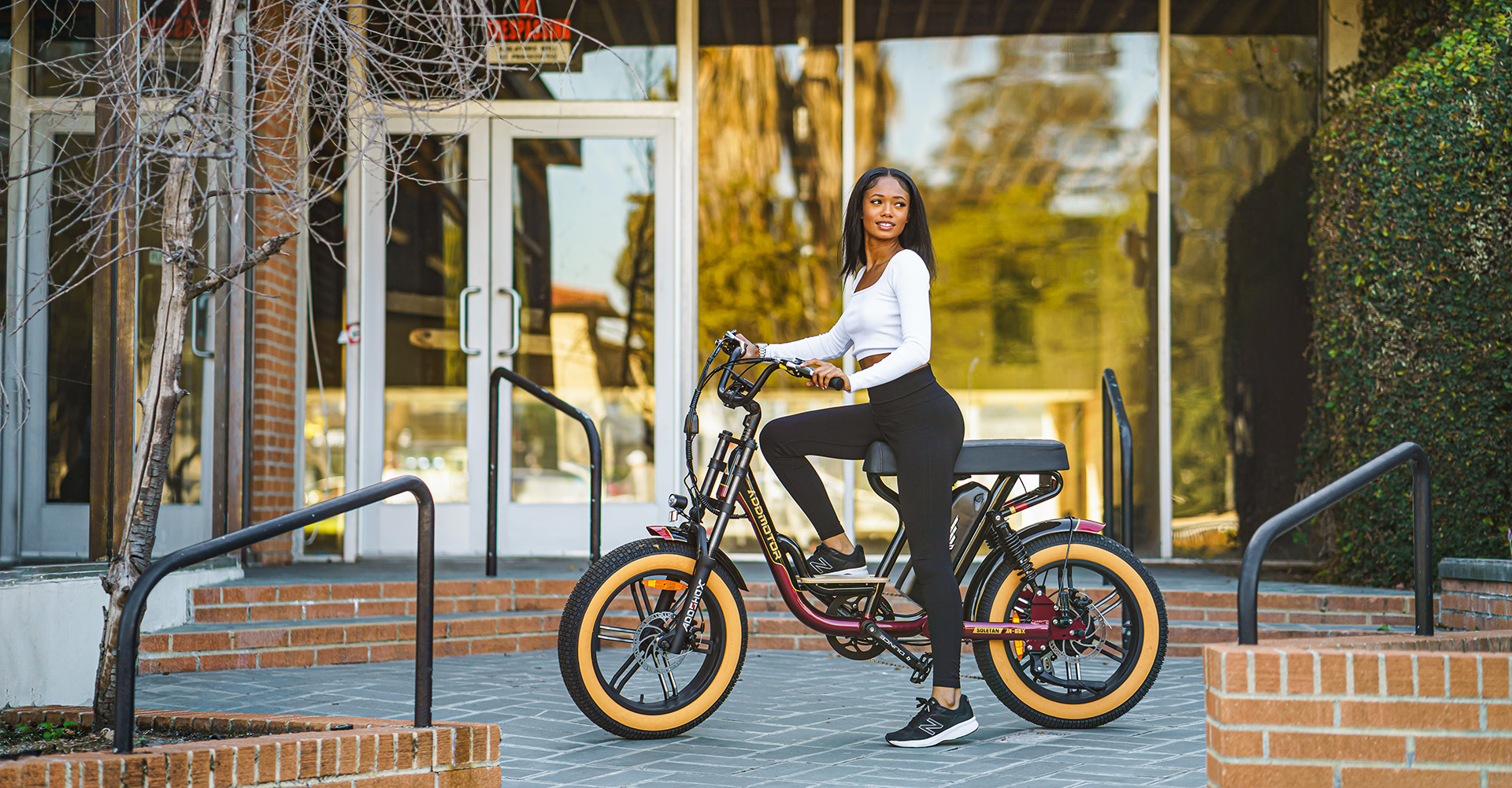 Addmotor's journey in the e-bike industry started in 2011 in El Monte, California. The company primarily offers entry-level products at affordable prices thanks to its close manufacturing connections in China.
A direct-to-consumer business model and basic customer service and warranty coverage also allow them to offer lower prices. Although based in the US, Addmotor doesn't deliver to Hawaii or Alaska but does deliver to Canada.
In its 12 years of operation, the brand has failed to take a significant portion of the US-based e-bike market, falling shy of the abovementioned competitors. This is likely due to problems with customer service and slips in quality control. However, most owners seem pleased with the performance, with a few exceptions.
Addmotor distinguishes itself with its massive range of options across multiple categories, including the largest range of electric tricycles on the market.
Addmotor Electric Bikes Pros and Cons
Given the diversity of the Addmotor e-bike lineup, it's hard to pinpoint pros and cons that generalize across the entire 29 models. Nonetheless, here are some of the things we like and dislike:
Likes

Wide range of 29 e-bikes and
e-trikes in multiple categories.
Large 17.5Ah or 20Ah batteries
that provide lots of range.
Powerful motors from 500W
to 1250W.
High load capacities of up to 350lb.
Lots of accessory options for customization.
Widest range of e-tricycles on the market.

Dislikes

Poor customer service and warranties.
Questionable quality control on some models.
Addmotor bikes are quite heavy.
Addmotor Electric Bike Lineup Overview
As of September 2023, the Addmotor lineup consists of 29 electric bikes and trikes. We've divided them into five main categories to make it easier to find the one you need. These include City/Cargo, Off-Road, Moped, Folding, and e-Tricycle. Some bikes straddle two categories, such as the M-366X folding e-trike.
Firstly, we'll look at the biggest category: electric tricycles.
Addmotor Trikes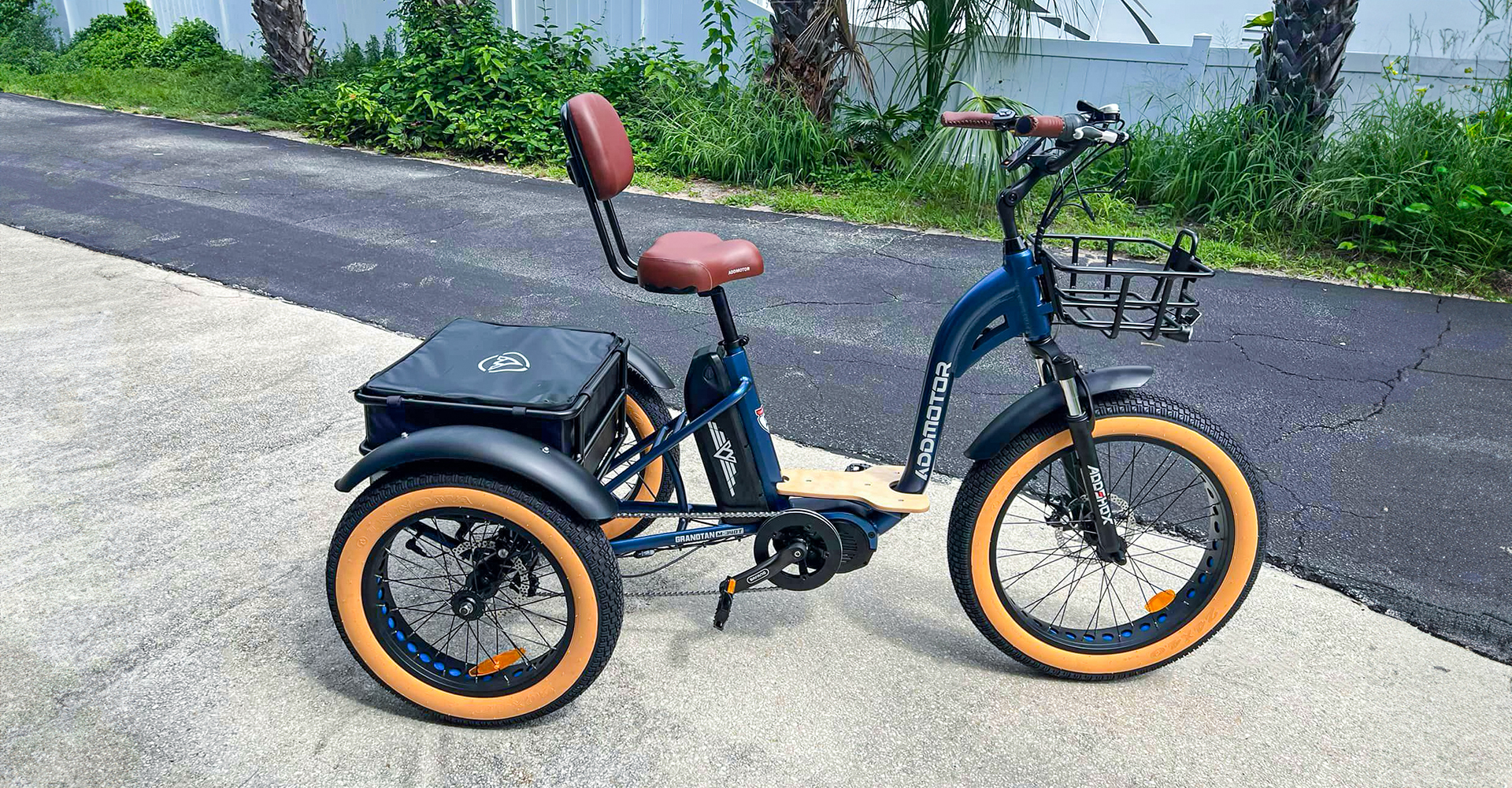 Electric tricycles
are a niche product aimed at those who want the benefits of an e-bike with the
extra stability, comfort, and carrying capacity
afforded by the third wheel.
Addmotor trikes share valuable design features like ergonomic seats with backrests and fork suspension for comfort and parking brakes for safety. Likewise, most of the models come equipped with cargo-carrying accessories and fat tires.
Among the 14 builds are nine front-drive motors, four rear-drive, and one mid-drive. In addition, there are step-over, step-through, mid-step, and recumbent frames. You can choose from four folding e-trikes, nine fat-tire builds, and nine equipped with front and rear storage capacity.
As you can see, there is something for almost every electric tricycle buyer, and some might say there's too much choice. The Addmotor trikes range from $1,999 to $3,899 and compete with models like the XP Trike ($1,499) and RadTrike ($2,499).
CITYTRI E-310; E-310 Mini; E-310 Plus,
GRANDTAN; City; Turbo; Plus
HEROTRI M-365X
TRIKETAN M-330; M-330 Mini; M-330F; M350
M-360 Recumbent
SOLETRI M-366X
---
Folding Electric Bikes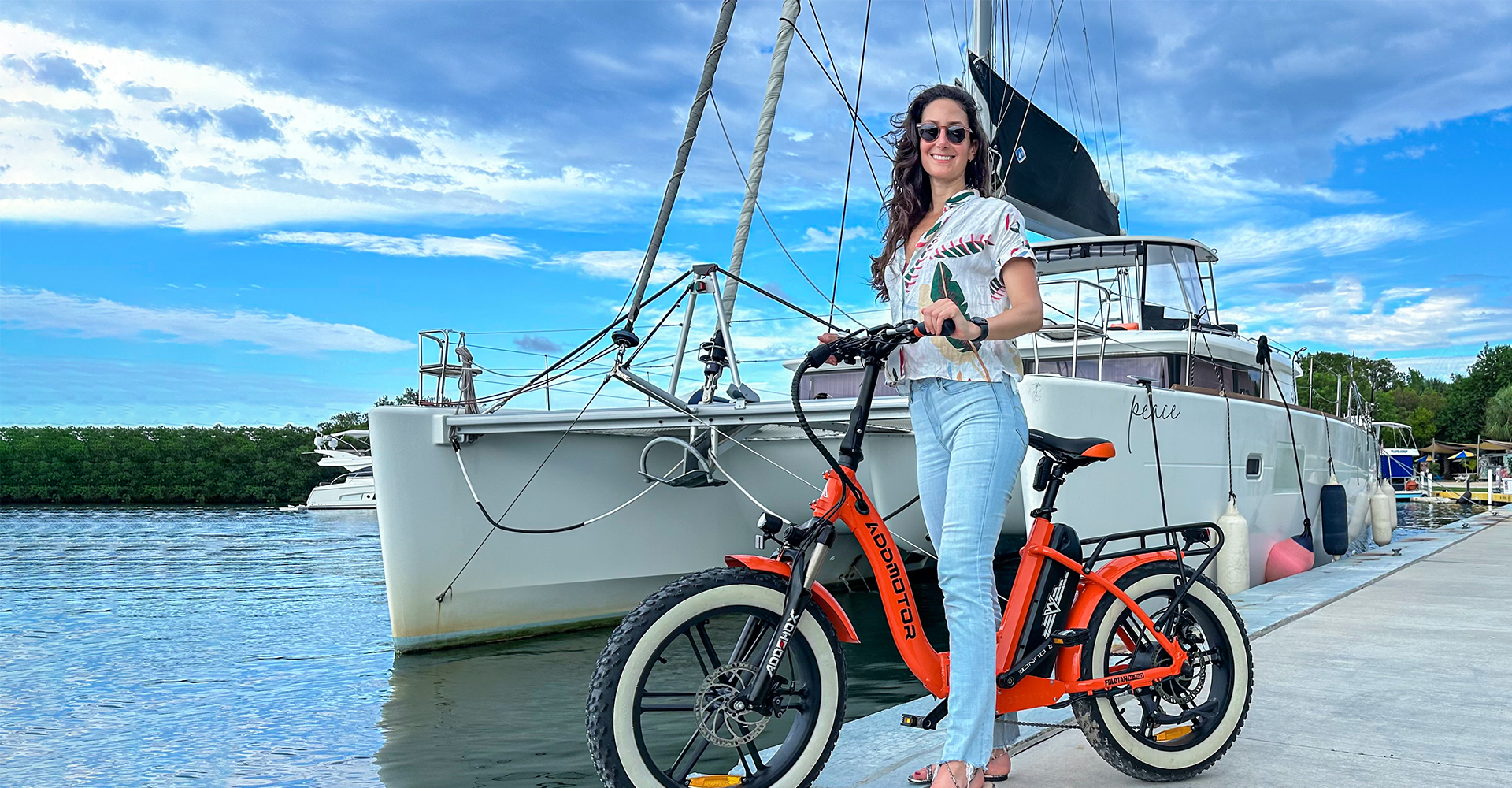 There are a total of seven folding models, four of which are Addmotor electric trikes (included above). Folding e-bikes like these allow you to save space at home or fit the bike in your trunk for easier transportation.
Each of the three remaining folding e-bikes falls between $1,699 (M-140) and $1,899 (M-160) and is fully equipped for urban riding and commuting with racks, fenders, and lights. In addition, they come with fat tires.
Related: Best Folding Electric Bikes of 2023
These are heavy-duty bikes capable of riding off-road with 750W motors, fork suspension, and large batteries. However, these components mean Addmotor's folding ebikes are heavy, weighing around 70 lb. In addition, the durability of the folding mechanism is questionable.
This design and high weight mean they're unsuitable for multimodal commuting but good options for taking on road trips in an RV or camper. Likewise, they allow you to save space at home.
Addmotor's folding bikes compete with models like the Aventon Sinch.2, Rad Power Bikes RadExpand 5, and Velowave Prado S2. Given the prices are similar, we think the competing brands appeal more thanks to their slightly better reputations.
MOTAN M-140 P7
FOLDTAN M-140
FOLDTAN M-160
---
Moped Addmotor Electric Bikes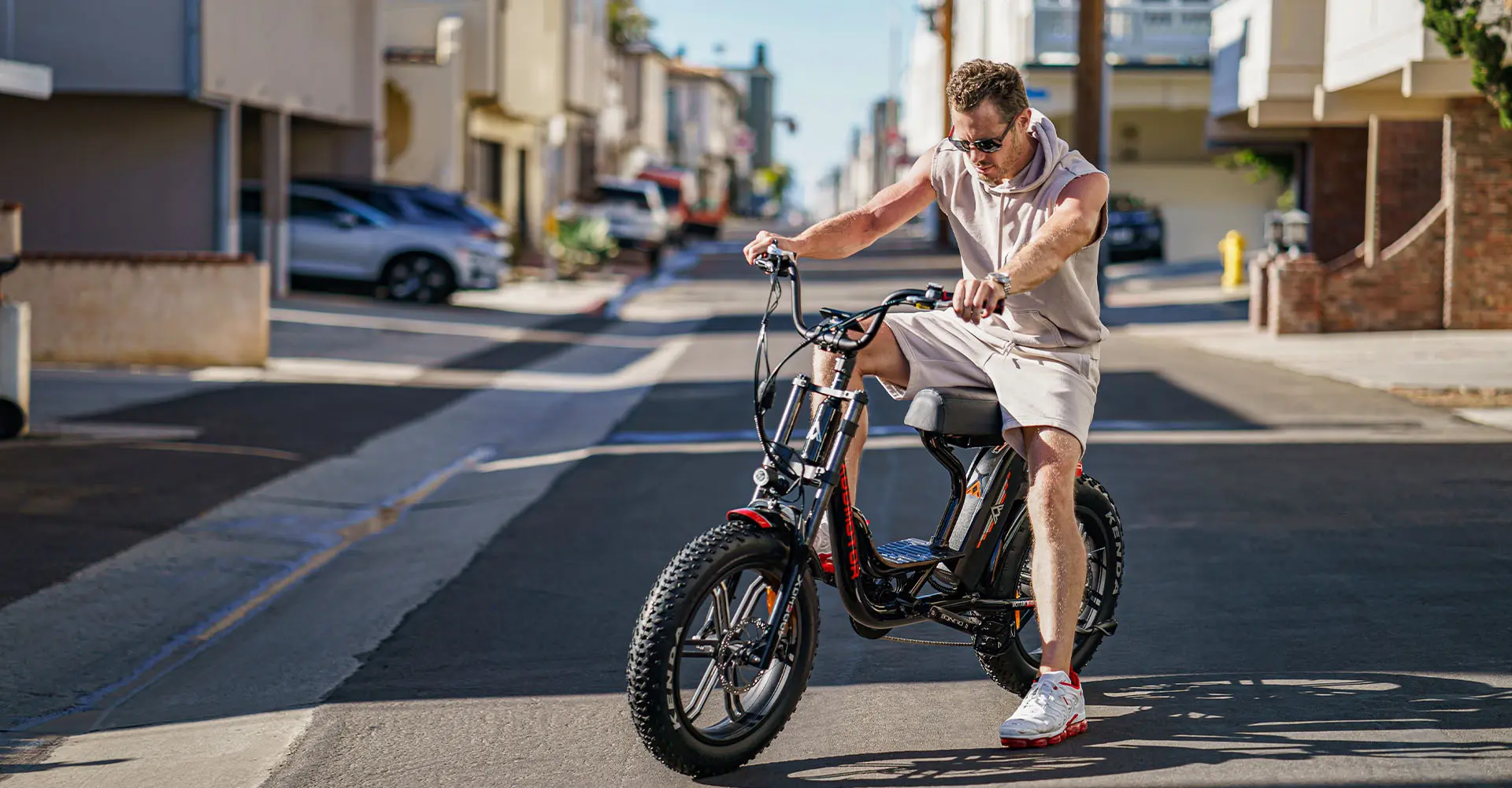 The motorcycle and moped-style e-bike category is another niche that has grown in recent years. The moped e-bike design is comfortable, and the powerful electronics make for exciting rides.
These machines are designed to replicate the look and ride quality of mopeds. To do so, they have upright geometry, wide tires, and a long, padded saddle. They also push the boundaries of what road-legal e-bikes can do. This requires a powerful 750W motor that quickly accelerates to 28 mph. Unfortunately, the bikes are very heavy, usually weighing well over 70 lb.
Addmotor's four options range from $1,799 to $2,399, which lines up with models like Juiced Bikes' Hyperscorpion, Ride1UP's Revv 1, and Himiway's Escape Pro.
The SOLETAN and HEROTAN are full suspension, and the other two are hardtails. All four come with huge 20 Ah batteries to ensure plenty of riding range and multiple color options (which the other brands don't offer).
Consider one of the following four moped models if you want a high-range and customizable Addmotor bike.
CHOPPTAN M-70
HEROTAN M-65X
M-66 R7
SOLETAN M-66X
---
City and Cargo Electric Bikes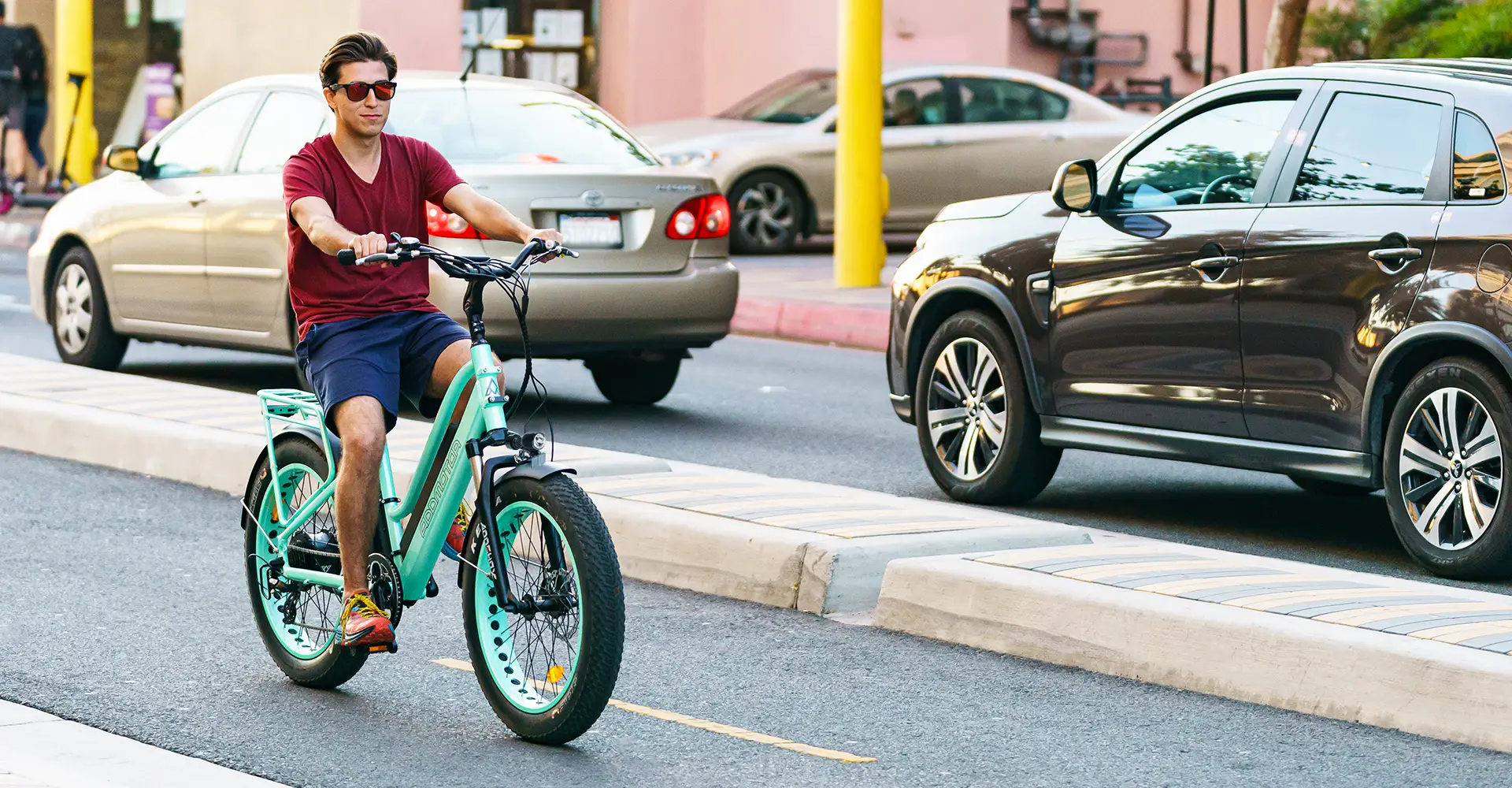 Another of Addmotor's main categories is City/Cargo, consisting of four models ranging from $1,399 to $1,799. These are ideal for urban dwellers who need a bike for transportation and running errands.
The two CITYPRO models are classic affordable city e-bikes, both priced at $1,399. These are fully equipped for commuting with racks, fenders, and lights. They have relatively narrow tires, fork suspension, and smaller 500W motors paired with massive 20Ah batteries.
The MOTAN M-430 is another city e-bike, except with cruiser geometry, swept-back handlebars, and fat tires for added comfort. This model also has a more powerful 750W motor and is very similar to the RadCity 5 Plus, just with wider tires.
Lastly, there is the GAROOTAN M-81 cargo e-bike. This is a relatively light-duty cargo option, given its payload capacity of just 350 lb. However, the fat tires provide comfort that isn't typical of this category.
Again, Addmotor's range is focused on comfort and utility at an affordable price point, but they face stiff competition from the leading brands in the direct-to-consumer e-bike space.
GAROOTAN M-81
CITYPRO E-53
CITYPRO E-43
MOTAN M-430
Shop AddMotor City/Cargo E-Bikes
---
Off-Road Addmotor Electric Bikes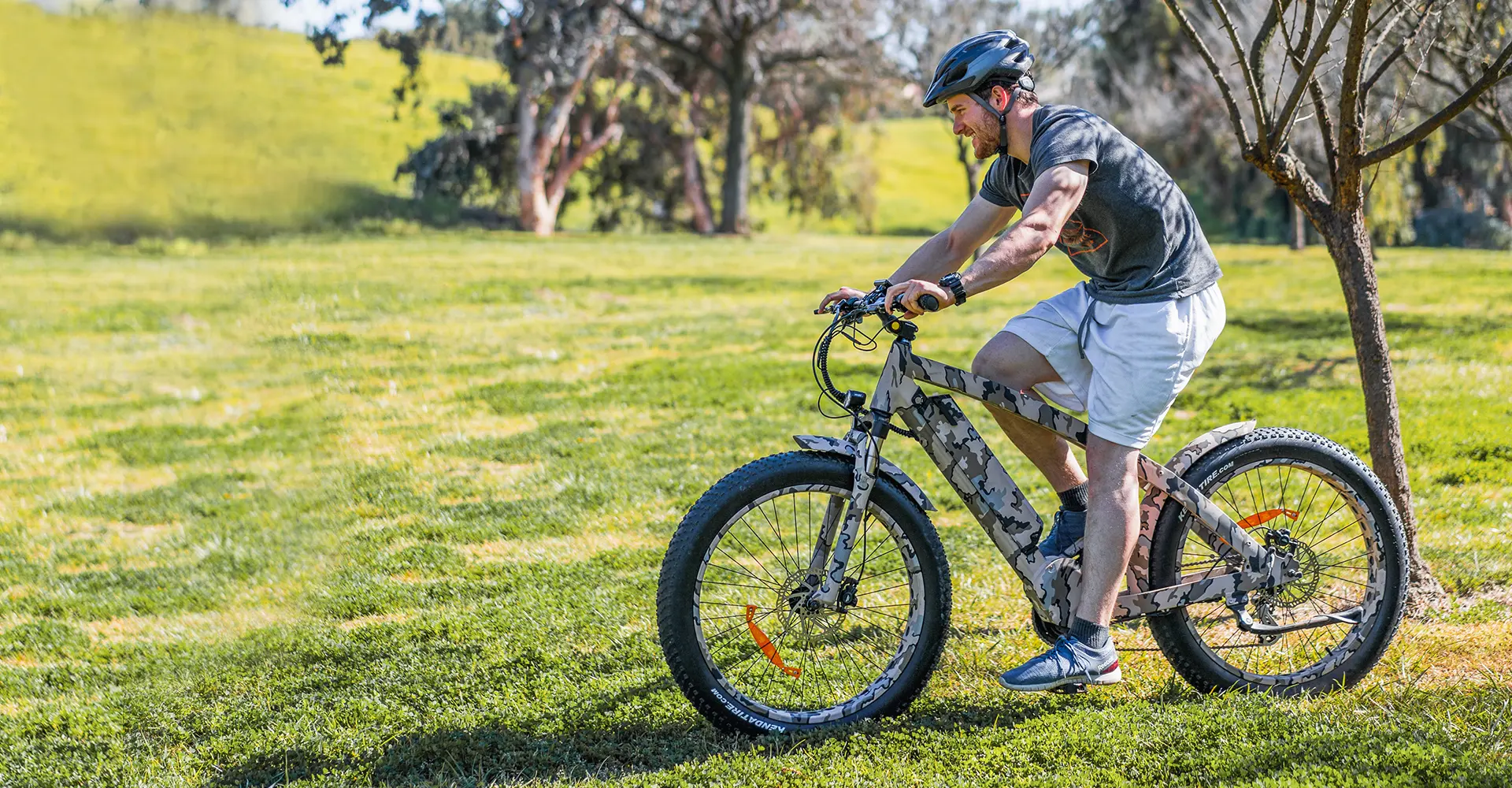 The final group of Addmotor electric bikes is the off-road category. Again, this consists of four models, each with slightly different attributes.
The unique one of the bunch is the new HITHOT H3 full-suspension e-bike. This is the only one of the four without a rack, fenders, and lights. It also comes with a Bafang 500W mid-drive motor and integrated battery pack for just $2,899.
The other three are fully equipped all-terrain machines with fat tires, high payload capacities, and tons of riding range for long backcountry adventures.
The WILDTAN has a 1000W mid-drive motor, which means it competes with powerful hunting e-bikes like those from Rambo or QuietKat, just at a much lower price. Likewise, the M-550 has an incredible 1250W motor, which means it exceeds Class 3 restrictions and is limited to use on private land.
If you're looking for a rugged off-roader, Addmotor's selection of all-terrain e-bikes offers something for most riders. However, you should look elsewhere if you want a proper mountain bike.
M-550 P7
WILDTAN M-5600
MOTAN M-5500
HITHOT H3
Shop AddMotor Off-Road E-Bikes
---
FAQs
1. How fast does an Addmotor bike go?
An Addmotor bike can go as fast as 30mph. The individual models vary in power output, meaning top speed also fluctuates. However, most are programmed to max out to 28mph Class 3 restrictions. The MOTAN M-5500 and WILDTAN M-5600 are the only models that exceed the Class 3 750W limit.
2. Where is Addmotor made?
Addmotor bikes are made and assembled in China. Although the brand's headquarters is based in California, USA, it's manufacturing isn't. This is standard for entry-level electric bike companies like Addmotor and allows them to offer low prices. Unfortunately, this can also mean poor quality control.
3. How long has Addmotor been in business?
Addmotor has been in business for 12 years (since 2011), according to the company website. In that time, they have built one of the largest catalogs of electric bikes on the market. Although one of the longest-operating e-bike companies in the US, Addmotor remains a small player in terms of popularity.
Final Thoughts: Should You Buy an Addmotor E-Bike?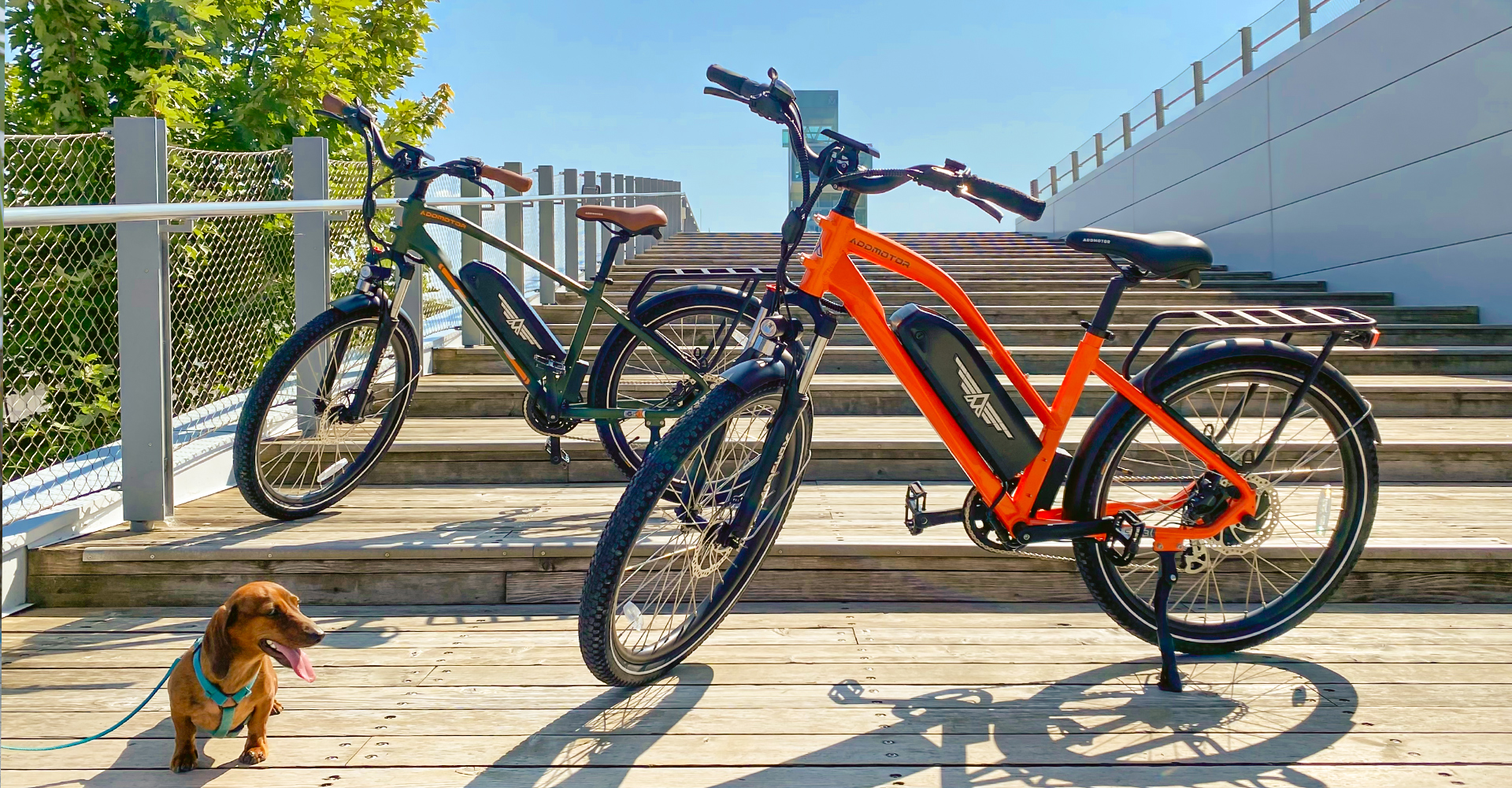 Addmotor electric bikes won't win any prizes for their revolutionary designs or industry-leading performance, but they're well-priced and versatile, and the extensive lineup has something for most riders looking for an entry-level e-bike or e-trike.
Addmotor e-bikes typically have huge motors and batteries and high max speeds, so if you like to a laid-back and relaxed ride closer to a moped than a traditional bicycle, an Addmotor product might be a good choice.
Our main reservations relate to the company's poor customer support and the lack of quality control evident with some Addmotor bikes. In certain cases, the folding frames have snapped down the middle, a dangerous weak point that could end badly. We hope that they have addressed this issue going forward.
Overall, it's worth considering this brand if you're on a budget. With a range of 29 models, you're almost guaranteed to find an Addmotor electric bike that suits your needs.
---
How it stacks against others