Biria E-Bikes Brand Overview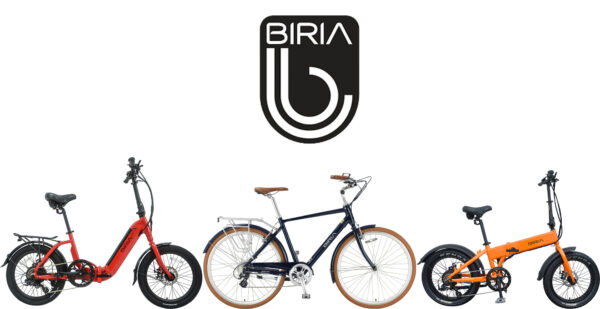 Biria Bikes has a long history of success in bicycle production. From Europe to North America, this company continues to provide its customers with innovative and comfortable bicycles.
The company traces its roots to Germany back in 1982. A businessman named Mehdi Biria took over two bicycle-making companies in the towns of Sangerhausen and Neukirch. Mr. Biria, who invented the first anti-locking brake system for bicycles, also wanted his innovative mindset to be a part of Biria Bikes culture. In the following years, Biria Bikes grew in size and influence until it became one of the three largest bicycle producers in Europe.
In 2002, Biria Bikes arrived in the United States to introduce European-inspired craftsmanship and flair to American urban cyclists. The company is known to create elegant yet practical bicycles geared toward casual cyclists. Biria Bikes' innovative practices enabled them to manufacture all kinds of bicycles. From cargo bikes to city bikes, the company has done it all.
Biria also keeps up with the rising trend of electric bicycles around the world. More people are turning to e-bikes to commute, and Biria Bikes aims to produce quality e-bikes that meet their needs.
Overview of Biria Electric Bikes
---
Biria e-bikes are famous for their functionality and style. Their elegantly designed frames remind cyclists that commuting can be an enjoyable experience instead of a dull routine.
These e-models are categorized as Class 2 electric bikes, which means they deliver a top speed of 20 mph on pedal assist mode. Throttle on demand is also available, which is an appealing feature for casual riders.
Biria e-bikes are powered by a rear-mounted motor that runs efficiently and makes little noise. The high-capacity battery can deliver 30 to 55 miles of assisted travel, which is good enough for your daily errands.
There are four Biria e-bike models available before 2020. A new folding e-bike will make its way to the collection in May 2021. Each one is designed to provide high functionality and style for budget-conscious commuters.
What We Like and Dislike About Biria E-Bikes
---
Biria e-bikes run remarkably well on city roads, thanks to their functional design and top-notch components. Even so, it is still important to point out both their pros and cons.
Likes:
Biria e-bikes are easy to mount. Low-step and step-through frames are available, making them popular for cyclists of all ages, heights, and skill levels.
Lightweight frames. The Biria e-bikes are mostly made from aluminum alloy. They weigh between 42 to 50 pounds overall, making them some of the lightest Class 2 e-bikes available in the market.
Biria e-bikes have long-lasting batteries courtesy of LG or Panasonic. These can deliver up to 30 miles of pedal assist on favorable terrain. The batteries are secured on the frame but can be removed easily if you want to charge them indoors.
Efficient motor power. Biria e-bikes use different types of motors, but all of them deliver the same robust performance of up to 20 mph. You can choose between 250 to 500 Watt motors depending on the e-bike model.
Biria Bikes is known to produce affordable city e-bikes. The prices range from $1,695 to $2,250. That is a worthwhile investment considering the mileage and the quality of their components.
Points to Consider:
Biria e-bikes do not have headlights or brake lights.
The e-bike balance might seem a bit off when you mount them for the first time because both the battery and motor are mounted at the rear.
The Electric Easy Boarding and the Electric Hybrid Diamond Frame use V-brakes, which require more effort to use effectively than modern disk brakes.
Popular Biria E-Bike Models
---
There are five Biria e-bikes currently available, with prices ranging from $1,695 to $2,250. They were built specifically for traveling on city roads, but two hybrid electric bikes are available for those who love to take the occasional off-road adventure.
Here is a quick overview of the five Biria city e-bikes:
Electric Easy Boarding – MSRP: $2,250 – This is Biria's best-selling e-bike since 2012. The low-step frame makes it popular among commuters. It weighs only 50 pounds and uses a 350 W motor for efficient torque generation over flat roads and small hills. You can choose between a 15.5-inch or 18-inch frame for this e-bike.
Electric Hybrid Step-Through – MSRP: $1,995 – This hybrid e-bike is true to its name. The battery is well-protected inside the down tube of the frame. It uses the same 350 W battery as the Electric Easy Boarding but weighs less at only 42 pounds. The shock-absorbing saddle gives you a comfortable riding experience on both paved and unpaved roads.
Electric Hybrid Diamond Frame – MSRP: $1,995 – This e-bike weighs 42 pounds just like the Hybrid Step-Through. However, it has a higher frame and uses a 250 W motor instead. This hybrid e-bike is more suitable for taller and more experienced cyclists.
Electric Folding – S2 – MSRP: $1,695 – Biria's popular folding e-bike weighs only 55 pounds including the battery. This model is popular among commuters who want a portable e-bike that can fit in compact spaces. The S2 is recommended for people with a height range of five feet to six feet.
Electric Step-Through Folding – MSRP: $1,695 – This is the newest addition to the Biria e-bike family. It has a much lower frame than the S2 and comes with a rear rack. This folding e-bike is best for riders between five feet to six feet tall.
Biria E-Bike Motor, Battery, and Components
---
The Hybrid Diamond Frame is the only Biria e-bike that is equipped with a 250 W motor. Both the Easy Boarding and the Hybrid Step-Through use a 350 W motor. The two Biria folding e-bikes are powered by highly efficient 500 W motors. The 7-speed or 8-speed Shimano drivetrains of Biria e-bikes offer plenty of gearing preferences to customers.
All Biria e-bikes use 36 V Lithium-ion batteries that can give you 30 to 50 miles of pedal assistance. Charging time ranges between two to six hours depending on the e-bike model.
An LCD screen mounted between the handlebars is used to adjust the pedal assistance level on this city e-bike. The backlight lets you see the screen more easily at dawn or dusk, but night travel is not encouraged due to the lack of a headlamp or brake light.
Biria Bikes is known to use aluminum alloy frames and steel forks. Their e-bikes are also equipped with double-walled rims and adjustable stems. Aside from the S2, all other Biria e-bikes come with rear cargo racks for extra utility. Every model also includes a kickstand, a chain guard, and a pair of fenders. For an e-bike that costs less than $3,000, it sure has a lot of useful components.
Biria E-Bike Performance
---
Biria e-bikes fall under Class 2, meaning they have a top assisted speed of 20 mph. A good city e-bike does not need to run fast as long as it can run reliably. Biria Bikes knew this all too well, which is why they designed their e-bikes to have superb mileage and long-lasting performance.
Customers that tried out any of the Biria e-bikes praised the quiet motor, as well as the excellent handling over flat roads and small hills. Some of them had to adjust their balance due to the rear-mounted motor and battery, but they were able to get the hang of it in no time. The pedal assist function is easy to operate regardless of your age or cycling skill.
The low-step frames left a positive impression for new and seasoned cyclists alike. Everyone was able to mount and dismount the e-bikes with little effort. Customers felt comfortable steering the e-bike thanks to the raised handlebars. The V-brakes were not as smooth as the Tektro mechanical brakes, but they still did the job adequately.
Biria E-Bike Customer Service
---
There are no video tutorials available on the Biria Bikes website, so you have to look for third-party sources or customer reviews if you want guidance on installation, maintenance, and repair.
You can also send a message to their customer service team who are always ready to assist. Response time is quick despite the absence of a live chat feature on their website.
Biria Bikes offers a two-year comprehensive warranty for their products, but you have to register your e-bike to read the full coverage.
In case you change your mind about your city e-bike, the company has a 30-day return policy for new and unused products. Customers who want to return their order are subjected to a 15 percent restocking fee, and they must also pay the shipping fee.
You Might Also Ask
---
The most common questions about Biria e-bikes are answered below.
Where are Biria e-bikes made?
Biria e-bikes in the United States are designed and built at their head office in Rutherford, New Jersey. The electrical components are outsourced from partner factories in Asia.
Can I buy Biria e-bikes directly from their website?
Yes, Biria e-bikes are sold directly from their website. For international orders, you can check the list of authorized dealers.
Does Biria sell components for their e-bikes?
Yes, Biria Bikes sells component upgrades and accessories on their website. These include bags, baskets, bells, rear racks, and electric bike parts ranging from the standard battery charger, spare battery, fenders, pedals and more.
What types of e-bikes does Biria make?
Biria Bikes makes Class 2 e-bikes best suited for urban settings. The Hybrid Diamond and Hybrid Step-Through frames can also run off-road but are not as effective compared to true mountain bikes.
How fast do Biria e-bikes go?
Biria e-bikes can accelerate up to 20 mph. They can reach 30 to 55 miles on a fully charged battery.
Bottom Point — Who Are Biria E-Bikes For?
---
Biria e-bikes are unique compared to other American brands because of their distinct, European-inspired design. They may not be chock-full of high-end components, but Biria has always been about practicality. The features on their city e-bikes are the ones you need to have a safe and enjoyable ride.
Cyclists on a tight budget appreciate Biria e-bikes for their affordability and simplicity. They are also highly customizable with lots of frame colors available.
If you're in the market for a stylish yet versatile city e-bike to ride around the neighborhood, then Biria Bikes may just be the brand you are looking for.
---
How it stacks against others