Engwe E-Bikes Review — A Close Look at the Affordable E-Bike Brand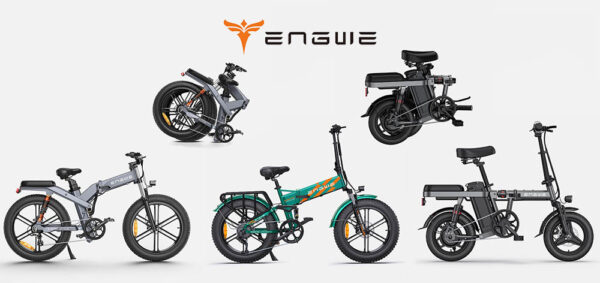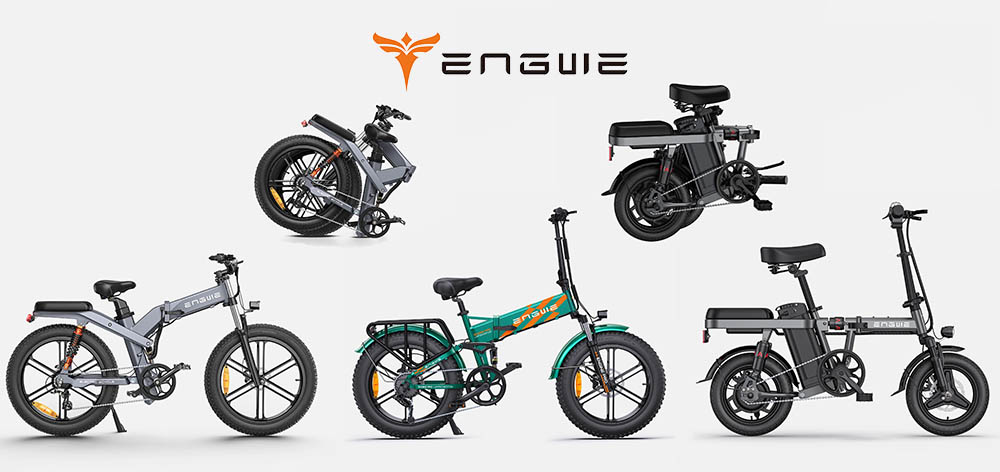 Engwe Bikes is a well-established electric mobility brand that has sold over half a million e-bikes in 30 countries. They specialize in producing affordable folding electric bikes, such as their flagship model, the Engwe EP 2 Pro 750W.
Engwe eBikes are ideal for relaxed urban riding as each one has wide tires, suspension, upright geometry, and comfortable touchpoints.
Their frames are well-built and sturdy, but the folding mechanism, comfort-focused design, and entry-level components result in heavy base weights between 55 and 112 lbs.
This Engwe bikes review will discuss the brand, its policies, and the current lineup so you can decide if one of their e-bikes is right for you.
Quick facts about Engwe bikes:
Engwe was founded in 2014 and, as of 2023, serves over 30 markets internationally.
It's a direct-to-consumer brand producing entry-level folding electric bikes.
The company is based out of Shenzhen, China, and has warehouses in the US and EU.
The current North American lineup consists of five e-bikes priced between $630 and $2,700.
Engwe frequently runs discounts on one or more of its e-bikes.
What We Like and Dislike About Engwe Bikes
As is the case with most entry-level popular e-bike brands, Engwe bikes aren't perfect. That said, their products are cheap and have plenty of features that urban riders value.
The folding e-bike market is competitive, but Engwe bikes easily compete with folding options like Lectric's XP 3.0, Rad Power Bikes' RadExpand 5, and Aventon's Sinch.2.
Likes

Affordable pricing, thanks to the
direct-to-consumer business model.
Free and fast shipping in the lower 48 states.
A varied selection of e-bikes with different characteristics.
Compatible with various accessories and commuter components.
Responsive customer service team.

Dislikes

Engwe eBikes are heavier than the competition.
Cheap suspension parts add complexity and weight to the bikes with little benefit.
Difficult assembly.
Minimal warranty of just one year.
Slightly exaggerated marketing claims.
Engwe Model Range Review
As of early 2023, the Engwe electric bike lineup consists of five models, the most recent of which is the X26. All of the models have similarities, but there are enough differences to appeal to different needs.
Among the range, you'll find a full-suspension model, a single-speed mini e-bike, two fully-equipped commuters, and a lightweight mixed-terrain build.
Engwe EP-2 Pro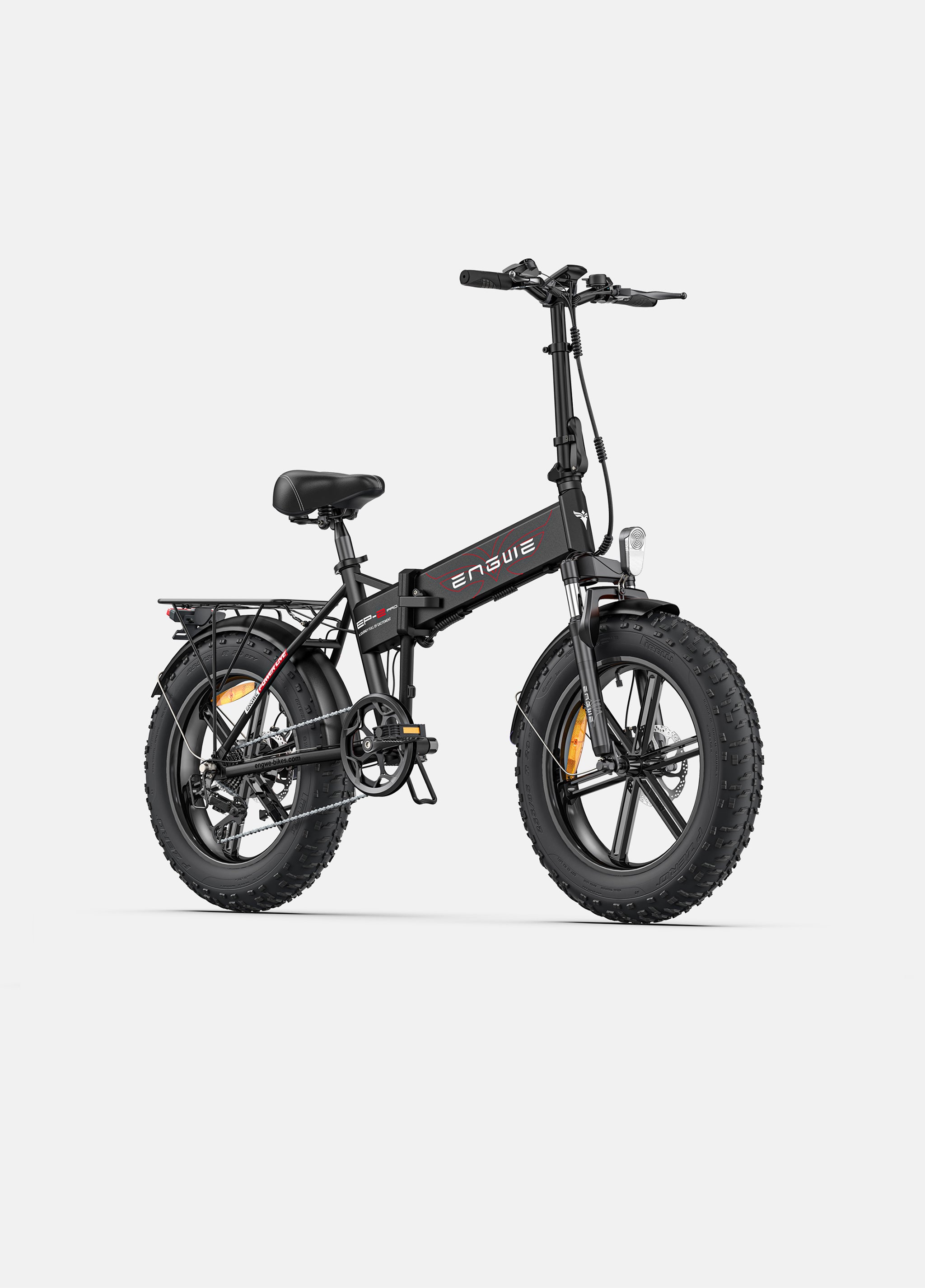 MRSP: $1,050
Fully-equipped setup
50-mile max range
4″ fat tires
The Engwe EP 2 Pro is the brand's flagship electric bike, balancing affordability and versatility.
This model is perfect for urban dwellers and mixed-terrain commuters. The 4″ Chaoyang fat tires mean you can ride in comfort and safety on any surface, and the rear rack, durable metal fenders, bell, and LED lights are ideal for commuting in the city.
Like all Engwe bikes, the EP-2 Pro can fold into a neat package, but the high weight of 74 lbs makes lifting and carrying difficult. Nonetheless, it is still a valuable feature for storing the bike in a smaller space at home.
The electronics include a 750W hub motor with 55Nm of torque and a 624Wh battery with a 50-mile max range. Although this motor has a peak power of 960W, the controller is limited to 500W.
Finally, the Engwe EP 2 Pro 750W has an impressive 330-lb payload capacity and fits riders from 5'2″ to 6'8″. Choose this model if you want a cheap Engwe eBike that can do it all.
Buy Engwe EP-2 Pro     Full Engwe EP-2 Pro Review
---
Engwe Engine Pro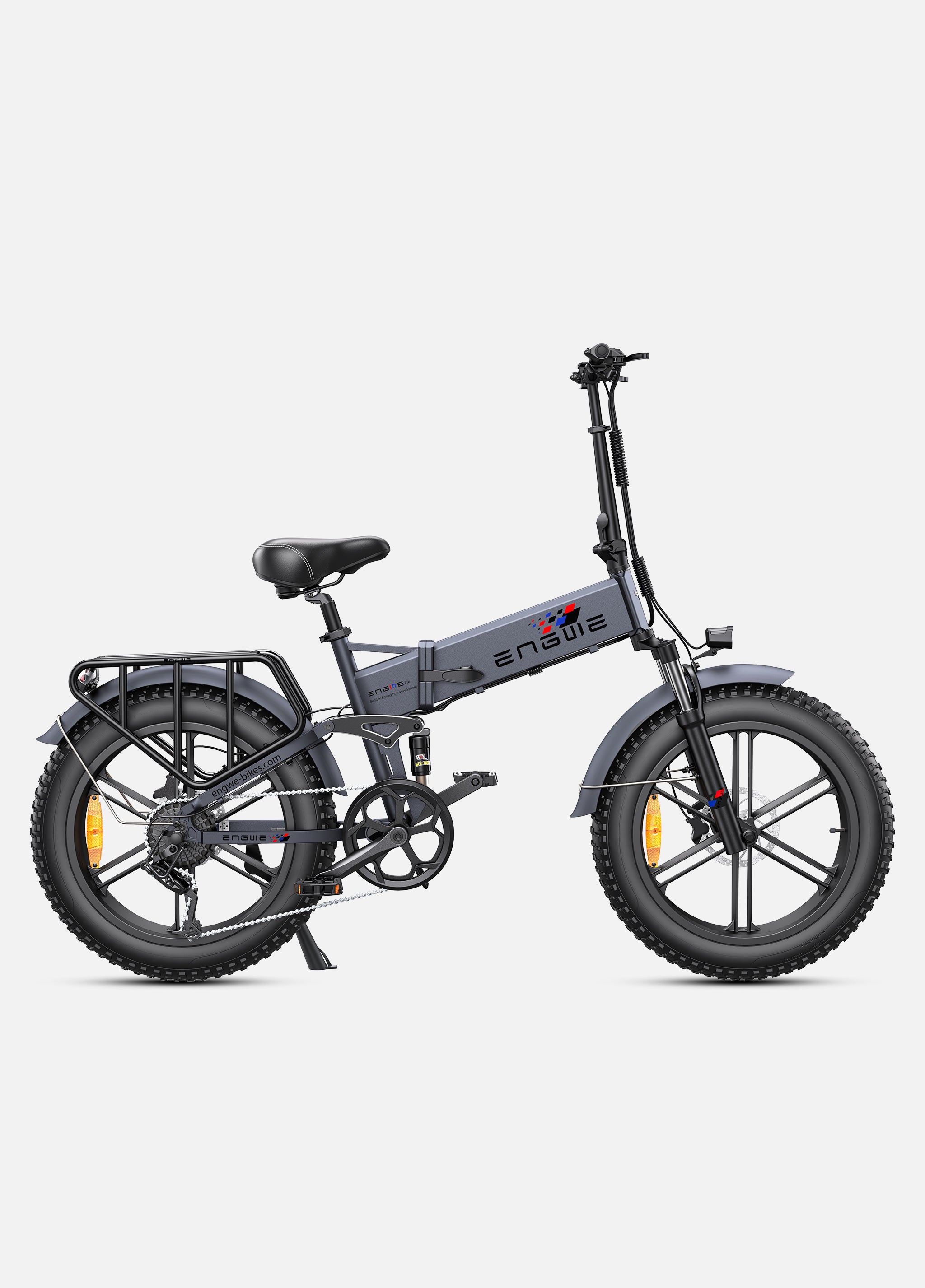 MRSP: $1,450
Hydraulic disc brakes
Integrated rear rack
Full-suspension design
The Engwe Engine Pro 750W is the higher-end, more capable sibling of the EP-2 Pro. This model has a similar design, only with upgrades in several key areas.
Firstly, you get an improved 8-speed drivetrain and hydraulic disc brakes, giving you more range for riding on hills and more reliable stopping power.
The Engine Pro also has a full-suspension setup instead of a coil fork alone. The front hydraulic fork and rear shock combine with the high-volume fat tires to absorb any bumps and vibrations.
Engwe markets the Engine Pro as an electric mountain bike, but we disagree. We'd define it as an off-roader, but we wouldn't take it on proper mountain trails as the geometry isn't appropriate.
For power, the Engine Pro has a 750W motor and a 768Wh battery that can output 1000W peak power and last up to 60 miles on a single charge. In addition, you get an improved color display on this Engwe eBike.
All things considered, for just $400 extra, the Engine Pro is a solid upgrade on the EP-2 Pro if your budget allows it. That said, the lack of branded components leaves us doubtful of its longevity.
Buy Engwe Engine Pro    Full Engwe Engine Pro Review
---
Engwe M20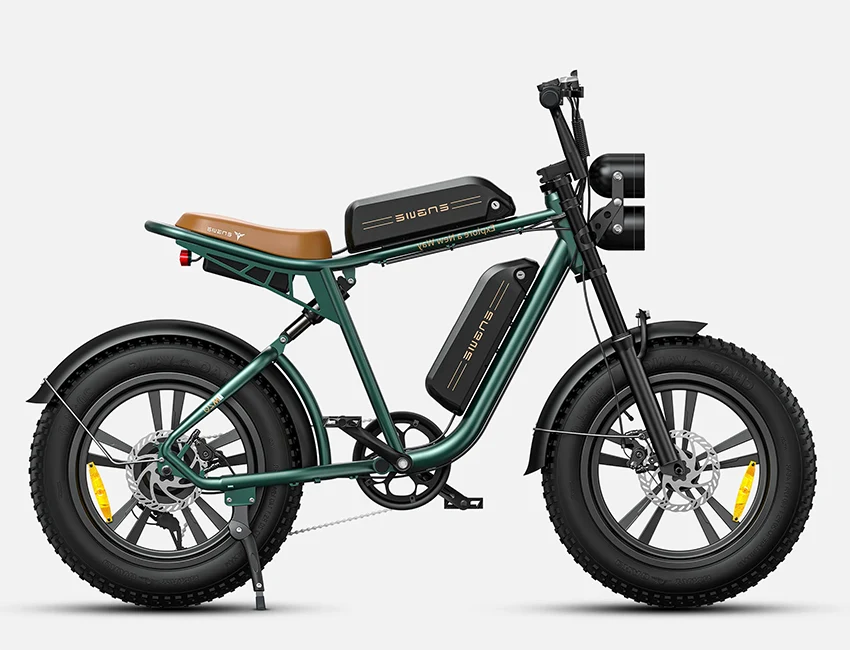 MSRP: $1,600
Dual battery capacity
Dual suspension
28 mph top speed
The Engwe M20 is a potent moped-style electric bike that combines style, power, and capable 4-inch fat tires.
It's powered by a 750W rear hub motor, a dual battery setup with a 48V 26.4 Ah total capacity (second battery bought separately), and front and rear suspension for ample comfort and off-road capabilities.
Due to its moped-style geometry, the M20 does not feel great to pedal for prolonged times, but luckily it comes with a throttle, so you don't need to pedal that much. The PAS system will assist you up to 28 mph, whereas the throttle will assist you up to 20 mph.
The Engwe M20 is one of the cheapest moped ebikes on the market, it's decently equipped, but quite heavy at around 90 lb with both batteries.
Still, if you are on a tight budget but you want a fast electric bike with a distinct moped design, the M20 will put a smile on your face.
Buy Engwe M20    Full Engwe M20 Review
---
Engwe X26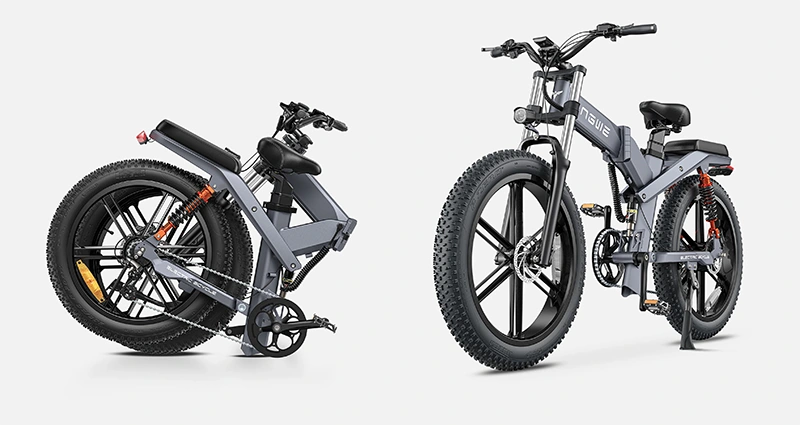 MRSP: $2,700
Dual battery storage
Shimano drivetrain
31mph top speed
Engwe's X26 is a unique electric bike. It's the most expensive and advanced model on the brand's lineup and comes with a triple suspension design, something new to the industry.
Firstly, you get a 48V e-bike system with a 750W, 60Nm motor and two batteries totaling 1373Wh of juice. Unfortunately, you must manually switch between the batteries by moving the cable. This high-power system is necessary for an inefficient 112-lb fat tire e-bike with three suspension shocks.
Other notable components include the rear passenger seat for maximizing the 330-lb capacity, hydraulic disc brakes, Shimano 8-speed gearing, and durable one-piece mag wheels wrapped in 4″ fat tires.
There's no doubt that the Engwe X26 is a capable off-roader, but, like the Engine Pro, we wouldn't go charging down any steep, technical descents, as the high weight and upright geometry won't be stable enough.
Add the X26 to your shortlist if you want a folding bike with raw power, tons of range, and off-road capabilities.
Buy Engwe X26    Full Engwe X26 Review
---
Engwe T14
MRSP: $630
Cheapest Engwe e-bike
Compact folding electric bike for easy storage in small apartments
Low-maintenance drivetrain
The T14 mini is one of the cheapest e-bikes on the market and an excellent choice for those who need a light-duty urban bike for short commutes and running errands.
At just $630, don't expect much performance or comfort from the T14, but you can be confident it will get you from A to B without breaking a sweat. A punchy 350W hub motor and 480WH battery will give you an average of around 15 to 20 miles of range.
The groupset consists of mechanical disc brakes and a single-speed drivetrain. This drivetrain keeps maintenance needs down but limits your ability to pedal on hills.
Of course, as an urban e-bike, the T14 has a set of fenders and lights, but you'll need to add a rear rack if you want to take along cargo.
Choose the T14 mini electric bike if you have a tight budget and need a compact companion for navigating the city.
---
Engwe C20 Pro
MRSP: $900
Lightest Engwe eBike
Puncture-resistant 3″ tires
25 to 30-mile average range
The Engwe C20 Pro is one of the best sub-$1,000 electric bikes we've seen, designed with all-terrain capabilities and a straightforward frame setup.
This electric bike has entry-level components, including a Shimano Tourney 7-speed drivetrain and off-brand mechanical disc brakes. That said, the solid frame construction and seamless integration are unusual at this price.
Power comes from a 500W hub motor and 480Wh battery pack. You can expect up to 45 miles of range in ideal conditions and plenty of kick to get you up steep gradients.
Unfortunately, this model isn't compatible with a rack and fenders, so commuters might want to choose a different Engwe eBike.
Don't miss out on the Engwe C20 Pro if you have a limited budget and want a lightweight and sleek mixed-terrain e-bike.
What Features Make Engwe Bikes Stand Out?
Even though Engwe bikes are not perfect and have a few pitfalls due to their low prices, there are still a lot of things that make them stand out from the competition.
Here are some of the top aspects of the brand that we like and think provide good value for the money:
Low prices
Wide, knobbly tires provide all-terrain capabilities.
Foldable frames with solid locking mechanisms for tidier at-home storage.
High load capacities for heavier riders and carrying cargo.
High-quality displays on all models (except Mini).
Fast electric bikes with plenty of power for the average urban rider
Customer Service and User Reviews
The Engwe customer service gets mixed reviews online, with some customers receiving prompt and satisfactory assistance and others waiting several weeks to receive replacement parts.
You can contact the Engwe customer service team by email ([email protected]), by filling out a form on the website, or by using the chat, which you can access by clicking on the chat bubble on the bottom right side of the web page.
The majority of Engwe e-bike reviews are positive. Of course, given the budget prices, expectations shouldn't be too high, but users frequently comment on the solid feel of the bike and the tidy integration of electronics and cabling.
Owners are also generally impressed with the electronics, which are more powerful than you'd expect and provide more than enough range for the average journey.
The main issue owners report is the high weight. Despite being foldable, these bikes are hard to lift and don't fit into the trunks of smaller cars. In addition, advertisements of the Engwe Engine Pro 750W as a mountain bike are slightly misleading to new e-bike riders, as it won't perform like a real eMTB.
Finally, it's worth noting that Engwe electric bike assembly is highly involved, and they don't offer good follow-along videos like other brands.
Shipping and Assembly
Engwe offers free shipping to customers in the US and $300 for customers in Canada. The local carriers used are UPS and FedEx.
They estimate seven to ten business days for delivery on all bicycle orders, and the warehouse takes two to three business days to process the order and provide tracking information.
As mentioned, assembling Engwe eBikes is tricky if you're not an experienced home mechanic. The bikes come mostly unassembled and untuned. Unfortunately, the brand only has an assembly video for the EP-2 Pro, which is poor quality and hard to follow. They also provide written instructions.
We recommend taking your new Engwe bike to a trusted e-bike mechanic for assembly and tuning if you're not confident in doing it yourself.
Final Takeaways: Should You Get an Engwe E-Bike?
We feel Engwe bikes are very competitive. They're cleverly designed, solidly constructed, and user-friendly. They also have the capability to ride on mixed terrains, support high payloads, and fold down for neater storage or transportation, all of which are desirable features. Engwe also uses decent electronics for the price range, providing more than enough power and range for the average user.
It's important to remember that Engwe bikes are all entry-level, so your expectations should reflect that. Expect basic components and minimal extra features, and be aware there is a reasonable likelihood of experiencing an issue early into owning one.
We think it's worthwhile considering an Engwe electric bike if you have a tight budget, need a wide-tire folding bike, and are not worried about the extra weight. Whatever you decide, we hope this Engwe eBike review has helped you make up your mind.
---
How it stacks against others