Overview of Marin E-Bikes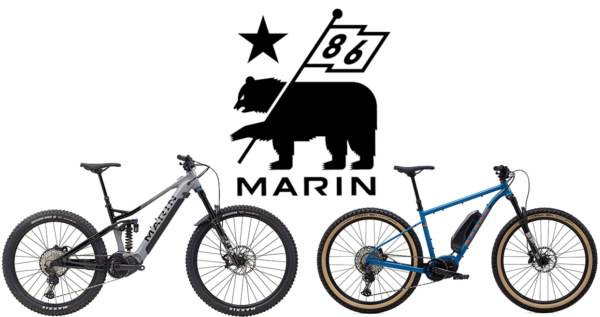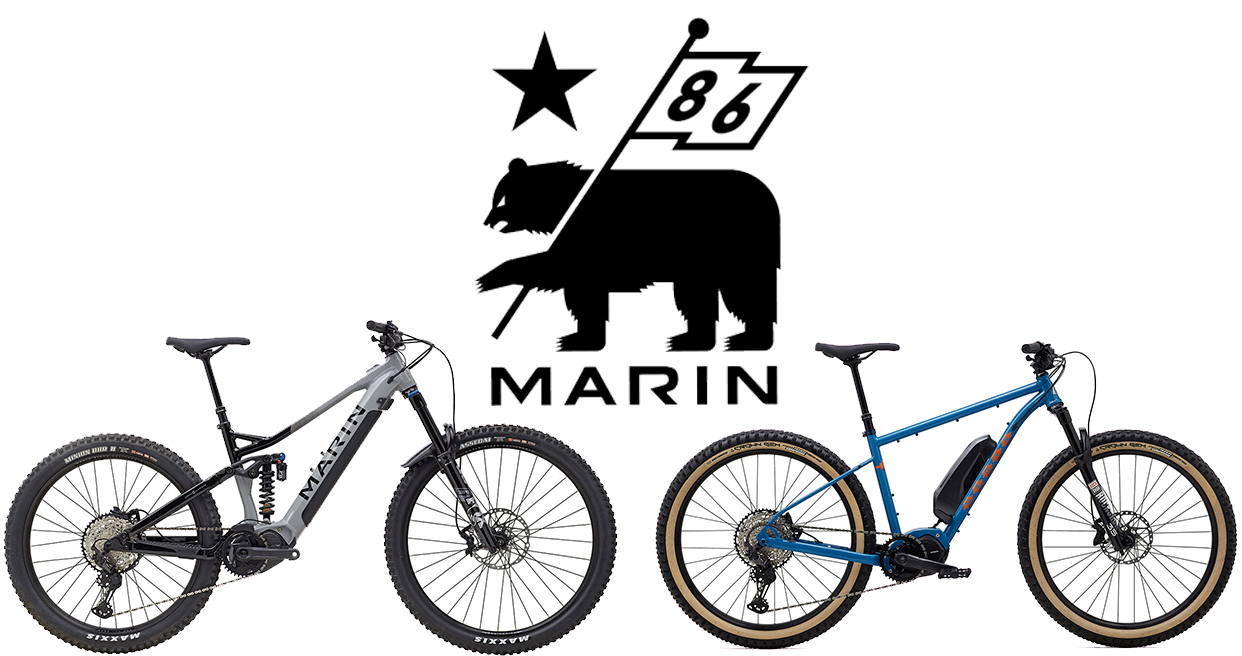 Marin Bikes has always focused on making mountain bikes that maximize the cyclists' riding experience. This is a company that is all about keeping cyclists around the world happy with high-quality mountain bikes. Hence their motto, "Made For Fun".
The company has been around since 1986 and is based in Petaluma, California. Many residents of Marin County have taken up cycling as a low-cost, energy-efficient mode of transportation, and that's probably thanks to Marin Bikes.
Fun fact: Mt. Tamalpais in Marin County is hailed as the birthplace of mountain bike culture
Marin Bikes founder Bob Buckley started the company after falling in love with mountain biking, a hobby that was just starting to become popular in California back in 1986. Since then, the company not only produced a massive line of mountain bikes, trail bikes, and even city bikes.
Just recently, Marin Bikes launched its first series of electric-assist mountain bikes (e-MTB). The goal of the e-MTB is to help cyclists reach new heights and places like they've never done before. Exploring the wild outdoors just got more interesting thanks to the new Marin e-bikes.
Overview of Marin Electric Bikes
---
Marin Bikes is one of the best electric brands for mountain bike enthusiasts, not just in California, but around the world. This can be attributed not only to the 35 years of excellence that the company has achieved but also in terms of quality products and customer service.
The emergence of electric bicycles prompted Marin Bikes to integrate pedal assist with their already-powerful mountain bikes. If you already love cycling the conventional way, then having the option to use pedal assist is a welcome bonus.
After all, Marin Bikes are always made for fun.
Marin e-MTBs are new to the e-bike market, but the first products they ever released have already gained positive criticism. Without a doubt, adding electric pedal assist to an already durable mountain bike frame is a recipe for one of the most reliable e-bikes ever made.
What We Like About Marin Electric Bikes
---
There's no mountain steep enough you can't conquer using the Marin e-MTB. However, there are several key points about this e-bike that should be addressed. Everything comes with pros and cons, but luckily there are more pros here than anything.
Here's what we mean.
Likes:
The e-MTB frames use a tried and tested frame for the best ergonomic riding experience.
Extremely lightweight. Marin e-bike frames are made of either CrMo/steel or aluminum alloy.
Marin e-bikes handle easily across rugged terrain, even during sharp turns.
The Marin frames have multiple mounts and racks for you to mount all kinds of gear.
Long battery life. The durable batteries of Marine e-bikes can produce between 418Wh-630Wh depending on the model, which is significant for e-MTB standards.
e-MTB riders can choose between a full suspension or hardtail suspension depending on the terrain they usually travel on.
The components in Marin e-bikes are impressive for a mid-range electric bicycle.
A one-year warranty applies for every purchase of a complete Marin e-bike. Frames and forks have a warranty that ranges from 5 years to a lifetime.
Points to Consider:
Some Marin e-bike models feel sluggish to operate on flat roads.
The warranty only applies to products shipped to North America.
Popular Marin E-Bike Models
---
Marin currently sells four different e-MTBs. The cost of these e-bikes ranges from $4,199 to $6,299. These prices may seem too high even for the best class 1 ebikes, but these e-bikes can last a long time, even in rough conditions. If there's one other thing Marin is known for besides mountain bikes, it's their durable bicycles.
Cyclists on a tighter budget can go for the Pine Mountain E series. These e-bikes have a CrMo/steel frame with hardtail suspension. The more expensive Alpine Trail E models use the lighter aluminum frame and full suspension. Add to that a plethora of upgraded components, and you get a Class 1 e-bike that mountain cyclists can only dream of.
Marin E-Bike Classes, Motors, and Batteries
---
The Marin e-MTB has a maximum speed of 20mph with no throttle, making it a Class 1 e-bike. Each Marin e-bike uses a different battery. The Alpine Trail series may perform better thanks to their BT-8035/6 motor, but don't take the Pine Mountain series lightly. Both the Shimano E8000 and STEPS E8000 can hold their own across punishing terrain.
Three levels of pedal assist (Eco, Trail, and Boost) are capable of powering the e-bike through slopes and rough roads with little effort. The motor may be powerful, but it's also quiet, so you can enjoy listening to the sounds of nature while using pedal assist.
For cyclists who are dealing with a flat tire or just fatigue, Marin's e-MTBs have a Walk Mode to help riders push their e-bikes alongside them.
Marin Bikes prioritize the customer's enjoyment and safety when traveling on mountains and trails. 
The e-MTB makes for a fun travel companion that you can rely on whenever you come across a challenging slope or a bumpy road.
Customer Service and Affordable Prices
---
If you're going for an e-bike that can withstand the punishing terrain of mountains and hills, then the Marin e-MTB is a wise choice. Buying a fully-assembled Marin e-bike grants you a one-year warranty. That's long enough to ensure that your e-bike was manufactured to the highest standards.
Marin e-bikes can be easily purchased online. If you can't access their webshop, there's a huge list of authorized dealers and international distributors that you can buy from. This company wants everyone around the world to enjoy their world-class e-bikes.
Customers that tried out Marin e-MTBs pointed out their favorite experience: the e-bikes give them a much easier time off-road. The consensus among cycling blogs and product reviews is that riding a Marin e-bike is "incredibly fun". That's an excellent first impression for a company that entered the e-bike market just recently.
Having a hard time knowing which bicycle size suits you the best? Looking for possible upgrades on your e-MTB components? The Marin Bikes FAQ page covers all these important questions. You can also ask them for more specific concerns, and they'll answer you pronto.
Marin Bikes promised that their bicycles are made for fun, and they did not disappoint.
Whether you're new to mountain biking or a seasoned veteran, the e-MTB will make a wonderful travel companion.
You Might Also Ask
---
On the off chance that you have unanswered questions, here's a quick overview of the most frequently asked questions about Marin Bikes.
Where are Marin e-bikes made? 
Marin e-bikes are designed in California, but the parts are outsourced and manufactured overseas. Based on the sources we found, Marin e-bikes are most likely assembled in California as well.
What types of e-bikes does Marin Bikes make?
Marin e-MTBs are built to traverse off-road terrain such as mountain trails. Marin builds electric mountain bikes, a product that they've backed with an excellent portfolio of for 35 years.
How much cargo can Marin e-bikes carry?
Marin e-bikes have a maximum carrying capacity of 270lbs. Keep in mind that momentum will play a large part when you're up and out on the mountain trails. The weight you exert on the bike increases when you're jumping over rocks and cliffs.
How fast do Marin e-bikes go?
Marin e-bikes fall under the Class 1 category, so they can reach a max speed of 20mph with no throttle. For a mountain bike, this is more than enough to get you up and down, wherever you're going.
Are Marin e-bikes worth the money?
Definitely. Marin has only recently joined the e-bike market, but they've already come at a reasonable mid-range price. There may be other Class 1 e-bikes that are cheaper, but you can never put a price on the durability of Marin mountain bikes.
Bottom Point — Who Are Marin E-Bikes For?
---
Marin Bikes was formed to please the ever-growing mountain biker community. The company works hard to produce the best technology that can be applied to modern mountain bikes.
Every person who has ever pedaled across rough terrain knows that an excellent mountain bike needs to be tough, light, and maneuverable. The Marin e-MTB takes that to the next level with its pedal-assist system. If you're looking for an e-bike that will take you through the highs and lows of off-road travel, then go forth and purchase a Marin e-MTB.
---
How it stacks against others