Juiced HyperScrambler 2: A Dual-Battery, 1000W Beast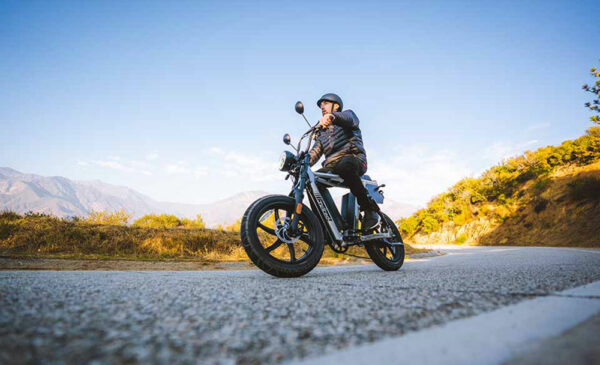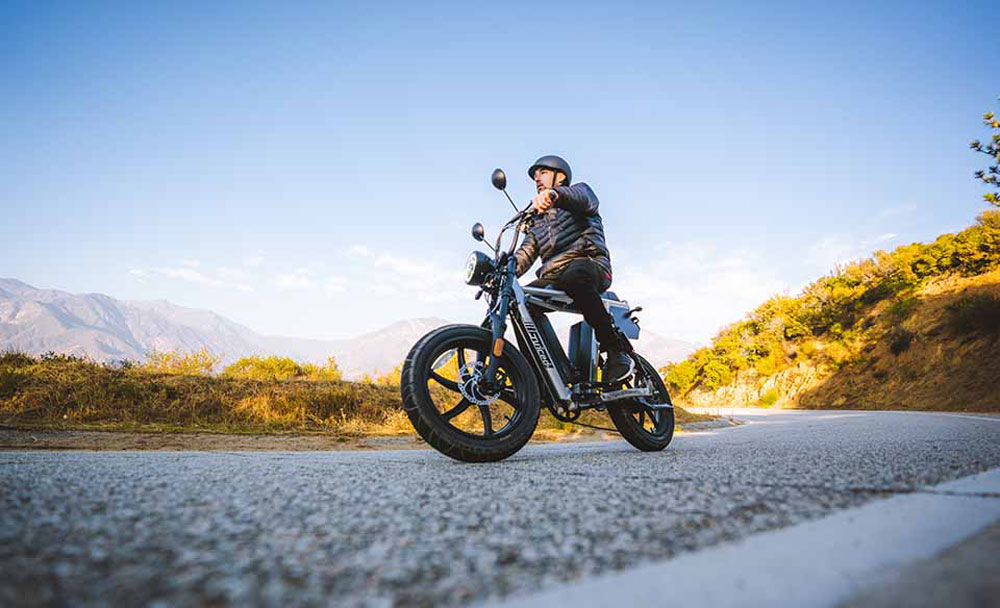 The Juiced HyperScrambler 2 is the brand's premium moped-style electric bike.
Juiced designed the HyperScrambler 2 with dual battery capacity and equipped it with a bespoke 1000W Bafang motor, so it closely matches the functionality and performance of an actual moped.
The classic 1980s mini-bike look and thrilling power give this e-bike its appeal, but it's also solidly built and equipped with decent components.
This Juiced HyperScrambler 2 review will discuss the ride quality, examine the standout components and characteristics, and finish with our ride or pass verdict.
Juiced Bikes HyperScrambler 2 Main Specs
MSRP: $2,599 or $3,099

Class: 2, 3, or 4 – 30+ mph
Motor: 1000W Bafang hub (1820W controller)

Battery: 1 or 2x 998Wh, 52V
Range: 60 or 100+ miles
Tires: 20 x 4.25″
Gears: 8-speed MicroSHIFT
Brakes: Tektro hydraulic discs
Weight: 119 lbs (96 lbs w/o batteries)
Juiced HyperScrambler 2 Review
The HyperScrambler 2 dual-battery e-bike by Juiced Bikes is one of the most powerful on the market, equipped to handle mixed terrain and compatible with commuter components like a rack and fenders.
The ability to reach speeds up to 34 mph makes this bike ideal for the adventurous, thrill-seeking rider. This 1000-Watt ebike allows you to hit top speed in just a few seconds and cruise up hills at 20mph without pedaling. In addition, the combination of torque and cadence sensing makes for a smooth and responsive power transfer closer to a mid-drive system than a hub drive.
If you're getting the most enjoyment out of this moped-style e-bike, you won't get close to the max 100-mile range, but you should easily reach 50 or 60 miles when combining pedal assistance and throttle on varied terrain.
The HyperScrambler's high weight, ride position, and motor make it feel like an actual 1980s moped. Upright geometry, a padded saddle, and dual suspension deliver comfort over medium distances, but the step-over frame requires some flexibility to mount and dismount.
One disappointment of the HyperScrambler 2 is it can only support 275 lbs, which makes it unlikely you can utilize the extra-long seat for a second passenger unless both of you are very light.
All things considered, Juiced has delivered excellent quality with this e-bike. Although it's not the cheapest, it's perfect for the performance-minded rider who doesn't want to sacrifice versatility and comfort.
Juiced HyperScrambler 2 vs. Super73 RX
The Juiced HyperScrambler 2 and Super73 RX have the same general moped style but are dissimilar in their components and performance. Likewise, the HyperScrambler 2 price is more competitive.
The Super73 RX has a single-speed drivetrain, a 750W (1200W peak) motor, less than half the battery capacity (960Wh), wider 4.5 and 5-inch tires, a 325-lb payload capacity, and a lower weight of 84 lbs.
In our opinion, the Super73 is more refined in its appearance, but the trade-off is less power and a significant price increase of almost $700.
Juiced Bikes HyperScrambler 2 Frame, Geometry, and Sizing
The HyperScrambler 2 is solidly-constructed and built around a heat-treated aluminum alloy frame with a step-over moped-style design. Like all of the brand's bikes, this model doesn't have frame-integrated electronics.
The Juiced HyperScrambler 2's weight is 119 lbs, making it the heaviest e-bike we've reviewed. In addition, it has a low weight capacity, so you can even get the most out of the long passenger-ready seat.
You get dual suspension with the HyperScrambler 2 that takes the sting off bumpy roads. This setup includes a hydraulic fork in the front and a rear swingarm and coil shock setup.
The geometry is upright and relaxed, which is perfect for navigating the city in comfort but not ideal for technical off-road terrain. A long padded seat makes it easy to adjust your position without moving any components.
This e-bike comes in one size, fitting heights from 5'7″ to 6'4″. However, it's not very adjustable, so riders on either end of the range may find it uncomfortable.
Motor, Sensors, and Battery
The Juiced Bikes HyperScrambler 2's electronics are the highlight for us. It sports a 1000W custom-made Bafang motor with a 52V, 35 Amp controller that peaks at 1820W.
The 52V system allows for rapid power transfer, which means you can get up to top speed in seconds using the throttle or pedal assistance. Also, as mentioned, this system uses cadence and torque sensors, making it smoother than other hub motor e-bikes.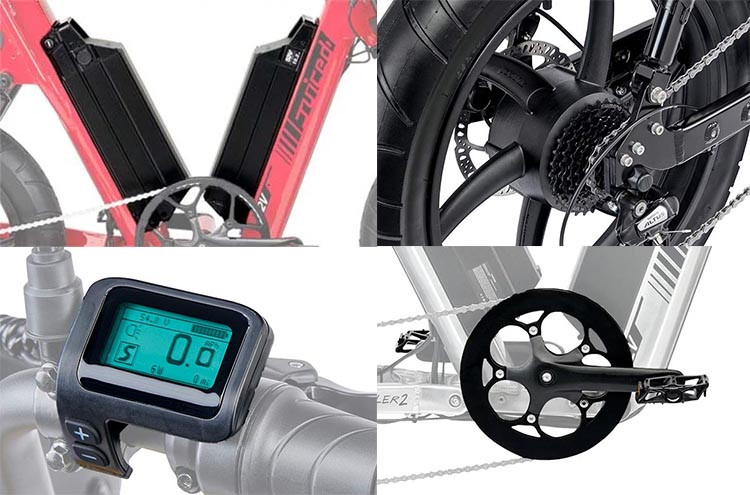 The HyperScrambler 2 is a dual battery ebike but can be bought with one or two 998Wh batteries ($500 difference). The max range in ideal conditions and on low pedal assistance is 60 or 100 miles, which is why we feature it in our longest-range ebikes guide. However, a typical average range is around 25 miles for the single battery or 50 for the dual.
Finally, the batteries take roughly seven hours to charge and come with an Apple AirTag slot for tracking the bike if it's stolen.
What Class Is the Juiced HyperScrambler 2?
The Juiced HyperScrambler 2 is a Class 2 electric bike when it ships, with a top speed of 20 mph from throttle or pedal assist mode. However, you can quickly unlock Sport or Race mode through the display, changing to Class 3 or 4 (unrestricted).
The Race mode allows you to use the 1000W sustained power and reach speeds over 30 mph. That said, while unrestricted in Race mode, the HyperScrambler 2 is a Class 4 e-bike (an unofficial classification) and falls outside the 750W power and 28 mph speed limit, so you cannot ride it on roads without a license and registration.
Juiced HyperScrambler 2 Components and Accessories
Some of the HyperScrambler's componentry is questionable for the $3,000 price range, such as the  8-speed MicroSHIFT drivetrain and 180mm disc rotors.
We'd prefer to see a Shimano Acera 9-speed at this price and, at minimum, a larger 200mm rotor in the front to handle the bike's huge 1000W power and safely stop when traveling above 30 mph.
The 4.25″ Innova puncture-resistant street tires are decent and provide plenty of traction on pavement. However, if you plan on doing a lot of gravel riding, we'd recommend switching them for a tire with more tread.
One downside on a bike like this is the lack of options for changing the saddle, as the HyperScrambler's isn't the most comfortable out there, especially after a couple of hours of riding.
Other notable features include the 2,000-lumen headlight, bright taillights, front and rear indicators, a loud horn, and small but practical rearview mirrors. Unfortunately, you must purchase a rack and fenders as extras ($230 total).
Shipping and Assembly
Juiced Bikes ships for free to the contiguous 48 states but not to Hawaii or Alaska. Likewise, they currently don't ship to Canada.
The company aims to process orders in three to eight business days, and once processed, you will receive an email with tracking information. Most orders are delivered using FedEx Ground.
Juiced e-bike assembly is relatively laborious, but the brand provides excellent assembly, tuning, and troubleshooting materials. For each bike, including the HyperScrambler 2, there is a detailed follow-along video, written instructions, FAQ, and technical support. If you're not confident doing the assembly yourself, we recommend taking the bike to a professional.
FAQs
How fast is HyperScrambler 2?
The Juiced HyperScrambler 2 top speed is over 30 mph. Some owners report reaching as high as 34 mph on flat terrain with favorable riding conditions. You must activate Race mode through the display to unlock speeds over 28 mph (Class 3).
What class is HyperScrambler 2?
The HyperScrambler 2 is a Class 2 electric bike, limited at 20 mph when shipped. However, you can turn it into a Class 3 or 4 e-bike by activating Sport or Race mode. Class 4 e-bikes must be registered to ride on the road.
Is the HyperScrambler 2 waterproof?
No, the HyperScrambler 2 is not waterproof. The battery is water resistant, so you can ride it outside in light rain, but heavier rain can damage the battery and other electrical components. Additionally, never leave the Juiced HyperScrambler out in the rain.
What is the fastest Juiced bike?
The fastest Juiced bike is the HyperScorpion. Both the HyperScorpion and HyperScrambler 2 are rated for 30+ mph. However, the HyperScorpion is 17 lbs lighter, meaning this bike will likely reach slightly higher speeds. The HyperScrambler 2 has been reported to reach up to 34 mph.
---
Other Juiced eBikes to Consider:
---
Our Verdict: Ride or Pass?
The Juiced HyperScrambler 2 gets a "ride" verdict from us.
Heavy moped-style electric bikes like this won't appeal to the masses, but those that appreciate the style will love this e-bike.
It's exceptionally powerful and fun to ride without being overly jerky. In addition, it feels solidly built and durable, and it's smooth and comfortable on pavement and light off-road terrain.
Of course, at 119 lbs, you won't be lifting this bike in a hurry, and to install fenders and a rack, you'll be down an extra $230. Nonetheless, this bike still has a competitive price and an unbeatable range, given its massive power.
The HyperScrambler is in a different league to most other moped e-bikes and holds its own against the top models in the category, the Ariel Rider Grizzly and Super73 RX.
Consider adding this exciting e-bike to your shortlist if you're a thrill seeker who wants to turn some heads next time you hit the roads.
---
How it stacks against others