Lectric XP Trike Review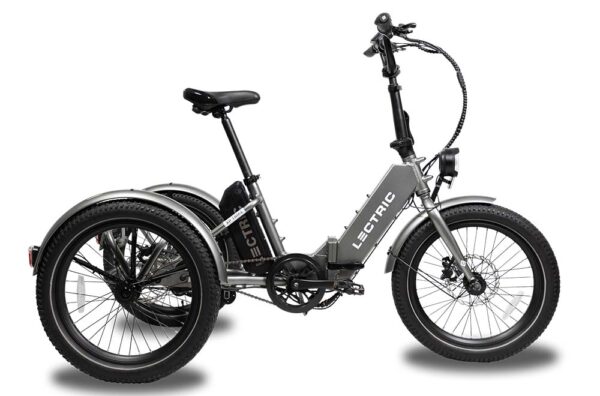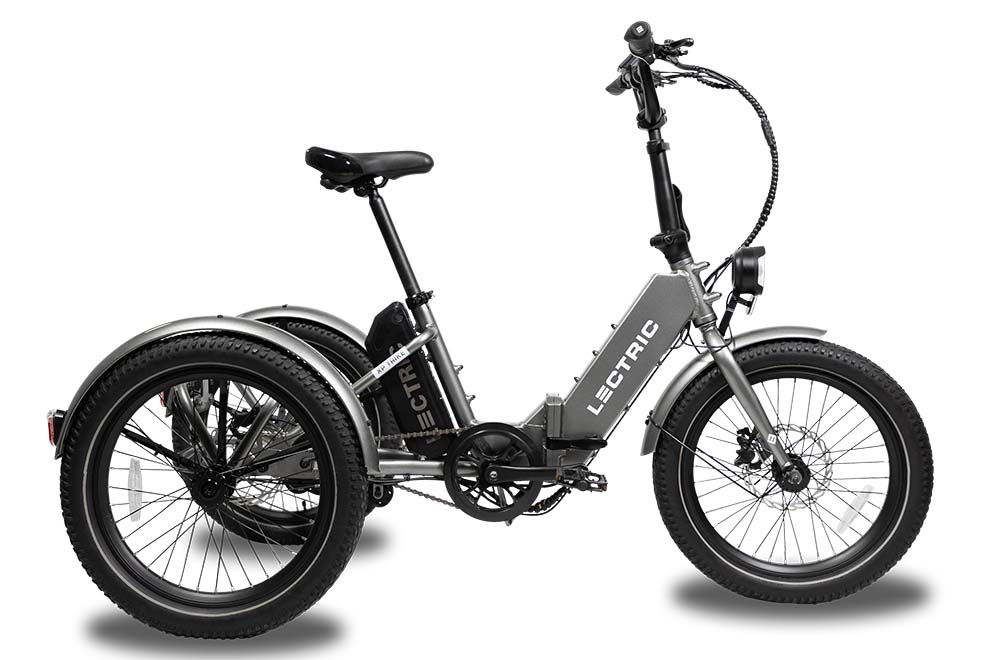 Since its founding in 2018, Lectric has become one of the US's most popular direct-to-consumer e-bike brands. The company distinguishes itself with its low prices and solid, reliable products.
In January 2023, Lectric announced the release of an electric tricycle, joining other popular brands like Rad Power Bikes, Pedego, Buzz, and Sixthreezero. As of February 7th, the XP Trike is available for pre-order, shipping in April.
In typical Lectric fashion, this bike is significantly cheaper than the competition and does so without sacrificing build quality. The XP Trike also has the brand's distinctive frame design and folds down like the other XP models.
This Lectric XP Trike review will cover the bike's main specs and characteristics, discuss its ride quality, and to whom it's best suited.
Lectric XP Trike Main Specs:
MSRP: $1,499
Motor: 500W (1092W peak) hub, 14 mph max speed
Battery: 672 Wh (48V, 14 Ah)
Drivetrain: Single-speed
Range: 60 miles
Wheels: 20″
Brakes: 180 mm hydraulic disc brakes
Weight: 69.5 lb
Payload Capacity: 415 lb (110-lb cargo)
Sizing: Height – 4'10" to 6'4″ / Inseam – 22″ to 35″
Lectric XP Trike Review
---
As of February 2023, the Lectric XP Trike is the latest electric tricycle to hit the market, following shortly after the Rad Power Bikes RadTrike 1.
Impressively, Lectric has undercut every other brand on the market, releasing their model at just $1,499, and first impressions indicate that this XP Trike easily outperforms its price tag.
With major e-bike brands releasing models back to back, it's evident there's an underserved market of riders who want the stability, versatility, and comfort offered by electric tricycles for adults.
As it is a new model, there is no long-term durability and performance information for the XP electric trike. Still, we expect it to be comparable to the other models in the XP series, which hold up well over time, given their low pricing.
Frameset, Geometry, and Carrying Capacity
The Lectric XP Trike frame is 6061 aluminum and has the same rectangular tubing as the rest of the brand's models. It isn't the tidiest design, as some cables are externally routed, but at least the front cabling is well organized.
Surprisingly, Lectric managed to keep the weight below 70 lbs, making this the cheapest and lightest model we've reviewed.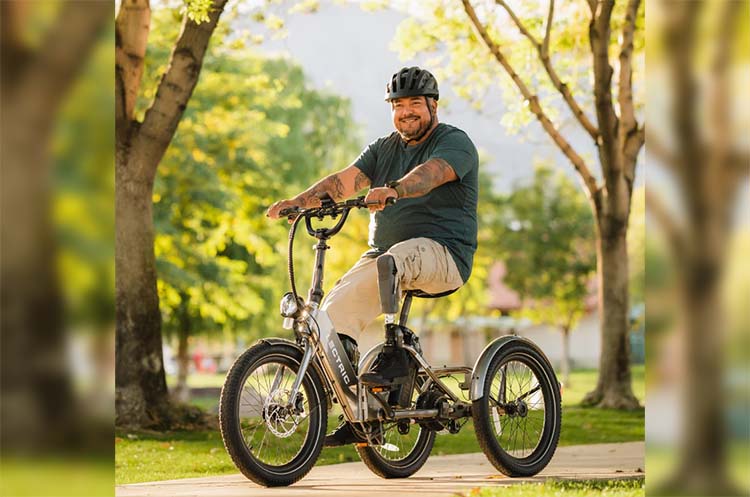 The folding frame and stem drastically reduce the trike's footprint for storage or transportation (in an SUV-sized vehicle). The folded size is 38.5 x 30.5 x 30″.
Comfort is a principal characteristic of any electric tricycle, and the XP Trike has the typical relaxed geometry. It comes stock with a regular e-bike saddle, but we'd recommend adding the seat with a backrest for just $30 extra.
An adjustable handlebar angle and height allow you to achieve the perfect upright position, so you never need to reach for the bars.
A key trait of electric trikes is the ability to carry large payloads, and the XP Trike can handle 415 lb, with a maximum of 35 lb in the front basket and 75 lb in the rear. Max rider weight is 330 lb. In addition, Lectric is offering pre-order customers a free cargo package, including a front rack and two baskets.
XP Trike Motor and Battery
Electric tricycles are not performance machines, so the motor and battery won't blow you away.
Lectric chose a 500W rear geared hub motor and a 672Wh battery pack. The system's top speed is 14 mph with the throttle or five pedal assistance (PAS) levels. It ships in "Beginner mode," with a five mph top speed in PAS levels one or two, but you can unlock higher speeds through the display.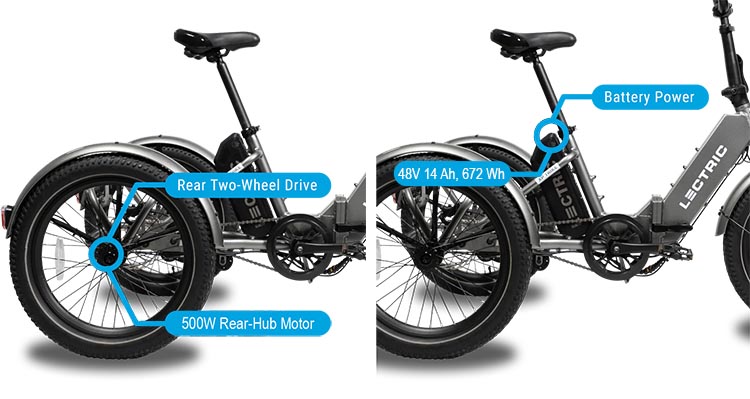 The 65Nm motor drives both rear wheels thanks to the dual differential axle that allows both wheels to spin independently, resulting in safer turning; rear wheels that turn at the same speed on a trike are more likely to cause issues with stability when turning.
Another feature of this system is the updated pedal assistance experience. The XP Trike assists the rider up to a certain power level on each PAS mode instead of limiting solely based on speed, which is the standard for cadence sensor systems. This slight tweak improves the ride quality, albeit not as much as adding a torque sensor.
The battery pack sits behind the seat tube and can be charged on or off the bike. It's a Lectric branded unit and will last for a maximum of 60 miles.
XP Electric Trike Components

Again, as the cheapest model on the market, the XP Trike has entry-level componentry. One surprising inclusion, given the price, is the three hydraulic disc brakes with 180mm rotors, which offer superior reliability and performance to mechanical discs seen on other e-trikes.
When pulling the right side brake, you can engage a parking lock which keeps the bike in place and replaces the need for a kickstand.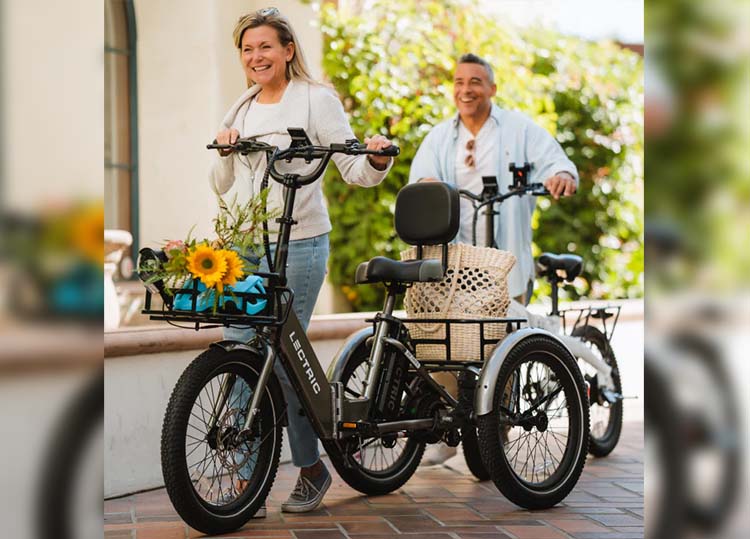 The drivetrain is a low-maintenance single-speed setup with a 36t chainring and 16t rear cog. Single speed is standard for the category, but it limits your ability to pedal going uphill.
As mentioned, the pre-order release of the XP Trike will come with a free cargo package. However, the regular release won't have integrated carrying capacity.
The XP Trike has sturdy metal fenders, a bright circular headlight, and three integrated rear lights with brake light activation. In addition, Lectric chose uniform 20″ wheels and 2.6″ treaded tires. Unfortunately, this isn't the most comfortable wheelset, and you'll likely feel the bumps on rough pavement.
Finally, the grips are the same spongy ergonomic design found on the new XP 3.0, and the saddle is relatively basic and worth upgrading to the seat with the backrest.
Lectric XP Trike Accessories
In general, e-tricycles are attractive thanks to their compatibility with various accessories and broad functionality.
The XP Trike will be compatible with a cargo package with a front rack, a small front basket, and a large rear basket. In addition, Lectric built a clever rear mount into the frame for attaching a trailer, such as the Lectric Wag-Along pet trailer ($179).
Ride Feel and Suggested Use
As you will have gathered from this review, e-trikes are ideal for those with impaired balance or riders who aren't confident on two wheels, offering these people the opportunity to get outdoors and ditch the car.
The upright, relaxed position, especially using the seat with the backrest, makes for incredibly comfortable riding, at least on smooth pavement. However, the narrow tires and small wheels transfer more vibrations than we'd like.
Again, the load-carrying capacity of 110 lbs makes the XP Trike an excellent choice for those who carry lots of heavy cargo; the third wheel allows you to ride confidently, even with two fully loaded baskets.
Lectric XP Electric Trike vs. Rad Power Bikes RadTrike 1
The Rad Power Bikes RadTrike 1 and XP Trike are pretty distinct in design and componentry. The main differences of the RadTrike are that it has a front hub motor, a 20-lb lower carrying capacity, 12.5 lbs higher weight, a front mechanical disc brake, and rear coaster brakes.
In our opinion, the RadTrike is more attractive and will likely be more durable over time. In addition, it comes standard with puncture-resistant tires, a full seat with a backrest, a reverse function, and a more powerful 750W motor. We feel it's hard to justify the extra $1,000 with these differences, but the actual value of each trike will become apparent over time with more user reviews.
Other Lectric Electric Bikes We Have Reviewed:
What's Our Verdict?
---
There's no doubt that Lectric's XP Trike will be a hit in the electric tricycle market. Admittedly, their products aren't the most visually striking out there, but the budget-conscious rider will be drawn to the unbeatably low price of this new entrant.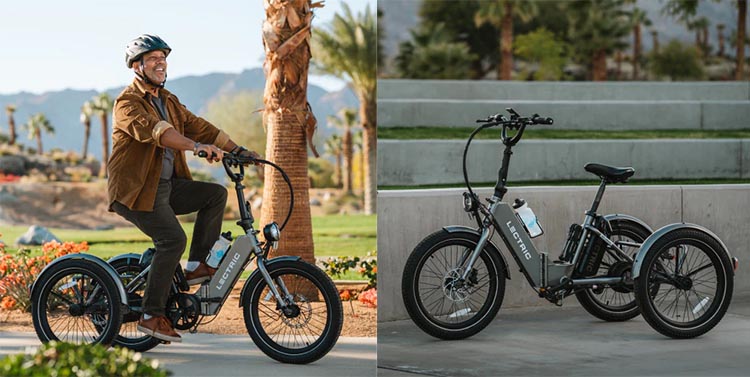 Of course, as can be said about any entry-level electric bike, the components won't be incredibly durable. However, there aren't any glaring issues that we would address from the get-go, except for purchasing the upgraded seat.
Lectric has an excellent reputation in the entry-level price range, so we expect the XP Trike to be durable and live up to that reputation.
We're excited to see more user reviews of the new Lectric XP Trike when it begins shipping in April, so pre-order yours now if you want the free cargo package.
---