Kids electric bikes are a tool that can speed up the learning process, make riding more exciting and engaging, and open up more adventures for parents and children to ride together.
Children as young as three can start learning to cycle with an electric balance bike. They can then progress onto pedal-assist e-bikes with child-specific designs, features, and components.
Of course, a kids' electric bike is a significant investment, so it's vital to ensure your child will use it, that it fits and suits their abilities, and has the features they want and need.
This article will review our selection of the best electric bikes for kids, focusing on safety features, durability, performance, and affordability. In addition, we will provide a short guide on choosing the perfect ebike for your kid.
Are Kids' Electric Bikes Safe?
Electric bikes for kids are safe. They are intentionally limited to help children stay in control.
For example, kids' e-bikes have max speeds ranging from 5 to 12mph. Many models also have multiple power modes you can switch between as the child progresses and becomes more confident and experienced.
What Age Is Appropriate for a Kids' Electric Bike?
The appropriate age for a kids' electric bike depends on the individual child and their development; each child is different. However, the minimum age is around three years.
At this age, most children have the motor control required to begin learning balance, so electric balance bikes like the Stacyc 12eDrive are suitable.
Are There Any Laws or Regulations for Kids' Electric Bikes?
No laws currently govern kids' electric balance bikes such as Rambo Lil Whip and Stacyc 16eDrive.
However, more powerful e-bikes with pedals (woom UP or Commencal Meta HT) are considered Class 1 e-bikes and are subject to different ebike regulations in Europe and North America.
Check out PeopleForBikes.org for a breakdown of the laws state-by-state.
---
Comparing Top Electric Bikes for Kids
---
Electric Balance Bikes
Hiboy BK1 12″
MSRP: Check on Amazon
Age Range: 3-5 years
Seat Height: 13.4″ – 16.5″
Weight: 17.6 lb
Max Speed: 9 mph
Motor: 100W
The Hiboy BK1 is an electric balance bike for kids between three and five years old, with over three inches of saddle height adjustability so they can continue using it for a long time.
The 9 mph motor makes this an exciting gift for kids who can already balance. However, 9 mph is too fast for a kid who isn't comfortable with balancing yet, and the throttle button doesn't offer variable speed, so it takes you to top speed straight away.
Learners can also get accustomed to stopping with a hand brake once they get used to balancing (the Bk1 has a front brake). Another great addition to this kids' electric bike is the wide 2.1″ tires which are plenty comfortable and make for smooth rolling.
Unfortunately, the seatpost is not quick-release, so you must use an allen wrench for adjustments. Overall, this is a decent choice and a fun gift your kid will love.
---
Eclypse Astra 16″
MSRP: Check on Amazon
Age Range: 4-8 years
Height Range: N.A.
Weight: 21 lb 14 oz
Max Speed: 11 mph
Motor: Rear hub motor
The Eclypse Astra is a balance electric bike for kids with a safe but fun 11 mph max speed suitable for aspiring motocross riders who would love to ride a dirt bike.
The Astra kids' electric bike is suitable for ages four to eight who are still learning how to ride a regular balance bike. The power button allows kids to control the amount of speed, and the 21 lb 14 oz weight makes it easy for a four or five-year-old to maneuver the bike.
Young learners can also become comfortable using a hand brake as this e-bike has a rear drum brake and knobbly tires to help them stay in control.
An 18V 4Ah battery provides between 45 and 70 minutes of riding time, and a battery level indicator means your kid will know when it's time to recharge.
All things considered, this kids' electric balance bike is a bargain as it's well-made and will provide endless fun. Plus, it looks a bit like a motorcycle, which kids will love.
---
Massimo 350W Electric Balance Bike
MSRP: Check on Amazon
Age Range: 3-5 years
Seat Height: 18″ – 22″
Weight: 25 lb
Max Speed: 15.5 mph
Motor: 350W
The Massimo 350W 16″ electric balance bike is another powerful option for kids who have already learned to ride, with a 15.5 mph top speed.
This e-bike has a seat post height adjustability of 4″, so it will be usable for a long time, growing together with your child. The Massimo balance ebike also has some handy features, such as foot rests, a rear disc brake, and comes in a selection of four colors.
Impressively, this model can travel up to 6 hours on one charge thanks to the sizeable battery. It also has wide tires to provide comfort and control.
Another great feature is the quick-release seatpost, allowing parents to adjust the saddle height easily. Add this kids' electric bike to your shortlist for that upcoming birthday or special day.
---
Droyd Weeler 14″ Kids' Electric Bike
MSRP: Check on Amazon
Age Range: 6+ years
Inseam or Height Range: N/A
Weight: 40.3 lb
Max Speed: 10  mph
Motor: 200W
The Droyd Weeler is a kids' electric balance bike with an old-school design similar to 1980s mini motorbikes.
The unique design results in a high weight, making this bike hard to handle for the average six-year-old. However, the punchy 200W motor provides plenty of kick.
This e-bike has two speeds, high (10 mph) and low (6.2 mph), making it safer for kids who aren't confident yet. In addition, the upright position, wide tires, and rear disc brake make it easy to control.
A large front light provides lots of visibility but is more of an aesthetic addition than a practical one, as kids won't be doing the type of riding that justifies this light.
In addition, the high weight means the battery only lasts up to 45 minutes and takes seven hours to recharge, which may frustrate eager riders.
The Droyd Weeler is worth considering if your kid loves the design of this moped-style e-bike and can handle the extra weight.
---
Stacyc 12eDrive
MSRP: $799
Age Range: 3-5 years
Inseam Range: 14″ – 20″
Weight: 17 lb
Max Speed: 9 mph
Motor: 20V
The Stacyc 12eDrive is a premium kids' electric balance bike designed to shorten the learning process and make transitioning from balance to pedal bike easier.
Stacyc's products are premium compared to others on the market and represent a significant investment. However, the high quality means they are super durable and likely to hold their resale value.
The 12″ eDrive is adjustable to suit inseam lengths from 14 to 20 inches, so your kid will get two or three years of enjoyment.
Once comfortable and confident at riding on the low 5 mph setting, you can increase the speed to 7 mph and eventually the top speed of 9 mph, which is plenty for five-year-olds to have an exciting ride.
The battery is easily removable, provides 30 to 60 minutes of ride time, and charges in just 30 to 60 minutes, much faster than the competition.
The rest of the build kit is comfortable and sturdy, although reviewers complain that the brake lever is hard to reach for smaller hands.
Don't look past the Stacyc 12eDrive if you want the best electric bike for kids aged three to five.
---
Todimart 12″ Electric Bike for Kids
MSRP: Check on Amazon
Age Range: 3-5 years
Inseam or Height Range: N/A
Weight: 16 lb
Max Speed: 6 mph
Motor: 150W
The Todimart 12″ kids' electric balance bike is another cheap option with rudimentary components and a lightweight design.
A 150W motor gives this e-bike enough kick to ride on flat terrain, but the 6 mph max speed and limited power mean children will likely lose interest rather quickly.
The right-hand button controls the speed, and the left-side button is a brake, making this bike simple to use for young kids. Unfortunately, the foot pegs are small and not as easy to use as platforms.
All things considered, this is a solid choice if you're on a tight budget, but keep in mind that kids may quickly become bored by the low speed.
---
Jetson LX10
MSRP: Check on Amazon
Age Range: 12+
Inseam Range: 18-24″
Weight: 36 lb
Max Speed: 15.5 mph
Motor: 250W
Jetson LX10 is the next step up from tiny balanced bikes, designed for kids aged 12 years and up. However, we can see online that even younger kids have ridden it, so it depends on how tall your child is.
This is a very affordable bike, so keep in mind that you will get what you pay for. It's a great ebike for short rides and having fun around the neighborhood, but not for much more than that.
This model has a twist throttle that goes up to 15.5 mph, so kids can choose how fast they want to ride. The battery is concealed inside the frame and offers limited capacity, so don't expect a very high range—you can probably achieve 10-15 miles per charge.
The 10″ wheels are pretty tiny, so keep in mind that riding over any bumps will be pretty uncomfortable. Riding over large potholes or curbs could even lead to falls, so we recommend always wearing a helmet.
Add the Jetson LX10 electric bike to your shortlist if you've got a limited budget and want to help your child learn to ride with this exciting balance bike.
---
Kids' Electric Mountain Bikes
Woom UP 5 24″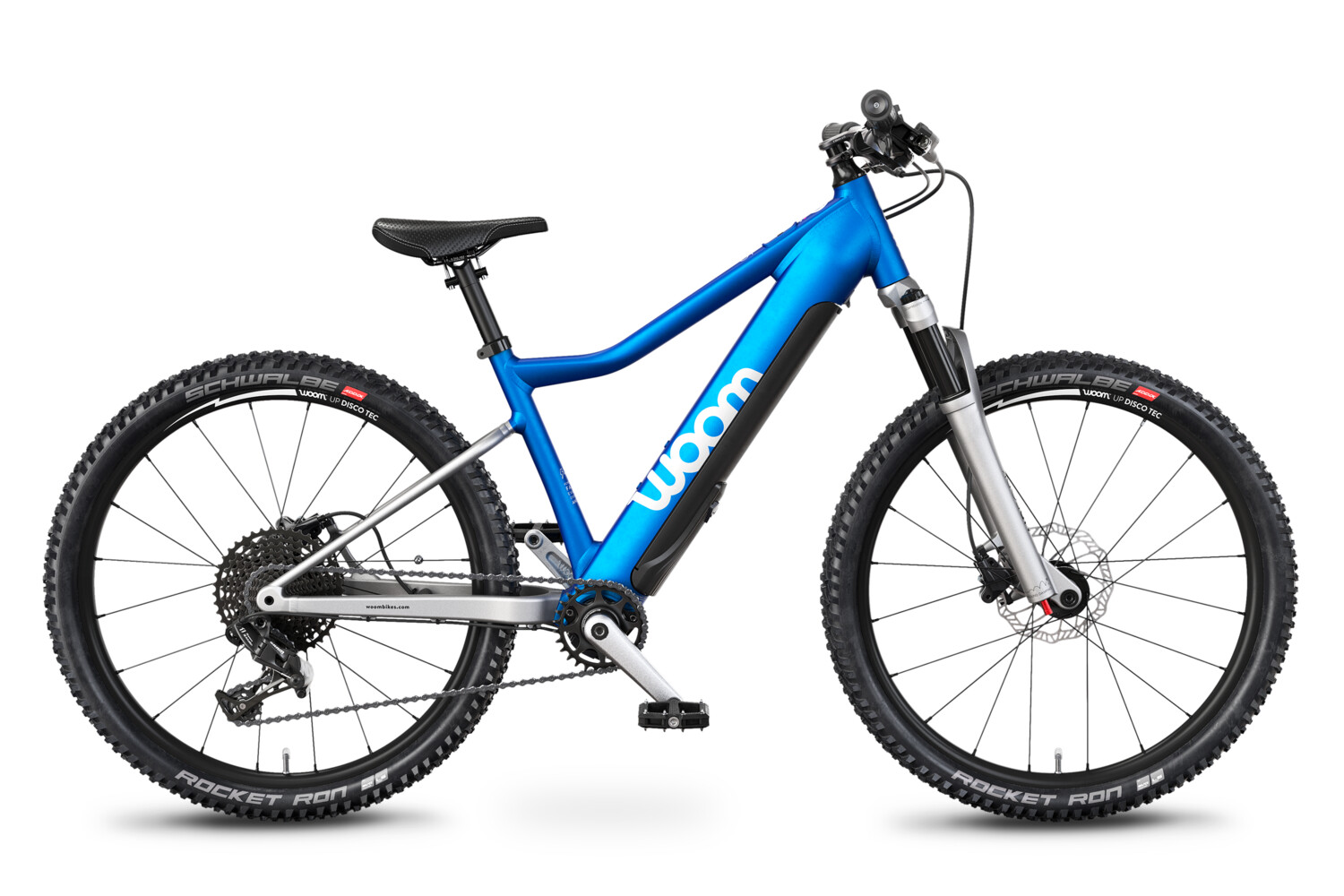 MSRP: $3,799
Age Range: 7-11 years
Height Range: 50-57″
Weight: 35.6 lb
Max Speed: 12 mph
Motor: 250W
The woom UP 5 is a premium kids' electric mountain bike designed for families with kids ready to tackle serious trails but who don't want to suffer climbing thousands of feet of elevation.
The UP 5 24-inch electric bike has three pedal assist settings from the Fazua Evation mid-drive motor. It delivers up to 250W of continuous power at a max speed of 12 mph, plenty to crush steep inclines and keep up with mom and dad.
One downside of this kids' electric bike is its high weight of 35.6 lb, which makes it harder to maneuver for younger kids and reduces its performance on technical trails.
However, the rest of the bike is incredibly well constructed with premium components such as SRAM's NX 11-speed drivetrain, Promax hydraulic disc brakes, and an RST air fork with rebound adjustment.
Don't miss out on the woom UP 5 if you want to invest in a high-end child-specific electric mountain bike that will add a new level of excitement to family rides.
---
Swagtron EB-6 Bandit
MSRP: Check on Amazon
Age Range: 7-9+ years
Height Range: 3'8″ – 4'5″
Weight: 48.5 lb
Max Speed: 18.6 mph
Motor: 350W
Swagtron EB-6 Bandit is an affordable option for parents who want their kids to experience light trail riding without suffering on steep inclines.
This is a weighty electric kids' bike, coming in at 48.5 lb, which makes it challenging to maneuver for the younger end of the age range. However, the Trailbreaker has one of the largest height ranges, adjustable ten inches.
A rigid fork adds to the durability and reduces maintenance requirements, while the 7-speed drivetrain offers the ability to pedal on steeper gradients and rough trails. As a result, this e-bike is best for flowy dirt trails, light gravel, and paved riding.
The 18.6 mph max speed could be overwhelming for some young kids but provides plenty of excitement for older ages. Thankfully, the Trailbreaker has mechanical disc brakes for reliable stopping.
Consider this model if you want an affordable kids' electric mountain bike for light trails and a great riding experience.
---
Commencal Meta HT 24″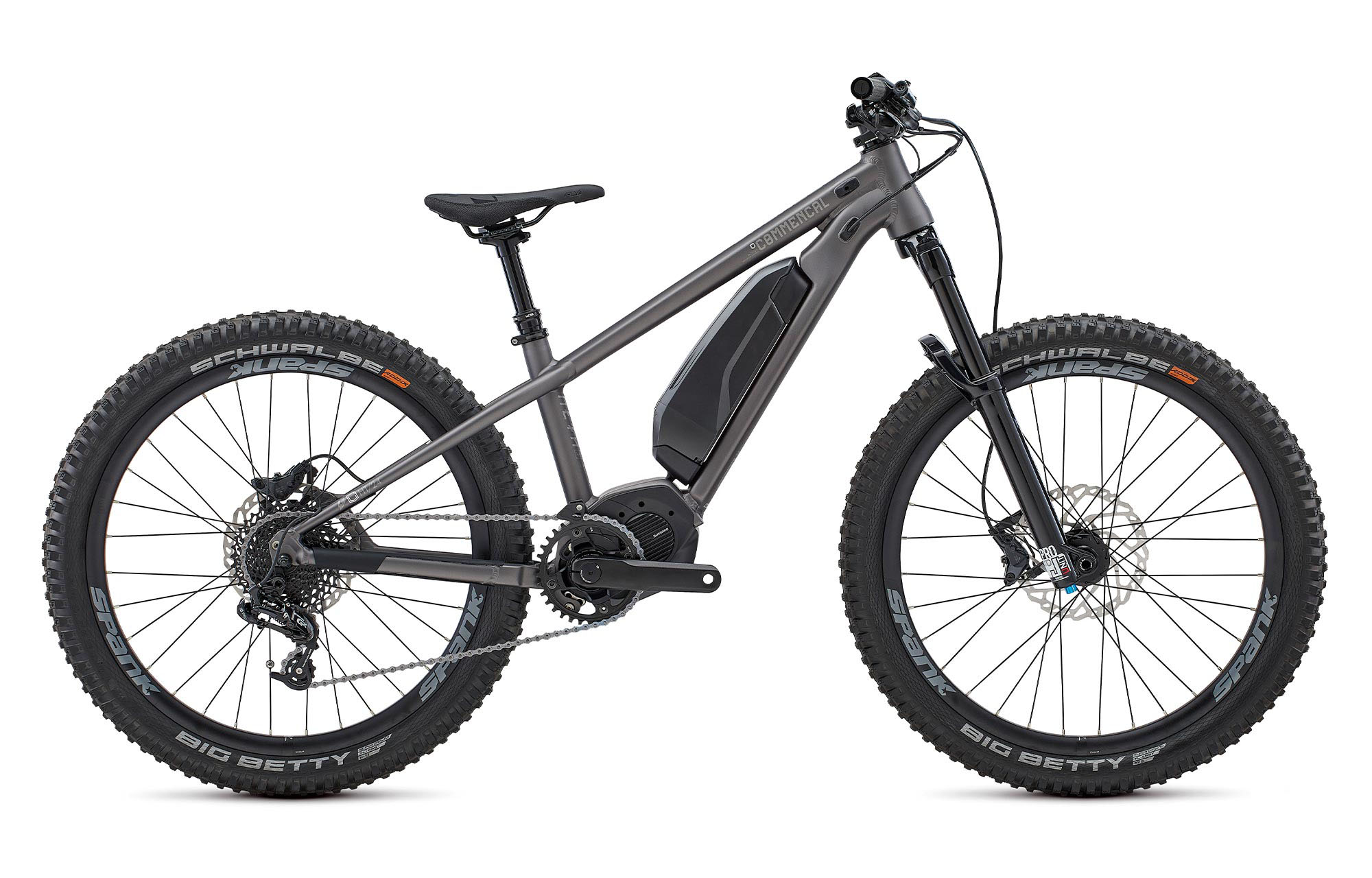 MSRP: $3,800
Age Range: 8-11 years
Inseam or Height Range: 4'1″ – 4'7″
Weight: 41 lb
Max Speed: 20 mph
Motor: 250W
The Commencal Meta HT is the best kids' electric bike for aggressive trail riding thanks to its huge 120 mm of front travel.
This 24-inch electric bike comes equipped with a premium Shimano STEPS E7000 system with 60 Nm of torque, 250W of power, and a 418 Wh battery that will provide plenty of range for a day on the trails.
A 10-speed SRAM GX drivetrain pairs with powerful Shimano Deore hydraulic disc brakes to ensure your kid has plenty of gearing range and stopping power for varied trails.
The 2.4″ Schwalbe Big Betty tires, a Manitou Machete Junit Pro 24 120 mm fork, and a 75 mm KS dropper give the Meta HT the capability of an all-mountain bike without the need to suffer on the climbs.
Add this electric bike for a 10-year-old to your shortlist if your child is ready to get serious about mountain biking and wants to join mom and dad on longer and more challenging rides.
---
Woom UP 6 26″
MSRP: $3,999
Age Range: 10-14 years
Height Range: 55-65″
Weight: 38.3 lb
Max Speed: 12 mph
Motor: 250W
The woom UP 6 kids' electric bike is essentially the same as the UP 5, just designed for older kids with a wider height range of 55 to 65 inches.
This model has larger 26″ diameter wheels, 10 mm more suspension fork travel, larger 28-gauge spokes, and a wider Q-factor. However, it also weighs almost three pounds more.
These changes make the bike more robust and capable for older kids who want to go hard on their local trails. Like all woom bikes, the UP 6 has child-specific components and geometry, so the ride feel is natural and easy.
The same premium Fazua Evation motor assists with three different power levels and 55 Nm of torque, providing tons of hill climbing capability so your kid is never left behind on family rides.
Choose the woom UP 6 if you want the best electric bike for kids aged 10 to 14 to foster their love for the trails.
---
Best Ebikes for Teens
Cannondale Treadwell Neo 2
MSRP: $1,925
Age Range: Teens
Height Range: 4'11" – 6'0″
Weight: 41 lb
Max Speed: 20 mph
Motor: 250W
The Cannondale Treadwell Neo 2 is the brand's lightweight city e-bike and one of the most affordable electric bikes from a big-name bicycle brand.
This isn't a teen-specific e-bike, but it fits heights from 4'11" and up, and it's much lighter than typical adult models, so it's easier to handle for younger riders.
In addition, a small but punchy Hyena 250W hub motor provides more than enough kick for young riders, powering you up to 20 mph for a maximum of 47 miles range.
The Maxxis DTR-1 47 mm tires balance rolling speed, comfort, and grip. In addition, cruiser handlebars and a wide saddle add to the relaxed personality of this bike.
Cannondale included mounts for a rack and fenders for teens who want to use this as a school commuter. It also has bump guards on the frame and Tektro mechanical disc brakes to ensure reliable stopping in all conditions.
Don't look past the Cannondale Treadwell Neo 2 if you want to treat your teen to a stylish hybrid electric bike for kids from a leading brand.
---
Trek Dual Sport+ 2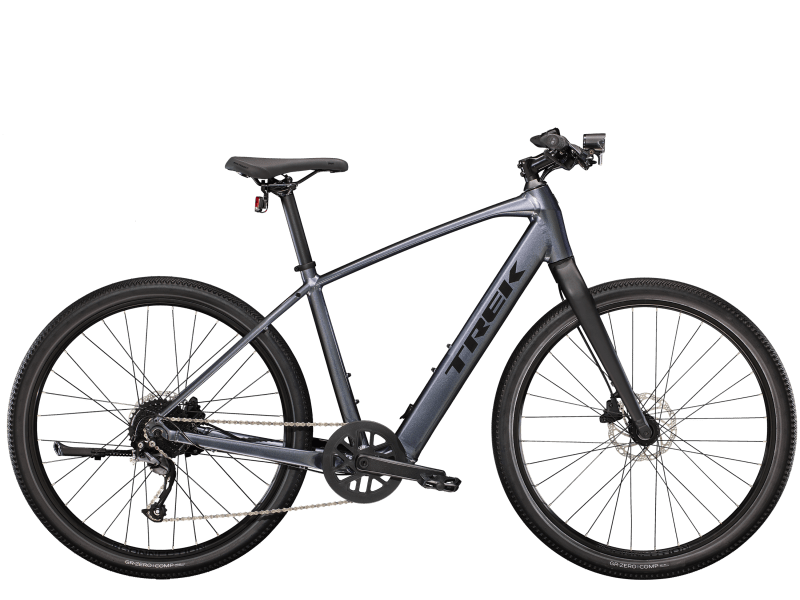 MSRP: $2,400
Age Range: Teens
Height Range: 5'1″ – 6'6″
Weight: 38.39 lb
Max Speed: 20 mph
Motor: 250W hub, 40Nm
Trek's Dual Sport+ 2 is another urban e-bike suitable for older teens. This e-bike is easy to pedal with or without assistance, so teens who run out of charge won't find it difficult to get home. A 9-speed Shimano Altus drivetrain shifts smoothly and provides enough range for urban riding.
The Bontrager GR0 Expert 50mm tires come on 27.5″ wheels, providing plenty of grip and vibration-dampening for paved riding or light off-roading. Impressively, this bike also has a torque sensor for smoother riding and Shimano hydraulic disc brakes, which are consistent and plenty powerful.
The Dual Sport+ 2 has mounts for a rack and fenders and comes with lights and a rear wheel kickstand for safer and more convenient commuting to school.
One downside about this bike is the lack of display, which makes monitoring the pedal assistance and battery level less intuitive.
All things considered, this is a solid choice for teens who need a fun e-bike for urban transportation and light off-road rides.
---
Electra Bali Cruiser Go!
MSRP: $1,800
Age Range: Teens
Height Range: 5'2″ – 6'1″
Weight: 46lb
Max Speed: 20mph
Motor: 250W
Older teens will love the Electra Bali Cruiser Go!, its stylish design and unbeatable comfort.
This e-bike is ideal for those who want a relaxed recreational bike to cruise around town and join longer family rides without struggling to keep up.
The Bali Cruiser Go! is relatively light for an e-bike, weighing just 46 lb, so teens should have no problem maneuvering it. The sleek integrated electronics also give it the look of a traditional bike.
Wide 2.35″ balloon tires, swept-back handlebars, a steel fork, and a sprung saddle give the Cruiser Go! a plush ride feel. In addition, Electra's Flat Foot technology allows the rider to put a foot down flat while sitting.
The 250W Hyena motor has a torque and cadence sensor, providing an extra-smooth ride feel compared to other hub motor e-bikes. A 250 Wh battery powers the motor for 16 to 40 miles with a top speed of 20 mph.
Choose the Electra Bali Cruiser Go! if your teen appreciates style and comfort over all else.
---
Co-op Cycles CTY e1.1
MSRP: $1,299
Age Range: Teens
Height Range: 5'0 – 6'3″
Weight: 48 lbs
Max Speed: 20mph
Motor: 250W
The Co-op Cycles CTY e1.1 is the REI brand's most affordable city electric bike, designed with a streamlined build that's highly customizable.
One complaint about this bike is the sizing, which runs slightly large in the small size, so shorter teens of 5′ or 5'1″ may want to look elsewhere. In addition, it's not very light, so have your teen take it for a test ride if you're unsure about their ability to handle it.
Otherwise, this is a well-built and sturdy e-bike. The 250W Bafang motor has five levels of pedal assistance and lasts up to 40 miles with the 450 Wh battery. In addition, this battery powers a bright front light, but the rear light requires disposable batteries.
A Shimano Altus 7-speed drivetrain provides plenty of gearing range for urban riding, and the Tektro hydraulic disc brakes ensure reliable stopping in all weather conditions.
Finally, Schwalbe's Big Ben 1.95″ tires roll fast and have enough grip for paved riding and light dirt trails. With a rear rack installed, teens can even load it with a school bag or other necessities.
Add the Co-op Cycles CTY e1.1 to your shortlist if you want a versatile city e-bike for your teen to grow with and have for many years.
---
How to Choose an Electric Bike for Kids
Electric bikes are a complex topic with many more considerations than traditional bikes. However, parents can make better decisions if they know what to look for or avoid.
This section will cover the most important factors when choosing a kids' e-bike. For general e-bike information, check out our educational articles.
Why Would Kids Need an E-Bike?
Children and their parents often share the same motivations for buying electric bikes for kids: the ability to cover longer distances, tackle more elevation gain, and maintain higher speeds. Thankfully, kids can still get plenty of exercise while riding an e-bike in these conditions.
Kids, especially younger ones, aren't capable of producing the same amount of power as an adult or maintaining high power output for long durations, so the assistance of a motor can help make family rides more enjoyable for parents and children alike.
This extra boost opens up new and exciting adventures that were previously out of reach, such as long trail rides into the mountains, multi-day camping adventures, or road rides over high alpine mountain passes.
Another reason to buy a kids' electric bike is to speed up learning. Adding a small motor to a balance bike makes it easier and more intuitive to start balancing, as kids can focus on handling and balance without pushing to propel themselves.
Finally, a child with a disability may also benefit from the extra power of an electric bike, depending on the individual situation.
If you want to ride together with your child but don't want them to ride an ebike, give electric cargo bikes a thought, as a cargo bike will allow you to do just that and minimize any risks.
Are Kids' E-Bikes Legal in the USA?
As mentioned at the beginning, kids' electric balance bikes aren't powerful enough to be governed by e-bike laws.
However, regular e-bikes for kids like the woom UP, Commencal Meta HT, and Rambo Trailbreaker fall under the governance of Class 1 electric bikes.
The three e-bikes classes are as follows:
Class 1: 20mph max speed, 750W max power, pedal assistance only
Class 2: 20mph max speed, 750W max power, pedal assistance and throttle
Class 3: 28mph max speed, 750W max power, pedal assistance with optional throttle (20mph max speed)
The regulations are different in each state. In most, children under 16 cannot ride Class 3 e-bikes, while others require minors to use a helmet when riding any e-bike.
Visit PeopleForBikes.org for a breakdown of the laws for each state to ensure it's legal in your area (three states require licensing to ride an e-bike: Alaska, New Mexico, and Massachusetts). 
Kids' E-Bike Sizing Chart
Sizing an electric kids' bike follows the same process as a traditional one, using the size of the wheel as a rough indicator. Kids' e-bikes increase in two or four-inch increments, starting with 12″ electric balance bikes and working up to 26″ wheels.
Each wheel size has a rough age range. Once you know the wheel size your child needs, you can compare the height and inseam range of the individual model or brand.
Another measurement worth considering, but isn't always provided by the manufacturer, is minimum and maximum saddle height.
Inseam length is the best single measurement, as it allows you to determine if the child can sit on the saddle with their feet touching or flat on the ground.
When possible, have your child test the e-bike to ensure it fits because arm and torso length also affect fit.
It's worth noting the wheel size of an adult's bike doesn't indicate the size or fit. For example, a 20″ adult e-bike might be twice the size of a 24″ child-specific e-bike like the woom UP 5.
Check out the table below, which shows the average ranges for each wheel size, or use our kids' bike size calculator to find the right size.
| Wheel Size | Age | Height | Leg Inseam |
| --- | --- | --- | --- |
| 12″ | 2-4 | 2'10" – 3'3″ | 12 "-17" |
| 14″ | 3-5 | 3'0″ – 3'6″ | 16 "-19" |
| 16″ | 5-6 | 3'5″ – 3-9″ | 18 "-22" |
| 20″ | 7-9 | 3'8″ – 4'5″ | 20 "-25" |
| 24″ | 9-11 | 4'3″ – 4'10" | 23 "-28" |
| 26″ | 11-14 | 4'10+ | 26″+ |
Pedal Assist vs. Throttle for Kids
The only option for kids' electric balance bikes (without drivetrains) is adding a throttle that propels the bike by driving a motor. These systems are highly limited to speeds of between 5 and 12mph, so they are safe to ride.
Once a child has progressed to a pedal bike, they are ready for a regular e-bike with a drivetrain. These bikes typically just have pedal assistance, which requires the rider to pedal and deliver power based on the assistance level selected or to match the rider's input. Either way, this is the most natural and safe way to ride.
Giving a young child or teen a throttle on a regular pedal e-bike isn't as safe or controlled as pedal assist only. In addition, some states restrict throttle use (Class 2 or 3) by kids under 16 or 18 years old.
Mid-Drive vs. Hub Motors on Kids' E-Bikes
The main differences between mid and hub-drive motors on e-bikes are ride quality and efficiency. Premium electric bikes for kids, such as woom's UP or Commencal's Meta HT, feature mid-drive motors because the ride quality is superior and they are more efficient.
Mid-drive e-bikes feel almost the same as riding regular ones, as the motor connects directly to the drivetrain. The power transfer is smooth, not jerky, which means they are easier to control. Parents can also opt for lower torque models, which are even easier to handle.
The one complication of mid-drive systems is that they require using the whole gear range to get the most from the motor and battery. The rider must shift up or down regularly based on changes to gradient or speed. This can be complicated for newer riders but is easy to learn with some practice.
Hub motor e-bikes are the more straightforward and cheaper of the two. They are easier to use as they work independently of the drivetrain; just select the power level and pedal. However, this means the ride quality isn't as smooth or natural, and they can feel clunky and hard to control if the torque and power are high.
Weight of Electric Bikes for Kids
The average ebike weight is around 20lb for an electric balance bike and 38lb for a regular kids' pedal e-bike.
Ideally, you want the bike to be as light as possible, especially for kids and young teens. Many older teens can handle some extra weight but avoid heavier e-bikes above 60 lb. Consider your child's age, size, and strength before choosing a model.
If an e-bike is too heavy, it could affect safety and enjoyment. Most importantly, if it's too heavy for the rider, they may be less stable and have difficulty maneuvering the bike, increasing the risk of accidents.
Finally, if the e-bike is too cumbersome, it may also be less enjoyable for the child to ride, leading to them not wanting to ride it.