Lectric XPedition: A Versatile & Affordable Solution in the Cargo E-Bike Market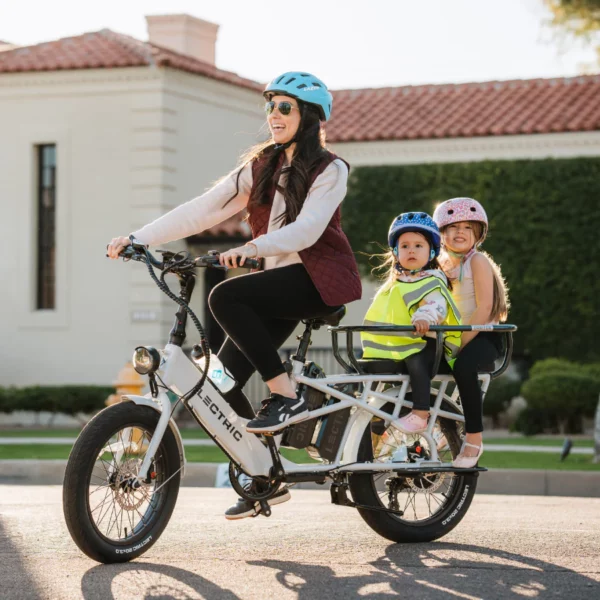 The cargo/utility e-bike market is growing rapidly as more urban dwellers turn toward e-bikes to replace cars for short and medium-distance journeys.
The XPedition is a new option from Lectric that stands out for its affordability, price, and range, making this type of bike more accessible than the high-end models that used to dominate the category.
If you're on a budget and want a highly versatile and customizable ride to carry big cargo loads, especially in a hilly area, this could be the bike for you.
Our Lectric XPedition review will examine the specs and evaluate how it compares to the competition so you can decide if it's the right cargo e-bike for your needs.
Lectric XPedition Specs:
MSRP: $1,399 – $1,699
Class: Class 1, 2, or 3, 28 mph
Motor: 750 W hub, 85 Nm
Battery: 672 Wh or 1344 Wh, 48 V
Range: 75 or 150 miles
Tires: 20″ x 3″
Drivetrain: Shimano Tourney 7-speed
Brakes: Zoom hydraulic disc brakes, 180 mm rotors
Weight: 68 or 75 lb
Payload Capacity: 450 lb (300 lb on the rear rack)
Lectric XPedition Pros and Cons
Pros

Much cheaper than the competition
A powerful, high-torque motor that can
crush steep hills
Impressive rear rack capacity of 300 lb
Dual battery model has a solid max range
of close to 150 miles
Pedal assistance is delivered based on wattage for a smoother ride feel
Excellent selection of accessories for carrying different size cargo and passengers
Relatively lightweight for a cargo e-bike
Confidence-inspiring stopping power

Cons

Budget Tourney drivetrain isn't durable
We would prefer to see a percentage-based battery reading
No rear light activation when braking
The dual-battery version only comes with  one charger
Lectric XPedition Review: A High-Performance Cargo E-Bike with an Entry-Level Price
The Lectric XPedition e-bike is the brand's latest release and first attempt at an electric cargo bike.
All of its models to date have relatively high payload capacities (~330 lb), and all but the XP Lite come with a rack, but this model offers tailored performance for cargo duties.
With a rigid fork and slick 3″ urban tires, this bike performs best on-road. The low-slung frame and upright geometry help you stay in control when navigating busy urban environments with a loaded bike.
Impressively, Lectric designed this bike with a payload capacity of 450 lb and a 300-lb capacity on the frame-integrated rear rack. To illustrate how high this is, it's ten pounds more than the $6,099 dual-battery Tern GSD S10.
The XPedition's main competitors are Aventon's Abound ($2,199) and the RadWagon 4 by Rad Power Bikes ($1,999), which have 50 and 40-mile ranges, respectively.
Both competitors also weigh more than the XPedition and can carry roughly half the cargo weight.
With that in mind, if you're making your decision based on price, range, or cargo-carrying capacity, the XPedition is undoubtedly the best option.
That said, the design isn't quite as refined, and some small concessions are made in the rest of the spec.
High-Capacity Frame with Adjustable Geometry and a 19-Inch Height Range
Again, the XPedition's frame is heavy-duty and has the brand's distinct rectangular tubing. While the rest of Lectric's models can fold, the XPedition does not. Instead, it has folding handlebars and quick-release pedals that allow you to transport or store it more easily.
The long integrated rear rack with a 300-lb capacity means you can easily carry a friend, family member, or two children. In addition, the step-through design makes for convenient mounting and dismounting when you have a fully loaded bike.
The saddle height and handlebar position are both highly-adjustable, making this a great choice if you're taller or shorter than average. In addition, it isn't as unwieldy as some other cargo e-bikes, weighing just 68 lb for the single-battery version.
High-Torque Motor and Dual-Battery Capacity
The XPedition truly shines when you consider its motor performance and range.
Firstly, Lectric's new PWR (Pedal-assist Wattage Regulation) assists you to a fixed wattage at each level. This programming replaces the typical power delivery method, which limits the assistance level based on speed. As a result, the XPedition's ride quality is smoother and more natural than regular cadence-sensing systems.
The motor is extremely powerful and torquey, ideal for carrying heavy cargo loads or tackling long, steep climbs. You can even ride uphill with an adult passenger on board using the throttle alone (albeit slowly).
Depending on where you live, you can choose to set it as a Class 1, 2, or 3 e-bike. The Lectric XPedition's top speed as it ships is 20 mph, but you can increase it to 28 mph in the settings.
As mentioned, this bike is available as a single-battery or dual-battery build, with only a $300 difference. The only downside is the dual-battery version doesn't come with a second charger, but you can add one for $49 to charge them simultaneously and avoid a 12-hour charge cycle.
You'll have a 75- or 150-mile max range with both batteries mounted and fully charged. Although this is slightly exaggerated, it's still almost triple the range of the RadWagon 4 and Aventon Abound, an impressive stat for a cheaper e-bike.
Lectric XPedition vs. RadWagon 4
The RadWagon 4 by Rad Power Bikes is another cheap-ish cargo electric bike positioned at the upper end of the entry-level market.
Priced $600 higher than the single-battery XPedition, the RadWagon has just a 45-mile max range, 15 Nm less torque, and a 120-lb rear rack capacity (180 lb less). Likewise, the RadWagon has mechanical disc brakes compared to the XPedition's hydraulic ones.
The RadWagon 4 has a higher-quality look and feel and has Rad's more established reputation. However, given both bikes are aimed at the same type of rider, it isn't easy to look past the XPedition, especially if you value power, range, and carrying capacity.
Basic Yet Functional Components
Lectric prices its e-bikes aggressively, using budget components, such as Shimano's 7-speed Tourney drivetrain, own-brand tires, and off-brand Zoom hydraulic disc brakes to do so. These components won't last as long as those used on higher-end cargo e-bikes, but they function well at this price.
The Tourney drivetrain consists of a 54t chainring and 11-28t cassette, so you won't find yourself spinning out when riding at 28 mph.
Lectric's large LCD display is one of the best you'll find on budget e-bikes. It's easy to use and clear in direct sunlight. But, unfortunately, it doesn't offer a battery level percentage, just a bar reading.
The XPedition's dual kickstand is relatively sturdy, but the legs are pretty narrow and easily sink into soft ground. Lectric warns you not to let go of the bike while it's loaded, even with the kickstand deployed, and we want to reiterate that, as it could easily topple over, damaging your cargo or injuring your passenger.
Finally, Lectric includes a set of fenders and lights to round out a complete package.
Lectric XPedition vs. Aventon Abound
Aventon's Abound is another entry-level cargo e-bike, costing $800 more than the single-battery XPedition.
At this higher price, you get a more refined and stylish look with full integration of electronics and cabling. In addition, it has a torque sensor for a smoother ride and improved Tektro hydraulic disc brakes.
The Abound also comes with more accessories and features. However, it has less range (50 miles) and less than half the carrying capacity (143 lb). In addition, the Lectric XPedition's weight is 13 lb lower.
If you have a larger budget and want a more refined and feature-rich bike, the Abound could be a solid alternative for you.
Unique Accessories for Passengers and Cargo
Lectric stepped up its accessory game for the XPedition, adding passenger and cargo options to meet different needs.
For passengers, you can add a simple set of quick-connect cushions for an adult, along with pegs for their feet. Instead of pegs, there are also running boards for a larger foot platform.
You can also choose an 'Orbitor' bar to surround the rear rack, holding in cargo or acting as a handrail if you have two children on board. Alternatively, there is an upright chair that's compatible with the cushions.
Finally, the Lectric offers a range of baskets, bags, and a front rack for this e-bike, so you can personalize it for carrying almost any type of cargo.
---
Other Lectric Models We've Reviewed:
---
Our Verdict: Ride or Pass?
Cargo e-bikes are a sustainable alternative to a car, a way to transport cargo conveniently in the city, and an easy way to commute with multiple kids. The Lectric XPedition cargo bike is another solid option, particularly for urban riders with heavy cargo to haul and steep hills to tackle.
Its powerful, high-torque motor, impressive range, and considerable payload capacity help it compete with pricier alternatives.
Of course, there will be some drawbacks at this entry-level price, such as the budget drivetrain and cheap tires. However, this is a worthwhile trade-off for most of us.
The Lectric XPedition offers a compelling blend of functionality, performance, and affordability and is a worthy consideration if you're in the market for a new cargo e-bike.
---
How it stacks against others