Best Electric Commuter Bikes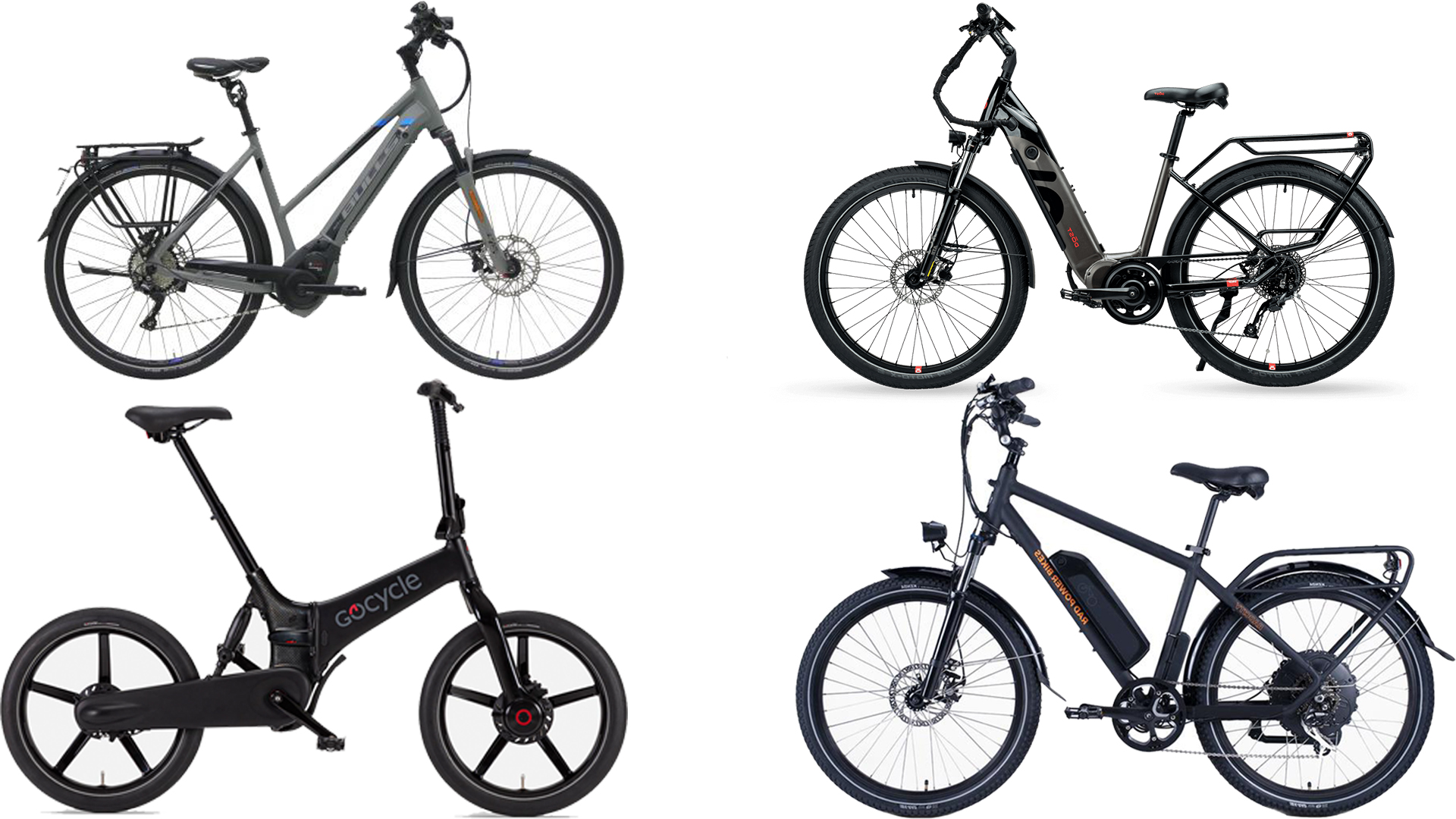 There is a clear distinction between a good commuter electric bike and a mediocre one based on durability, user comfort, and cargo capacity. 
First of all, a commuter e-bike has to be durable enough to withstand the wear and tear of multiple trips in urban environments. Next, it has to be comfortable enough for the rider to keep their limbs and butts snug during a long journey. Finally, it needs to have some cargo capacity to store backpacks and other things that bikers bring to work.
Here are eight of the best commuter e-bikes that we believe can help you make your daily casual trips much more enjoyable.
---
Best Electric Commuter Bikes in 2022
---
#1

Rad Power Bikes RadCity 5 Plus
MSRP: $1,999
 27.5″ x 2.0
Front and rear fenders
Kickstand
Integrated rear rack
Front and rear LED lights
Best for: Rad Power RadCity 5 e-bike is one of the best choices for commuters who need an affordable yet powerful e-bike.
The Rad Power Bikes RadCity 5 Plus was specifically built to provide maximum comfort and performance for commuters on a tight budget. It's agile, robust, and armed to the teeth with an arsenal of components.
One thing you need to know about Rad Power Bikes is that they always equip their e-bikes with the most energy-efficient motor and battery combinations that they can get their hands on. The RadCity 5 Plus is no exception, with its 750 W brushless geared motor. It can assist you up to 20 mph, more than enough to get you wherever you need to be in time when commuting in the city.
As for the battery, the RadCity 5 Plus uses a 48V 14 Ah battery that has a capacity of 672 Wh. A fully charged battery gives you up to 50 miles of assisted travel.
RadCity 5 Plus has regenerative braking capability that conserves a lot of energy that's usually wasted when you slow down or stop the e-bike.
Using the 750W motor and a high-capacity battery, you can traverse through the city streets quickly in long distances.
Built on a 6061 aluminum frame for less weight and more mobility. Its frame is only 17.5-inches tall to accommodate riders of different heights. Moreover, the swept-back handlebars are easier on your arms, especially during long commutes.
This e-bike performs excellently for city use. Commuters love the number of components available with the stock model, plus the added utility of more optional upgrades. In terms of performance, this e-bike showed no problems on concrete or gravel roads.
All in all, the Rad Power RadCity 5 is a good choice for commuters who are in need of an affordable, energy-efficient mode of transportation with tons of quality-of-life features.
---
#2

Co-op Cycles CTY e2.1
MSRP: $1,799
27.5-inch wheels
Shimano Altus hydraulic disc brakes
Suntour MOBIE 75mm travel fork
Rear-mounted rack
Front and rear lights
Best for: city commutes, mixed-terrain travel
The Co-op Cycles CTY e2.1 e-bike is light, mobile, and beginner-friendly. It may look very basic from the outside, but performance-wise can hold its own against other mid-range e-bikes.
Built from tough 6061 aluminum and fitted with the most practical components, this is one of the best e-bikes for commuting.
This Class 1 e-bike uses a Shimano E5000 250W motor to reach a top speed of 20 mph. It can produce 40 Nm of torque which is sufficient to power through over small hills with minimal effort.
The CTY e2.1 lets you cruise for up to 50 miles on pedal assist thanks to its 418 Wh Shimano Powerpack battery. As this can be clearly seen attached to the frame, it can make the e-bike look somewhat bulky. However, you can easily remove the battery for you to charge it indoors or even ride without it.
The CTY e2.1 is built to last for years of commuting due to its aluminum alloy frame. This electric commuter bike is fitted with components from reputable manufacturers like Shimano, Schwalbe, Promax, and Suntour.
The result is a straightforward but reliable city e-bike that attracts beginner and veteran cyclists alike. It's also worth mentioning that this e-bike has bright LED lights, so it's one of the best electric commuter bikes for traveling during any time of the day.
Overall, the Co-op Cycles CTY e2.1 is a simple hybrid e-bike that effectively fulfills its roles as expected. It has just the right amount of efficiency, mileage, and utility to make daily commuters happy.
---
#3

Electra Townie Go! 5i Step-Over
MSRP: $2,950
26-inch wheels
Tektro hydraulic disc brakes
Shimano Nexus 5-speed internal gearing
Front and rear fenders
Cargo rack
Schwalbe Fat Frank 2.35″ tires with Kevlar puncture protection
Best for: city commutes, everyday errands
The Electra Townie Go! 5i combines cruiser comfort and commuter bike versatility to create an e-bike that is suitable for all cyclists, regardless of skill level. It is one of the best commuter e-bikes for casual riders who also love to take leisurely spins on the evenings and weekends.
This e-bike offers Class 1 performance, so it will easily suffice for urban riding. The Bosch Active Line Plus 250W mid-drive motor delivers up to 50 Nm of torque. You can use one of the four available pedal-assist modes to maximize the range or reach the maximum speed of 20mph.
The Townie Go! 5i provides more than adequate mileage thanks to its 400Wh removable battery. You can fully charge it in around 3.5 hours, so you can travel for up to 70 miles in Eco mode.
The Electra Townie Go! 5i has a step-over frame and one frame size. This electric commuter bike serves its purposes really well.
The affordable price and Class 1 electronics make it a popular choice for daily commuters. Although it's not the best e-bike for off-road exploration, it can still hold its own across elevated terrain thanks to its wide tires.
If you want a simple but dependable commuter e-bike that can take you around the city in comfort and style, then consider the Electra Townie Go! 5i.
---
#4

Cannondale Quick Neo SL 1 Remixte
MSRP: $2,975
700c x 38mm wheels
Intellimount on the stem
Weighs 34 lb
Hydraulic disc brakes
Front and rear lights
Best for: city commutes, fitness rides, night rides
Cannondale Quick Neo SL 1 Remixte is a solid choice for commuters who are looking for a mid-range hybrid e-bike that can deliver Class 1 performance. This machine combines ergonomic design, long-range capability, and low-weight performance in the most efficient way possible.
You can enjoy a top speed of 20 mph on this e-bike thanks to the MAHLE ebikemotion X35 250W motor. It can deliver up to 40 Nm of torque to power you across any type of terrain with little effort.
The Quick Neo SL 1 can also take you far on pedal assist mode because of its 250Wh battery.
Cannondale Quick Neo SL 1 takes just 3 hours to reach full charge, which is worth the wait for the 40 miles of assisted travel that it can give you.
Cannondale is known for its incredibly tough bike frames, as evidenced by the 6061 aluminum alloy used for the Quick Neo SL 1 Remixte. The well-designed geometry, in addition to the 38mm tires, results in extra comfort for the rider.
Cannondale Quick Neo SL 1 Remixte ticks all the boxes if you're in need of a Class 1 e-bike that can take you on multiple missions in the city. Not only that, but you also can take this e-bike out for a lengthy fitness ride during your free time!
---
#5

Marin Sausalito
MSRP: $2,499
Jenson USA | GovVelo.com
650b x 47mm tires
Hydraulic disc brakes
Semi-integrated battery
Comfy commuter geometry
Kickstand
Best for: city commutes, off-road travel
Marin Sausalito is a Class 1 hybrid e-bike that is an excellent long-term investment for city commuters with an ultra approachable step-thru frame.
Marin Sausalito is powered by a Shimano STEPS E5000 mid-drive motor which is built into the frame for increased protection and reduced noise. This e-bike provides up to 200% of assistance, allowing it to climb hills with ease and reach a top speed of 20 miles per hour.
You can enjoy assisted travel for miles thanks to the 418Wh battery and an efficient Shimano Deore 10-speed drivetrain that will help you get the best performance out of the electric system.
Marin Sausalito's frame is made from 6061 aluminum alloy. The frame has a low-step top tube that makes it easier to mount and dismount the bike. On top of that, you can attach one water bottle cage, and a rear rack, and the fork has additional mounts for bags or more water bottle cages.
Braking is done using powerful Tektro hydraulic disc brakes, so you will definitely have enough stopping power after climbing those steep hills in your area.
Marin Sausalito is a good mid-range e-bike for beginners because of its comfortable frame and excellent handling. Seasoned cyclists will also enjoy this electric commuter bike for its hybrid performance, excellent mileage, and top-notch components.
Buy on Jenson USA    Buy on GovVelo.com
---
#6

Yuba Electric Supermarché
MSRP: $5,500
20-inch wheels
2-piston hydraulic disc brakes
Intuvia LCD display
Rear-mounted rack
Large open loader cargo basket
Best for: city commutes, multiple passengers, large cargo
The Yuba Electric Supermarché is all about utility. This step-through e-bike uses an extra-low design for the benefit of all riders regardless of height. Its large cargo rack makes it an ideal choice for commuters, delivery workers, and parents who want to bring their kids along for a joyride!
The Supermarché is run by a Bosch Performance CX 250 W motor, which is responsible for pushing the e-bike to a top speed of 20 mph over flat or sloped terrain. The 500 Wh battery delivers enough pedal assist to help you haul your cargo multiple times in the city.
This e-bike uses a lightweight, step-over aluminum frame with a much lower profile than most commuter e-bikes. Yuba Bikes built this design on purpose to provide riders with more control and weight distribution. The closer the bike touches the ground, the easier it is to balance!
The Yuba Electric Supermarché bike is an all utility bike with its high load capacity and powerful motor that can take you anywhere.
The Yuba Electric Supermarché looks nothing like the usual electric commuter bike, but that's not a bad thing! This e-bike still delivers superb results performance-wise, thanks in part to its unique design and efficient transmission system.
Yuba Bikes includes a two-year warranty to cover any manufacturing defects on your Supermarché. It's easy to file a claim through the warranty form provided on their website. In case you have other concerns about your order, just give their customer service team a call and you can expect a quick response.
This mid-range Class 1 e-bike can carry a large amount of cargo unlike any other. It's the perfect choice for commuters who want to take their kids around town without having to use the bus or their car.
---
#7

Ride1UP 500 Series
MSRP: $1,495
27.5-inch wheels
Tektro Aries mechanical disc brakes
Built-in rear rack
Front and rear fenders
Front and rear lights
Best for: city commutes, night rides
The Ride1UP 500 Series e-bike lets you commute to work faster without the stress that you usually experience when using public transport. If you're looking for a portable e-bike with a simple but functional design, it won't hurt to give this one a chance.
The powerful 750W motor gives you 60 Nm of torque and up to 28 mph on full throttle. In case you need to use the pedal assist, the 624 Wh removable Lithium-ion battery can give you around 45 miles on a full charge. Those are impressive numbers for an e-bike in this price range!
Ride1UP 500 Series' frame is built from a lightweight but tough 6061 aluminum alloy. You can choose between a low-step or high-step frame, and one size is available for each model. The step-through frame fits riders 5'1″ to 6'2″ tall, whereas the step-over frame is suitable for 5'5″ to 6'4″ tall riders.
The upright seating position, ergonomic grips, and suspension fork on the Ride1UP 500 Series help keep you comfortable during long rides.
The mechanical disc brakes and an 8-speed Shimano Acera rear derailleur ensure proper cycling experience.
The majority of the customers who reviewed the 500 Series e-bike praised its simple design and reliable performance. The number of stock components available for its price range also received positive feedback.
Overall, the Ride1UP 500 Series e-bike is a trustworthy companion that can take you to different locations around the city. It is one of the best electric commuter bikes that you can rely on regardless of the weather or time of day!
---
#8

Aventon Level.2
MSRP: $1,949
27.5-inch wheels
Rack and fenders included
Hydraulic discs
8-speed Shimano Acera drivetrain
65mm fork suspension
Best for: city commutes, public transport rides
The Aventon Level.2 is one of the best commuter bikes under $2,000. Impressively, it weighs just 53lbs with a full-equipped setup and large electronics.
This e-bike is armed with a 500W hub motor with five levels of pedal assistance and a max speed of 28mph (20mph throttle).
The 672Wh Lithium-ion battery will last 30 miles without pedaling and up to 60 miles on Eco mode. This bike's battery is easily detachable, takes four to five hours to reach full charge, and is well-protected by the e-bike's frame.
The Level.2's frame is made from 6061 aluminum which is lightweight and responsive.
Aventon already has a reputation for making some of the best value e-bikes, and somehow they managed to make the new Level even more impressive.
Aside from the upgraded frame, the Level.2 is 9lbs lighter, has more range, and has faster tires. Most product reviews for the original Level pointed out its superb durability and functionality in urban environments and we expect the exact same from this updated model.
If you're searching for one of the best electric commuter bikes with an affordable price and great performance, then the Aventon Level.2 might be the one for you.
---
Facts
Commuter e-bikes are basic entry-level bikes that are designed and built for day-to-day travels. These Commuter e-bikes on this list are all class 3 e-bikes, which means they have a maximum speed limit of 28mph.
In this list of commuter bikes, you can find road, city, and foldable e-bikes that have their own ups and downs.
The commuter bikes on these lists prices vary from the most affordable price of $1,599 to an expensive price of $5,500.
In this list, you'll find commuter e-bikes with various speeds from 20mph to 28mph.
The ranges of these e-bikes varies from product to product with the lowest range of 30 miles to the highest range of 120 miles.
How it stacks against others