Balance Bike for Toddlers — Choose the Right Size & Model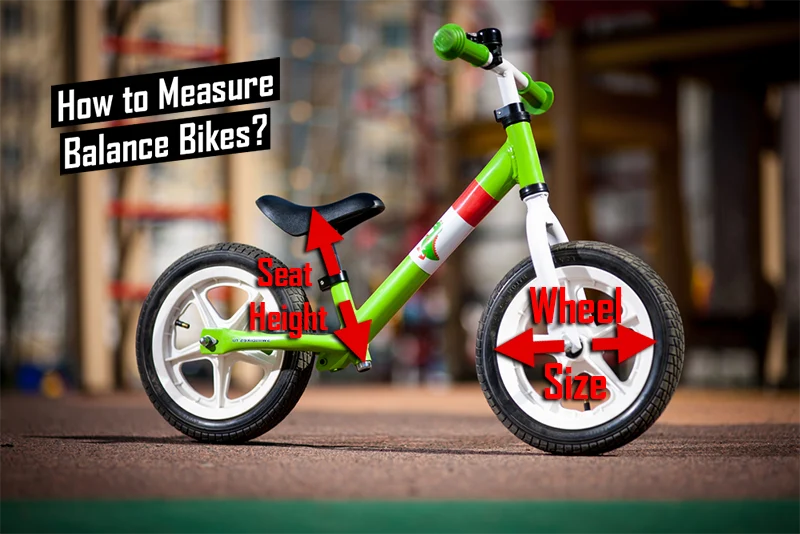 The balance bike has emerged as a game-changer in the world of kids' bikes. Prioritizing balance over pedaling, they offer kids a more natural approach to learning how to ride a bike.
But, ensuring you choose the right size balance bike for your toddler is crucial for an enjoyable and safe riding experience.
On this page, we'll tell you all you need to know about balance bike sizing and our interactive calculator will recommend the right size in seconds!
Balance Bike for Toddlers or Training Wheels?
Training wheels have been the go-to method for teaching kids how to ride a bike for generations, but that is slowly changing.
Balance bikes have proven to be a faster, safer, and more intuitive way for kids to learn how to balance and transition to riding a pedal bike on their own.
Why are balance bikes better?
They prioritize balancing: Baby balance bikes prioritize learning the skill of balancing over pedaling, which is much more important for kids to successfully ride a bike on their own.
Boost confidence: By being able to propel themselves and balance on their own, without the help of parents, kids feel more confident and relaxed when they start riding.
Improve safety: Balance bikes allow kids to easily reach the ground with their feet while fully seated, which means they can easily stop themselves or regain balance.
How to Measure Balance Bike Sizes?
Balance bikes are typically measured based on the wheel diameter, but the minimum/maximum seat height range compared to the child's inseam is also a crucial factor.
To make the process easy and simple, we recommend using our interactive calculator below.
Just select the wheel diameter from the drop-down menu, and it will guide you to a page with the recommended height range for that wheel size.
It takes the guesswork out of the equation, ensuring you pick the perfect balance bike for your toddler.
Frame Diagram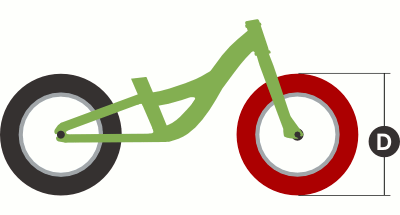 Measuring Instructions
Measure the diameter of the existing tire, as illustrated above (D), or look on the tire for the size (it looks like this: nn" x n.n").
If you find the tire size, the first dimension is the tire diameter, the second dimension is the tire thickness.
Record the tire diameter, as this also represents the bike frame size.
Select your bike size from the drop-down on the right to see a rider chart.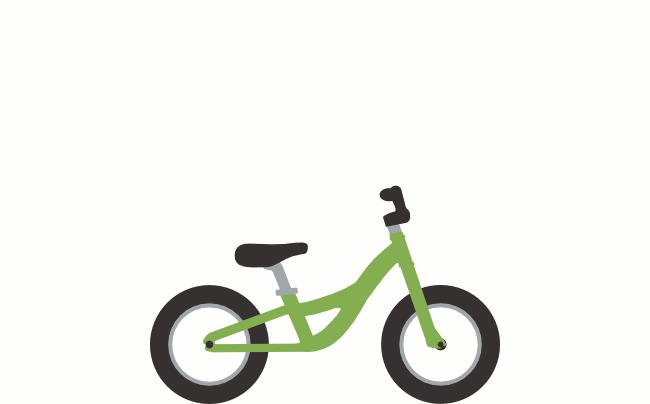 Kids Bike
Rider Charts
Once you know your bike's frame size, select it from the drop-down to see how tall riders should be to use this bike.
Notes
Wheel Size (D) - This is the outer diameter of the wheel, with the tire installed on the rim.
Kids Bike Sizing (in) - Kids bikes are measured in inches.
---
Frequently Asked Questions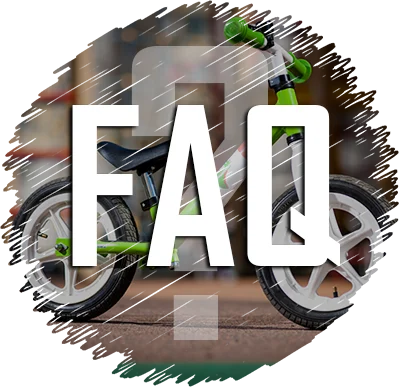 1. How do I know what size balance bike to get?
To get the right balance bike size for your toddler, you should consider your child's inseam length and the bike's wheel size. Once you know the child's inseam length, you can consult a sizing chart that will recommend a balance bike with the correct wheel size. 
2. What size balance bike does a 4-year-old need?
A 4-year-old typically needs a 14" balance bike or a 16" balance bike, depending on how tall they are. To make sure you get the right size, you should measure your child's inseam length and compare it to the bike's minimum seat height. The minimum seat height should be at least 2" shorter than the child's inseam.
3. What age is a 14-inch balance bike for?
A 14" balance bike typically fits kids 3-4 years old. However, each child is different and grows at a different rate, which is why this is only a recommended age range. Before making the final purchase, you should also consider the bike's minimum seat height and your child's inseam length. 
4. What size balance bike do I need for a 2-year-old?
A balance bike with 10" or 12" wheels is typically suitable for 2-year-olds, which are the smallest balance bike sizes you can find. Make sure that the bike's minimum seat height and standover height are slightly shorter than the child's inseam length to ensure their comfort and safety while riding.
5. How do you measure a child for a bike?
The most important measurement when choosing a bike size for a bike is the inseam length, which is the length of the child's leg from the floor to the crotch. When choosing the right size, you should use the child's inseam length to make sure they can comfortably reach the ground when fully seated. 
See 12" Bikes on REI     See 12" Bikes on Amazon
More on eBicycles:
Kids Bikes - (Balance | 12 | 16 | 20 | 24)
Measure Mountain Bike Frames - (Rigid | FS | Hardtail)
Measure Road Bike Frames - (Classic | Compact | Mixte)