Measure a Mixte Road Bike Frame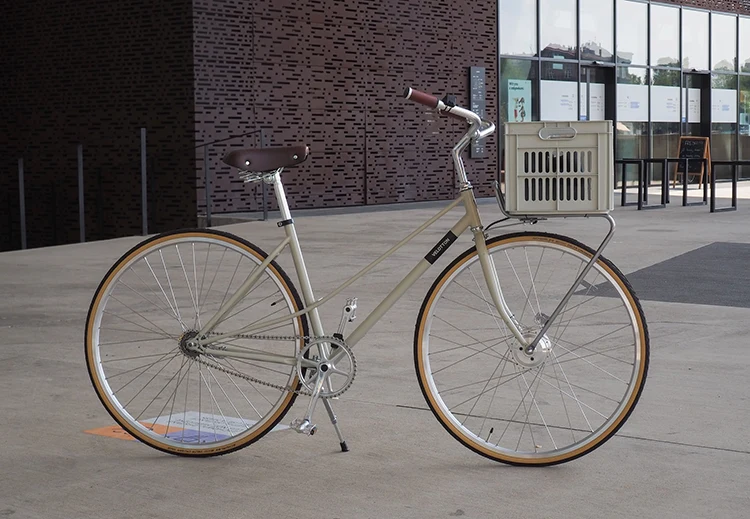 The mixte road bike frame is commonly seen on older bikes, but it still stands out in the world of road cycling today.
It has a unique step-through design with a sloping top tube that extends from the head tube to the rear axle, making the frame strong and allowing for easier mounting and dismounting.
As with any other bike, getting the perfect fit is essential for a comfortable and efficient ride, and the first step to achieving this is knowing how to measure a mixte road bike frame.
We'll tell you more below!
How to Measure a Mixte Road Bike Frame?
Even though mixte road bikes look completely different than other types of road bikes, the seat tube length is still the most important measurement to consider.
By knowing the seat tube length, you can use our online calculator to get a rider size range recommendation for a particular size in seconds.
Follow the step-by-step measuring instructions below and then choose the correct size from the drop-down menu.
Here we go!
Frame Diagram
Measuring Instructions
Identify the top of the seat tube, where the seat clamp holds the seat post.
Identify the center of the bottom bracket (it's the axle that holds the crank arms together).
Measure the distance between the two points (C-T) - this is the length of the seat tube.
Record your measurement in both centimeters (cm) and inches (to the nearest half-inch).
Select your bike size from the drop-down on the right to see a rider height chart.
Mixte Road Bike
Rider Charts
Once you know your bike's frame size, select it from the drop-down to see how tall riders should be to use this bike.
Notes
Center to Top (C-T) - This is the length of the seat tube, measured from the center of bottom bracket to top of the seat tube.
Metric (cm) - Road bikes are measured in centimeters.
More on eBicycles:
Measure Road Bike Frames - (Classic | Compact | Mixte)
Measure Mountain Bike Frames - (Rigid | FS | Hardtail)
BMX Bikes - (Freestyle | Racing)