Balance Bike Sizes — Know the Right Size & Model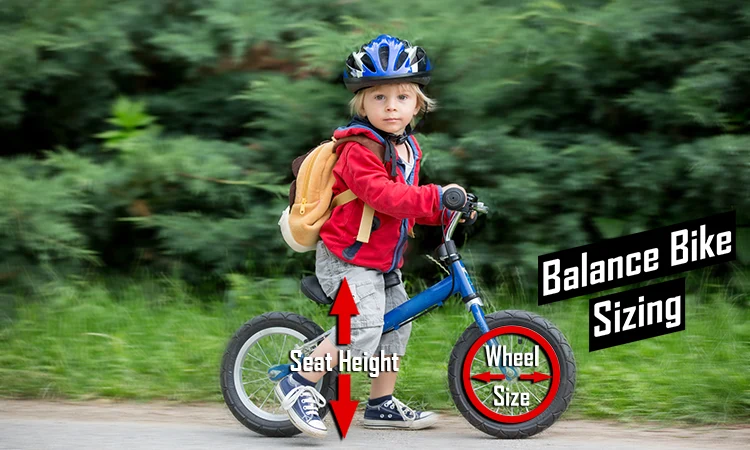 A balance bike is a unique type of children's bike without pedals, chains, and a drivetrain. Because of this, balance bikes are also known as run bikes or push bikes.
Instead of pedaling, children propel themselves by pushing against the ground with their feet, which is why understanding balance bike sizes is critical.
By getting the right size, your child will be able to reach the ground easily and feel confident and safe while taking their first steps on two wheels.
Let's see how to do that in seconds!
How Do Balance Bike Sizes Work?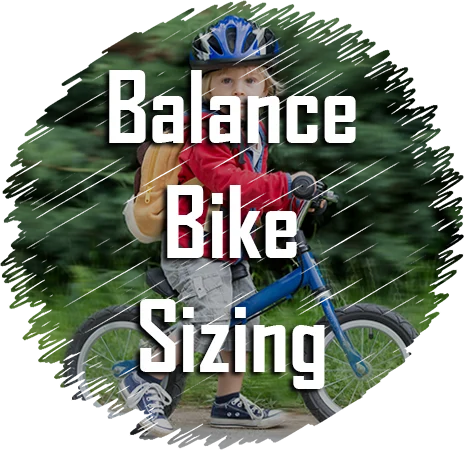 Balance bike sizes work the same way as all other kids' bike sizes—based on the wheel diameter.
Run bikes typically come with tire sizes ranging from 10″ to 16″, but 12″ balance bikes are by far the most common. 12″ baby balance bikes are suitable for most toddlers and preschoolers, while older kids should choose larger wheel sizes.
When choosing a balance bike for toddlers or older kids, you should also consider the seat height range.
When seated, your child's feet should easily reach the ground, with a slight bend in the knees, which means that the minimal seat height should be at least 2 inches shorter than the child's inseam length.
This will give them maximum control and confidence!
How to Measure a Balance Bike?
As mentioned above, balance bikes are sized according to the wheel diameter, which you can then use to find the rider's height range by consulting a balance bike size chart.
Our calculator below lets you select your balance bike size from the drop-down menu to see an easily printable rider chart.
Here are the steps!
Frame Diagram
Measuring Instructions
Measure the diameter of the existing tire, as illustrated above (D), or look on the tire for the size (it looks like this: nn" x n.n").
If you find the tire size, the first dimension is the tire diameter, the second dimension is the tire thickness.
Record the tire diameter, as this also represents the bike frame size.
Select your bike size from the drop-down on the right to see a rider chart.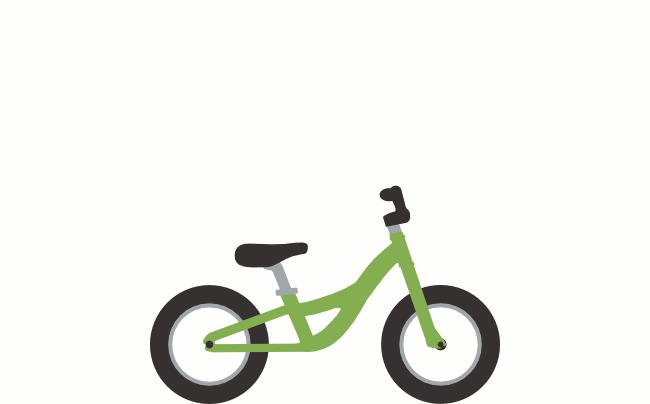 Run Bike
Rider Charts
Once you know your bike's frame size, select it from the drop-down to see how tall riders should be to use this bike.
Notes
Wheel Size (D) - This is the outer diameter of the wheel, with the tire installed on the rim.
Kids Bike Sizing (in) - Kids bikes are measured in inches.
---
Benefits of Balance Bikes Over Training Wheels
Balance bikes have numerous benefits over pedal bikes with training wheels, which is why they have recently become a more popular choice for kids who are trying to learn how to ride. 
Here are the biggest ones:
Natural Learning Curve: Balance bikes first teach kids how to balance on two wheels, which is a much more crucial skill for bike riding, before introducing pedaling. This is a more intuitive way for kids to learn how to bike.
Builds Confidence: Children get a sense of confidence and independence as they learn to glide and balance on their own, without the assistance of parents. 
Smoother Transition: Balance bikes make it easier for toddlers to transition to pedal bikes once they are already confident balancing on two wheels.
See Balance Bikes on REI     See Balance Bikes on Amazon
More on eBicycles:
Kids Bikes - (Balance | 12 | 16 | 20 | 24)
Measure Mountain Bike Frames - (Rigid | FS | Hardtail)
Measure Road Bike Frames - (Classic | Compact | Mixte)