20 Inch Bicycle — To What Size Kids?
As your child grows, ensuring they have a bike that fits well, feels good, and is safe to ride is crucial.
A 20-inch bicycle is one of the most common kids' bike sizes chosen by parents for their preschoolers and young school kids.
But what size and age kids should actually be riding a 20″ kids' bike?
We'll tell you all about it below and show you how to use our online calculator to get the right size in seconds!
How to Measure a 20-inch Kids' Bicycle?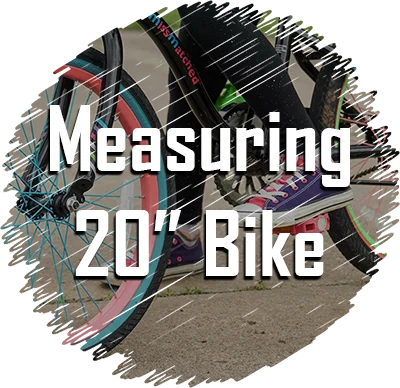 Unlike adult bikes, which are usually measured by frame size, children's bicycles are measured based on their wheel diameter.
Therefore, it's important to understand that the "20-inch" in a 20-inch bicycle refers to the diameter of its wheels, not the seat tube or top tube length.
The wheel size diameter should be used as a starting point when gauging the right size bike because two kids of the same age may have different leg lengths and heights and might need different bike sizes.
Knowing the importance of selecting the right kids' bike size, we've made the process easy for you with our online kids' bike size calculator below.
Simply choose the wheel size from the drop-down menu, and you'll be taken to a dedicated page displaying a printable rider size chart that tells you the correct height and age range for that bike size.
Frame Diagram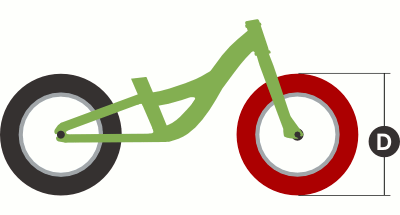 Measuring Instructions
Measure the diameter of the existing tire, as illustrated above (D), or look on the tire for the size (it looks like this: nn" x n.n").
If you find the tire size, the first dimension is the tire diameter, the second dimension is the tire thickness.
Record the tire diameter, as this also represents the bike frame size.
Select your bike size from the drop-down on the right to see a rider chart.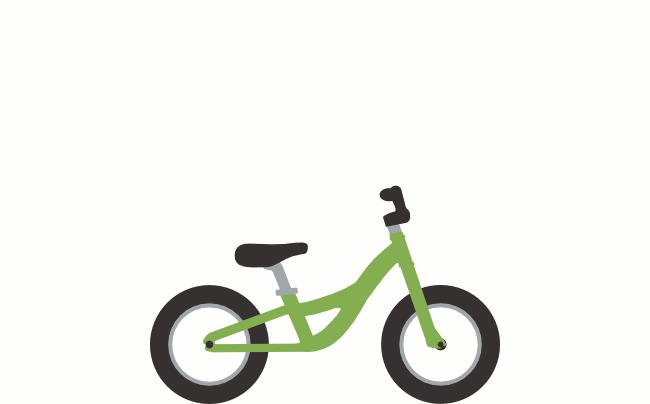 Kids Bike
Rider Charts
Once you know your bike's frame size, select it from the drop-down to see how tall riders should be to use this bike.
Notes
Wheel Size (D) - This is the outer diameter of the wheel, with the tire installed on the rim.
Kids Bike Sizing (in) - Kids bikes are measured in inches.
---
Frequently Asked Questions
1. What age is a 20-inch bike for?
A 20-inch bike typically fits kids between 5 and 9 years old. However, you should use this information only as a starting point, as not all children of the same age are the same height. For best results, you should also consider the child's leg length and compare it with the bike's seat height and standover clearance. 
2. How tall should you be for a 20-inch bike?
A 20-inch bike is generally suitable for kids between 3' 3½" and 4' 8½" tall (100 cm - 144 cm). However, this is just a rough estimate, as sizing charts may differ from one manufacturer to another. Therefore, you should always double-check with the manufacturer before making a purchase.
3. How big is a 20-inch bike?
A 20-inch bike is a bike with 20" wheels. Unlike bikes for adult people that are measured based on the frame size, kids' bikes are measured based on the wheel diameter. Most 20" bikes have similar size frames but may differ between manufacturers. 
4. Is a 20-inch bike good for adults?
No, a 20-inch bike is not a good choice for adults as it would be too small for most adults. Most kids' bikes with 20" wheels fit riders between 5 and 9 years old or roughly 3'3" - 4'8" tall. Adults should look for bikes with adult-size frames.
See 20" Kids' Bikes on REI    See 20" Kids' Bikes on Amazon
More on eBicycles:
Kids Bikes - (Balance | 12 | 16 | 20 | 24)
Measure Mountain Bike Frames - (Rigid | FS | Hardtail)
Measure Road Bike Frames - (Classic | Compact | Mixte)