How to Measure: Kids Bike Sizes
Understanding kids' bike sizes when buying a bike for your child is crucial to ensure they feel safe and comfortable while riding.
However, many parents get confused between wheel sizes and frame sizes when it comes to the topic of how to measure bike sizes for kids.
In this guide, we'll shed some light on this common misconception and provide you with detailed kids' bike size charts for all ages and sizes.
The Difference Between Wheel and Frame Sizes
When buying a bike for your child, you'll frequently see terms such as "20-inch bike," "24-inch bike," "12-inch bike," and so on.
It's crucial to understand that, when it comes to a child's bike, these measurements refer to the wheel diameter, not the frame size.
This is a straightforward way to choose the right size by consulting a kids' bike size chart and finding the right wheel size for your child's height and age.
However, keep in mind that this method is not always ideally precise, so you should make sure that the bike's minimum seat height and stepover clearance allow your child to comfortably mount, dismount, and ride the bike.
Balance Bikes: Best Learning Bikes for Toddlers
Balance bikes (also known as 'run bikes') are the best way for kids to learn how to ride a bicycle and practice coordination. Before a child progresses to pedal bikes, a balance or run bike can be an excellent introduction to maintaining balance on two wheels.
Balance bikes for toddlers don't have pedals, teaching kids to balance and steer with their legs. They usually have tiny 8″ to 12″ wheels and a low standover height to the top tube of the bike, so children can easily reach the ground with their feet while sitting on the saddle, helping them feel safe and confident.
This foundational skill can make transitioning to pedal bikes smoother, unlike when learning how to ride with training wheels.
Detailed Balance Bikes Size Chart
---
12-inch Bikes
Twelve-inch kids' bikes are designed for 2-3-year-olds and may come with or without training wheels to provide added stability.
A 12-inch bike with training wheels is a popular way to introduce riding to a child, but as your child grows and gains more confidence, these training wheels can be removed.
We recommend removing them as soon as possible, to help your child get used to balancing on two wheels.
---
14-inch Bikes
While not as common, 14-inch bikes fill the gap between 12-inch and 16-inch sizes, as this size bike fits riders 3-4 years old. But why are 14-inch bikes hard to find?
They're sometimes harder to find because many bike manufacturers skip this size. Kids grow rapidly, so many parents decide to jump to larger 16-inch bikes straight away, which is why the demand for 14-inch bikes is low.
However, they're perfect for kids who might find 12-inch too small and 16-inch too large and excellent as your child's first pedal bike.
---
16-inch Bikes
As your child continues to grow, a 16-inch bike is usually the next logical step.
As mentioned previously, many parents choose to transition from 12-inch bikes to 16-inch bikes because of the scarcity of 14″ models.
The 16″ bike age range is around 4-5 years, but they can typically grow with your toddler by adjusting the seat and handlebars height.
---
18-inch Bikes
Eighteen-inch bikes are versatile and can cater to varying heights, offering more longevity as your child grows.
The 18-inch bike age range is between 5-6, but this depends heavily on the manufacturer and your child's height and inseam length.
---
20-inch Bikes
A 20-inch bike is suitable for younger school kids who already know how to balance and feel comfortable on a pedal bike.
The 20″ bike age range is between 5-8-years-old, so this size caters to a wider range of riders.
When your child is ready for more advanced rides, the 20-inch bike provides the right balance of size and functionality, often featuring disc brakes, front suspension, and more gears.
---
24-inch Bikes
As the largest kids' bike size, a 24-inch bike is suitable for pre-teens and young teens, aged roughly 7-11, ensuring they have the perfect ride until they can handle adult bikes.
These bikes typically also introduce front and rear gears, so kids can practice shifting and learn how derailleurs work.
This is also the size where more serious kids' mountain bikes start appearing, with proper suspension, disc brakes, and quality components.
---
How to Get the Right Bike Size for Kids Every Time
Getting the right kids' bike size may be even more difficult than getting the best fit for an adult rider.
Kids' bikes are often sized based on age, but kids grow at different rates, so no 6-year-old is the same—some are tiny for their age, while others are much taller.
So instead of wasting money on getting the perfect size bike through trial and error, here are three pieces of advice from our kids' bike sizing guide that we keep in mind when buying bikes for kids to make sure we get everything right the first time.
Know Your Kid's Inseam and Height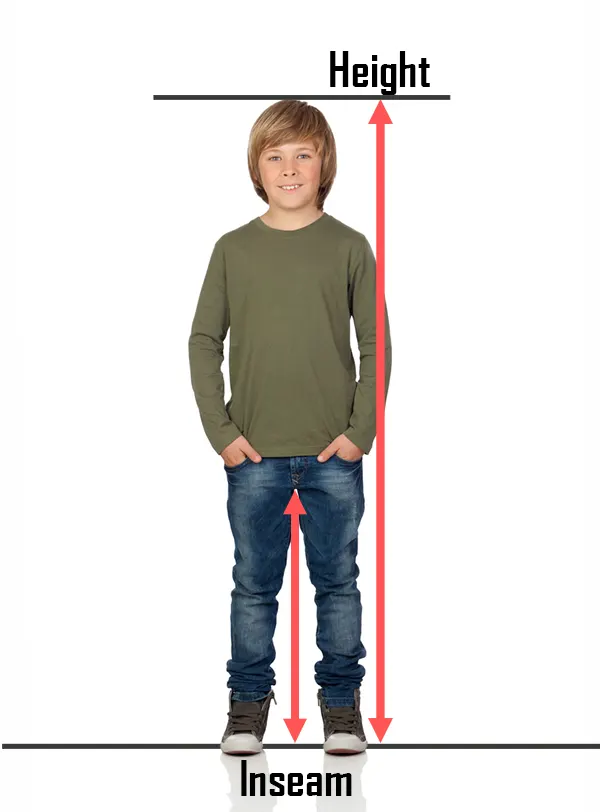 The first step to choosing the right size bike for kids is not to rely on age charts only. Instead, you need to measure your child's inseam length (leg length) and height and compare those measurements to the manufacturer's model chart.
Measuring your child's height is easy, so we won't go into too much detail here. Just have them stand up straight against the wall and measure from the ground to the top of their head, using a book to be more precise.
To measure their inseam length, have them stand with their feet slightly apart (shoulder width), place a book between their legs as high as it goes and measure from the ground to the crotch (the top of the book).
Now you're all set for the next step!
Use a Kids' Bike Size Chart to Find the Correct Size
With these measurements, you can use a general kids' bike size chart like the one we've shared below or go to the manufacturer's website and check if there are model-specific size recommendations.
| | | | | | |
| --- | --- | --- | --- | --- | --- |
| Age | Height (Inch) | Height (cm) | Leg Inseam (Inch) | Leg Inseam (cm) | Wheel Size |
| 2 | 2'9″ – 3'1″ | 85-90 cm | 12″ – 14″ | 85 – 90 cm | 10″ |
| 3-4 | 3'1″ – 3'3″ | 90-100 cm | 14″ – 17″ | 35 – 42 cm | 12″ |
| 4-5 | 3'3″ – 3'7″ | 100-110 cm | 16″ – 20″ | 40 – 50 cm | 14″ |
| 5-6 | 3'7″ – 3'8″ | 110-115 cm | 18″ – 22″ | 45 – 50 cm | 16″ |
| 6-8 | 3'8″ – 4'0″ | 115-120 cm | 20″ – 24″ | 50 – 60 cm | 18″ |
| 7-9 | 4'0″ – 4'5″ | 120-135 cm | 22″ – 25″ | 55 – 63 cm | 20″ |
| 9-11 | 4'5″ – 4'9″ | 135-145 cm | 24″ – 28″ | 60 – 72 cm | 24″ |
| 11-14 | 5'+ | 145 cm + | 28″+ | 72 cm+ | 26″ |
Remember, this chart is just the starting point and shouldn't be followed blindly as different brands have different recommendations depending on the geometry of the bike, saddle height, handlebar height, and standover height.
A test ride is also a good idea if there are well-stocked local bike shops in your area.
What If Your Child Is In Between Two Sizes?
One problem you might encounter when sizing a bike for your kid is if they're in between two sizes.
You could choose the smaller size and risk them outgrowing it in a few months or choose the bigger size and risk it being too big and uncomfortable for them.
What's the right thing to do?
Well, if your kid is pretty close to the lower height/inseam range of the larger size, we recommend sizing up, as they will probably grow into it pretty soon. But if there's a larger difference or if you're buying your child's first bike, it's best to stick with the smaller size and then just sell it in a few months.
You may lose a bit of money from the difference, but at least your child is going to enjoy cycling and build confidence on two wheels.
You may even consider buying used from The Pro's Closet or another online marketplace instead of buying a new bike and then reselling the bike again in a few months for roughly the same amount of money.
Choose the Right Type of Bike
Last but not least, once you have the right size figured out, you should also start thinking about other aspects of your child's future bike, such as the type and the spec level.
Kids' bikes come in all shapes and sizes, pretty much the same as bikes for adults. You can choose from types such as:
Mountain bikes
Hybrid bikes
BMX bikes
Road bikes
Cruiser bikes
Balance bikes
Make sure to think about what kind of riding your child likes to do or would like to do in the future and then choose accordingly. If they typically ride on off-road terrain or you know there are great off-road trails and forest paths in your neighborhood, get a mountain bike. If there are smooth cycle paths around your home, a hybrid, road, or cruiser bike would be a much better choice.
In addition, you should also think about the spec level or the level of components the bike comes with. If your child still lacks experience or is on the lower end of the age spectrum, it's best to hold off from buying a bike with lots of gears and both hand brakes as they may feel overwhelmed. A single-speed and coaster brakes would be enough.
Also, if they are only going to ride recreationally, there's no reason to buy an expensive full-suspension mountain bike with expensive components and a rear shock—save some money and get a model with basic but durable components that will last for as long as possible.
---
Notes
Wheel Size (D) - This is the outer diameter of the wheel, with the tire installed on the rim.
Kids Bike Sizing (in) - Kids bikes are measured in inches.
Kids bikes without pedals are called run bikes and have wheels that measure from 8" to 12".
Rider Charts
Select a kids bike size to see a chart of suitable riders by age and height.
More on eBicycles:
Kids Bikes - (Balance | 12 | 16 | 20 | 24)
Measure Mountain Bike Frames - (Rigid | FS | Hardtail)
Measure Road Bike Frames - (Classic | Compact | Mixte)