Road Bike Types and Their Sizes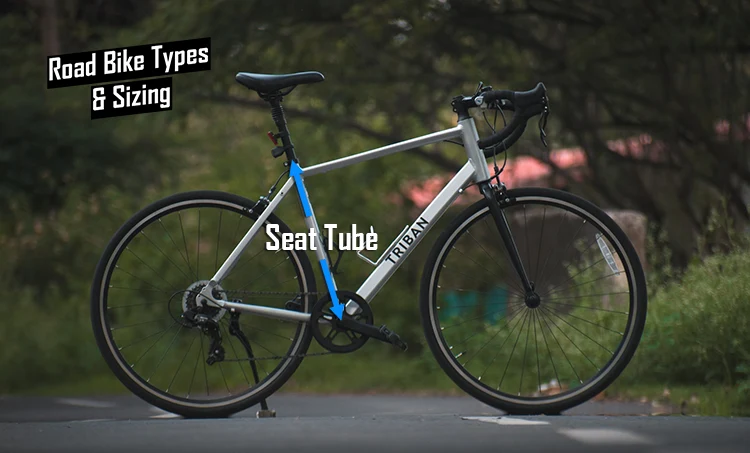 Road bikes come in various styles, designed for different types of riding and rider preferences.
Since road bikes are typically intended for long rides in an aggressive riding position, finding the right fit is crucial for comfort and injury prevention.
Knowing how road bike frames are measured is the first step to achieving the proper fit.
On this page, we'll cover the three most popular road bike styles and tell you how to measure each using our handy online calculator.
Road Bike Types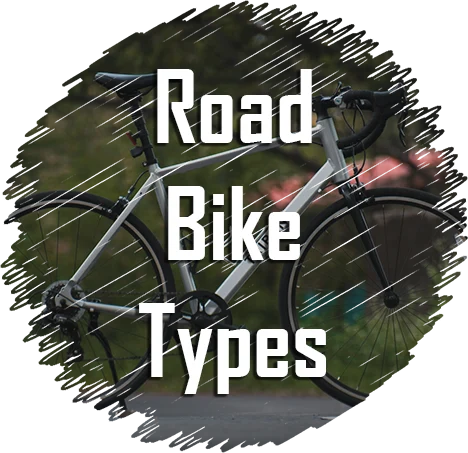 Even though road bikes are generally used for long-distance and high-speed rides, there are several different types that slightly differ in the style of intended riding and frame shape.
The three most common ones you should know about are:
Classic road bike: This is the traditional style of road bike with a classic frame that has a top tube parallel to the ground. This style is now commonly seen on racing and some road touring bikes.
Compact road bike: A compact road bike is a more versatile type with a top tube that slopes slightly downward from the head tube to the seat tube. This frame style is commonly seen on modern endurance road bikes and gravel bikes.
Mixte road bike: This style has a step-through frame and is intended for fast commutes and versatile urban rides. These bikes are also commonly known as fitness bikes.
Now that you have the necessary knowledge to determine what road bike frame style you have, let's see how to measure it and get the right fit.
How Are Road Bike Frames Measured?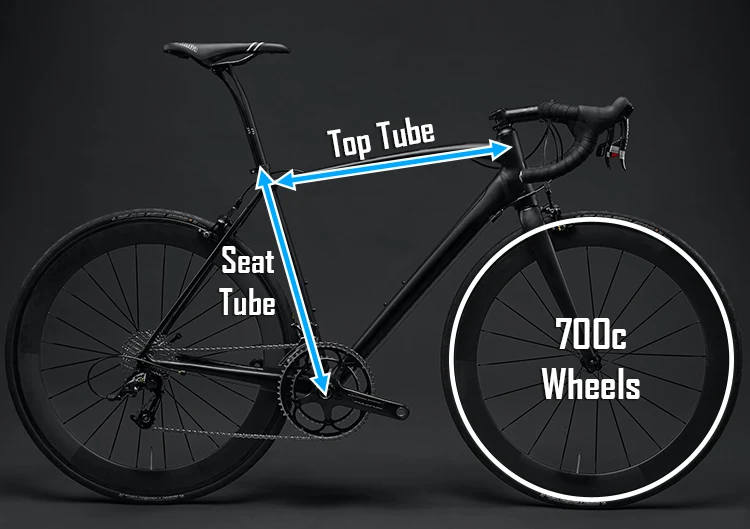 Typically, road bikes are measured by their seat tube length, though top tube length can be an important metric as well, especially for riders in between two sizes.
The length of a road bike seat tube is expressed in centimeters, commonly ranging from 43 cm to 63+ cm, depending on the manufacturer.
Keep in mind that some manufacturers use size classes (from XXS – XXL) to express road bike frame size, but this method is not as precise, as there can be significant deviations among brands.
To determine your road bike's frame size and see the recommended rider height and leg length range, start by choosing the desired style below.
What style road bike do you have?
---
Frequently Asked Questions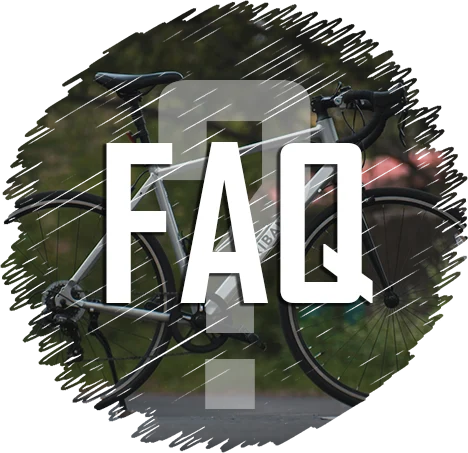 1. What type of road bike frame is best?
Determining what type of road bike frame is best depends on the rider and their preferred style of riding. All road bike frames are good for a particular set of skills and a specific type of training. A classic frame is best for racing, whereas a compact frame is better for endurance riding and gravel biking. 
2. How is road bike size determined?
Road bike sizes are determined according to seat tube length, which is expressed in centimeters. The seat tube is measured from the center of the pedal crank axle to the top of the seat tube, where the seat post enters the frame. Road bikes are typically sized from 43 cm to 63+ cm. 
3. What size is a 54cm road bike?
A 54 cm road bike is a road bike with a 54 cm long seat tube. Some manufacturers that use size classes also label this size as Medium (M), but this method is not as reliable and you should measure the seat tube length whenever possible. For the best fit, measure the top tube and standover clearance as well. 
See the Best Electric Road Bikes
More on eBicycles:
Measure Road Bike Frames - (Classic | Compact | Mixte)
Measure Mountain Bike Frames - (Rigid | FS | Hardtail)
BMX Bikes - (Freestyle | Racing)