Electric bike conversion kits are becoming increasingly popular among commuters and bike riders. Electric bicycles take the effort out of cycling and allow you to do more and go farther than is possible on a traditional bike.
Commuting, carrying cargo, adventure riding, and mountain biking are all made easier with the help of a pedal bike motor and battery system. With an e-bike, riders can set off without worrying about steep hills, vicious headwinds, or arriving at their destination covered in sweat on a hot day.
The issue with e-bikes is the cost and the space they take up. However, many people already have a bicycle lying around, so repurposing it with an electric bike conversion kit will save you money and the hassle of buying a new e-bike.
This article is a complete guide to electric bike conversion kits, answering all your e-bike kit-related questions and helping you decide if it's the right choice for you.
What Are Electric Bike Conversion Kits?
An electric bike conversion kit is a kit that contains the individual electrical components and cables used to power an e-bike.
By installing the components on your traditional bike, you can continue enjoying it while getting the benefits of electric power, saving time and money, and being environmentally responsible.
These e-bike kits come in various designs and price ranges to suit different budgets, bikes, and power requirements. In general, the components of an electric bicycle conversion kit are a motor, battery, controller, and sensors.
Types of Electric Bike Conversion Kits
---
As mentioned, several electric conversion kit designs exist, each with advantages and disadvantages. The type you choose will depend on the bike you will install it on (recipient bike).
Hub Drive or Wheel Ebike Conversion Kits
The most common way to convert a regular bike to an e-bike is with a hub motor kit in the front or rear wheel.
There are two kinds of hub motor kits. One type comes with a motorized hub that you replace your existing wheel's hub with; the other comes with a complete front or rear wheel with the motorized hub pre-installed, meaning you swap out the entire wheel.
These kits are relatively straightforward to install for the home mechanic because all you need to do is swap components and connect the electric parts. In addition, the compatibility is broad because the kit only has to match the bike's wheel size.
There are two types of hub motors, geared or direct-drive (gearless), but most products on the market have geared motors.
Direct Drive Hub Motor Kits
The most basic motor design is a direct-drive hub. The shaft in the motor connects directly to the wheel axle, so both turn at the same speed. As a result, these systems have low torque levels and are inefficient but are more durable as there are fewer moving parts.
Direct-drive hub motor kits are harder to find nowadays as most manufacturers have switched to geared hubs for their superior performance. Still, they are the cheapest hub motor kits and provide more power than some lightweight geared hub systems.
Choose a direct drive if you have a limited budget and don't need lots of torque; avoid them if you climb plenty of hills and like to use lots of assistance.
Geared Hub Motor Kits
Geared hubs are similar, except they have a set of planetary gears that connect to the shaft instead of connecting directly to the axle. With a high gear ratio, the shaft can spin faster than the axle, generating more torque. In addition, they are smaller and lighter than gearless motors.
Geared hub motor kits are best for budget-conscious riders who don't want to splash out on a mid-drive but also want solid performance for hill climbing and fast acceleration.
Geared hub kits have the same installation process as direct drives, there is a massive selection of kits on the market, and they're still relatively cheap, making them the best choice for most people.
Front vs. Rear Wheel Hub Motors
The difference between a front and rear hub motor is simple; one is located in the front wheel, and the other is in the rear wheel. However, the advantages and disadvantages of each are more complex.
Front-wheel hub motors are lighter, they make it easier to change a flat tire, they don't limit your drivetrain choice, and the conversion kits are easier to install. The trade-off is poorer traction, slower handling, a harsher ride due to the extra weight up front, and worse aesthetics.
On the other hand, rear-wheel hub motors are easier to handle, have better traction as the rear wheel is weighted more, and look better. But, unfortunately, they are heavier, harder to repair, and they limit your gearing options.
Mid-Drive E-Bike Conversion Kits
Mid-drive bike motor kits aren't as common as hub motors because they are difficult to install and have limited compatibility with traditional bikes.
They install in the middle of the frame at the bottom bracket. These motors are efficient, durable, and usually have lots of torque while producing the most natural feeling power output due to their connection to the drivetrain and use of torque sensors. However, you must use the correct gearing to achieve this smooth efficiency.
Due to the higher efficiency and torque levels, mid-drives are best for riders who value performance and natural riding over saving money. Of course, they come at a premium, but you will get more range and better assistance for tackling steep gradients. For this reason, mid-drives work well for converting cargo bikes, mountain bikes, and other off-roaders.
Avoid them if you have a total budget under $900 or aren't comfortable tinkering with your bike, as they're harder to install.
Friction Drive Electric Bicycle Conversion Kits
A friction drive e-bike kit is the most rudimentary design. It consists of a motorized wheel in a unit that attaches to the seatpost or behind the bottom bracket.
The motorized wheel engages the tire and provides a slight boost to the rider. This e-bike kit design isn't powerful but is quick to install and remove and widely compatible.
The speed and ease of installation and the lower prices of friction drive kits are the primary advantages they offer. However, they have limited performance and functionality and only produce enough power to assist in a meaningful way when riding on flat terrain. For this reason, most riders won't find them valuable.
Hub Motors vs. Mid-Drive Motors
---
Advantages and Disadvantages of Hub Motors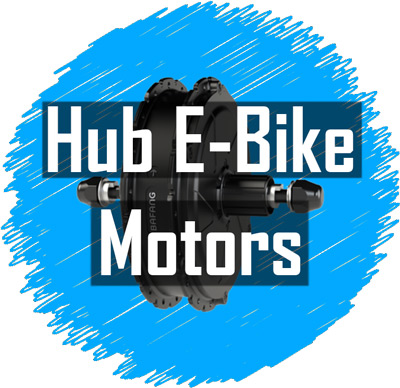 Electric bike hub motor conversion kits are the most popular choice because they are cheaper and easier to install than mid-drives while still providing decent assistance power and range. The wide range of options and the broad compatibility of these systems also make it easier to find one that works for your bike.
Geared hub motors have the least amount of drag and are the lightest, meaning it is easier to pedal when you don't have much charge left or if you want to conserve the battery.
A drawback of choosing a hub motor is the uneven weight distribution and the impact on handling. The motor's placement in the wheel and a battery mounted on the top tube or a rack may cause handling or balance issues, especially on lighter bikes.
The bulky, untidy look of hub motor conversion kits could also deter some riders from choosing one. Likewise, the inefficiency and need for a larger battery is a trade-off for hub motors compared to mid-drives.
Advantages and Disadvantages of Mid-Drive Motors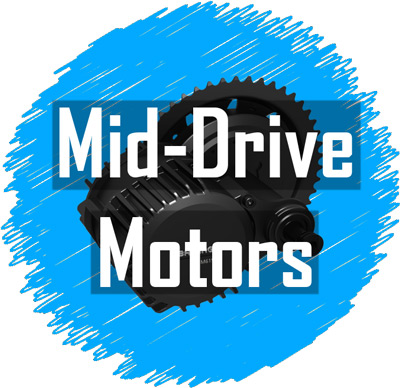 As mentioned, mid-drives are the most efficient style of motor, getting much more range from a battery than a hub motor would. In addition, the motor's low and central position barely impacts handling.
Because traditional bikes weren't designed to have the extra weight of an e-bike system, they are more susceptible to changes in the center of gravity and uneven weight distribution.
Finally, mid-drives also produce more torque at a given rating than hub motors, making them faster off the mark and better for climbing hills.
There are a couple of drawbacks to buying a mid-drive eBike conversion kit that aren't obvious. In general, mid-drive e-bikes are preferable, but the added cost and complexity of making a mid-drive conversion can tip the balance in favor of hub drives.
Mid-drive kits are more expensive, which impacts one of the main advantages of eBike conversions, the low cost. Poor compatibility is another drawback; these kits are only compatible with a specific range of bottom bracket sizes.
Another problem is that they are tricky to install, so you must be a competent mechanic to do it correctly, unlike friction or hub-drive kits.
Should You Buy an Electric Bike Conversion Kit?
---
As we've seen above, installing an electric bike kit is possible with some time and basic home mechanic skills.
Electric bike conversion kits are a popular option, offering several advantages over purchasing a new e-bike. However, there are drawbacks worth considering before you decide on conversion or a purpose-made e-bike.
Pros of an Electric Bike Motor Kit
Price — Converting a traditional bike you already own is typically much cheaper than buying a new electric bike, making them ideal if you have a limited budget.
Use a bike you like — You can choose almost any model or bike you already own and enjoy riding, and pick a suitable conversion kit instead of settling for an e-bike that's not exactly what you want.
Environmentally friendly — Repurpose a bike you already have and save the environmental footprint created by manufacturing the new e-bike.
Customization options — Pick the specific battery and motor size that suit your needs and riding style.
Low weight — A converted e-bike typically weighs less than a purpose-built one, especially if you choose a light e-bike kit.
Cons of an Electric Bike Motor Kit
Requires some mechanical skills — To safely install most e-bike kits, mechanical experience is necessary, and you need specific tools to do the conversion. This can be off-putting for riders who don't have a mechanical inclination.
Limited mid-drive choices — Electric bicycle mid-drive conversion kits are uncommon and have limited compatibility due to bottom bracket size and tread requirements. In addition, they're more challenging to install.
Quality — Many electric conversion kits on the market are not high-quality or long-lasting, meaning they won't be durable under heavy use. There are some excellent options available, but they are pricey. Choose a reputable brand to avoid issues with performance and function.
Warranty — Many e-bike kits don't have good warranties, so you'll be liable for repairs or replacement parts. In addition, installing an e-bike conversion kit will typically void the frame warranty on a bike.
Aesthetics — These systems are not integrated like many modern e-bikes, meaning they don't look great. Most new e-bikes have integrated wiring and electronics.
Performance — A converted bike won't perform the same as a purpose-built e-bike. The handling will be slightly off, and the ride quality won't be as smooth.
All things considered, electric bike conversion kits offer a cost-effective way to turn a traditional bicycle into a motor-powered bike, but they also come with trade-offs. So be sure to weigh the pros and cons before deciding whether an electric bike kit is right for you.
Motor Power: How Many Watts Do You Need?
---
One benefit of choosing an electric motor kit is that you can select the size of the motor you want. Road-legal e-bike motors range from 250 to 750 watts (W).
The power you need depends on several factors, the most important of which are rider weight, how much assistance you like to use, whether or not you carry cargo, and how hilly the local terrain is.
For example, a heavier rider who frequently rides up moderately steep gradients will need extra power from the motor to get the same benefits as a lighter rider.
Likewise, a lightweight hybrid or road bike with narrow tires doesn't need as much power as a heavy full-suspension MTB tackling steep inclines. For this reason, an electric motor for a mountain bike usually has high wattage and torque.
Peak vs. Nominal Power Output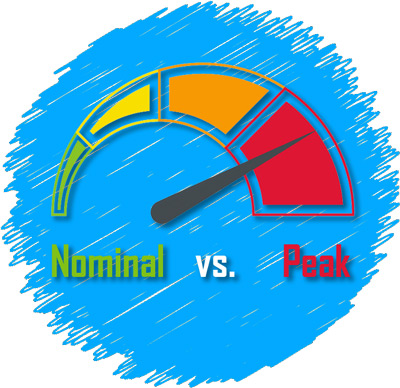 Most motors come with two power ratings; peak and nominal power. Unfortunately, these ratings are not standardized or regulated, meaning manufacturers can use slightly different definitions. For example, one brand's peak power may be sustained for three seconds, whereas another's peak rating is one second.
Peak power is the maximum output a motor will reach under surge conditions, such as on an extremely steep gradient. Nominal power is the maximum output a motor can sustain continuously.
The more consequential of the two is the nominal (continuous) power, as this provides a better idea of how the bike will feel when you have pedal assistance set to high. But, again, the power rating isn't the only factor determining how the motor performs, and not all 750W motors feel the same, so read user reviews for a better picture of a specific motor's performance.
Torque
An e-bike motor's torque rating is important to look out for as it gives an idea of how the bike will perform on climbs, how fast the acceleration is, and if the bike will feel jerky or smooth from a stopped position.
High torque means you reach the maximum assisted speed faster and allows you to go uphill without a significant drop in speed, so it's easier to climb steep gradients.
Electric mountain bikes, cargo e-bikes, and hunting/adventuring e-bikes require more torque for the extra demands of the terrain, the high weight of the bikes, and higher cargo loads.
The downside of more torque is it can make the bike jerky, detracting from the ride quality and making it more difficult to control.
Mid-drive motor torque ratings range from 35 Nm to 160 Nm, but most kits have 80 Nm to 120 Nm. In contrast, most hub motor e-bike kits have 40 Nm to 80 Nm of torque.
If you are an urban rider who doesn't tackle steep hills and is not worried about maintaining high speeds, you don't need to worry about choosing a high-torque kit.
Are Electric Bike Conversion Kits Legal?
Following local rules and regulations is essential when doing an electric bike conversion. If your electric bike kit exceeds power or speed limits, you can be fined or prosecuted as an unlicenced motor vehicle.
In the United States, a 1000-watt electric bike is not legal on the roads and must be registered as a vehicle, equivalent to a moped or scooter. By law, in most states, e-bikes must fall within one of the following three classifications:
Class 1 E-Bikes: Pedal assistance only, 20 mph top speed, 750W max power
Class 2 E-Bikes: Pedal assistance and throttle, 20 mph top speed, 750 max power
Class 3 E-Bikes: Pedal assistance and optional throttle, 28 mph max speed, 750W power
In Europe, the restrictions are even more strict, allowing pedal assist only, a 250W max power, and a 25 kph (15.5 mph) max speed. We recommend you avoid conversions that exceed these restrictions, such as a 1000W eBike kit, to ensure you don't get fined.
How to Choose the Battery for an Electric Bike Conversion Kit?
---
The capacity of a battery will determine the maximum range an eBike conversion can achieve. As with choosing an electric bike motor, the battery you select will depend on your budget, how much range you need (the average length of your journeys), and how demanding your rides are.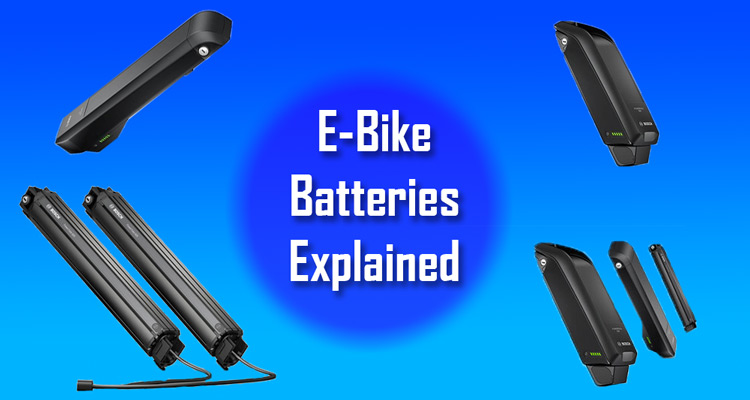 For example, poor motor efficiency, riding uphill, carrying cargo, or riding with high assistance levels will put extra demands on your battery.
Another thing to pay attention to when searching for a new pedal bike motor kit is whether or not it includes a battery. Most electric bicycle kits have one, but a few don't, which you can often identify by the suspiciously low price. So double-check that the battery is included; if it isn't, purchase one separately or choose a different kit.
If you buy the battery and eBike conversion kit separately, ensure they're compatible. The voltage and brand must match.

Voltage
Voltage measures the force that drives the flow of an electric current through a circuit, i.e., from the battery to the motor.
The voltage rating determines how much power can be delivered to the motor; higher voltage means more power, torque, and a potentially higher speed, making it an important consideration for choosing a battery. Unfortunately, the trade-off for higher voltages is they drain the battery faster, so more isn't always better.
As mentioned, the battery, motor, and controller voltage must match for the system to operate correctly. Typical electric bicycle conversion kit voltages are 36V and 48V.
Amp-Hours
Amp-hours (Ah) is a measurement of the capacity of a battery in terms of the number of hours it can sustain a specified current. For example, a 10Ah battery can deliver two amps of current for five hours.
Electric bike batteries with larger Ah ratings will have more capacity and range. But again, numerous factors affect the expected range of an e-bike system. So we recommend choosing a battery with a rating of at least 10Ah.
Watt-Hours and Capacity
The final and most important measurement to look out for when choosing a battery is 'watt-hours.' Watt-hours (Wh) measures the total energy or power stored.
It's worth noting that mid-drive motors are much more efficient and have lower voltages, so they often come with lower-capacity batteries compared to hub drives but offer similar real-world ranges.
This rating is found by multiplying voltage and amp-hours and gives the most accurate understanding of a battery's capacity. For example, a 48V battery with 14Ah (48 x 14) equals 672Wh, a standard battery capacity for a rear-wheel electric bike conversion kit.
Battery Size and Weight
The physical size and weight of a pedal assist kit battery are significant factors to consider. Adding a battery to a bike that isn't built for it can be tricky, especially on smaller-sized frames.
The more capacity a battery has, the larger and heavier it will be, so you may have to buy a smaller one so that it fits your frame. Additionally, a heavy battery can negatively impact handling, especially on lighter bikes or if it isn't mounted in a stable place.
Battery Mounting Position
The mounting position varies widely based on the type of electric bike kit and recipient bike you use. Most cyclists who do an eBike conversion attach the battery to the downtube. However, it's possible to mount it to a rear rack or in a frame bag hanging from the top tube.
Hybrids, urban bikes, and hardtails usually have plenty of room in the main triangle, but full-suspension MTBs or step-through frames are more complicated.
We recommend measuring your main triangle before searching for an electric bike conversion kit and battery. Ideally, you want to avoid drilling holes in your frame or mounting the rack in a position that impacts the center of gravity.
How to Convert a Bike to an Electric Bike?
---
To install an electric conversion kit, you'll need to be a competent home mechanic with plenty of time and patience. The process can be relatively complex, depending on the kit, and it may require improvisation to make it fit correctly.
Almost all kits come with detailed instructions and videos you can follow step-by-step through the electric bike conversion kit installation. However, if you're doing it for the first time, choose a brand with excellent instructions and customer support in case you run into issues.
Not all kits require the same tools, but the tools you need at a minimum include:
Bike stand (optional but preferred)
Set of screwdrivers and hex keys
Pliers
Tools for removing crankset, hub, or freewheel (depending on the e-bike kit)
Heavy-duty cable ties
If you have zero mechanical knowledge and experience, it's better to find a local bike mechanic who would be willing to do the conversion for you. It will cost more, but you will save a lot of time and avoid potentially damaging the kit.
What Types of Bikes Can Be Electrified?
---
In theory, you can install an electric bike motor kit on any bike. However, some styles are better suited to taking an e-bike motor and battery. For example, sturdy, slow fat tire bikes make better recipients than lightweight road bikes.
Regardless of the type of bike you choose, ensure it is in good working condition. Excessive wear on the frame, drivetrain, or brakes can quickly lead to broken components when you add the extra weight and power of a pedal-assist bike kit.
Hybrid Bikes
The most common models you'll find electrified are hybrids and urban bikes, which also happen to be the most popular categories of purpose-built e-bikes.
Hybrids blend mountain and road bike characteristics that result in versatile capabilities. There is a wide range of hybrid bikes on the market, some better suited to commuting and others to fitness and leisure rides.
Because they aren't specialist performance bikes, hybrids are more affordable and practical for day-to-day use, making them excellent recipient bikes for e-bike kits.
Fat-Tire and Hardtail Bikes
Fat bikes are perfect bike kit recipients because of their sturdy and durable frames and stable base. Similarly, they benefit from motor power because they're slow and heavy. In addition, it's easy to find a fat tire electric bike kit.
Fat tires range from 3.8″ to 5″. Most fat bikes are rigid-framed, but high-volume tires help compensate for the lack of suspension. People regularly convert fat tire bikes to electric because they function well for carrying cargo, tackling mixed-terrain rides, or riding in wet weather, thanks to the grippy and stable tires.
Hardtail mountain bikes are another popular option for an e-bike conversion. They are affordable, versatile, durable, and have plenty of space for adding the battery. The main issue when converting a mountain bike to electric is the extra pressure on the fork suspension. It will experience more load from the added weight, meaning you should limit hard riding.
Cruiser Bikes
Cruiser bikes are another solid choice for installing an electric bike kit. Adding motor power to this type of bike makes for easier, more enjoyable rides, as these bikes are heavier and slower than average.
The sturdy steel frames and low-slung geometry are also ideal for receiving bike kits. However, step-through designs can make installation tricky, especially if the bike doesn't have a rear rack.
Folding Bikes
Folding bikes are some of the best to add an e-bike motor to because they can make commuting even easier or allow you to go faster without sweating.
Unfortunately, there are limited kit options for folding frames. One option is the Swytch front-wheel electric bike conversion kit with a battery. This system uses a pre-made front wheel with the hub motor integrated, and the battery sits in front of the handlebars like a handlebar bag, making it possible to fold the bike with the battery still mounted. This brand has wheels for most folding bikes, including 16 and 20″ wheels.
Full-Suspension Mountain Bikes
Full-suspension mountain bikes have suspension in the front and rear, making them the most capable off-road bikes.
They aren't a common choice for eBike conversion because limited frame space and complicated geometry restrict your options. However, if you can find a suitable kit, the added motor power will make your off-road rides easier.
Another complication with this type of kit is the suspension. You'll have to recalibrate it to account for the extra weight of the mountain bike motor kit after you convert a mountain bike to electric.
Road Bikes
Road bicycle motor conversion kits are another uncommon kind, but they make excellent recipient bikes for lightweight kits.
A light frame, aggressive geometry, agile handling, and narrow tires make the road bike the fastest option for pavement. By adding a slight boost from, say, a 250W motor, a lightweight road bike will experience significant benefits. It's vital to use a lighter system and mount the battery as central and low as possible to minimize the effect on handling.
Recommended Wheel Sizes
All electric bike kits are compatible with a specific wheel size or sometimes multiple sizes. The most common sizes are 20″, 26″, 650b, and 700c. Folding and fat-tire bikes usually have 20″ or 26″ wheels, while hybrids and cruisers often use 650b and 700c.
Most e-bike kits are only compatible with one wheel size, but they may have several different electric bike wheel sizes you can choose from, such as Swytch. The size of the electric wheel doesn't affect ride quality or performance. The only important consideration is fit.
Also, e-bikes with 20″ wheels are more practical for urban commuting, especially if you combine your e-bike commute with public transportation.
DIY or Purpose-Built E-Bikes?
---
Choosing between building a DIY electric bike and a purpose-made one isn't too difficult. People who choose a DIY eBike do so to save money and because they already have an old bike lying around. However, in many situations, it would be worth selling the old bike and putting that money toward a new or pre-owned purpose-built e-bike.
Additionally, buying a factory-made e-bike doesn't have as many possible downsides as doing an e-bike conversion, such as reliability and lack of warranty.
On the other hand, if you're a natural tinkerer who enjoys a mechanical project like an eBike conversion or are happy to use a cheap eBike kit with a battery, it might be the right choice.
The total cost of buying a good quality electric motor kit can be almost as high as purchasing a new electric bike.
Another situation where using a DIY electric bike kit makes sense is if you have a high-quality recipient bike and compatible mid-drive motor (roughly $900) and are comfortable installing it yourself. In this scenario, you could make considerable savings over purchasing a mid-drive e-bike of equal quality for, say, $2,000 ($1,100 savings).
Regardless of which you choose, consider the pros and cons of choosing an electric bike conversion kit that we outlined at the beginning of the article.
What Should I Look for When Buying an Electric Bike?
There are several important factors to consider when buying an electric bike. Firstly, we recommend setting a budget to narrow down your options and make it easier to search.
With a budget set, consider what you will use the e-bike for, how long your rides will be, where you ride, and how much assistance you need. Then, you can look for specific components, features, and capabilities.
Type – Pick a bike that meets your needs, such as general transport, commuting with cargo, mountain biking, road cycling, or adventuring. There is a bike for all requirements.
Motor – Choose between a hub or mid-drive e-bike. Bike hub motors are cheaper but inefficient and not as smooth to ride; mid-drives are more efficient and natural-feeling but more expensive.
Battery and range – If you ride long distances, look for a bike with a high average range. The range isn't as important if you ride short to medium distances and can charge regularly. Remember, a larger electric bicycle battery means extra weight.
Weight – Do you need to lift, carry, or transport the bike regularly? If so, ensure the bike isn't too heavy. Cheap e-bikes can weigh as much as 75 lbs.
Brakes – Look for hydraulic disc brakes when possible. They are the most reliable and effective for the extra power of an e-bike.
Display – Look for one that's easy to use and read and has the metrics you want for your rides.
Tires – Tough, durable tires and puncture resistance are invaluable for e-bikes.
Brand reputation – Look out for well-reviewed, popular brands with high customer satisfaction.
Customer support – E-bikes regularly run into problems, especially in the lower price ranges. Good customer support can make or break your experience as an owner.
Most Popular E-Bike Kit Brands
---
Many brands produce DIY eBike kits, some of which make motors for purpose-built e-bikes, like Bafang, and others specialize in electric bike conversion kits, like Swytch. In addition, you can find dozens of lesser-known manufacturers selling cheap kits at Amazon and Walmart.
The most popular brands are those with reliable products, clear instructions, straightforward installation, good customer service, and product warranties.
Hilltopper
Hilltopper bike is a Seattle-based electric bike company that focuses primarily on electric bicycle conversion kits but also sells a proprietary gravel e-bike.
They offer three different front hub eBike kit options ranging from $599 to $1,399. Each Hilltopper e-bike hub motor kit comes with a front wheel customized for your bike, a motor, a battery, a throttle, and a charger.
Hilltopper eBike kits all have disc brake compatibility and an integrated lock. In addition, the company offers a 30-day money-back guarantee on its products, subject to a $50 restocking fee.
Hilltopper electric bike conversion kits are pretty pricey, but they're easy to install, and they come with extra features and a solid max range and speed.
Swytch
Swytch bike is a London-based company founded in 2017. The brand has a unique e-bike hub motor kit that's both the smallest and lightest on the market.
The Swytch kit installs in four simple steps, comes with a pocket-size battery that mounts to the handlebars, and a customized front wheel available in 13 sizes (from 16″ up to 29ers).
Overall, reviews of the Swytch system are overwhelmingly positive. However, the trade-off for being so light (1.54 lbs or 2.42 lbs) is it doesn't provide substantial assistance or range. The Air version lasts 9.6 miles; the Max version double that.
The Swytch kit cost is another deterrent, priced at $1,199 and $1,599. At this price, you can purchase a fully-equipped urban electric bike with more power and range.
Bafang
Bafang is a leading manufacturer of electric bike conversion kits and components, producing some of the most powerful motors on the market. They are also the most popular brand of electric bike conversion kits, particularly mid-drive ones. You can choose from an extensive selection of hub-drive and mid-drive motors from the Bafang USA Amazon store.
Their front hub kits and mid-drives are available in several power ratings, from 500W to 1000W. Prices vary widely, from $300 for the cheaper front hub kits to $1,300 for the top-end mid-drives.
Overall, Bafang DIY kits are well-reviewed, reliable, and covered by warranty. In addition, you can reach out to their customer service team for help with sales and installation.
Rubbee
The Rubbee X e-bike kit is the most popular friction-drive system on the market. Of all electric bicycle conversion kits, the Rubbee is the easiest to install and has the widest compatibility.
To install the Rubbee electric bicycle kit, you simply attach it to your seatpost and align the motorized wheel with the rear tire. The system is compatible with wheels 16″ to 29″ wide, tires 0.5″ to 2.5″, seat posts between 22 mm and 35 mm in diameter, and any frame, including suspension bikes.
The motor has 250W of power and comes with a 10-mile battery. Users can purchase a second battery for $99 to double the range of the Rubbee X.
Unfortunately, friction drives have clear power limitations, making them ideal for those who need a slight boost on hills or when fighting headwinds, for example. The Rubbee bike price is just $579, putting it in the middle of pricing for e-bike conversion kits.
Electric Bike Kits on Amazon
Amazon is the place to go if you're looking for an electric bike conversion kit, hosting an extensive range of options from different brands. You can find most of Bafang's e-bike kits on the site, along with others from brands like Ebikeling, Voilamart, and AW.
The most common electric bike kit Amazon sells is the hub-motor system with several front-wheel and rear-wheel eBike conversion kit options. In addition, Bafang's mid-drive kits are also available at the site.
When searching for an Amazon bike motor kit, double-check that it comes with a battery included, as some of the products don't, usually identifiable by the lower prices (sub $200).
Electric Bike Kits on Walmart
Walmart is another major online retailer of electric bicycle conversion kits. They host some of the same brands found on Amazon, like Voilamart and Bafang, and a range of others, such as Viribus and Yescom.
The only electric bike kit Walmart sells from the store is a Preenex system with a 1000W 48V motor. The rest are sold by third-party retailers, such as those found on Amazon. Again, the pricing varies from the low $100s to over $1,000.
Electric Bike Conversion Kit FAQs
---
What is the best electric bike conversion kit?
The best electric bike conversion kit is one that fits your bike without negatively impacting the ride quality and provides enough power and range for your typical rides. Because bike styles and rider requirements vary so much, it's impossible to say which kit is the best.
Are eBike conversion kits any good?
Yes, eBike conversion kits are good for some riders, like those with a limited budget who want to repurpose their current bike. Converting a bike to an eBike provides the benefits of electric power without a high cost, making rides easier and allowing you to ride farther than before.
How much is a Swytch conversion kit?
A Swytch conversion kit costs $1,199 for the 15km Air version and $1,599 for the 30km Max version. An upgrade to the Max kit costs $799 for existing customers. This e-bike motor kit is quite expensive, but it is one of the easiest to install and lightest.
How much is a conversion kit?
A conversion kit costs anywhere from $200 for a low-power off-brand kit to as much as $1,600 for Swytch's premium kit. If you find an unusually low price, ensure it is an electric bike kit with a battery, as some products don't include one.
How do you attach an electric motor to a bike?
You can attach an electric motor to a bike by installing a pre-made front-wheel electric bike kit or retrofitting a hub motor to an existing front or rear wheel. Alternatively, attach a motorized wheel to drive the tire directly or install a mid-drive at the bottom bracket.
Is it legal to put an engine on a bicycle?
Yes, it's legal to put an engine on a bicycle, given it complies with local restrictions on power (W) and speed. An electric motor for a bicycle can have 750W of power and go up to 28mph (Class 3). In Europe, the limit is 250W and 15.5mph.
How much does it cost to convert a bike to electric?
It costs roughly $300 to $1,000 to convert a bike to electric, depending on the kit you buy and the tools you need to buy for installation. Of course, there are cheaper and more expensive options, but most kits fall in this range.
How fast does a 1000W electric bike go?
A 1000W electric bike can go as fast as 32 mph if the controller has no limit. However, it's important to note that a 1000W electric bike kit with a battery doesn't comply with e-bike regulations in the United States and can only be used on private land.
How do I choose an eBike conversion kit?
Choose an eBike conversion kit by finding one that is compatible with your bike. First, measure the main triangle, so you know what size battery fits. For mid-drives, your bottom bracket must be within the specific range (typically 68-73mm). For hub-drive kits, check wheel size compatibility.
How do I install an eBike conversion kit?
Install an eBike conversion kit by ensuring compatibility, gathering the appropriate tools, and following the manufacturer's installation instructions. Many brands offer step-by-step video guides for their electric bike kits too.
How do you electrify a bike?
You can electrify a bike by installing an electric bike conversion kit, including a motor, battery, controller, and sensors. Doing so will provide you with pedal assistance to take the effort out of riding on flat ground or going up hills.